Tanga, an off the beaten track destination in northeast Tanzania, takes in soaring mountains, pristine marine parks and towns steeped in Swahili traditions.
TANGA
---
Bordered by Kenya's Kilimanjaro region in the north and the Indian Ocean in the east, Tanga is one of Tanzania's last undiscovered regions. It's untouched by mass tourism, which means that visitors are guaranteed biodiverse landscapes and authentic interactions with local residents.
Travel along the coast and you'll discover the footprint-free shores of Sange Beach and Ushongo Beach, which stretch beyond the horizon. There are also smaller, sheltered bays and lagoons (such as Kwale Bay and Manza Bay) fringed with untouched coral reefs. Several islands lie just offshore, covered with pristine forest and speckled with ancient ruins and lonely lighthouses.
Head inland and you'll reach the Usambara Mountains, which soar to 2,000 metres above sea level and are carpeted in lush rainforest. The mountains are part of the Eastern Arc Mountains biodiversity hotspot thanks to a wide variety of native flora and fauna, including the colourful African violets.
There are plenty of ways to explore Tanga's great outdoors. Go kayaking or snorkelling off one of the pristine beaches. Hire a guide to take you hiking through the mountains or take a private safari in one of the region's off-the-beaten-track national parks, Saadani and Mkomazi, where you'll spot lions, buffaloes and elephants.
Tanga also has a unique cultural heritage and rich history. It's a melting pot of Arabian, Indian and African culture, populated by different tribes such as the Maasai and the Wambugu. Visit the Maasai settlements in Handeni and Korowgwe to learn more about the inhabitants' traditional way of life. Head to the capital, Tanga city, to learn more about the region's colonial heritage.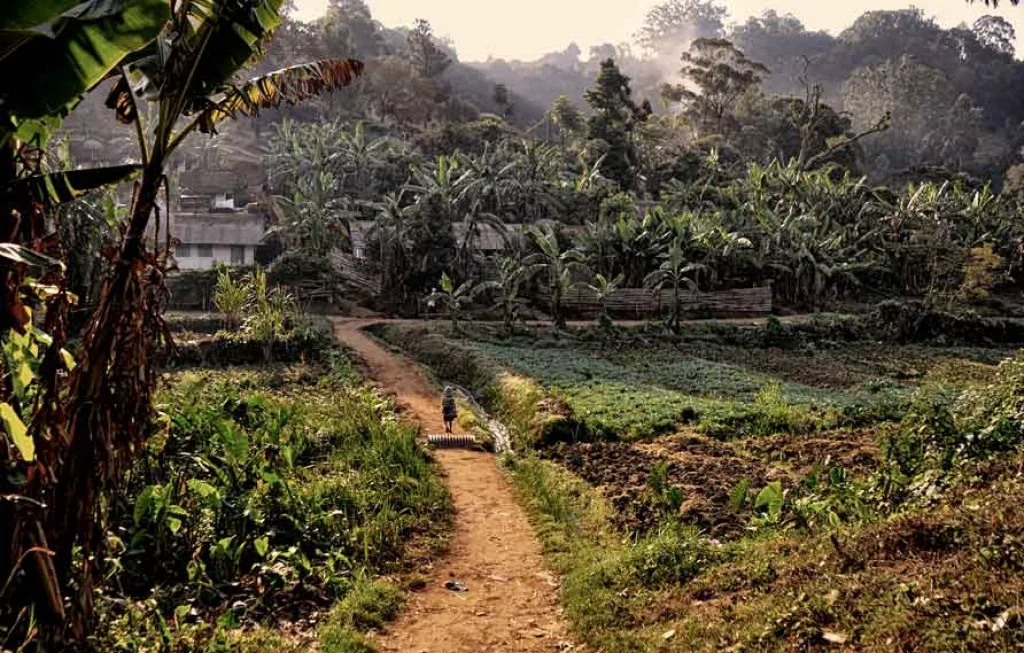 TANGA CITY IN FOCUS
---
Tanga, the region's capital, was a thriving economic centre in the 1950s thanks to its thriving sisal industry (an agave plant with rough fibres used to make ropes, carpets and more), which attracted a sizeable population from Asia and Europe. These days it's a quieter city with a sleepy charm and eclectic architecture, hugging the broad curve of Tanga Bay.
The streets of the city's historic centre are lined with timeworn buildings from the German colonial period. They have a unique architectural style that incorporates elements of Arabic design and makes use of local materials such as coral stone and mangrove wood. To find out more about local history, head to the Urithi Tanga Museum, which contains several exhibitions of local artefacts.
Tanga has a wealth of restaurants, serving up everything from pizza to sizzlers. But we recommend visiting a local café or stall to try East African dishes such as eggs vindaloo, grilled mishkaki kebabs and kashata, a sweet peanut fudge.
If you want to get out on the water, book a boat tour that will take you on an excursion to nearby Toten Island, which is ringed with mangroves. Amongst the undergrowth you'll find the remains of a 17th century mosque and a cemetery. Other nearby attractions include the Amboni Caves and Gallanos Hot Springs, both around eight kilometres from the city centre. It's easy to reach the region's beaches from the city too.
TOURISM INSIGHTS: TANGA TOURISM NETWORK ASSOCIATION (TATONA)
---
The Tanga Tourism Network Association (TATONA) was founded in 2008, by the region's first tourism investors. Some of the founding members were former development workers, who had built small lodges for tourists. According to TATONA's secretary, Sibylle Riedmiller, the organisation's vision is "to promote tourism that is culturally sensitive, socially responsible and environmentally sustainable." Their mission: to protect the diverse marine and terrestrial ecosystems of the region, alongside developing its tourist potential and conserving cultural heritage. TATONA considers itself the voice of the region's tourism service providers, and membership is open to everyone from tour guides to hotel owners, as well as engaged residents. It is also partnered with the Hotels Association of Tanzania (HAT). We caught up with Sibylle Riedmiller and another committee member, Karla Pelser, to learn more about TATONA's environmentally conscious ethos.
Q&A WITH SIBYLLE RIEDMILLER AND KARLA PELSER, TATONA
What are your organisation's current goals?
Sibylle Riedmiller: Our mission hasn't changed since the start, but it has become more specific and concrete. We must face the challenge of unsustainable developments that ignore the economic potential of tourism as a preserving force for nature, traditions and culture. We want to enhance the region with its great diversity of natural attractions, historic buildings and local culture, and involve residents as hosts rather than servants.
When tourism is a new industry, it is sometimes difficult for local decision makers and communities to understand that opting for sustainable tourism creates a win-win situation. It gives value to natural sites and historical heritage (which are taken for granted until destroyed) by carefully preserving and developing these into tourism products that generate considerable new income.
Are there any projects in the pipeline you wish to highlight?
Sibylle Riedmiller: TATONA is a small organisation, created to give the embryonic tourism sector a voice as a business association, particularly when dealing with the government. A few years ago, TATONA commissioned impact analysis studies and policy briefs about how certain government policies, legislation and regulations affect the investment climate for the tourism sector – the industry is overtaxed, especially for small operators.
In order to encourage all players to join the association, we have kept the membership fees low. This means we lack the resources to employ staff (members volunteer when necessary) and currently have no large projects in the pipeline. However, many of our members conduct numerous social projects with local communities in their vicinity.
How do you help conserve and promote the region's biodiversity?
Sibylle Riedmiller: TATONA has always been a key supporter of our region's protected areas. These include the rarely visited Tanga Coelacanth Marine Park, the Maziwe Island Marine Reserve, the Mkomazi and Sahare national parks and the forest reserves in the Usambara mountains. As private sector stakeholders, we have participated in writing park management plans, and have joined the park authorities' advisory committees. Sustainable tourism is the only sector that generates income from non-extractive use of nature; tourists pay for visiting and enjoying natural resources, rather than exploiting them. The tourism sector needs to create awareness about this basic fact, before extractive industries take over and cause large scale environmental damage or ecocide. As most TATONA members are small operators, they don't have the financial muscle for marketing and lack a voice to be heard at local and national levels. To combat this, we promote our region in the media and through our partner organisation, HAT. One major achievement has been the publication of a uniquely detailed Tanga Tourism Guide.
Why should someone visit Tanga?
Karla Pelser: Led by TATONA, the emerging tourism sector in Tanga is determined to help residents and the local government recognise, preserve and use the tourism potential of the Tanga region. This includes the beautiful, diverse ecosystems of the Indian Ocean coast and its islands, the mountains and the Maasai Steppe. In addition, Tanga City also has a valuable built historic heritage – its historic centre is very well planned and developed, and nowhere in East Africa are there buildings of this style. Much neglected for decades, there is now an urgent need to document, preserve and restore this built heritage. Tanga, being a relatively unknown region, has the advantage of being unspoilt by mass tourism. The culture and landscapes remain very much true to the Swahili Coast traditions. The footprint on the marine areas in particular has been low and our region boasts some of the most spectacular and well-preserved coral reefs in the world. The Maziwe Island Marine Reserve was recently filmed by National Geographic for a feature on the importance of coral reefs for our planet's wellbeing, and a similar documentary was filmed a few years ago exploring the deep underwater habitat of the living fossil, the Coelacanth, that is only found around Tanga and several other locations worldwide.
What, in your opinion, are the best places to visit in the region?
Sibylle Riedmiller: The region offers a wide range of beautiful places to visit, such as the long Indian Ocean coastline with its sheltered bays, lagoons and uninhabited islands covered by pristine forest. Tanga City, close to the Kenyan border, has a fascinating history as one of the oldest settlements along the East African coast. The word "Tanga" means "sail" in the Kiswahili language, an indication of the thriving trade along the East African coast, and that the protected Tanga Bay has offered a safe haven for local fishermen over centuries. Another small historic district town worth a visit is Lushoto, the centre of the Usambara mountains. It was founded by the German colonial government in 1898 as "Wilhelmsthal" (after the name of the then German emperor) and became an important centre of colonial settlement and plantation agriculture. Located at 1,400 metres above sea level, the climate is cool and subtropical and was up to Independence much favoured by European settlers. In 1912, the district already had 13 plantations growing vegetables, fruits, tea, coffee and a variety of other food crops. European vegetables and fruits were introduced, and are still grown and marketed to the rest of the country today.
What trends are transforming the tourism industry in Tanga and how are you utilising them?
Karla Pelser: Globally eco-tourism is on the rise and we have seen an increase in eco-conscious travellers flocking to the region. Our off the beaten track destination, with land and seascapes still unspoilt, offers great opportunities for tourism development. Projects such as the reef rehabilitations south of Sange and the turtle breeding project in Ushongo have gained the interest of renowned publications such as National Geographic, which help to promote our region globally. The trend to value authenticity and traditionally made local products provides a well-paying market for local artisans. The tourism sector showcases these products, local skills and traditions, which generates economic opportunities for local communities. The small lodges and resorts in our region are popular with tourists who seek authenticity and encounters with local people and their culture. Guests appreciate these unique experiences and hearing stories of the Tanga region – it makes them feel part of the local community.
What challenges does the tourism industry in Tanga face?
Sibylle Riedmiller: Many of our natural attractions are still difficult to reach. The Tanga airport can only take small domestic flights, while many roads are unsurfaced and in poor shape, especially during the rainy season. There is only one weekly ferry from Tanga Port to Pemba and Zanzibar Islands – it is a beautiful 24-hour sea safari for the more adventurous traveller. The historic centre of Tanga City – between the railway line and the port – is a treasure-trove of architectural and built heritage. Most of these historical buildings are government property and have not been well maintained. Though structurally solid, they are often condemned and destined for demolition. Though buildings over 100 years old are legally protected and cannot be demolished without authorisation, the law is rarely enforced. As soon as investors are interested in a plot, the policy is often quick to replace these buildings with "modern" faceless structures at a great historic loss.
Karla Pelser: The preservation and sustainable management of our diverse, fragile eco-systems is key to the continued development of ecotourism. A great challenge is educating visitors and local inhabitants about the impacts that our daily lives have on the forests, ocean, reefs and other biological and cultural assets. Climate change is felt with more extreme weather events such as unseasonal rains and droughts, which affect livelihoods of local people and the tourism sector alike. Education is key and needs to be spearheaded by all operators involved in the industry. The importance of plastic-free initiatives, clean-ups, reforestation projects, reef-safe sunscreens and more is paramount and needs to be a priority. These principles need to be passed on to the younger generation to ensure that the legacy left is one of unparalleled beauty and conservation, an example of sustainable eco-tourism at its finest. In summary, our off the beaten track location has a wealth of natural, historic, cultural, ecological and biological attractions that sit comfortably alongside some of the landmark attractions and beaches in Tanzania and Zanzibar. Campaigning for a larger representation within Tanzanian tourism promotion and creating more awareness is key to the region's continued development and an ongoing challenge that we need to address.
Finally, are you optimistic about the future of the tourism industry in Tanga?
Karla Pelser: There has never been a more exciting time to be part of TATONA and the budding region of Tanga. Some accommodation providers have seen a growth of over 40 percent in international tourist visitors in the last year alone, thanks to the wealth of unique activities and attractions on offer. Off the beaten track locations invite travellers to swap overcrowded commercial destinations for more authentic ones. With the cooperation of all our members, the local authorities and communities we can ensure that Tanga region will become an internationally acclaimed bucket list destination in the years to come, as "Tanzania's secret between the ocean and the parks". For further information, you're welcome to visit our homepage and download TATONA's Tanga Tourism Guide.
OUTLOOK RECOMMENDS
EAT
---
For the best pizza in Tanga…
For Tanzanian comfort food and baked goods…
SLEEP
---
For ocean-facing hospitality…
For colonial charm and mountain views…

For beachfront luxury…
DO
---
For tours in the Usambara Mountains…
LANDMARK ATTRACTIONS
USAMBARA MOUNTAINS
---
These mountains are one of the most picturesque sights in the region, with their forested slopes, wide panoramas and refreshing climate. They are dotted with colourful rural villages largely untouched by tourism.
TONGONI RUINS
---
The crumbling ruins of a mosque and around 20 large, pillared Shirazi tombs, dating back to the 14th or 15th century. They're situated in a grove of baobabs, facing the ocean, around 20 kilometres south of Tanga City.
MAZIWE ISLAND MARINE RESERVE
---
This pristine marine park is renowned for having one of the world's most well-preserved coral reefs. Take a snorkelling or diving trip in the translucent water to see for yourself. You can also relax on the small, sandy islet, which is completely uninhabited.
GETTING THERE AND AROUND
---
Tanga has a small domestic airport, with regular flights scheduled to Arusha, Dar es Salaam and Zanzibar – most international flights will go via Dar es Salaam, Tanzania's largest airport. Tanga City is serviced by "dala dalas" – minibuses that cover routes across the city. Meanwhile, to get around the region, you can use local buses. There are also regular buses between Tanga City and Arusha, Dar es Salaam and the coastal town of Pangini. Another way to explore the region is by hiring a car, either with or without a driver. While Tanga's roads are in good shape, in rural areas you'll encounter poorer road conditions.