The remote African islands of São Tomé and Príncipe are wildlife havens with their lush rainforests and deserted beaches.
SÃO TOMÉ AND PRÍNCIPE
---
The islands of São Tomé and Príncipe lie a hundred miles apart off the west African coast. Half-forgotten by the outside world, they see only 13,000 tourists a year. Those who visit learn to expect the unexpected.
Primeval rainforest gives way to abandoned townships or mountains of fang-like rock. The islands have hundreds of endemic species, and each scientific expedition uncovers new ones. Unsurprisingly, the islands are attractive destinations for ecotourism, with several luxurious and environmentally friendly accommodation options.
For thousands of years, the islands lay uninhabited. They were discovered by the Portuguese in the 15th century and soon became the world's largest cacao producer, with slaves brought in to work the plantations. The Portuguese left in 1975, but the islands still bear traces of colonial rule. São Tomé City, the island's capital, has been described as a "miniature Havana", with its colourful colonial buildings, Portuguese-style churches and turquoise ocean views.
The island of Príncipe is wilder, greener and less densely populated than that of São Tomé, with only 7,000 inhabitants. The entire island is a UNESCO biosphere, with spindle-like mountains, lush rainforests populated with birds and spectacularly deserted beaches. Offshore, humpback whales burst out of the water. Visit and you'll feel as if you've entered a lost world.
The island's cuisine is unique, thanks to its profusion of flora. Try fruits such as the scarlet, triangular-shaped mangongo – which has a sweet aniseedy taste – and azagão, a stew flavoured with over 100 different plants.
With its untouched scenery, friendly inhabitants and unique cuisine, you're guaranteed a memorable trip.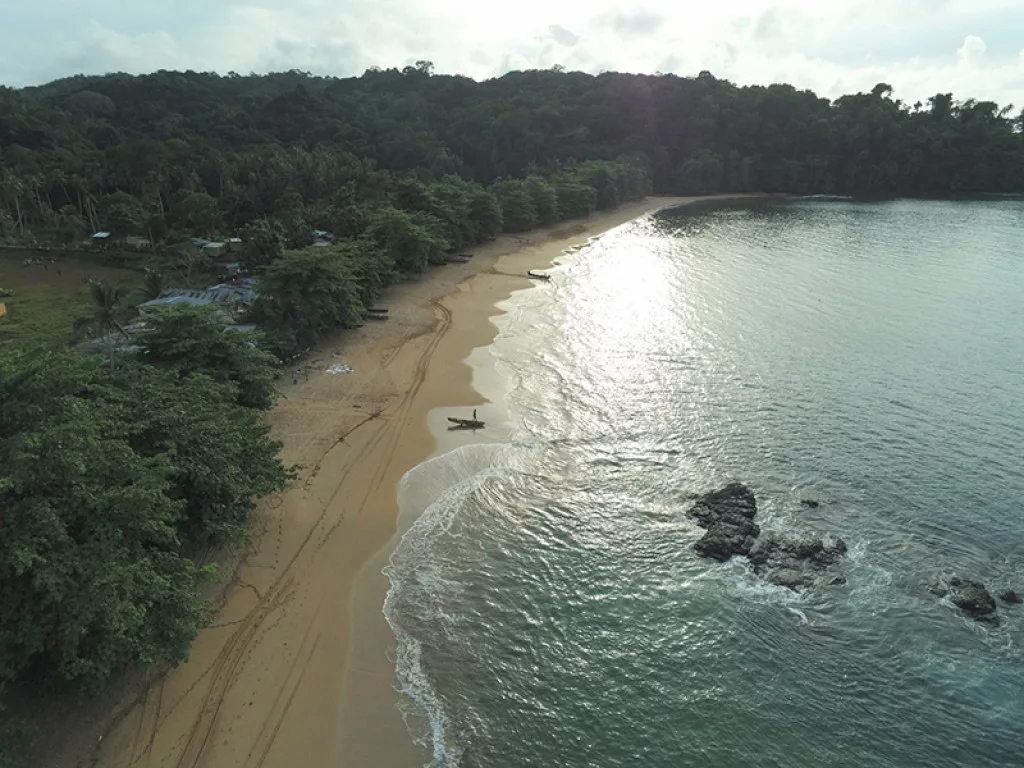 TOURISM INSIGHTS: THE MINISTRY OF CULTURE, COMMERCE AND INDUSTRY
---
The Ministry of Tourism, Culture, Commerce and Industry was established by São Tomé's current government to implement its goal of developing tourism in São Tomé and Príncipe. In 2019 São Tomé and Príncipe received over 34,900 tourists, which represented an increase of 4.5 percent year-on-year.
We spoke to Hugo Menezes, the Director General of Tourism and Hospitality, about how the organisation is helping the government realise its goals to improve and expand tourism provision on the islands.
Q&A WITH HUGO MENEZES, DIRECTOR GENERAL OF TOURISM AND HOSPITALITY
How do you encourage tourists to visit Sao Tomé and Principe?
Hugo Menezes (HM): By emphasising our products and attractions and all issues that make us unique. Apart from its beauty amid its natural green environment, São Tomé and Príncipe has a very rich culture where the European (Portuguese) and African values are intermingled.
This can be noticed in different cultural manifestations, including art and cuisine. On the other hand, being a very peaceful country makes us into something different. São Tomé and Príncipe is one of world's best kept secrets!
How does tourism benefit Sao Tomé and Príncipe?
HM: Once we were an island nation with no minerals, and now other sources of income such as tourism are envisioned as the main way of attracting foreign investment and boosting the economy. Tourism creates jobs and opens up opportunities for small businesses among the youth, women, farmers, craftsmen and many more. Tourism is also an export which provides the country with foreign currency.
Is there any potential for ecotourism development in the region?
HM: Yes. We are located in a region rich in biodiversity that hasn't been exploited yet, so ecotourism can set its roots here. Príncipe in particular is wild and untapped – we want to make sure that we keep the environmental impact of any development on it as low as possible.
We realise the need for expanding our infrastructure if we welcome more tourists to the island, but we want to make sure we develop in a sustainable manner.
What challenges does the tourist industry in Sao Tomé and Príncipe face?
HM: Being a small island nation offers many challenges. These include our geographic isolation and limited resources. However, we are also affected by global situations, such as COVID-19, which will greatly affect the number of tourists visiting us. Finally, we are also affected by international competition – today many destinations are also trying to attract tourists.
But despite these factors, we have many projects aiming to boost tourism in the country. We realise with the implementation of these projects Sao Tomé and Príncipe will move forward. Consequently, we are optimistic about the future of tourism in the country.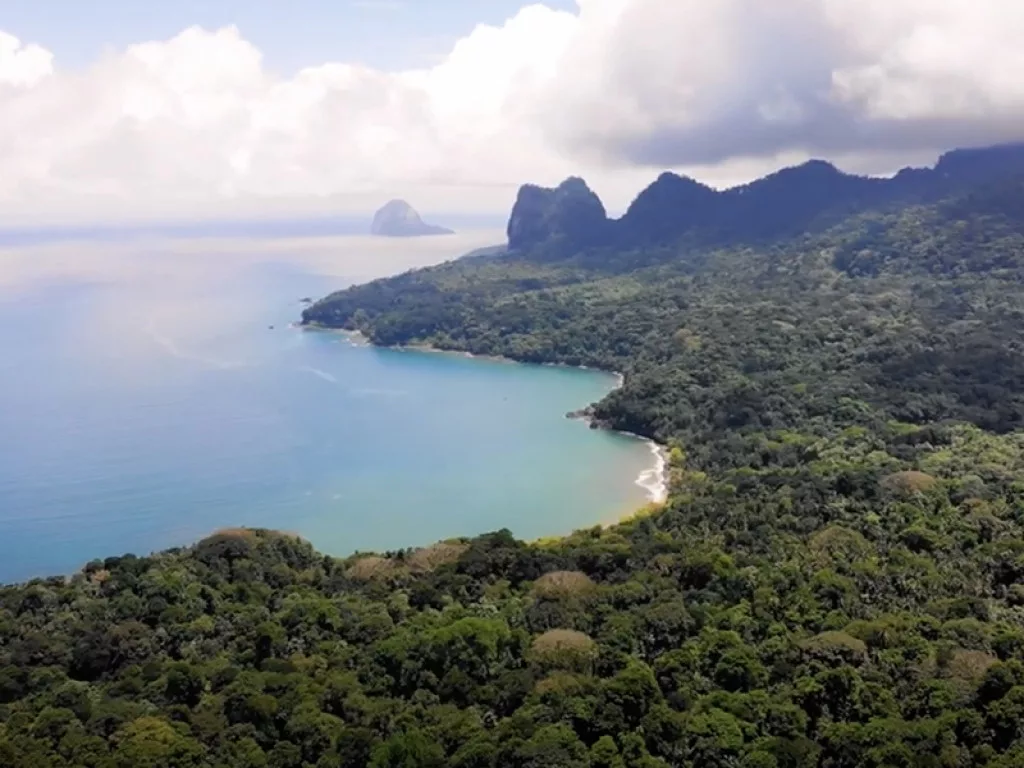 SÃO TOMÉ CITY IN FOCUS
---
São Tomé City is the islands' capital – a port city surrounded by beaches. Although it has gone into an economic decline since the departure of the Portuguese, it has several interesting attractions and a 'leve leve' (easy easy) attitude that makes it worth a visit.
For a start, there are some interesting colonial buildings, mostly located near Independence Square. These include Nossa Senhora da Graça, one of Africa's oldest cathedrals, and São Sebastião, a small fort which houses the national museum. CACAU, or Casa das Artes, Criação, Ambiente e Utopias (House of the Arts, Creativity, Environment and Utopias), is an ambitious cultural centre with a restaurant, theatre and exhibition space. Meanwhile, for a taste of local culture, head to the city's largest market, the chaotic Mercado Grande.
There are plenty of places to eat and drink in the city. Jasmin is a restaurant in a restored colonial mansion, where you can enjoy pizza and hamburgers on a quiet terrace. Thanks to its proximity to the ocean, there are plenty of places to pick up excellent seafood dishes, ranging from beach-front shacks to more upmarket offerings.
The city is well-positioned as a base for exploring the rest of the island. Hire a taxi for the day and visit places such as Roca Agostinho Neto – once the largest coffee plantation on the island – or the beautiful Blue Lagoon Bay.
OUTLOOK RECOMMENDS
Eat:
---
For local specialities in a plantation house museum…
For delicious seafood…
Sleep:
---
For a relaxing oasis near the city…
For boutique elegance on Príncipe…
Roça Belo Monte by Africa's Eden
Do:
---
For tailor-made tours…
For visits to coffee farms and beyond…
LANDMARK ATTRACTIONS
Praia Banana
---
This banana-shaped curve of white sand is bordered by dense jungle and lapped by aquamarine waters. You'll be able to look down on it from the clifftop mirador; when you follow the path down to the sand, you'll find a small bar hidden beneath the trees.
Claudio Corallo Chocolate Factory
---
Those with a sweet tooth shouldn't miss a trip to this Italian-run chocolate factory in an old plantation house. You'll learn all about the chocolate-making process on a fascinating tour of the premises.
And of course, there's a chance to taste the products.
Baía das Agulhas
---
The Baía das Agulhas, or Bay of Spires, is one of the top sites in Príncipe. From the water, you'll get an unmissable view of the island's phonolite towers – remains of volcanoes so ancient that their soft outer shells have eroded, leaving behind the steeple-shaped core – punctuating the vegetation.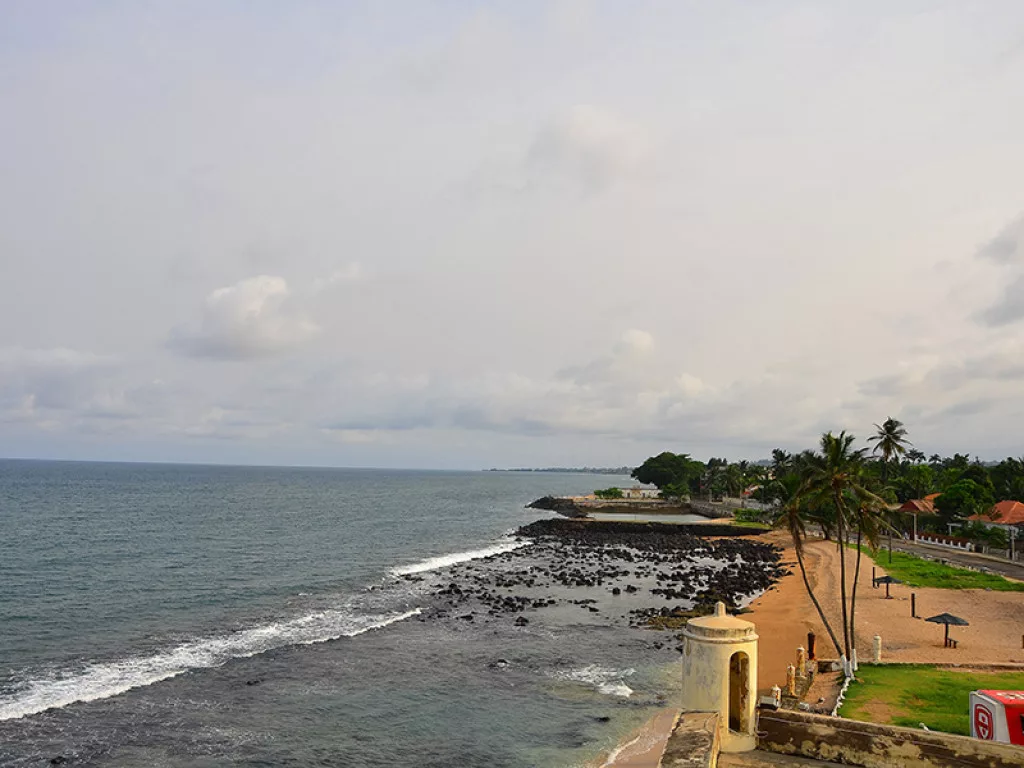 GETTING THERE AND AROUND
---
Tourists visiting the islands will likely fly in via São Tomé International Airport. Both TAP Air Portugal and STP Airways offer one weekly direct flight from Lisbon, which takes six hours. There are also direct connections to several locations in Africa, including Lagos and Praia, in Cape Verde. Tourists visiting from outside these areas will need to take a connecting flight.
The best way to travel between São Tomé and Príncipe is to take a 45-minute flight with STP Airways (which run daily from Monday – Saturday). This is recommended over the ferry, as the six-hour crossing across open ocean can be rough.
The islands have neither a public bus service nor train network. Shared taxis are the most common form of transport. However, it's also possible to book a private taxi – something your hotel should be able to arrange – or to hire a car, either with or without a driver.