The architecture in Willemstad reflects not only European urban planning concepts, but the styles of colonial towns with which the capital city engaged in trade.
An exceptionally well preserved example of a Dutch colonial trading settlement, Willemstad's colourful building exteriors pop in a striking array of red, blue, yellow ochre and green, a local tradition dating back to 1817 when white lime finishes were prohibited.
Willemstad shares a common cultural history with its Caribbean counterparts, and is a rare instance of a historic port town uniquely set in a natural harbour, which continues to serve as the gateway to the city.
Four historic districts – Punda, Pietermaai, Otrobanda, and Scharloo – demonstrate the city's subsequent stages of development over the course of centuries.
With a long and rich colonial history, Willemstad is a UNESCO World Heritage Site that accommodates more than 700 protected monuments, most of which are historic shops, townhouses and mansions. The majority of Curaçao's listed buildings are also situated in the old districts of the capital, whilst many urban structures, such as the narrow alleys of Punda and Otrobanda, remain relatively intact.
These vibrant pedestrian-only streets create a picturesque atmosphere, adorned with myriad shops, cafés and terraces conveniently situated in one area. As one of the world's most beautiful inner cities, walking in Willemstad will present you with perfect photo opportunities at every turn.
Punda's quaint streets and alleys are alive with colour and brimming with life, leading to some of the island's very best jewellery, electronics, cosmetics, clothing and souvenir stores.
Landmark Attractions
Blue Room Cave
A special natural phenomenon transforms this underwater cave into a spectacular blue room. Sunlight is reflected into the cave through the water, giving it a beautiful luminescent glow. The cave is therefore at its glistening best around midday when the sun is at its sharpest. Visit by boat, or if you're in for an adventure, we also recommend going by canoe.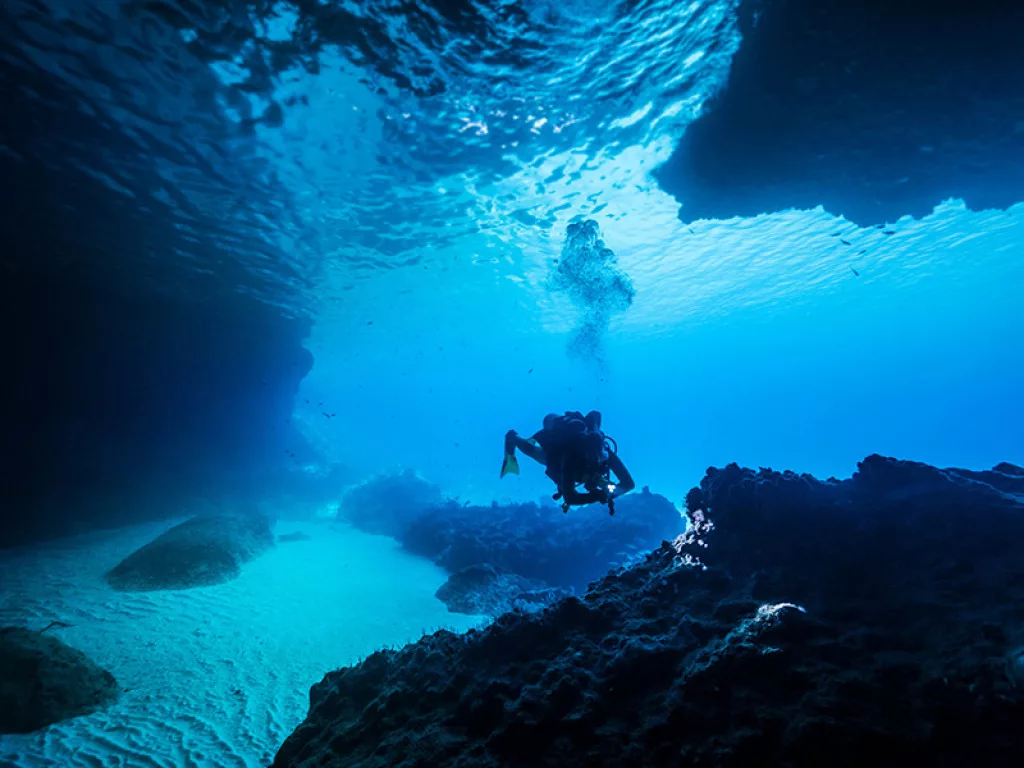 Handelskade
This picturesque harbourfront is lined with brightly painted 18th century buildings, that today house art galleries, sidewalk cafés and house boutiques. Pop into the shops along the water and watch ships enter the harbour by day; experience illuminated façades and reflections glinting on the bay by night. Whatever time you visit, you're going to want to capture it all on camera.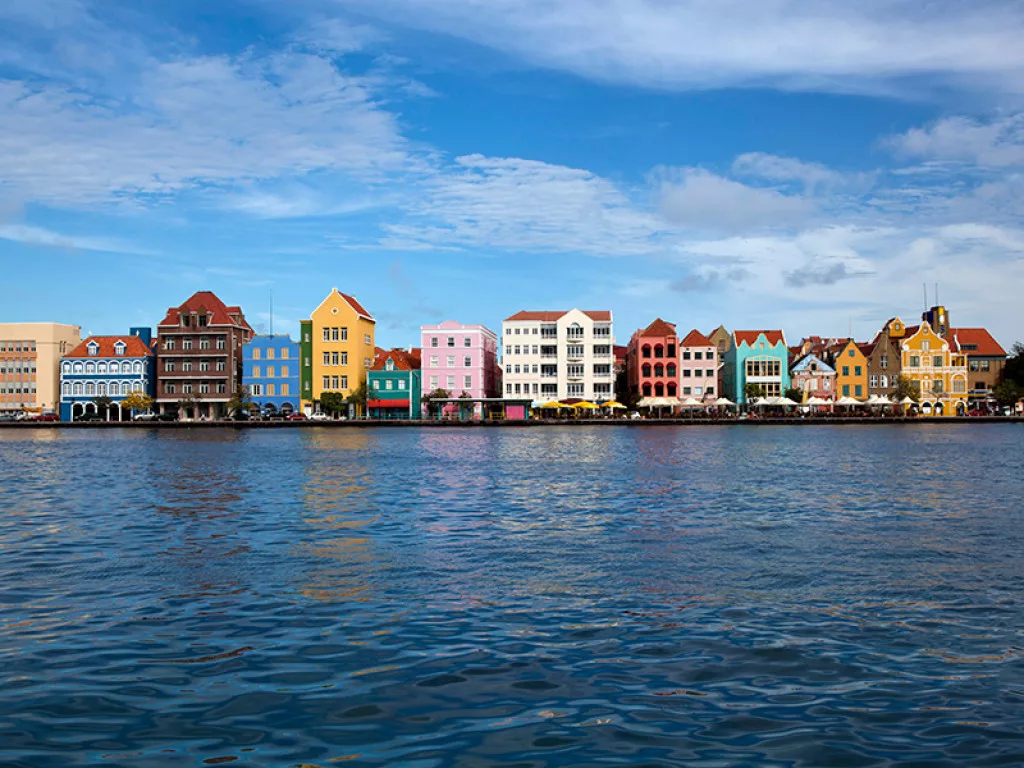 Queen Juliana Bridge
At 56 metres high, the Queen Juliana Bridge is the tallest in the Caribbean. It has been an inseparable and towering element of the Willemstad landscape ever since opening in 1974, allowing visitors to enjoy awe-inspiring panoramas of the city. Thrill seekers can even rappel from this blue and yellow bridge with professional guidance!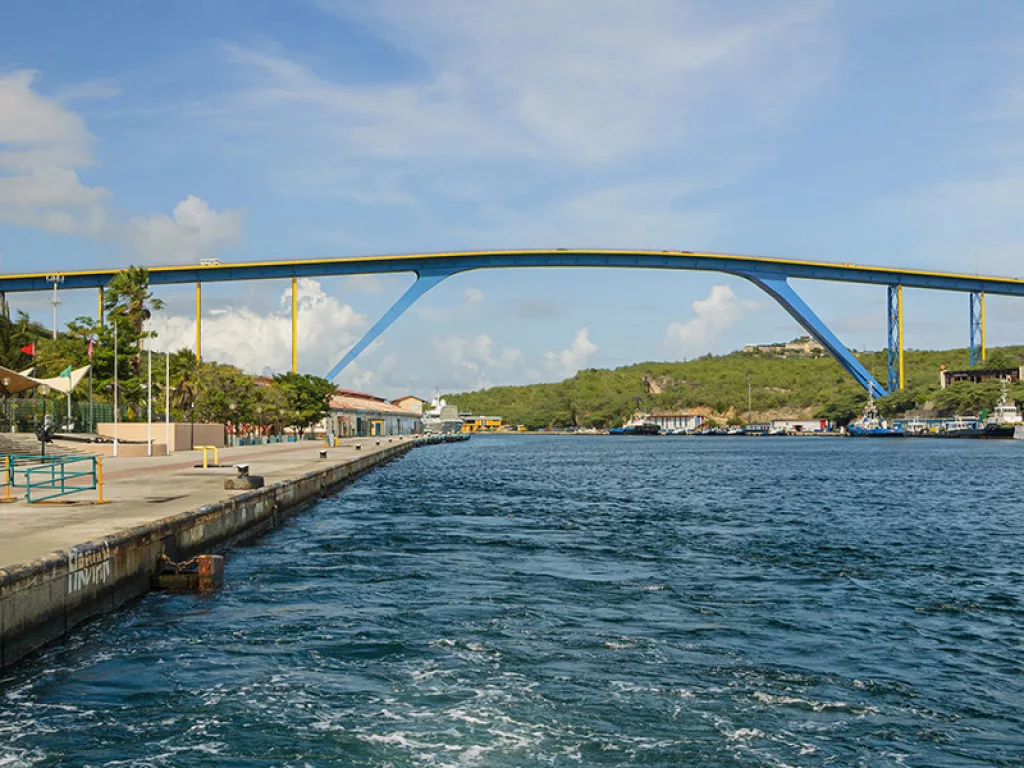 Getting There and Around
Boasting the region's third longest commercial runway, Curaçao International Airport services flights from the Caribbean, South America, North America, and Europe.
Curaçao is also accessible by sea via a cruise or yacht, however there are no ferries operating between the ABC islands despite their close proximity, so the only way of island hopping between Aruba, Bonaire and Curaçao is by air.
Upon arrival, the best way of getting to know the island is by renting a car, with many car rental companies operating at Curaçao International Airport as well as occupying desks in larger hotels. A deposit will be required, and it is advisable to make rental car reservations in advance.
Taxis can be found at the airport, near many hotels, or alternatively ordered on the 24-7 Taxi Curaçao app anytime and anywhere on the island. Cabs can be expensive, however, especially if you are planning to use them frequently.
An airport transfer service is also offered by many Curaçaoan hotels, some of which offer regular shuttles to the beach and downtown Willemstad.
For a real local experience, public buses known as "konvoi" make for a fun outing and allow you to interact closely with resident islanders. Most buses run hourly, with a reduced Sunday service and tickets paid to the driver in cash. Smaller minibuses also handily run all over the island, although these have no fixed schedule.
SLIDER