Feel for yourself the flair of Curaçao, an endless wave of colour that boasts a distinct European and Caribbean blend.
CURAÇAO
Perfectly situated between the Americas and Europe, an escape to Curaçao offers an undeniably unique experience to all who visit.
This Southern Caribbean paradise was originally inhabited by the Arawaks from mainland South America, before the first arrival of Europeans in 1499. Curaçao became Dutch territory in 1634, and today it is home to 55 different nationalities, creating a cocktail of cultures and heritage.
The largest of the ABC islands (Aruba, Bonaire and Curaçao), a rich mix of European and Caribbean influences exude through every corner of Curaçao, especially the capital city of Willemstad.
This historic area and designated UNESCO World Heritage Site consists of several distinct historic districts, including Punda, the oldest part of the capital. The architecture of Willemstad has been shaped not only by Dutch colonial concepts, but also the tropical climate and architectural styles from towns throughout the Caribbean.
Social and cultural differences have converged to enrich building traditions in the country, resulting in adapted architectural styles draped in a kaleidoscope of Caribbean colour. These vibrant pastel-coloured historic buildings are an iconic local tradition, dating back more than three centuries in a country bursting with unique Euro-Caribbean culture.
Away from the immersive and historic architecture at the island's cultural core, more than 35 pristine picture-postcard beaches dot the Curaçaoan coastline, offering azure-blue bliss and private coves for a quaint escape.
Warm and sunny all year round, with temperatures averaging 30 degrees Celsius, every moment in Curaçao is a chance to indulge, explore and unwind.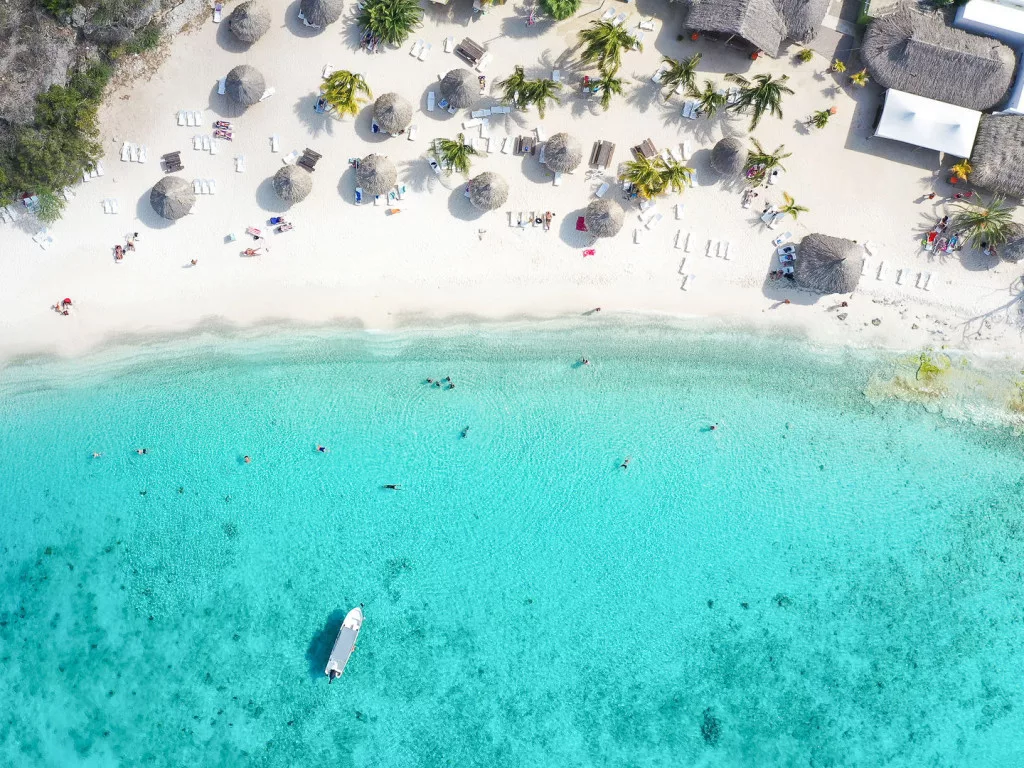 TOURISM INSIGHTS: CURAÇAO TOURIST BOARD
Marketing Curaçao as a leisure and business destination, thereby assuring sustainable benefits and attracting more visitors to the island, is the Curaçao Tourist Board (CTB).
CTB was established in 1915 to develop Curaçao's travel and tourism industry, the latter of which has been growing ever since as the country has become a popular Caribbean tourist destination.
The quality of the overall tourist experience is the main measure of success for CTB, whose tourism product development activities contribute to a better experience for visitors.
Curaçao's top three markets – the Netherlands, US, and Colombia – continue to perform well when it comes to stayover visits, as the island bounces back from the COVID-19 pandemic.
Indeed, CTB has reported more than 400,000 stayover visitors in the first 10 months of 2022, surpassing the number of arrivals registered during the same period of 2019.
We learn about what is set to be a record-breaking year for Curaçaoan tourism with Hugo Clarinda, Deputy Director of CTB, who details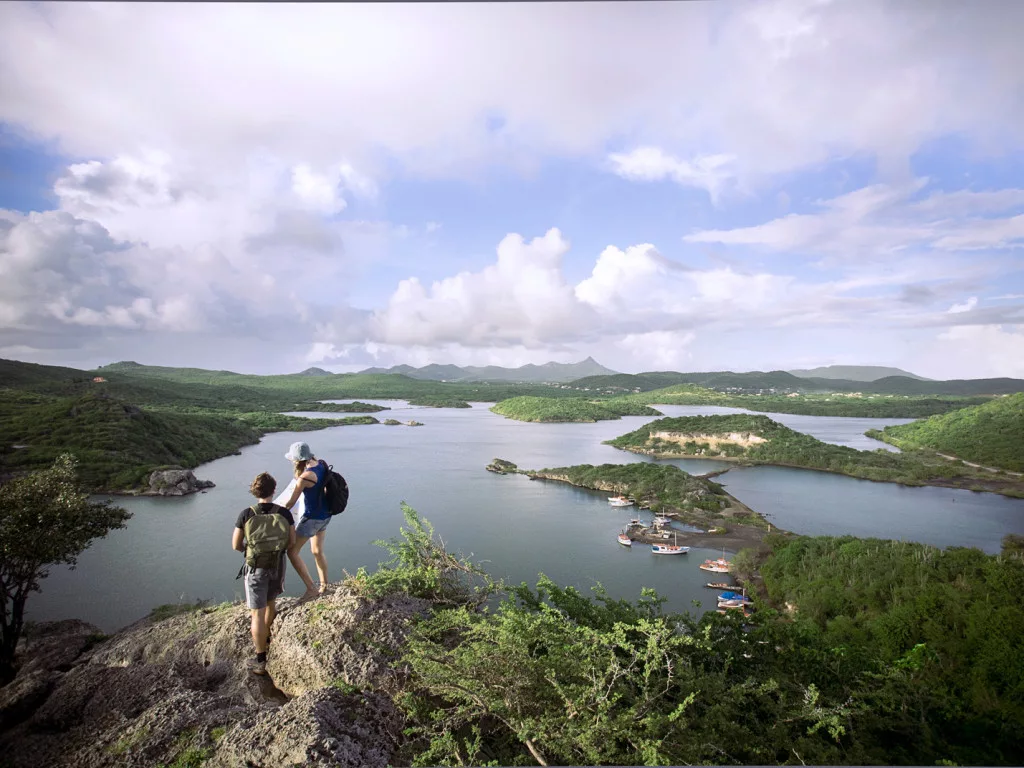 What are the current travel trends in Curaçao? We understand you have welcomed a record number of stayover arrivals this year?
Hugo Clarinda, Deputy Director (HC): North American travellers are quickly becoming privy to how dynamic and inviting a destination such as Curaçao is, with activities that cater to visitors with any type of interest.
Travel trends on the island are quite varied, but some of the most influential include off-the-beaten path adventures, authentic cultural immersions, and unique luxury experiences. Also, with the COVID-19 pandemic moving companies to remote work, we are also seeing an influx of extended stays for those that can work from anywhere.
Our motto continues to encourage consumers to "Feel it for Yourself" to find what truly resonates with them out of the many unique offerings found on the island.
What about Curaçao's growing popularity with US travellers? Why has there been such success in the US market in particular?
HC: Curaçao's growing popularity within the US market is largely to do with the increase of airlift from most major US cities.
The rich culture and unique experiences that the island offers are also a major draw for travellers, such as the iconic Dutch colonial architecture and European-esque capital city, as well as the stunning turquoise blue waters. The addition of global hotel brands with loyalty programmes incentivises US travellers to visit this hidden gem of the Caribbean.
Equally, how has Curaçao's tourism product changed over time? What trends are transforming the tourism industry?
HC: The evolution of Curaçao's tourism product is rooted in expansion. With some significant new hotel openings in 2021, ranging from luxury boutique properties to global name-brand favourites, the island offers accommodations for every type of traveller and the experience they are looking for.
Through the evolution and development of the island, we have strived to maintain its authenticity, preserving some of the oldest hotels that are still in operation with loyal guests from both Europe and the US coming back year after year.
How imminent is the need for sustainable and responsible tourism in Curaçao, to preserve natural resources such as your coral reefs?
HC: Sustainable tourism is important throughout the world for all destinations, but especially island nations with precious and endangered ocean life.
In Curaçao, both the private and public sectors understand this and do their part to help visitors travel responsibly. On-island sustainability efforts range from the Reef Renewal Project led by Ocean Encounters, to recycled plastic product brand Limpi, and of course, hotel specific efforts to conserve water and use sustainable materials.
Why, in your opinion, should someone visit Curaçao?
HC: As our motto says, feel it for yourself! On top of the rich culture, history, world-class cuisine, and unparalleled beaches, Curaçao has a tonne of activities ideal for solo travelers, couples, families, and group getaways. Many of our visitors continue to flock to the island year after year because no trip is the same with all of our diverse offerings.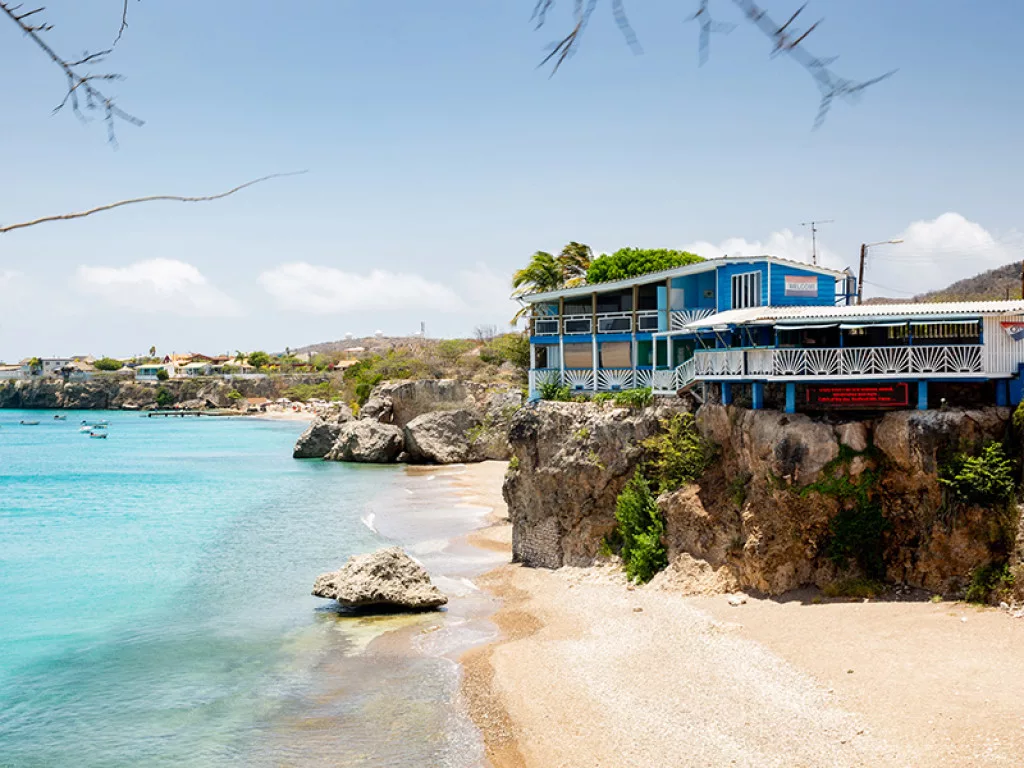 What differentiates Curaçao as a tourist destination from other Caribbean islands?
HC: Curaçao is unique in the sense that locals and travellers are constantly interacting. There is no specific "tourist area" or "tourist attractions" on the island – and oftentimes you'll find a local, Dutch expat, and US vacationer all sitting beside each other at a bar or one of the cove-like beaches.
Travellers are constantly getting that authentic Curaçaoan experience, and truly seeing the blend of over 55 distinct nationalities on the island influencing art, food, and attractions. Local influence has allowed the hospitality industry to develop in a way that appeals distinctly to trendy and savvy visitors looking for an authentic escape.
What are some of Curaçao's most overlooked or underrated landmarks?
HC: On top of more than 35 stunning cove-like beaches (some that are virtually untouched), we have natural wonders like Skete Boca National Park on the rugged western side of the island, which has a surprising desert landscape.
The Salt Flats of Jan Thiel, another iconic landmark, is said to have special healing properties. We invite travellers to understand our history with a visit to the critically acclaimed Kura Hulanda, which is home to relics and ancient artifacts, and Kas di Pal'i Maishi, a traditional adobe house which dates back to 1888 and is home to a small museum showcasing the Afro-Curaçaoan heritage.
How do you forecast tourism developing in Curaçao in 2023?
HC: The outlook for 2023 looks very promising with strong demand out of our source markets in North America, Europe and South America. With 2022 already breaking records, we expect to even exceed arrival numbers in 2023 as we forecast to finally surpass the 500,000 stayover visitors in the upcoming year.
OUTLOOK RECOMMENDS
Eat:
FOR A TASTE OF TRADITION…
Curaçao's national dish, keshi yena, traditionally consists of a large, round ball of cheese stuffed with spiced meat. Some modern cooks prepare keshi yena in ramekins, whilst others stick to baking the dish in an empty can of sausages or by wrapping the cheese in plantain leaves.
Do:
FOR A HISTORICAL DISCOVERY TOUR…
The Curacao Maritime Museum immerses visitors in more than 500 years of Curaçaoan history. Illustrated by a permanent exhibition consisting of displays with authentic nautical charts, ship models and navigation equipment, combined with audiovisual techniques, this journey of discovery is an attraction not to be missed.
FOR WEST COAST EXPLORATION…
Curaçao's full service PADI 5-star dive centre, Caribbean Sea Sports Curaçao, is located on the idyllic Dreams Curaçao Resort Spa & Casino beach. Snorkelling excursions and more than 20 dive sites allow you to enjoy and explore the country's beautiful west coast in top-of-the-line gear.
FOR RESORT LIFE AMID THE MANGROVES…
From on-site water sports to daily adventure tours, there are activities for everyone at Mangrove Beach Corendon. Enjoy family and adult-only pools, an aquapark with water slides, a children's playground, art gallery, cigar lounge, and dive centre at this all-inclusive beachfront resort, which also offers 12 on-site restaurants and lounges for a true Caribbean escape.
FOR A FUN CLIMBING EXPERIENCE…
FOR SERENITY AT SEA…
FOR THE BEST MASSAGE IN CURAÇAO…
FOR VACATIONING AT THE WHEEL…
RW Rental

Sleep:
FOR HOTEL COMFORT AND HOMELY ATMOSPHERE…
Bed & Breakfast Sombré di Kabana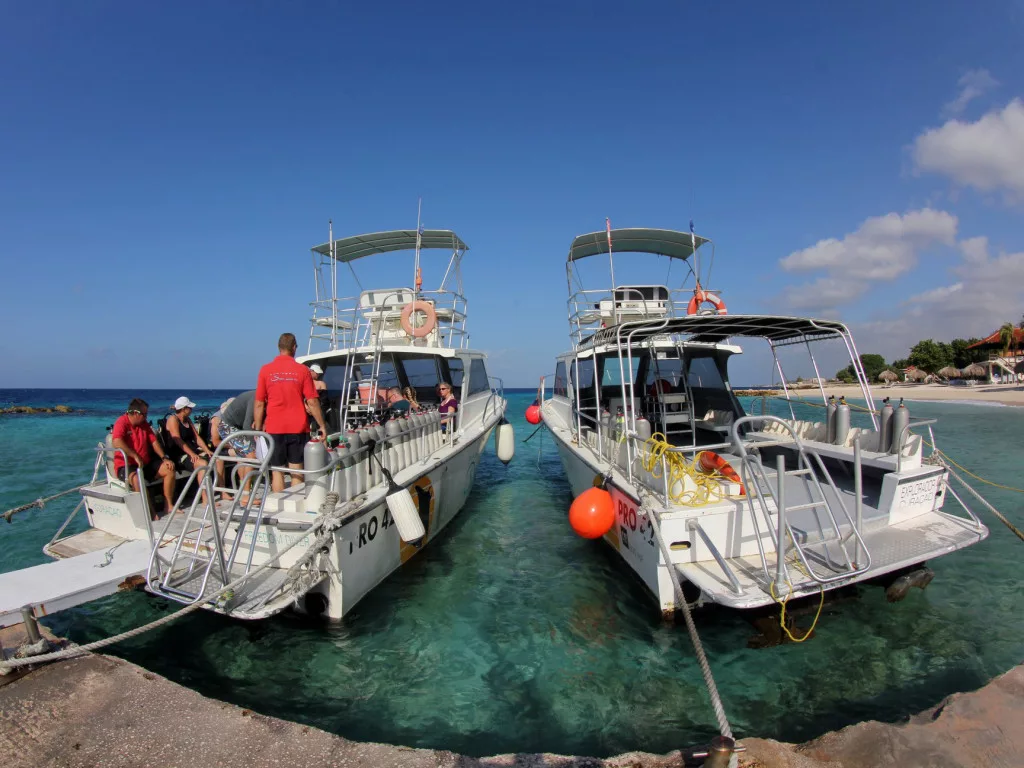 WILLEMSTAD IN FOCUS
The architecture in Willemstad reflects not only European urban planning concepts, but the styles of colonial towns with which the capital city engaged in trade.
An exceptionally well preserved example of a Dutch colonial trading settlement, Willemstad's colourful building exteriors pop in a striking array of red, blue, yellow ochre and green, a local tradition dating back to 1817 when white lime finishes were prohibited.
Willemstad shares a common cultural history with its Caribbean counterparts, and is a rare instance of a historic port town uniquely set in a natural harbour, which continues to serve as the gateway to the city.
Four historic districts – Punda, Pietermaai, Otrobanda, and Scharloo – demonstrate the city's subsequent stages of development over the course of centuries.
With a long and rich colonial history, Willemstad is a UNESCO World Heritage Site that accommodates more than 700 protected monuments, most of which are historic shops, townhouses and mansions. The majority of Curaçao's listed buildings are also situated in the old districts of the capital, whilst many urban structures, such as the narrow alleys of Punda and Otrobanda, remain relatively intact.
These vibrant pedestrian-only streets create a picturesque atmosphere, adorned with myriad shops, cafés and terraces conveniently situated in one area. As one of the world's most beautiful inner cities, walking in Willemstad will present you with perfect photo opportunities at every turn.
Punda's quaint streets and alleys are alive with colour and brimming with life, leading to some of the island's very best jewellery, electronics, cosmetics, clothing and souvenir stores.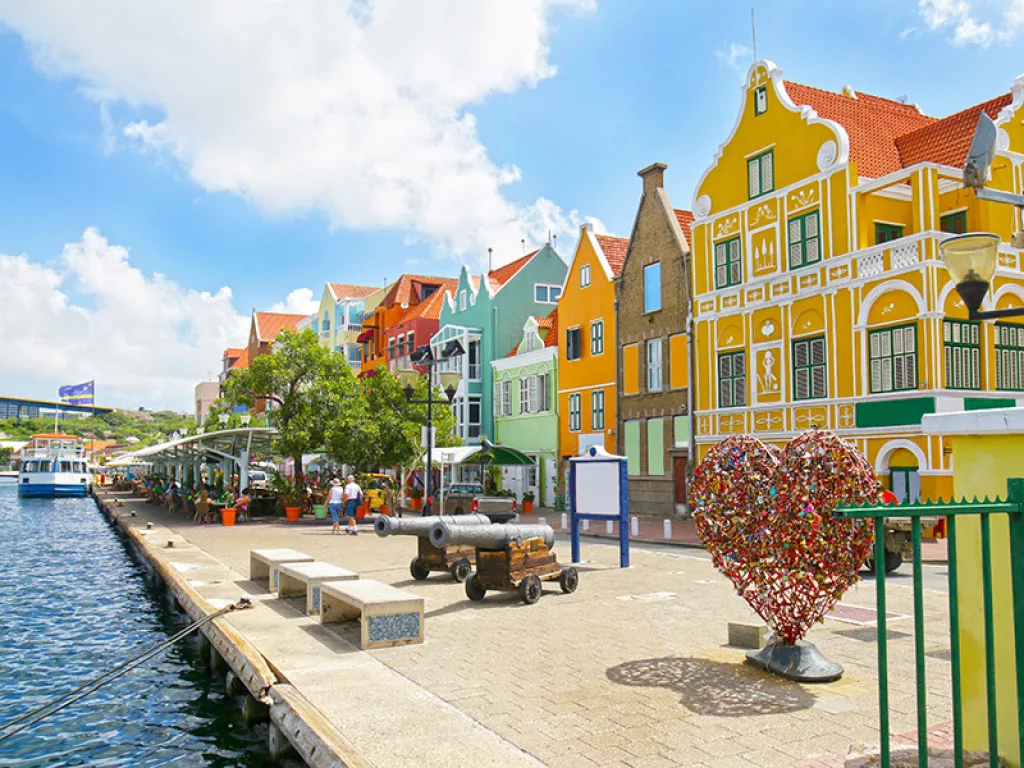 LARDMARK ATTRACTIONS
Blue Room Cave
A special natural phenomenon transforms this underwater cave into a spectacular blue room. Sunlight is reflected into the cave through the water, giving it a beautiful luminescent glow. The cave is therefore at its glistening best around midday when the sun is at its sharpest. Visit by boat, or if you're in for an adventure, we also recommend going by canoe.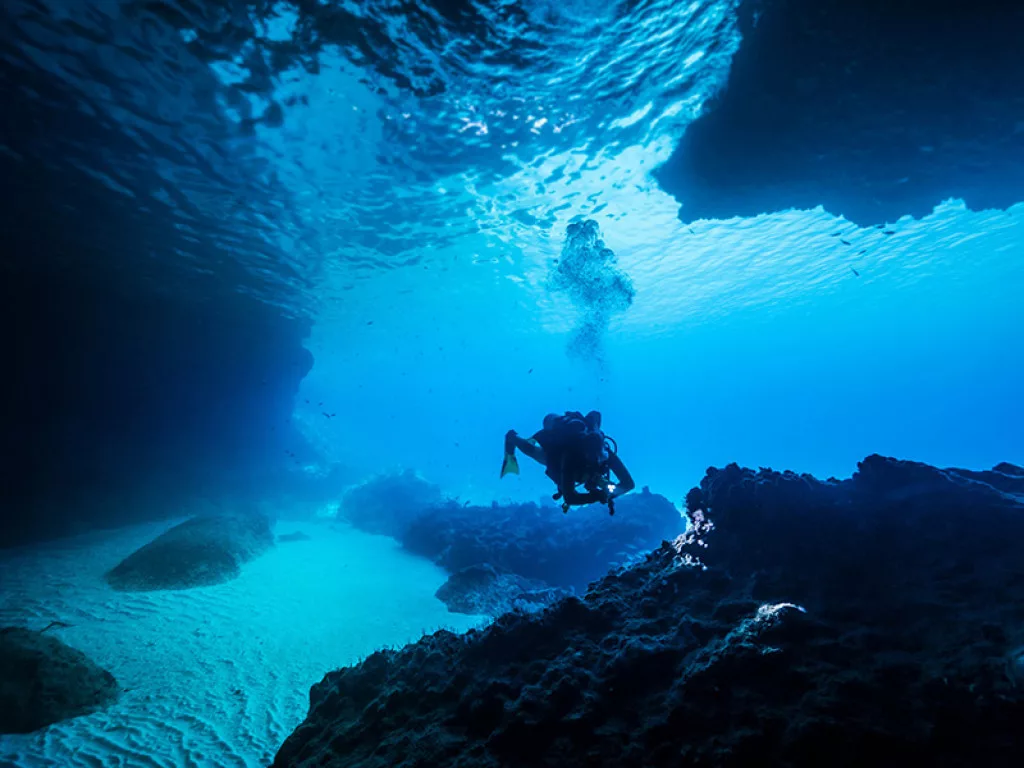 Handelskade
This picturesque harbourfront is lined with brightly painted 18th century buildings, that today house art galleries, sidewalk cafés and house boutiques. Pop into the shops along the water and watch ships enter the harbour by day; experience illuminated façades and reflections glinting on the bay by night. Whatever time you visit, you're going to want to capture it all on camera.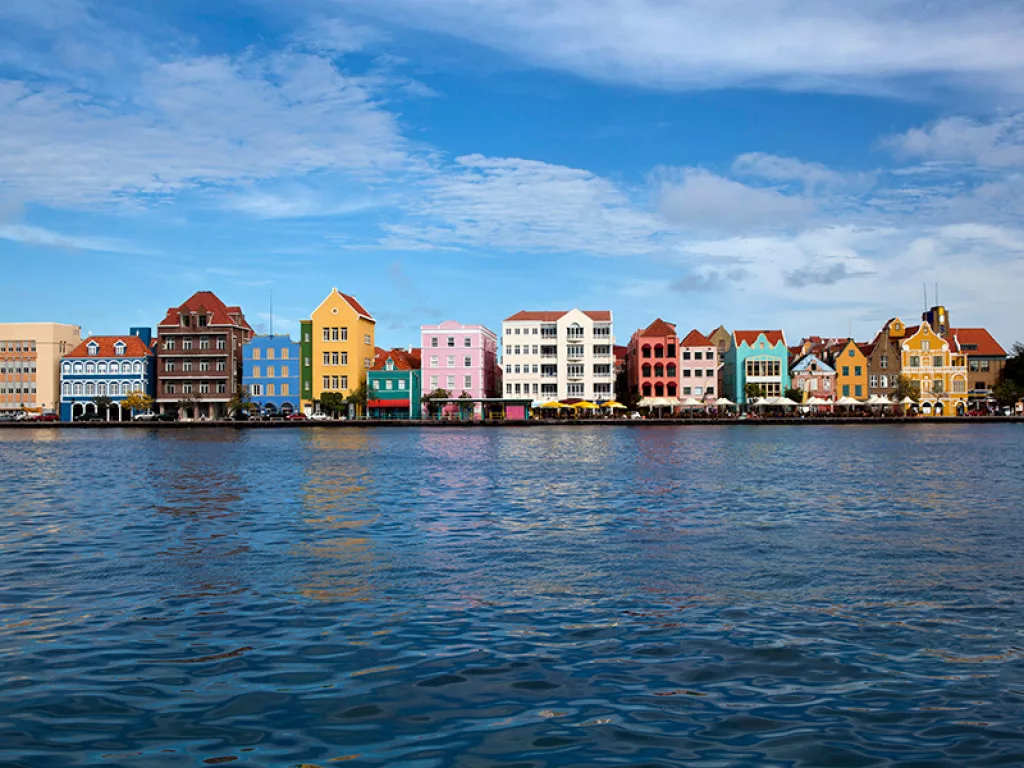 Queen Juliana Bridge
At 56 metres high, the Queen Juliana Bridge is the tallest in the Caribbean. It has been an inseparable and towering element of the Willemstad landscape ever since opening in 1974, allowing visitors to enjoy awe-inspiring panoramas of the city. Thrill seekers can even rappel from this blue and yellow bridge with professional guidance!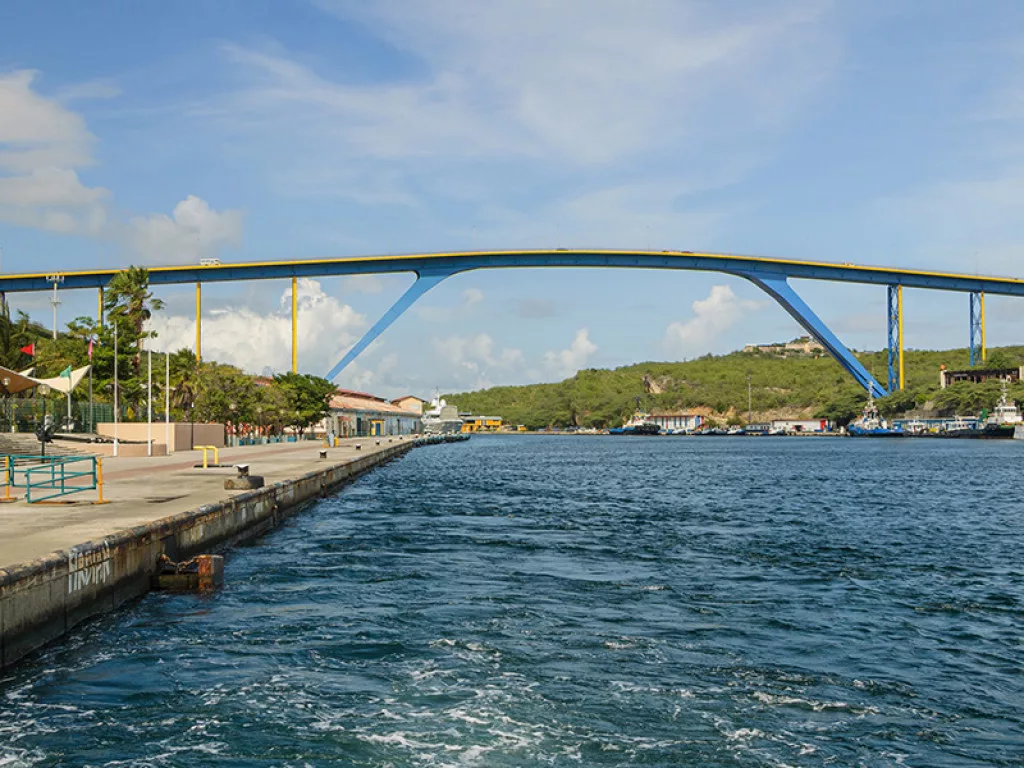 GETTING THERE AND AROUND
Boasting the region's third longest commercial runway, Curaçao International Airport services flights from the Caribbean, South America, North America, and Europe.
Curaçao is also accessible by sea via a cruise or yacht, however there are no ferries operating between the ABC islands despite their close proximity, so the only way of island hopping between Aruba, Bonaire and Curaçao is by air.
Upon arrival, the best way of getting to know the island is by renting a car, with many car rental companies operating at Curaçao International Airport as well as occupying desks in larger hotels. A deposit will be required, and it is advisable to make rental car reservations in advance.
Taxis can be found at the airport, near many hotels, or alternatively ordered on the 24-7 Taxi Curaçao app anytime and anywhere on the island. Cabs can be expensive, however, especially if you are planning to use them frequently.
An airport transfer service is also offered by many Curaçaoan hotels, some of which offer regular shuttles to the beach and downtown Willemstad.
For a real local experience, public buses known as "konvoi" make for a fun outing and allow you to interact closely with resident islanders. Most buses run hourly, with a reduced Sunday service and tickets paid to the driver in cash. Smaller minibuses also handily run all over the island, although these have no fixed schedule.