Sail Dalmatia is taking the helm of sustainability in the world of luxury yachting. We talk plastic pollution and eco-efficiency with owner and skipper, Dora Vulic.
Yachting's Sustainable Revolution
Sustainability and superyachts – two concepts that may initially appear at loggerheads and not the most natural bedfellows.
Indeed, the yachting industry has long suffered a reputation as a non-environmentally friendly means of travelling. According to a report by American publication Jacobin Magazine, there are approximately 300 superyachts currently in operation across the globe. Notorious oil guzzlers and contributors to ocean pollution, superyachts alone comprise a fleet that consumes over 32 million gallons of oil and produces 627 million lbs of carbon dioxide emissions a year — in some cases, this exceeds the total pollution and consumption level of entire countries.
But today, the ecological footprint of the hugely popular luxury yachting industry is shrinking.
Through a combination of innovation, prevention and preservation, the entire industry – from boat owners to designers, charter companies and shipyards – is awakening to the demand for sustainable solutions. This extends to efficient, reduced fuel consumption, the protection of marine ecosystems, and the elimination of plastics and other pollutants of the sea.
At the forefront of keeping sustainability afloat in the yachting sector across the Adriatic, is Croatia's leading luxury yacht charter company – Sail Dalmatia.
"Our mission is to facilitate exceptional yachting experiences as best as we can," opens founder and owner, Dora Vulic. "Sail Dalmatia is all about combining our passion for sailing with our love for Croatia and the knowledge we have of the country."
For Vulic – a native Croat and accomplished skipper as the only Croatian female to have completed the esteemed Round the World Clipper Yacht Race – the demand from clients for responsible boating experiences became impossible to ignore.
"We are at the point when people have started to genuinely care. We get more and more clients who want to know what we are doing to protect the environment, specifically within the Adriatic. We want these waters to be left intact for future generations."
A prime example of this is the company's commitment to plastic pollution and keeping waters clean, best embodied by its work with Australian company, the Seabin Project.
"We were one of the first companies to introduce Seabins to Croatia. As a result of our collaboration, we installed the very first two Seabins in two marinas in Croatia," she tells us.
On board, Sail Dalmatia recognises that plastic bottles are often inevitable and will accompany most parties, but they have a responsibility to educate everyone about the other options available.
"Reducing plastic pollution is a mission that is very close to our hearts.
"Plastic is still very much used when people are on board the boat, but we are trying to educate our clients, our boat owners, and our crews, to realise and to use the alternatives that are available thanks to technology these days. Of course, its costly and you need to invest the money into it, but the benefits are incomparable."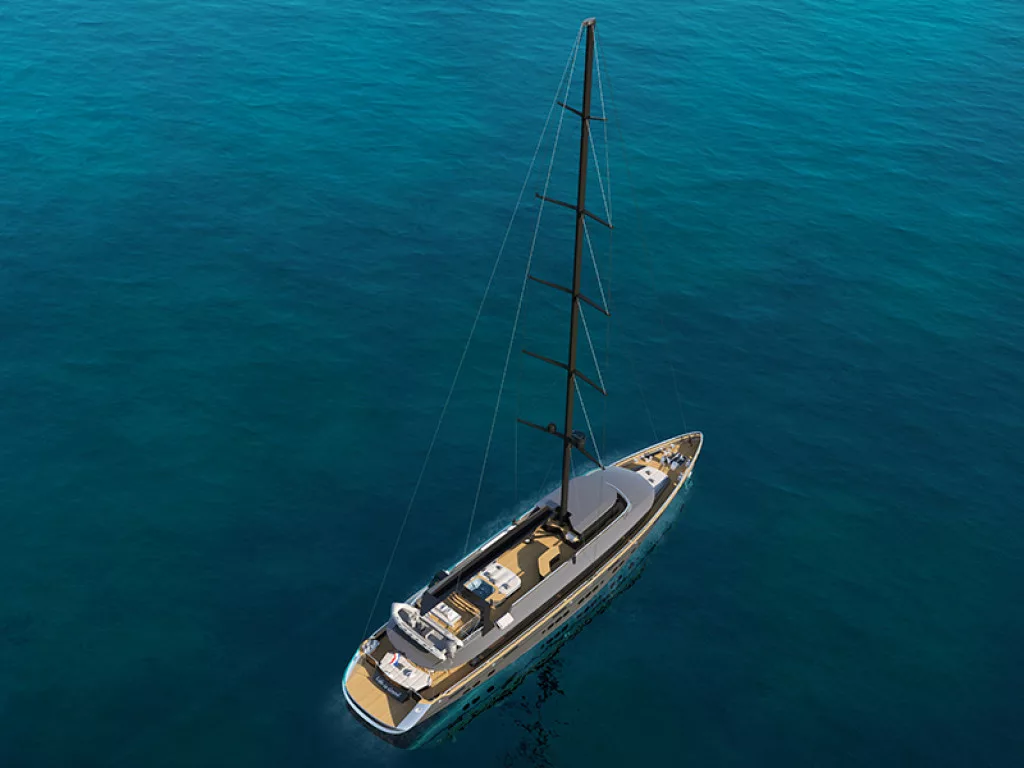 LIFE IS GOOD
As electrification spreads like wildfire across industries worldwide, yachting is no exception.
Many in the sector are harnessing a hybrid future through advanced sustainable technologies that are driving decarbonisation in the market by creating energy-efficient vessels fit for the future.
"The industry as a whole is heading towards electric and solar-powered catamarans, and at the moment we are looking to introduce these to the Adriatic next year," Vulic shares.
"We are working with a manufacturer who is producing electric catamarans that are solar-powered and we will be adding these to our portfolio."
Sail Dalmatia's fleet is growing to include models that leverage energy-efficient technologies including solar panels and means of water purification, thereby eliminating the need for plastic bottles on board.
"At the moment, we are launching a 45-metre boat exclusive to our fleet – she's called Life is Good," Vulic tells us excitedly. Still in production in a Croatian shipyard, the vessel is due to be launched in May 2022.
"We are launching the very first eco-friendly yacht built locally in the Adriatic."
Life is Good boasts a structure and hull that is designed entirely to maximise fuel efficiency. Although a motor sailor, the boat's solar panels maximise the energy potential of the 3,000 hours per year of sunshine enjoyed in the Adriatic. Complemented by the use of sails and a fuel-efficient engine, her environmental impact will be minimal, with the installation of the aforementioned on-board water purifiers to reduce plastic use.
"We have done extensive research with Life is Good, testing her fuel consumption on the passages that we use and compared it with a classic motor sailor that isn't so eco-friendly. This boat will be in a much better position and it will definitely create a better experience for the client, particularly as they are always interested to see what is new on the market."
On the understanding that sustainability and luxury yachting don't need to exist as mutually exclusive priorities, Sail Dalmatia enables the future of boating with a clearer conscience.
"This is the future of the whole yachting industry. We must all work towards a more sustainable approach and invest a lot into eco-friendly options and the technology required to build yachts that are causing minimal impact to the environment."