Encircled by South Africa, Lesotho is a unique country set high in the mountains, its natural beauty gradually becoming known to tourists.
LESOTHO
---
Wholly contained within South Africa and sustaining a long history of political autonomy, Lesotho is one of the region's most scenic small countries. Surrounded by mountains and home to a growing tourism industry, it is one of just three countries in the world to be completely surrounded by another country, the others being the Vatican City and the Republic of San Marino, both encircled by Italy.
Being in such proximity to a well-developed nation such as South Africa makes accessing Lesotho relatively straightforward from the likes of Durban and Johannesburg, although the terrain and culture to be found here is contrasting. An alpine nation, one of the best ways of experiencing its customs and traditions is to hike and trek through the mountain villages, pony trekking being renowned as a particularly memorable activity.
And more and more people are beginning to enjoy the natural sights on offer in Lesotho, the country attracting over a million international visitors in 2018, a marked increase on the 400,000 welcomed just seven years previously. Its capital city, Maseru, is also thought to be one of the most attractive cities in the whole of Southern Africa.
THE BUSINESS END
---
Lesotho's economy is heavily reliant on South African input, the two countries operating in a customs union and sharing important infrastructure such as communications networks and the Highlands Water Project. The latter is a large-scale water transfer scheme that exports water to South Africa and produces hydroelectric power for Lesotho, a vital power resource for the nation and a project which took off in the 1980s and saw the first phase completed in 1997 with the building of the Katse Da and the Muela Hydroelectric Power Station (inaugurated in 1999). Manufacturing is a new addition to Lesotho's economic output, albeit dominated by small-scale enterprises producing goods such as furniture, ceramics and jewellery.
Tourism is considered to be a strong growth opportunity, this optimism reflected in recent statistics which point towards an expanding sector. For example, in 2018 tourist arrivals hit 1.2 million, a figure which represents a 3.1 percent increase on 2017 according to the Lesotho Tourism Development Corporation. In monetary terms, this equated to M488 million in revenue (excluding domestic expenditure), economic activity which has resulted in the creation of around 2,700 jobs. The country has done much to develop its tourism base, building roads and pony trails while also investing in hotels and ski resort facilities.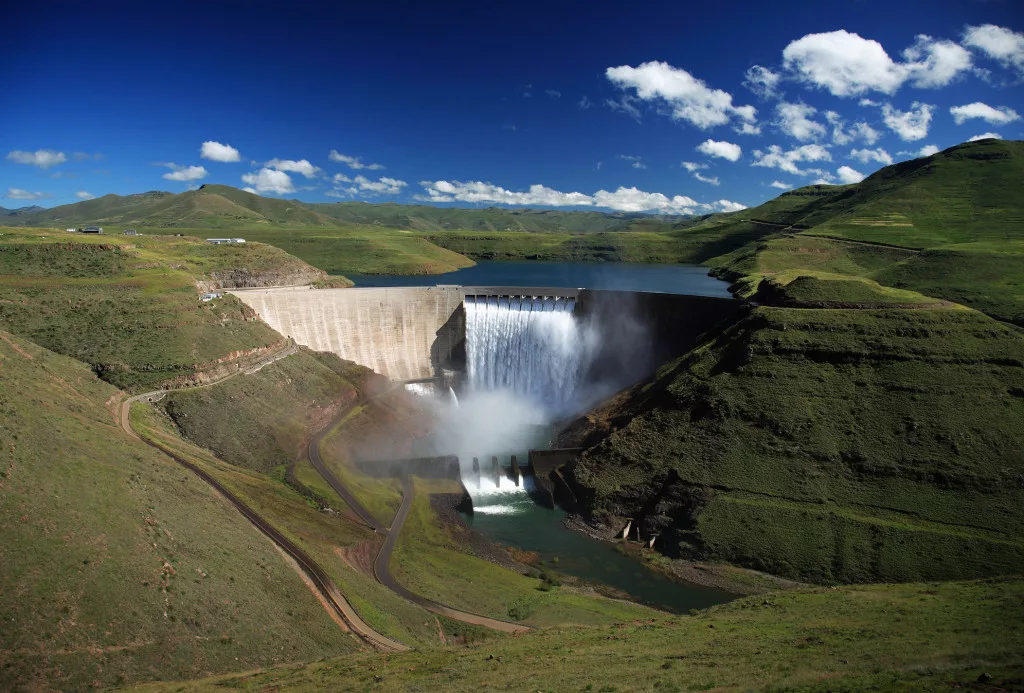 TOURISM INSIGHTS: LESOTHO TOURISM DEVELOPMENT CORPORATION
The Lesotho Tourism Development Corporation (LTDC) is a parastatal organisation established in 2002, its mandate to promote tourism in the country. It is a semi-autonomous organisation with its board of directors mostly comprising private sector representatives. LTDC is mandated to provide leadership in the development of a strong and vibrant tourism industry which contributes to sustainable economic growth, job creation, poverty alleviation, and protection of the natural and cultural environment. Mpaiphele Maqutu, CEO, answers our questions.
Q&A WITH MPAIPHELE MAQUTU, CEO, LTDC
Since inception, how has the Lesotho Tourism Development Corporation developed and progressed in terms of its key objectives and the messages it tries to get across?
Mpaiphele Maqutu (MM): LTDC has been implementing a number of strategies, including the development of the National Tourism Brand, which is built upon Lesotho's natural and cultural signature attributes. As part of quality assurance measures, LTDC has also implemented a Quality Star grading programme for local accommodation facilities. Continuous training and strengthening of the private sector as the main role player in tourism development in Lesotho is also on the cards, together with promotion of community participation in tourism initiatives. To date, a significant number of local tour guides have been trained and are showing remarkable progress in the tour operation business.
Why, in your opinion, should someone visit Lesotho?
(MM): Lesotho is famous for its spectacular scenic beauty, branded by breathtaking mountain ranges, towering peaks, a rich variety of flora and fauna, crystal clear streams, surging waterfalls, diverse culture and a snow blanket seen high in the mountains across the country in winter. Travellers should visit our beautiful kingdom in the sky because it has a myriad of activities for adventurers, cultural enthusiasts, sportspeople and academics. The mountains, landscape and high altitude lure bikers, 4X4 riders and hikers to explore them in search of adrenaline teasing challenges and adventure. In the southern part of the country, the Maluti Drakensburg Transfrontier Park forms part of the itinerary for any visitor to Lesotho, offering majestic scenery and a wide variety of flora and fauna. The waters of Lesotho also allow for canoeing, boating and fishing among a hive of other activities. Lesotho is also a hub for a variety of interesting handmade crafts which make rare and beautiful souvenirs, most of them inspired by Basotho culture and iconic natural attractions found across the country. Those who wish to explore routes on foot and experience the Basotho culture and the simple charms of our local traditional hospitality will also find what they are looking for. The traditional home-cooked dishes coupled with cultural stories told by our local guides and native Basotho people will leave you in awe and stay with you forever.
What trends are transforming the tourism industry in Lesotho at present? How are you responding to these trends?
(MM): The figures indicate that between 2014 and 2018 tourism receipts rose by 30 percent, while investment in accommodation alone has increased by 20 percent. A remarkable positive trend is also transforming the industry in terms of domestic tourism awareness. For the third year, we are busy promoting domestic tourism and more spending at local attractions. This has been made possible by implementation of the national tourism campaign dubbed "visit your country first", which seeks to encourage Basotho to travel more around Lesotho. We are also currently involved in crafting and revision of the tourism policy in support of the private sector in their different tourism related business operations.
How do you see Lesotho developing as a business travel hub over the next year to two years?
(MM): The advent of mega international events such as the famous LETOFE, Maletsunyane Braai Festival and others which attract visitors from the majority of Southern African neighbouring countries is a true reflection of the fact that Lesotho is making significant strides in becoming a travel business hub. Together with new investments in accommodation facilities, shopping and business facilities across the country, we believe Lesotho will begin to enjoy the benefits of these developments in the next couple of years and beyond. We probably need to copy and learn from the best practices of other countries such as Rwanda in promoting the MICE sector as a niche market for tourism promotion in Lesotho. In recent years, we have also seen the birth of an all business expo which occurs at one of the districts in Lesotho, and we are noting a remarkable growth and believe that through this initiative, the business fraternity will realise much needed success in the coming years.
Are there any plans or projects in the pipeline that you wish to highlight?
(MM): The main aim is to continue creating awareness about Lesotho's tourism product offering locally and internationally through our brand identity, as well as to promote it as an investment hub. As mentioned earlier, we are currently working on the tourism policy, which aims to iron out all bottlenecks. With the new airport refurbishment/upgrade project in the pipeline, we are also looking forward to increased business opportunities, since business and other travellers will be able to connect directly to Lesotho without having to pass through OR Tambo in South Africa. The new developments at the Lesotho Highlands Water Project further offers massive opportunities for tourism and other business investments. We are also excited about the Semonkong Visitor Comfort Facility, which is nearly complete. Through this facility we aim to make Semonkong a hub for community led tourism with the possibility for the growth of other sectors such as agriculture. Current road construction projects such as the building of a road from one of the southern towns, Qacha's Nek and our flagship National Park, Sehlabathebe, is also worth noting – it will open doors for tourism growth and investment in the area.
Are you optimistic about the future of the tourism industry in Lesotho?
(MM): In partnership with our hospitality sector, the QUALStar Grading Program is growing steadily – we are aiming to offer quality services that resonate with those offered in the international space. We will continue to promote our brand and encourage travellers to hear our stories and what Lesotho offers for tourists. With the fourth industrial revolution in place, we have sought to embrace technology and innovation in our marketing strategies, evident from the tourism mobile app Lesotho Guider, whose main purpose is to make tourism information services and other related information easily accessible to travellers. Lesotho has a great story to tell as a destination and we are looking forward to welcoming more visitors whom we believe, based on their experiences in our beautiful kingdom, will amplify our message to the world – so yes, we are very optimistic about the tourism industry in Lesotho.
MASERU IN FOCUS
---
Maseru is the capital of and largest urban settlement in Lesotho. Situated on the Caledon River, it lies very close to the South African border near Free State province and was established by the chief of the Sotho nation, Moshoeshoe, in 1869, initially serving as an administrative station for British colonialists. Evidence of this rule can be seen in a few buildings still standing around the centre of the city, most notably the Cathedral of Our Lady of Victories of the Roman Catholic Archdiocese of Maseru, and the Anglican St. John's Church. Following a period of political instability in 1998, the city underwent an expansive rebuilding programme which has resulted in location which is an ideal place from which to base a trip and set off into Lesotho's surrounding wilderness.
Despite the country not having a rail network, Maseru is linked to South Africa's rail system thanks to a short line running to Marseilles on the Bloemfontein-KwaZulu-Natal main line. This is an important transit route for farmers looking to export their produce, as well as workers. The city is well served by hotels, shops and restaurants, and is the main economic centre of the country. The commerce in Maseru is centred on two neighbouring central business districts, which have developed around Kingsway and serve as major employment centres.
OUTLOOK RECOMMENDS
STAY:
---
Avani Lesotho Hotel & Casino is situated on a hill just outside of Lesotho's capital city, Maseru. An ideal base from which to explore the city and the surrounding countryside, the hotel houses 158 rooms and suites and is within walking distance of various shopping districts. It is also conveniently within reach of Moshoeshoe I International Airport and offers a shuttle service. In the complex itself you will find a number of bars and restaurants which cater to almost every taste, from African speciality dishes to sweet treats and cocktails. The Avani also offers its own casino, adding another dimension to its guests' stays.
Sani Mountain Lodge is nestled on the border with South Africa and sat at 2,874 metres above sea level, the Sani Mountain Lodge is only reachable by 4×4 through the mountain pass and offers its own private paradise once you have arrived. It also houses what it claims to be the highest pub in Africa.
Hotel Mount Maluti sits at the foot of the Maluti Mountains, Hotel Mount Maluti can cater to solo travellers, family travellers and groups with ease. The hotel has 88 bedrooms and three fully equipped conference halls.
Mountain View Hotel is based in the town of Leribe Hloste and just 22 kilometres from the border, the Mountain View Hotel is perfectly placed for visits to a number of landmark attractions, including Katse Dam, the Majestic Mafika Lisiu Pass, Afriski Mountain Resort, Liphofung Cave Heritage site and Ts'ehlanyane National Park.
Blue Mountain Inn is one of the oldest hotels in Lesotho, dating back to the colonial era. Located around 40 kilometres outside of Maseru, its 98 rooms are supplemented by five conference halls and a boardroom, making it an ideal place to host business meetings.
NATURE:
---
EAT AND DRINK:
---
GETTING THERE AND AROUND
---
Moshoeshoe I International Airport is the main air transit hub in Lesotho, sat 21 kilometres south of Maseru, and can be reached on a daily basis from Johannesburg. However, the best way to get into the country is to fly into South Africa and hire a car.
Once in Lesotho, it is economical and convenient to continue renting a vehicle if you have driven in from South Africa. Cars can also be hired from Maseru and the airport, but those looking to use public transport will find themselves on one of the many buses or shared taxis that operate around the country. Minibus taxis serve the major towns and some more remote spots. Road transport is the only way around Lesotho as there are no domestic air routes or train network. Although possible, it is not advised to cycle great distances because of the country's mountainous terrain. Driving should also be taken with caution, not least because many of the nation's roads are in the process of being upgraded, while weather conditions can make navigating the mountains dangerous in the winter period.
"Taxis and buses are easy to recognise, the former marked with yellow paint on the middle of the body taxi and names of destinations on the front windows of buses," says Maqutu. "For your own convenience, it is advisable to book or hire a local tour operator to take you around and explore the country on a tailormade tour that fits your wallet."