A land of diversity, experiences, and beauty, Eswatini is home to exploration and wonder.
ESWATINI
---
The area that is now Eswatini (Swaziland prior to 2018) can trace its human activity back to the Stone Age (approximately 200,000 years ago) – the various artifacts discovered confirm this. This ancient region later derived its name from a king called Mswati II, a great warrior who expanded the borders of Eswatini.
Bordering both South Africa and Mozambique, Eswatini sits as an independent Kingdom blessed with a range of beautiful landscapes and unique wildlife.
Along its eastern edge running beside Mozambique, the Lubombo Mountains tower over the landscape of Eswatini. These give way to montane grasslands as in the west backing onto the Drakensberg Mountains, and between these rainforests, mopane woodlands, and savannahs form the makeup of the Kingdom's geography.
The Great Usutu River (also known as Maputo River) passes through the region from South Africa, and into Mozambique, and is the home to much of the wildlife in the Kingdom. Eswatini is well known for such wildlife, such as its rich variety of birds including predatory and exotic species of vultures and eagles. The critically endangered South-central black rhinoceros also makes its home in Eswatini – an awe inspiring sight for any visitor to lay their eyes on. Aside from the rarest of sights, African elephants, big cats (the lion and leopard to name but a few), herds of wildebeests, and hippos can be sights to see across the Kingdom.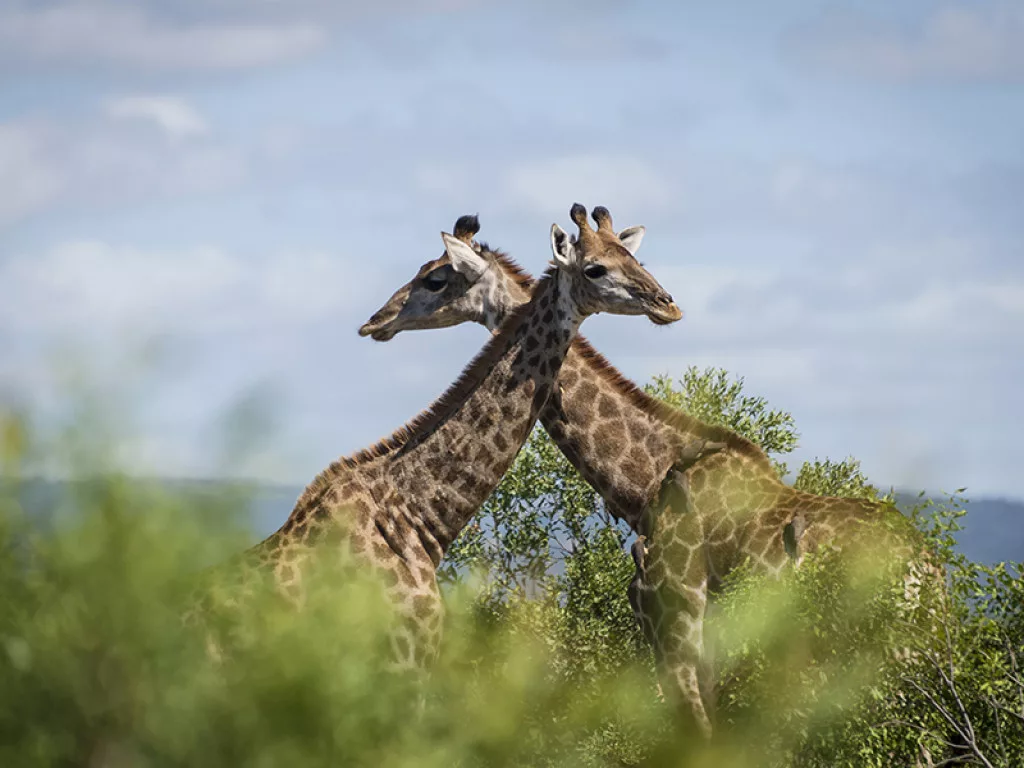 TOURISM INSIGHTS: ESWATINI TOURISM AUTHORITY
With the abundance of wildlife, dramatic scenery and unique culture, it is no shock that Eswatini has been for a very long time both an exotic and desirable location for those visiting Southern Africa. Amongst the industries that contribute towards the economy of Eswatini, tourism has also proved itself as a large provider of external investment within the Kingdom.
The Eswatini Government identified tourism as a sector capable of contributing meaningfully to the Eswatini economy and thus created a ministry responsible for it in 1996. The ministry was responsible for both tourism promotion and policy.
In 2001, the government, in a bid to further improve the industry, resolved to separate the tourism promotion issues from policy. Through an act of parliament, (the Tourism Authority Act in 2001), the Eswatini Tourism Authority (ETA) was established. The government's vision in establishing the public enterprise was to have a semi-autonomous organisation responsible for facilitating tourism development in the country and promote Eswatini as a premier tourism destination in Africa and abroad.
We spoke to Linda Nxumalo, CEO of Eswatini Tourism Authority, about the nature and future of Eswatini's tourism industry.
Q&A WITH LINDA NXUMALO, CEO, ESWATINI TOURISM AUTHORITY
How has COVID-19 affected the tourism industry in Eswatini, and how are you helping local businesses recover?
Linda Nxumalo (LN): 2020 has been a difficult year for all industries, but particularly harder for the tourism sector. Our research shows that the spillover effects from the COVID-19 outbreak and broken supply chains has led to faltering economic activity within the tourism industry. Tourism in Eswatini is heavily reliant on visitations from foreign markets and as such has been adversely affected by the travel restrictions on the international travel. International visitor arrivals to Eswatini in the first nine months of 2020 ending October registered 302 409 visitations, reflecting a decline of 69.3 percent in comparison a similar period in 2019. The former figure is indicative of the considerable losses from the initially targeted 1.4 million international visitor arrivals for 2020. International bodies monitoring the economic and financial impact of COVID-19 have expressed uniform sentiments that as the virus weighs on the tourism sector, consumer confidence and spending power is constantly being sharply undercut. While Eswatini remains optimistic about medium-term tourism growth prospects, the connotation of such a rapidly evolving situation is that tourism in Eswatini, at least in the short term, faces a dramatically altered picture.
To assist industry to reboot their business ETA has worked with the ministry of health and WHO to develop and distribute National covid-19 guidelines for the tourism sector to prevent the spread of the virus.
The industry was further trained on the guidelines and awarded safe travels certificates to boost visitor's confidence.
ETA further provides marketing assistance to lure more visitors to come to Eswatini and also encourage Emaswati to visit locally. These includes social media Adverts, TV, newspapers and radio adverts both locally and in the region.
Congratulations on being awarded 'Best in Travel – one of the top 10 countries to visit in 2020 by Lonely Planet! What makes Eswatini such a great place to visit?
LN: Firstly, the Kingdom of Eswatini is one of the few remaining monarchies in Africa and we pride ourselves with our culture and heritage, which are deeply engrained in all our aspects of Swazi life. This enables us to give a unique memorable experience for all our visitors. Adding to our rich culture, the overwhelming friendliness of our people makes visitors feel home away from home-happy, relaxed, safe and comfortable.
Secondly, we have an incredibly diverse terrain with stunning views. We have stunning mountain scenery with rivers, waterfalls and gorges, unique rock formations which are amongst the world's most ancient, lush and fertile valleys, plus typical African bush. With such a remarkable and varied 'natural playground,' there is wide choice of activities available in Eswatini for visitors to explore and enjoy the scenic landscapes.
Thirdly, we have fantastic safaris and we are home to the Africa fame Big Five. We offer intimate and up-close wildlife experiences. Eswatini is recognised as one of the best places in the world for Rhino encounters. Our land is still a gorgeous piece of unmatched bio-heritage and our reserves are still brimming with species of birds, full rivers and thick forests.
Are there any interesting projects in the pipeline you wish to highlight?
LN: We have worked with His Majesty's Government for the development of the Post COVID-19 Kingdom of Eswatini Economic Recovery Plan, wherein tourism was highlighted as one of the eight key sectors to stimulate the economy and lift it out of decline. The target is to implement new tourism projects worth about $31.2 million (according to the 12 December 2020 foreign exchange rate). These projects include a Fun City/Amusement Park and a National Aquarium to mention only but just a few.
Also, in line with the World Tourism Day 2020 theme, "Tourism and Rural Development," we have partnered with the United Nations Development Programme (UNDP) to train rural communities to identify and develop potential tourist attraction sites. We have already seen a number of interesting projects that we will be assisting communities to develop and rightly package. We are excited because these projects will provide jobs and economic empowerment, including for women and youth in these communities. They will also enable rural communities to protect and promote their natural surroundings, as well as their culture and heritage.
What are you doing to encourage responsible travel and community tourism in the country?
LN: The Ministry of Tourism and Environmental Affairs is currently working towards drafting Ecotourism policy and strategy which will assist community entrepreneur's access development grants. This will also create a definitive green tourism product that will be an attraction within the destination. We have also previously worked and engaged with organisations such as the hiking organisation of South Africa mainly to create a standard for trail products and ensure that responsible tourism forms an essential part in tours. The Eswatini Tourism Authority also endeavours to advise communities on tourism opportunities within their areas or chiefdoms. e.g. ETA sponsored by UNDP recently held a function in Shiselweni region to advise community leaders on opportunities in tourism and further linked them with financial aid being grants or bank loans.
Are you optimistic about the future of the tourism industry in Eswatini?
LN: Yes, I am very optimistic! As rightly stated in our National Development Strategy and Post COVID-19 Kingdom of Eswatini Economic Recovery Plan, we strongly believe that tourism can be an engine of economic growth in Eswatini, capable of energising and rejuvenating other sectors of the economy.
Tourism does bring substantial economic and social benefits. It continues to create opportunities for small entrepreneurs, assist in preserving the environment, breeds a unique informal sector, create economic linkages with other sectors (agriculture, light manufacturing, health, beauty and entertainment), contribute to development of infrastructure, and provide dignified employment opportunities.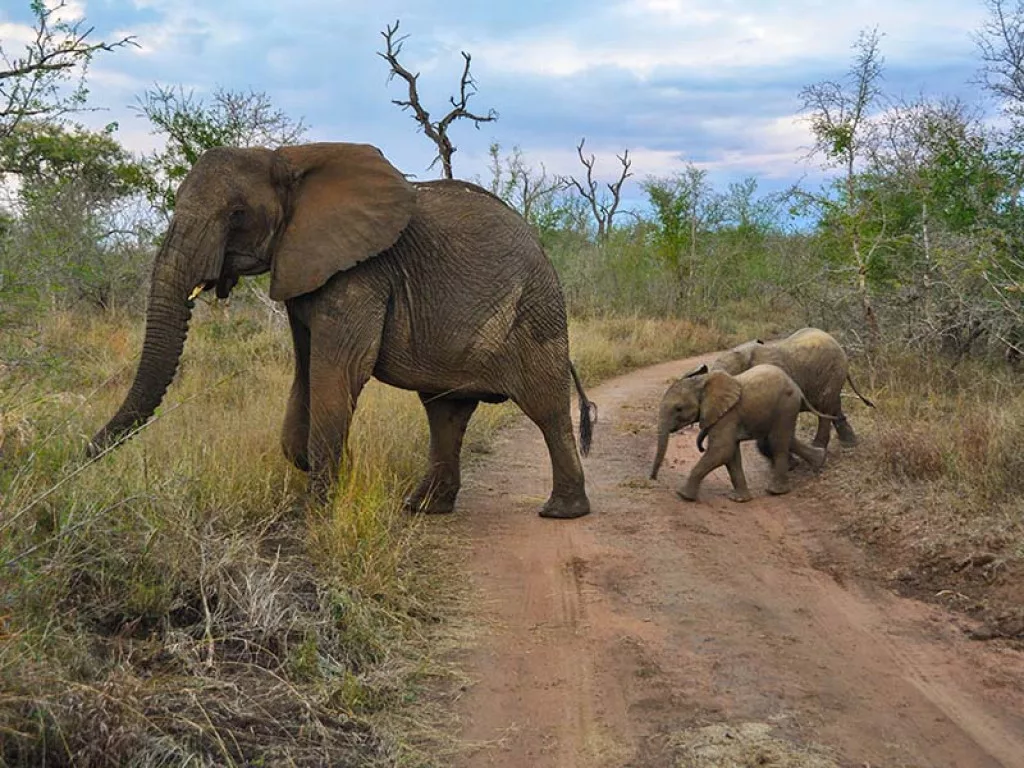 OUTLOOK RECOMMENDS
Eat:
---
Dining while taking in the sights…
For social occasions with local cuisine…
Malandela's Farmhouse Restaurant
Breakfast and gourmet meals in a relaxed environment…
Sleep:
---
The quality experience of a lifetime…
Royal Swazi Spa Hotel is the perfect getaway that merges affordable accommodation with a wide array of activities, set in the tranquil surrounds of the Ezulwini Valley. Comprising of Lugogo Sun and the Royal Swazi Spa Hotel, the stay is a quality experience for individuals, couples, and families alike. Whether you love golf, dining, or lying beside the outdoor pool, Royal Swazi Spa Hotel is the place for you.
For a stay neighbouring wilderness…
A vibrant stay with surrounding waters…
Do:
---
For a close up of the African wildlife…
If you fancy an outdoors experience…
Swazi Trails Adventure Day Tours
To gain insight into traditions…
MBAMBE AND LOBAMBA IN FOCUS
---
Similar to some of its continental members, such as Benin (Porto-Novo and Cotonou), Burundi (Bujumbura and Gitega), and Ivory Coast (Yamoussoukro and Abidjan), Eswatini prides itself on having not just one, but two capital cities.
These cities are barely a 30 minute drive from one another, and while Mbabane is the executive capital from which the government of Eswatini is based, Lobamba is the royal capital and currently seats the royal family of the Kingdom.
In and around each of these cities there is a tremendous number of things to do, see, and experience. Mbabane is home to a variety of outdoors activities for the eager adventurer. Exotic landscapes and animals lay at your fingertips as you venture out on walking tours or to wildlife sanctuaries close to the city.
Lobamba, the centre of Eswatini's culture and traditions and home to King Mswati III, hosts an energetic spirit full of celebration, music, and festivities. Multiple ceremonies occur annually and will leave you marvelling at the experience. Markets bustle with trade where you can browse the ranges of traditional wares Eswatini has to offer, and beyond the cityscape the abundance of wildlife opportunities awaits.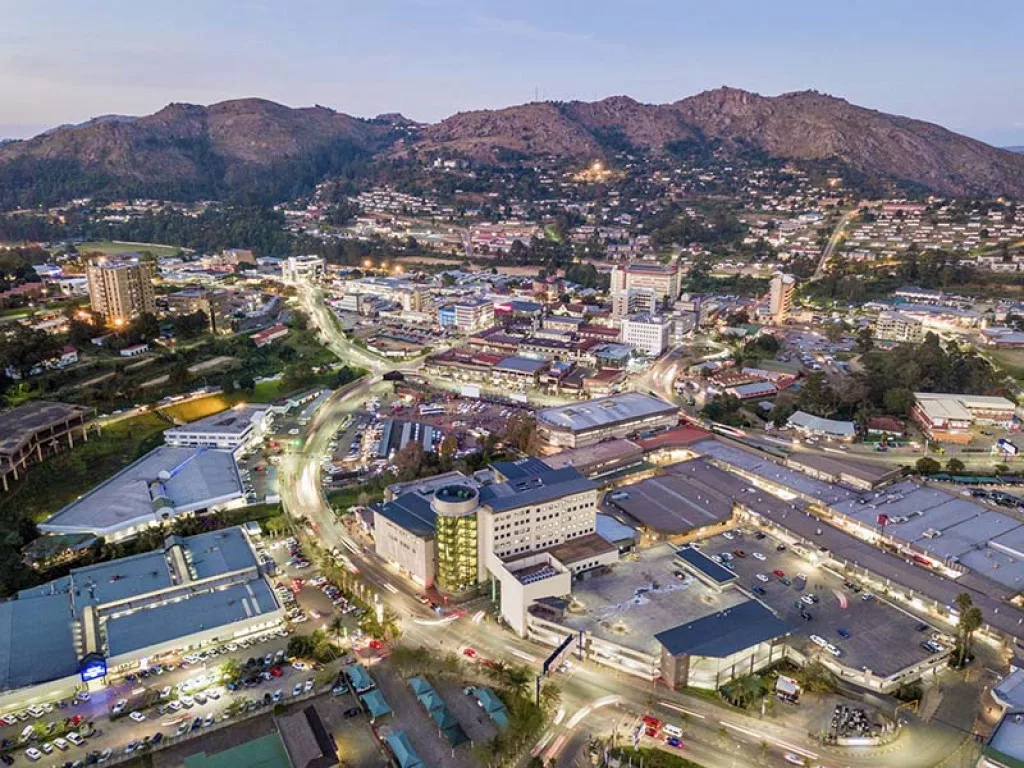 LANDMARK ATTRACTIONS
Execution Rock
---
At the summit of the Nyonyane Mountain an exposed granite peak marks the pinnacle of a popular hiking trail. The peak itself is known as Execution Rock and is both the location of Eswatini royal graves and a place rumoured to have been the end for many suspected witch or criminal – hence the name. The peak is an intriguing and exhilarating journey for the eager hiking fan, and great for taking in the beautiful surrounding landscape.
Lion Cavern
---
If you are interested in history, tours around the Lion Cavern showcase the world's oldest mine, and how ancient inhabitants of Eswatini mined precious resources for weapons and tools. The cave itself is humbling in its age and reminds visitors of how far Mankind has come from its earliest mining examples. A place of history and heritage, Lion Cavern is a must-see for all who wish to learn of the archaic people that dwelt in the region.
Nsangwini Bushman Paintings
---
Another culture tour for those who love to learn, the Nsangwini Bushman Paintings are an awe-inspiring example of prehistoric art. These multiple artworks, illustrating early Man's lives and livelihoods are worth 1,000 words, and are a window into a past that existed before we had written language.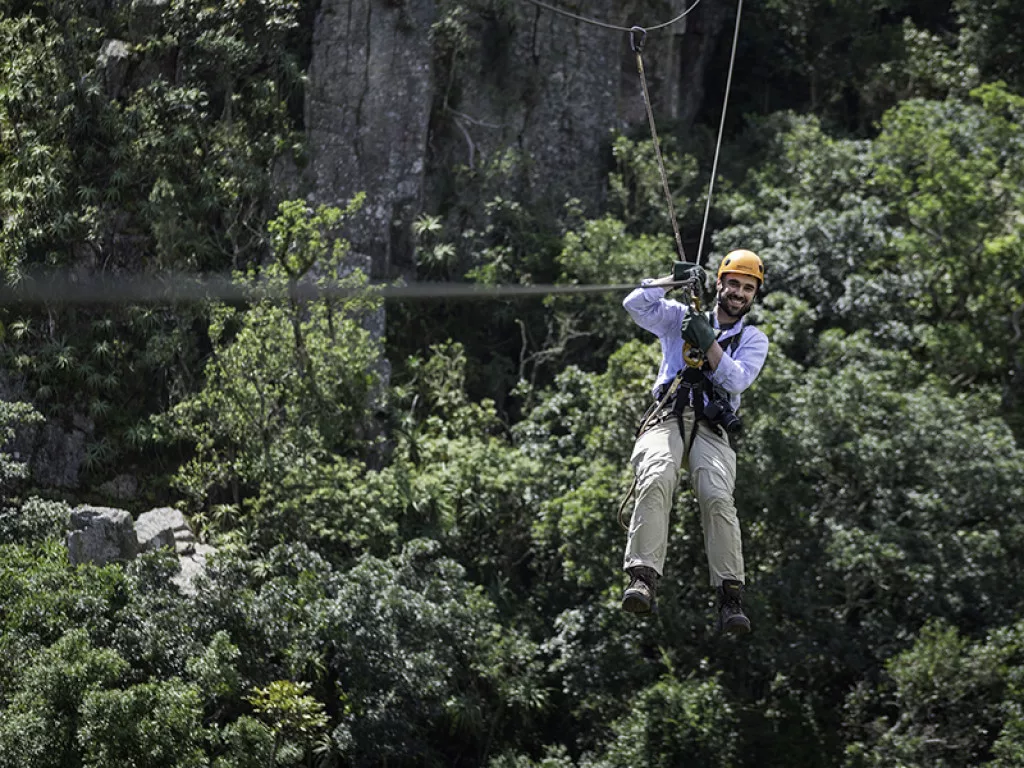 GETTING THERE AND AROUND
---
There are a great number of airfields around the Kingdom, but the primary airport is King Mswati III International Airport. Visitors will enter this airport and either take a taxi or hire car to the capital Lobamba, that should take less than two hours, or journey further to the second capital Mbabane.
Once in the capitals, buses, taxi services, and car hires will allow you to journey throughout the Kingdom to visit unique and desirable locations. For travelling around the capitals themselves, simply walking or bike hires are an excellent way to visit urban monuments and experience the local culture and environment.