With its standout safaris, luxury lodges and the cosmopolitan capital of Gabarone, Botswana has a lot to offer the discerning business traveller.
BOTSWANA
---
Botswana's wild landscapes attract nature lovers from around the world. Visitors are captivated by its dramatic vistas, from the undulating dunes of the Kalahari Desert to the lush Okavango Delta. Clusters of ancient baobab trees and shimmering salt plains also draw in the crowds. A landlocked country slightly larger than France, Botswana shares borders with Namibia, South Africa and Zimbabwe. Over a third of its land is reserved for wildlife parks and game reserves. Botswana boasts an abundance of wildlife, including the black-maned lion and Cape buffalo. As a result, it's one of Africa's top safari destinations, renowned for its luxury tented camps and lodges.
While English is the official language, most Botswanans speak Setswana. Over 20 languages are in use, including Afrikaans, Kalanga and Kgalagadi – an indicator of the country's ethnic diversity. Botswana is also a country steeped in traditional culture and folklore. The Maitisong Festival is a major cultural arts festival in Gabarone. But the country's most legendary event is the Toyota Kalahari Botswana 1000 Desert Race – an adrenaline-fuelled car race spanning a thousand kilometres of the Kalahari Desert. With its warm climate, luxurious accommodation and breath-taking landscapes, Botswana is an inviting tourist destination.
THE BUSINESS END
---
In the 1960s, Botswana was a British protectorate known as Bechuanaland. It was one of the world's poorest nations. But its independence in 1966 sparked the beginnings of rapid economic growth. In 1967, diamonds were discovered in the town of Orapa, which became the largest diamond-producing mine in the world. This allowed the government to invest heavily in primary and secondary infrastructure ­­– it also improved social services and education. Between the 1960s and 1990s, Botswana had the highest rate of economic growth in the world. The per capita GDP has increased almost elevenfold since independence. Botswana's consumers now constitute a high net worth market.
Today, Botswana is Africa's most long standing democracy. It is renowned for its lack of corruption, political stability and low crime rates. The economy continues to expand, with half of all government revenue coming from diamond exports. Tourism is also big business in Botswana. In 2018, the travel and tourism economy exceeded $2.5 billion, and the sector supports 84,000 jobs. Around 96 percent of tourists were travelling for leisure, with the remaining four percent visiting for business reasons. The government are keen to promote Botswana as a business destination. The capital, Gabarone, is an up-and-coming MICE hub with conference centres, upmarket hotels and restaurants.
TOURISM INSIGHTS: BOTSWANA TOURISM ASSOCIATION
---
 Botswana Tourism Organisation was established in 2009. Its mission: to develop Botswana into a popular tourist destination, thereby increasing the sector's contribution to the nation's economic growth. The organisation is committed to sustainable tourism and collaborating with local and international communities. We spoke to the CEO, Myra Sekgororoane, about Botswana Tourism Organisation's past development and future goals.
Q&A WITH MYRA SEKGOROROANE, CEO, BOTSWANA TOURISM ORGANISATION
Since inception, how has Botswana Tourism Organisation developed and progressed in terms of its key objectives and the messages it tries to get across?
Myra Sekgororoane (MS): Botswana Tourism Organisation was set up by the government to market tourist products, grade tourist accommodation and promote investment in the tourism sector. The organisation has successfully managed to introduce high standards and develop tourism strategies that exceed customer expectations, while building customer confidence around the world. The organisation aims to increase the tourism sector's contribution to Botswana's economic growth. It does so by promoting Botswana as a destination of choice at both regional and international exhibitions, such as World Travel Market London.
How would you say Botswana has developed in recent years as a business travel hub and what are the key reasons behind its growing appeal?
(MS): Botswana has experienced significant growth in the business travel sector. This is largely due to major developments in infrastructure, such as improved conference facilities, airports and roads. An increase in hosting major events is a second contributing factor.
Why, in your opinion, should someone visit Botswana?
(MS): Botswana is one of Africa's top tourist destinations. This is thanks to its rich culture, stable democracy, biodiversity and varied landscapes. In Botswana you will find one of the world's largest inland deltas, vast rivers, grassy plains, deserts and salt pans.
Are there any specific attractions, landmarks or places to eat and drink that you would recommend?
(MS): Botswana is renowned for having some of the best wilderness areas on the continent, such as the stunning Kalahari Desert and the lush Okavango Delta. Sites of historic interest include the Tsodilo Hills and Goo Moremi Gorge. In recent years, cities such as Gabarone have improved the quality of their services, offering high-end hotels, restaurants and bars.
What are the best ways of getting around the country?
(MS): There are various ways you can explore Botswana: by air, rail and road. Our national carrier is Air Botswana, which operates a scheduled network between Gaborone, Francistown, Maun and Kasane. You can also take small 6-12 seater planes to more remote camps in the Delta, Kalahari and Chobe regions. These are normally organised by private tour operators and depart from Maun and Kasane. We also have a growing rail network. Many tourists elect to drive in Botswana. The country has a good road network, especially in towns and between major cities.
What trends are transforming the tourism industry in Botswana at present? How are you responding to these trends?
(MS): China is the leading generator of outbound travel in both figures and expenditure, with many destinations vying for a portion of the market. Botswana is no exception to this emerging, lucrative trend. Plans are under way to intensify entry and penetration of the Chinese market. We have already participated at the International Travel Expo (ITE-Hong Kong) and are conducting market research into what Chinese consumers look for from a destination. We are also interested in attracting the millennial travel market. Since many millennials organise their travel online, developing web-based strategies to optimise the market is crucial. We are also committed to developing inclusive tourism so that people of all ages, abilities and sexual orientation will enjoy visiting Botswana. Finally, we are proponents of sustainable tourism, responding to demands from tourists themselves.
How do you see Botswana developing as a business travel hub over the next year to two years?
(MS): The events industry is a dynamic and fast-growing sector with obvious synergies with tourism. Events planning has over the years proved to have the potential to grow the tourism economy, provide media exposure, promote development, and stimulate infrastructure developments. The Botswana Tourism Organisation has therefore successfully hosted events to help grow the tourism industry, as part of a broader strategy.
Are there any plans or projects in the pipeline that you wish to highlight?
(MS): In a bid to diversify and expand the tourism industry, the Government of Botswana has established the Dams Initiative. The project will diversify Botswanan tourism and improve the economic livelihoods of local communities through the development of lodges, campsites and outdoor activities. The communities around these projects are expected to actively participate and directly benefit from the dam tourism initiative, which will be carried out in collaboration with other relevant stakeholders.
Are you optimistic about the future of the tourism industry in Botswana?
(MS): The Government of Botswana is committed to growing the tourism industry as part of its economic diversification strategy. Tourism plays a significant role in the national economy, creates jobs and exhibits enormous potential for future growth. The future is positive for the industry in Botswana – we seek to expand tourism in the country by adding more products and increasing geographic spread.
GABORONE IN FOCUS
---
Botswana's capital city, Gabarone, is a laidback metropolis with a population of 232,000. Construction began on the city in 1964, and was completed three years later. The country's government buildings are all located here, alongside universities, shopping malls and upmarket hotels. Gabarone has a growing number of conference centres and business hotels, and good transport links to the rest of the country.
The city centre is characterised by Main Mall, a pedestrianised strip of shops, restaurants and other amenities. Many of Barone's bars and restaurants are located in indoor malls dotted around the city. Business travellers will discover plenty to entertain them.
Despite its modern appearance, Gabarone is a great place to learn more about the country's traditional culture. Botswanacraft is the country's largest craft emporium, selling handicrafts made by Botswanan and African artisans. Gabarone's most well-known landmark is The Three Digkosi Monument, bronze statues of the three chiefs who pleaded with Britain for independence. Gabarone is surrounded by nature reserves, including the Molokodi Game Reserve, and is home to animals such as giraffes, ostriches and wildebeest. It's also an ideal jumping-off point to explore the vast Kalahari Desert.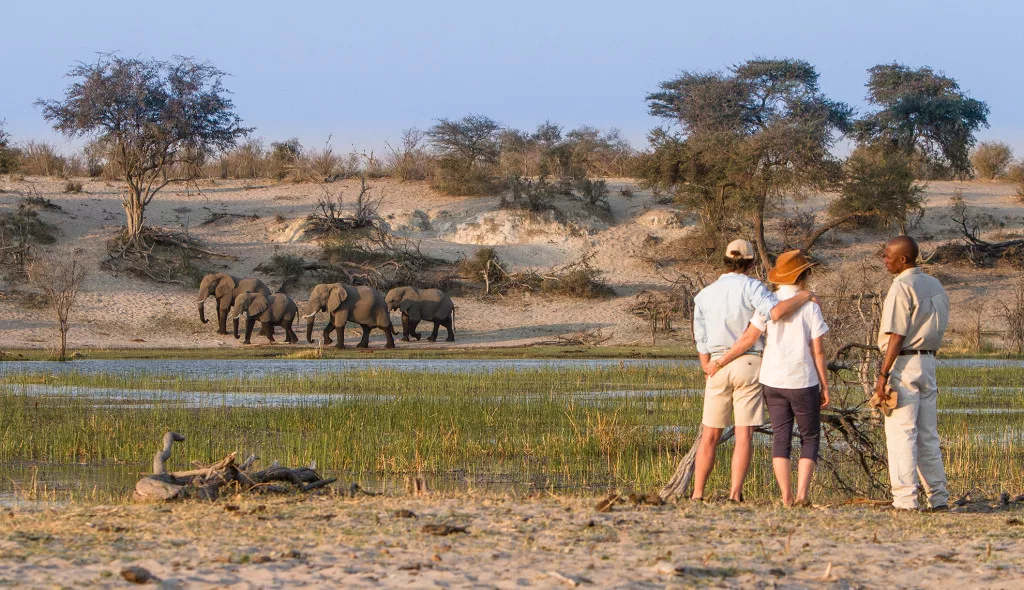 LANDMARK ATTRACTIONS
CHIEF'S ISLAND
---
"The combination of reed-fringed waters, grasslands and light woodlands makes for game viewing that can feel like a BBC wildlife documentary brought to life. Not surprisingly, the island is home to some of the most exclusive lodges and tented camps in Africa" – Lonely Planet
MAKGADIKAGI NATIONAL PARK
---
"The shimmering salt pans of Makgadikgadi along with the Nxai Pans are believed to be the largest in the world. Most of the time they appear as glaring, white, endless plains. During the rainy season they are one of the most important wetland areas in Botswana – when they transform and come alive into stunning grass-plains" – Siyabona Africa
BAINES' BAOBABS 
---
"Located in the south of Nxai Pans National Park are the seven baobabs known as Baines' Baobabs or the Sleeping sisters. This stunted cluster of Africa's most iconic tree was immortalized by the paintings of Thomas Baines, a British landscape artist commissioned by the Royal Geographic Society" – Discover Africa
GCWIHABA CAVES
---
"Certainly one of the wildest and most remote destinations in Botswana, Gcwihaba is a fascinating underground labyrinth of caverns and pits, linked passages, fantastical stalagmite and stalactite formations, and beautifully coloured flowstones that appear like waterfalls of rock" – Botswana Tourism Board
OUTLOOK RECOMMENDS
STUDY:
---
Ranked fourth in the country, Botswana International University of Science and Technology (BIUST) specialises in engineering, science and technology. It occupies an ecologically diverse 2,500-hectare site near Palapye. It boasts well-equipped faculty buildings, modern halls of residence and sports facilities, including a football pitch and gymnasium. BUIST is driven by a mission to contribute to Botswana's economic development by using education to facilitate a move towards a knowledge-based economy. It aims to conduct pioneering and innovative research, and hopes to attract more local and international researchers in the future.
Imperial School of Business and Finance
STAY:
---
Ta Shebube consists of two lodges located in the undiscovered Kgalagadi Transfrontier Park. Take a safari between the encampments, traversing vast savannahs and red-gold dunes. Look out for herds of oryx and wildebeest, as well as predators like the black maned lion. Spend your evenings in comfort, watching dramatic sunsets give way to starry skies. The Rooiputs camp consists of luxurious thatched chalets with ensuite bathrooms. There's a spacious bar and dining area. Polentswa may look like a camp from a bygone era, but it has all the mod cons. Each private tent has an ensuite, a private veranda and an outdoor shower.
FLY:
---
EAT & DRINK:
---
The Courtyard Restaurant @ Botswanacraft
DO:
---
Machaba Safaris has three safari camps located in Botswana. One of them, Machaba Camp, won the 2019 World Luxury Hotel Awards for the best luxury tented safari camp. With its lavish tented accommodation, private swimming pool and onsite spa therapist, it's easy to see why. But these luxurious camps also offer a world-class safari experience. You'll be taken on morning and afternoon game drives, nature walks and trips in dugout canoes. You can take a self-drive safari between the camps, while the Machaba Blue Safari couples a Botswanan safari with a seven-night trip to the Seychelles.
GETTING THERE AND AROUND
---
There are few direct flights to Botswana outside South Africa. Most international visitors will have a stopover at Johannesburg Airport or Windhoek Airport in Namibia. Botswana's main airport is Sir Seretse Khama International Airport, located 11 kilometres from the capital, Gabarone.
Botswana has invested heavily in transport infrastructure, making it possible to explore the country using various modes of transport. The national air carrier, Air Botswana, flies between the four largest towns: Gabarone, Francistown, Maun and Kasana. Charter flights operate out of Maun and Kasane, taking passengers to safari lodges and camps located in the Kgalagadi Desert and the Chobe River. These are often organised by tour operators.
Tourists can also travel the country by rail or road. A railway runs from Lobatse to Francistown, passing through several towns including Gabarone. There is one service a day from each station, which departs in the evening and arrives the next morning.
A variety of buses connect Botswana's main towns. They are an inexpensive way to travel, often used by locals. Taxis and minibuses are the best way to travel within towns and villages. Self-driving is also popular in Botswana. The roads are in relatively good condition, although you'll want a 4×4 if you're planning to visit more remote locations.