A country of rugged, otherworldly landscapes, Namibia is a desert realm with a complex history and culturally diverse inhabitants.
NAMIBIA
---
Namibia is known for its sparse, otherworldly landscapes. It gets its name from the Namib, the world's oldest desert; a sparse, windswept region extending 1,900 kilometres down Africa's Atlantic coast. The desert is characterised by its red dunes, which plunge down towards the ocean at Sandwich Harbour and Skeleton Coast. It's also known for its white clay and salt pans, such as Deadvlei, where there are hundreds of ossified trees. Another scenic spot in the desert is Moon Landscape, named after its eerie, pockmarked topography.
But sightseeing in Namibia isn't just about deserts. Inland you'll find the green-gold grasslands of the Kalahari, and rugged mountains such as the Brandberg, Spitzkoppe and Damaraland.
Tourists flock to Namibia to experience its remote corners. Hot air ballooning, sand boarding and off-road quad bike excursions are all popular activities. When it comes to safaris, Namibia offers some unrivalled experiences – head to Etosha National Park to see big cats, elephants and black rhinos.
Namibia has a fascinating history. It was inhabited as early as 25,000 BC, with tribes such as Ovambo and Herero gradually migrating into the country. In the "Scramble for Africa" Namibia became a German colony, known as German South West Africa, in 1884. After over a century of bloody battles, Namibia finally gained independence in 1990. These days it's a country rich in historical attractions and cultural diversity; a country with plenty of stories to tell.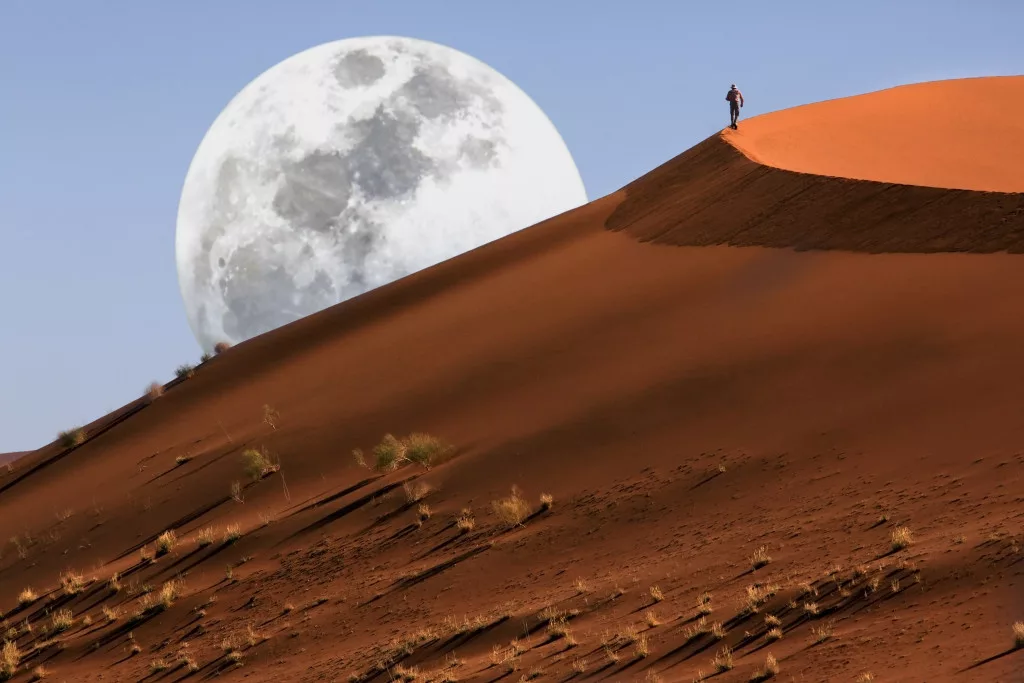 THE BUSINESS OF CONSERVATION
---
Tourism is big business in Namibia. According to projected figures, the Namibian hospitality industry will inject N$26.4 billion into the Namibian economy by 2020, through tourism and other value-added activities. That equates to 11.7 percent of Namibia's overall GDP and is set to rise in subsequent years.
Namibia attracts visitors thanks to its untouched landscapes. As a result, the country recognises the interconnected nature between conservation, community development and tourism. They have established the innovative National Community-Based Natural Resource Management Program (CBNRM). It's both a conservation and rural development initiative, aiming at both improving rural livelihoods and ensuring sustainable use of land and natural resources.
Conservancies are vast, unfenced sanctuaries where wildlife roam through spectacular landscapes. They cover over 17 percent of Namibia's geographical area and generate significant income through both public and private initiatives, such as more than 40 joint venture tourism lodges. Money raised allows conservancies to cover their running costs and invest in community development projects. Conservancies employ local people to conduct annual wildlife counts and as game guards, meaning they become custodians of their local environment. In Namibia, eco-tourism is one of the country's greatest success stories.
TOURISM INSIGHTS: THE HOSPITALITY ASSOCIATION OF NAMIBIA
---
The Hospitality Association of Namibia, HAN, was founded in 1987 to represent the coordinated interests of the tourism accommodation sector in Namibia. The founders of HAN realised that tourism had an important role to play in the Namibian economy – they aim for national strategic collaboration and to influence decision-making at national level. We sat down with Gitta Paetzold, CEO of HAN, to discuss the organisation's vision, challenges and goals.
Q&A WITH GITTA PAETZOLD, CEO, HAN
What is HAN's vision as an organisation?
Gitta Paetzold (GP): HAN has made a promise to optimise the full potential of the Namibian Hospitality Industry, delivering unrivalled service to its members while contributing to the sustainable growth of the tourism sector in Namibia. The HAN vision is to be recognised as the flagship representative body of the Namibian hospitality industry, and to promote and protect the collective interests of its members, while building partnerships.
How has HAN Namibia progressed and developed since it started?
(GP): We began with a membership base of a mere 16 establishments, and now represent nearly 400 entities. These are mainly tourism accommodation, but we also represent those in tourism publishing, catering, tourism activities and events management. As a voluntary organisation, HAN can't claim to be inclusive of the entire industry. But we can proudly state that this association represents the key stakeholders in commercial tourism accommodation, including all major hotel and lodge groups.
What projects will HAN Namibia be focussing on in 2020 and the years that follow?
(GP): HAN wishes to constantly identify and encourage the development of new exciting tourism products and destinations – "unlocking new horizons", as it were. This is of importance, as Namibia is lucky to enjoy a high number of annual repeater visits. For both them and newcomers, we are committed to regularly presenting something new and exciting. To do this we work with our key partners and stakeholders, including our Ministry of Environment and Tourism, the Namibia Tourism Board, tour operators, activity providers and many more. We firmly believe that "tourism is everyone's business" – that everyone has a role to play in making Namibia a unique tourist destination.
How does HAN Namibia plan to unlock new horizons and develop tourism infrastructure?
(GP): HAN believes that a successful sustainable tourism industry lies not in numbers, but the quality of experience a visitor to this rugged, soulful country can expect. With arrival numbers nearly reaching 1.5 million, HAN is keen to contribute to new route developments, preventing over-tourism in popular destinations. 2020 presents an exciting new opportunity for Namibia. There is now the opportunity for tourists to access areas once held by the diamond industry – areas that have been inaccessible to the public for decades and kept untouched, pristine. One such example is the Sperrgebiet, an enclosed diamond area. The Hospitality Association of Namibia is working closely with strategic partners interested in preserving and promoting the extraordinary features of our country's flora, its pristine environment and inspiring history. We are "unlocking the Sperrgebiet" – opening up new tourism horizons in a sustainable, environmentally conscious and well-contemplated way. HAN are hosting a huge Tourism Congress to debate and "unlock" this potential in June 2020 in Lüderitz.
What challenges does HAN Namibia face, and how does it plan to overcome them?
(GP): Tourism has been recognised as one of the four key pillars of the Namibian economy, yet it doesn't enjoy the attention and development it deserves. Tourism necessitates an efficient infrastructure, such as good rail, road and air connectivity alongside telecommunications and global marketing. HAN realises the government have pressing social issues to attend to, and the challenge is to elevate tourism's position on the national agenda. A lack of funding and commitment has led HAN to realise the crucial importance of effective collaboration with both public and private stakeholders. This will optimise Namibia's chance to become one of Africa's most desirable travel destinations.
How would you say Namibia has developed in recent years as a tourism destination, and what are the reasons behind its growing appeal?
(GP): "We are in it together" has been our mantra for several years – we find synergies and ways to collaborate to keep special areas attractive and accessible for tourists. One example is the Moon Landscape, a very special destination in the Namib Desert, yet increasingly under the focus of the uranium mining industry. We envisage the same will happen in the former mining area, the Sperrgebiet, which holds huge potential in terms of historical sites, flora and geology, and may attract a whole new type of tourist to this part of southwestern Africa. It is this collaboration, and the sense of national pride in our history, cultural diversity and the unique features of Namibia that has set us apart from other travel destinations in the region. We believe that by focusing on what sets us apart from our neighbours, rather than competing with what they have to offer, we will develop a successful and growing tourism sector in Namibia. We are also interested in developing cross-border packages with nations such as Botswana and South Africa, that we share borders and national attractions with.
Are there any specific attractions, landmarks or places to eat and drink that you would recommend?
(GP): Namibia has an amazing story – one of cultural diversity and intriguing history – and we believe that tourism is the perfect platform to help tell it. A young nation like Namibia has seen companies founded 100 years ago and more – some of whom, such as the Namibia Breweries, are still excelling. Namibian beer enjoys a special status at home and abroad, due to the principle of sticking to "Reinheitsgebot"; only allowing the best ingredients to be used in the brew. Good food and drink bring people together, and Namibia has some amazing natural ingredients, such as high-quality meat and oysters. We produce great alcohol too, including devil's claw gin, and the creamy liqueur unique to the Erongo Mountains. The food alone is reason to come and get a taste of Namibia.
Why should tourists visit Namibia?
(GP): Namibia is unique in its diversity, and a special place for people from all walks of life to explore. It offers a myriad of natural and socio-cultural experiences, leaving lasting memories for local inhabitants, expats and tourists from all walks of life. Namibia has something for everyone, whether your interests lie in history, culture, nature, geology or gourmet experiences. Coming to Africa for a game viewing safari experience was the reality of yester-year – 2020 and beyond holds many more surprises for visitors to Namibia.
THE SPERRGEBIET IN FOCUS
---
The Sperrgebiet (which means 'forbidden territory') – also known Tsau Khaeb National Park – is Namibia's newest national park, covering around 26,000 km2. It has been closed to the public for almost a century, after diamonds were discovered in the area.
Although this was done to protect the area's mineral wealth, it also helped conserve the area's biodiversity. This is important since the area forms part of the Succulent Karoo Biome, a unique ecosystem which has the highest diversity of succulent flora in the world. Scientists have classified it as one of the world's top 25 biodiversity hotspots. However, the scenery of dunes and mountains is dramatically stark.
One of the park's most unique attractions is Kolmanskop ghost town. Once it was a prosperous mining community. But now sand blows through the abandoned houses and slowly erodes the walls. It's possible to take guided tours of this lonely landscape.
The national government and tourism agencies are devoting 2020 to developing new tourism routes in and around the park, as well as improving infrastructure. These routes will include former mining hubs such as Oranjemund, a town looking to open up to tourism with new hotels and activities.
OUTLOOK RECOMMENDS
EAT:
---
For Windhoek's best-loved restaurant…
For traditional Namibian cuisine…
Xwama Cultural Village and Traditional Restaurant
For a unique location…
For local free-range meat products…
Meatco
SLEEP:
---
For shipwrecked cabins in the desert…
For upmarket eco-tourism…
For desert luxury…
DO:
---
For bespoke adventure safaris…
Kunene Safaris at Khowarib Lodge
For hot air balloons over desert dunes…
For sand-boarding adventures…
For a Himba village visit…
DRINK:
---
For cocktails and city lights…
For a shebeen-themed bar…
Oshebeena Bar at Etosha Safari Lodge
For wine with urban flair…
LANDMARK ATTRACTIONS
---
SOSSUSVLEI
A vast salt and clay pan surrounded by a landscape of undulating red dunes
SANDWICH HARBOUR
At this deserted harbour, dunes of up to a hundred metres high plunge dramatically down into the ocean
CAPE CROSS SEAL RESERVE
This reserve has a breeding colony of more than 100,000 Cape fur seals
GETTING THERE AND AROUND
---
Namibia's largest airport is Hosea Kutako International Airport, near Windhoek. It sees around 800,000 passengers pass through its doors annually and is the hub for national carrier Air Namibia. International operators such as KLM and British Airways also operate scheduled flights to transport hubs such as Frankfurt and Johannesburg. Air Namibia also operates domestic flights from Eros Airport to destinations such as Rundu and Ondangwa.
Tourists can travel around the country by bus. One luxury service is Intercape Mainliner, which offers services from Windhoek to destinations such as Swakopmund and Walvis Bay. The best way to see Namibia is by car – there are rental agencies at Hosea Kutako International Airport. The country has a good network of sealed roads.