Friendly Ghana is a West African country pulsing with energy, steeped in history and blessed with some breath-taking landscapes.
GHANA
---
It's easy to see why Ghana is one of the most popular destinations in West Africa. For a start there's the beaches, golden stretches of sand fringed with palm trees. But the coast is marked by the shadows of the past – slaves were held in European-built coastal fortresses before being shipped overseas. Visit Cape Coast to learn more about this haunting legacy.
One of the first African countries to shake off the shackles of colonial rule, modern Ghana has a stable democracy, welcoming multi-ethnic population and an energetic spirit, making it a fantastic place to visit. Cities such as Kumasi are bursting with cultural museums, open-air eateries and artisanal markets. The country holds over 70 major traditional festivals every year, including Homowo, which is an exuberant celebration of a bountiful harvest, and Oguaa Fetu Afahye, unique warrior processions and rituals in honour of the 77 deities in the Fetu Afahye area.
But that's not all. Ghana is blessed with some spectacular landscapes. Travel inland from the coast and you'll discover a series of diverse habitats, from mountains to lush rainforest, rolling savannahs to arid plains. In the far north is the Mole National Park, Ghana's largest wildlife reserve – it's the only place in the country where you can see elephants in the wild. Meanwhile the Volta Region, running along Ghana's eastern border, is all lush fields and craggy mountains, perfect for hiking.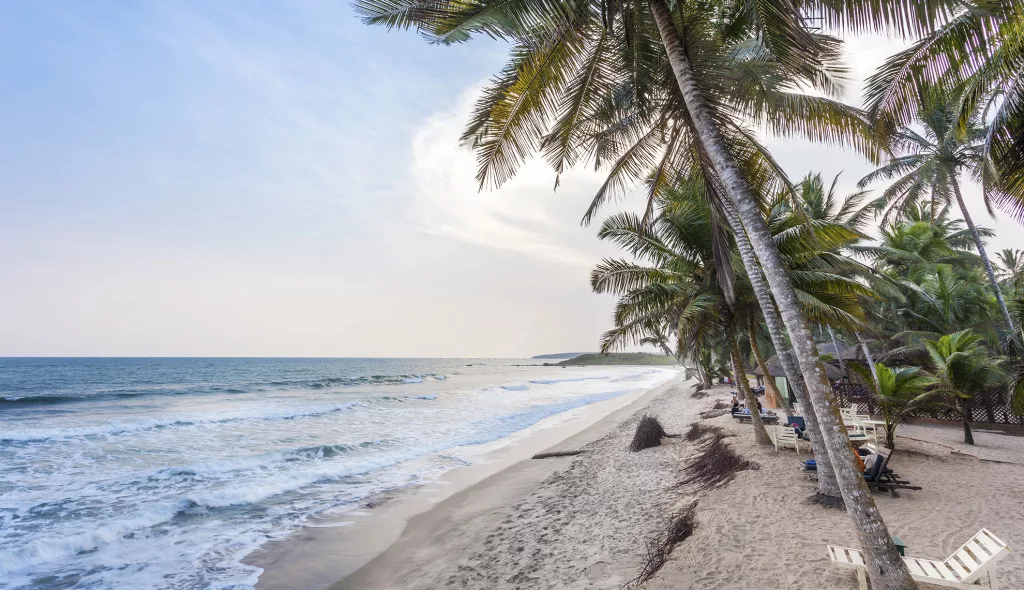 ACCRA IN FOCUS
---
Accra, the country's capital, is a busy, rapidly developing metropolis. What it lacks in iconic landmarks it makes up for with bags of colour and character. Jamestown is Accra's oldest district, where you'll find timeworn colonial buildings alongside colourful street art. It's famous for its boxing schools – visit and you might chance on an open-air match.
Thanks to its coastal location, after a hot day's sightseeing you can head to the beach. Labadi Beach is the most popular; locals come here to swim and play ball games, while the air is full of reggae music from the bars lining the sand. Bojo Beach, on the other hand, is quieter and more pristine.
For a taste of local life, head to bustling Makola Market. You'll find vendors selling everything from unrefined shea butter to colourful dashiki print fabric, as well as street food stalls. Try crispy waagashi (fried cheese) or a plate of spicy jollof rice. Accra has the best dining scene in Ghana – as well as street food stalls you'll everything from hip Afro-Caribbean fare to upmarket pan-Asian restaurants.
Escape the hustle and bustle of the city in Legon Botanical Gardens, one of the city's greenest spaces. Stroll down sun-dappled paths and around lakes fringed with greenery. The park also boasts a tree canopy walkway, a playground and an obstacle course. Scratch beneath the surface of this compelling capital and you'll find plenty to surprise and entertain you.
TOURISM INSIGHTS: GHANA TOURISM FEDERATION
---
In 1986, the Ghanaian government chose to promote tourism as a major foreign exchange earner, helping facilitate development within the country. A designated ministry was set up in 1993, and in 1995 the Ghana Tourism Federation (GHATOF) was established as an apex organisation to collate information and articulate the concerns of the practitioners in the industry, as well as influencing growth and development of tourism.
We caught up with Emmanuel Frimpong, Executive Secretary of GHATOF, to find out more about the organisation.
Q&A WITH EMMANUEL FRIMPONG, EXECUTIVE SECRETARY, GHATOF
What are your organisation's current goals?
Emmanuel Frimpong (EF): Our vision is to be the primary advocate for the private sector leadership in the development of responsible and sustainable tourism in Ghana. Our mission is to cultivate and uphold commitment to the shared goals and objectives of the organisation by delivering services that enhance growth of the tourism industry.
Membership of GHATOF is voluntary and is open to any businesses or volunteer organisations residing in Ghana. To provide flexibility, we offer four different categories of membership, ranging from full to honorary.
Can you tell us a little more about 2019's "Year of Return" and how it benefitted tourism in Ghana?
EF: The "Year of Return, Ghana 2019" is a landmark marketing campaign targeting the African-American and diaspora market. It marked 400 years since the first enslaved African arrived in Jamestown, Virginia. The Ghana Tourism Authority – under the auspices of the Ministry of Tourism, Arts and Culture – led the project in collaboration with the Office of Diaspora Affairs at the Office of the President, the Panafest Foundation and the Adinkra Group of the USA.
The Year of Return sought to make Ghana the focus for millions of African descendants interested in tracing their ancestry by returning to the country. Ghana became a beacon for African people living on the continent and further afield.
The United States Congress recently passed Act H.R. 1242, which established the 400 years of African-American History Commission (to carry out activities commemorating the first arrival of African slaves in English colonies in Virginia, in 1619). Ghana has a unique position as the location for 75 percent of the slave dungeons built on the west coast of Africa, and the current President has a policy of making it a national priority to extend a hand of welcome back home to Africans in the diaspora.
There are still numerous imposing European forts and castles harbouring harrowing reminders of the intense, complex history of the Trans-Atlantic slave trade in our land over centuries. This alone has made Ghana the focus for millions of African descendants reacting to their marginalisation by tracing their ancestry and identity back to our shores.
The benefits of marketing 2019 as the "Year of Return" led to increased tourist arrivals, boosted the economy and put Ghana on the world map as a desirable destination.
Why is tourism important for Ghana? How can it help benefit communities and landscapes?
EF: Tourism is a key economic driver in Ghana which generates foreign exchange earnings, creates jobs and wealth as well as stimulating other sectors of the economy. Tourism is currently the fourth largest source of foreign exchange earnings, estimated at $2.7 billion.
Successful restoration generates a wide range of benefits – it aids reforestation, enhances food security, improves air and water quality, increases both climate change resilience and job creation.
Have you got any landmark projects in the pipeline?
EF: Most African countries which won independence in the 1950s and '60s were confronted with many challenges, including scarcity of skilled employment and infrastructural deficit. To quicken their growth, they relied on assistance from their development partners through grants, loans and technical assistance. Despite having a lot of natural resources, Ghana has relied heavily on foreign aid in the past.
The Ghanaian President, Nana Addo Dankwa Akuffo–Addo, has stated a desire to carefully manage the country's natural resources to wean Ghana's development agenda off from external assistance – "Ghana Beyond Aid". Spurred on by this, GHATOF intends to hold a conference with key stakeholders aimed at preparing the foundations for a national strategy on achieving a "Ghana Beyond Aid" through tourism operations and products only, while fostering knowledge exchange and peer learning.
To further develop responsible tourism in Ghana and to give authentic kinship to tourists of African-descent, GHATOF is organising a festival aimed at bridging gaps, promoting instant connections and seeking to regulate imaginations about the continent in general and Ghana in particular. It will be an annual event known as the Marhaba Tourism Festival. "Marhaba" means "welcome" and thus provides an enabling insight and justification for the Festival in 2020. Chiefs and Queen mothers will grace the occasion as hosts amidst depictions of much pomp and pageantry. With every activity, an eloquent narrator or "Okyeame" will provide insight and cultural interpretation into the nuanced performances.
Furthermore, since the festival will attract a large section of individuals from varied socio-economic backgrounds, Marhaba will host business meetings and networking opportunities. Avenues for investment prospects will be explored and implemented during the festival.
Why, in your opinion, should someone visit Ghana?
EF: Ghana is perhaps the only African country with a stable democracy and healthy economy. It's rich in history and cultural diversity, offers great music and food. It's a tropical paradise with amazing tourist sites (forts, castles, and matchless mud mosques). This makes the country a safe all-weather travel destination. Crime rates are low, insurgency nil, and the country extremely hospitable to tourists. This is a country where tranquillity prevails, even during the elections.
Ghana Tourism Federation
OUTLOOK RECOMMENDS
EAT:
---
For Afro-Latina street-food inspired eats…
For upmarket bistro classics…
For Japanese fine dining…
For an airplane converted into a restaurant…
SLEEP:
---
For Ghanaian hospitality in Tamale…
For poolside comfort in Accra…
For ocean-facing sophistication in Elmina…
For 'Afropolitan' luxury in Accra…
The African Regent Hotel bills itself as 'Afropolitan', or African and cosmopolitan. It offers internationally regarded facilities – such as a high-tech business centre, large outdoor pool and wellness centre – and showcases African culture to its guests. Rooms are tastefully decorated with colourful fabrics and furniture etched with traditional 'Adinkra' symbols. Meanwhile, the hotel's restaurant, 'Muyika', throws the capital's best Africa-themed Sunday brunch. The onsite boutique hosts pop-ups selling clothes and other handicrafts made by Ghanaian designers. The hotel offers a complimentary airport pickup service, and will help you arrange all aspects of your trip to Ghana.
DRINK:
---
For a great atmosphere…
For the best live music in Accra…
LANDMARK ATTRACTIONS
WLI FALLS
---
West Africa's largest waterfall is located in Wli, set amid a picturesque landscape of forest, undulating hills and gurgling streams. It's a short hike from Wli tourist office to the falls – the 143 metres of cascading water is an impressive sight.
CAPE COAST
---
This coastal town is one of the most culturally significant spots in Africa, as it was once the epicentre of the slave trade in East Africa. Slaves were locked in the dungeons of the austere Cape Coast Castle, before being herded onto transatlantic vessels. The castle now contains a museum, where you can learn more about this traumatic history.
MOLE NATIONAL PARK
---
Ghana's oldest and most significant national park offers opportunities to spot wildlife such as antelope, warthogs, monkeys and elephants. Thanks to a lack of predators, it's possible to go on unique walking safaris. A trip to the park can be twinned with a visit to the nearby Mognori Cultural Village and the ancient mud-and-stick Labaranga Mosque.
GETTING THERE AND AROUND
---
Ghana's busiest airport is Kotoka International Airport, located just eight kilometres from Accra. It offers scheduled flights to 29 destinations in 24 countries across Africa, America, Europe and the Middle East. Visitors from Asia are advised to take an Emirates flight, connecting via Dubai.
Africa World Airlines and Starbow Airlines operate domestic flights in Ghana, from Accra to destinations including Kumasi, Takoradi and Tamale. If you only have a short holiday, flying from the south to the north of the country is recommended, as it will save you a lot of time.
It's also possible to travel long distances by bus – reliable companies include VIP and Intercity STC. Some travellers opt to hire a car, either with or without a driver, for greater freedom of movement.
If you're travelling shorter distances, around cities or between landmarks, taking a taxi is the recommended form of transport. They can either be booked for a single journey or for the day, depending on your needs. The locals use 'tro tros' or minibuses to get around – they travel along a fixed route and leave whenever they're full.