Although reducing your carbon emissions while travelling might seem difficult, our five easy tips will show you how easy it can be to travel more sustainably.
In the past few decades, global warming has gone from being perceived as "liberal alarmism" to a fact verified both scientifically and visually, in documentaries and photographs. Slowly but surely, some people are beginning to adapt their behaviour, taking steps such as carpooling to work and buying local produce. But what about when it comes to going on holiday?
Although many tour operators and hotels bill themselves as "eco-friendly" and "sustainable", it sometimes feels like these are buzzwords being bandied around. And is flying completely off the cards?
Fortunately, we've worked out a few simple tips which will enable you to travel more sustainably without having to compromise on quality or convenience.
FLY LIKE A NERD
---
Flights produce greenhouse gases like carbon dioxide from burning fuel, which contributes to global warming. According to the International Civil Aviation Organisation (ICAO), an economy-class flight from London to New York emits an estimated 0.67 tonnes of CO2 per passenger. To give some context, the average metric tonnes of CO2 emitted per capita in Zambia is around 0.3.
Feeling guilty? The 'Flygskam' or ('flight-shame') movement started in Sweden in 2018 when several prominent Swedes decided to sign an article giving up flying. The movement aims to shame people into stopping taking flights, because of their negative impact on the environment. And it appears to be having an effect – state-owned airport operator Swedavia reported that domestic flights in Sweden dropped by nine percent and overall air traffic by four percent in 2019.
Some people are happy to go on a "flight diet", cutting down on the amount of flights they take overall. But to stop flying entirely is a lot more difficult. Some people need to fly for business or visit family across the world, while others are unwilling to miss out on escaping the cold winters or monsoon summers offered by flying.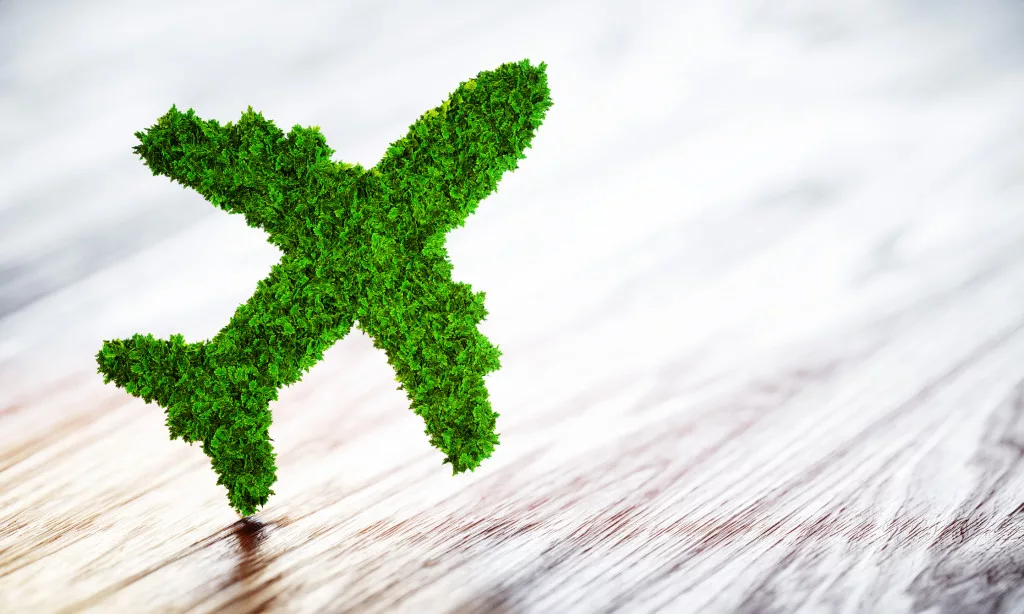 TAKE THE TRAIN
---
One solution for long-distance travel is to take the train. Eurail estimates that doing so reduces your carbon footprint by 66 to 75 percent compared to travelling by car or plane. In Europe – which has an efficient high-speed rail network – journey times can be equivalent to catching a flight.
It takes three hours 19 minutes to travel from Paris to Amsterdam by train, and just over three hours to fly (this includes travel to and from the airport, but not the time it takes to check in). The website Ecopassenger estimates that flying from Paris to Amsterdam emits 97.3 kilograms of carbon dioxide, while taking the train will only emit 9.6.
But asides from the reduced environmental impact, there are a lot of other reasons why you might consider taking the train. For a start, you have a lot more freedom to move around than on a flight – you can get up and stretch your legs, head to the bar for a drink or the buffet car for some food. You'll get to take in the views outside your window as you wind through the countryside, instead of the world flashing by below you. What's more, a seat on a train can be surprisingly luxurious, especially in comparison to a cramped seat on an economy flight.
Three of the world's best railway journeys:

Venice to London on the Orient Express
Step back in time with a journey on the recently restored Orient Express, an iconic train that symbolises the Golden Age of rail travel. The trains, which are managed by luxury travel company Belmond, have decadent, mahogany-panelled suites and carriages decorated in an art deco style.
Service is impeccable and the food rivals that of a Michelin-star restaurant. Enjoy a brunch of lobster and scrambled eggs, or gourmet lunches of langoustines and herb-crusted lamb. The scenery is just as stunning – you'll travel past the Italian Dolomites and snow-capped Swiss Alps.
Pretoria to Cape Town on the Blue Train
The Blue Train travels on a 31-hour journey of 1,600 kilometres between Pretoria and Cape Town, passing mountains, veldts and vineyards. You'll make a stop in Kimberly, a former mining town steeped in cultural heritage, where you'll have a chance to look around and visit mining complex museum Big Hole.
The Blue Train is renowned for its opulent carriage suites, some of which even contain a jacuzzi bath. Dining is all-inclusive – head to the lavish dining car for a fine-dining feast of dishes such as sirloin steak or line-caught fish.
WEB: www.bluetrain.co.za
Xining to Lhasa on the Qinghai-Tibet Railway
This extraordinary route connects mainland China to Lhasa in Tibet, a journey which takes over 24 hours. Since being completed in 2016, the railway has set several world records, including the world's highest railway station (Tanggula Mountain Station) at 5,072 metres. The railway is at such a high elevation that oxygen is pumped into the cabins to prevent altitude sickness.
While the Qinghai-Tibet train might lack the opulence of the Blue Train or the Orient Express, it still offers sleeper compartments where you can stretch out in comfort and privacy. The dining car serves delicacies from China and Tibet, including popular dishes such as roast pork and kung pao chicken.
It's the scenery that really steals the show here, though – you'll travel through parts of Tibet that have rarely been seen. The still, glassy waters of sacred Cona Lake. The jagged, snow-capped Tanggula Mountains. Yaks grazing the yellow grasslands under cornflower blue skies. In this case, the journey is just as exciting as the destination.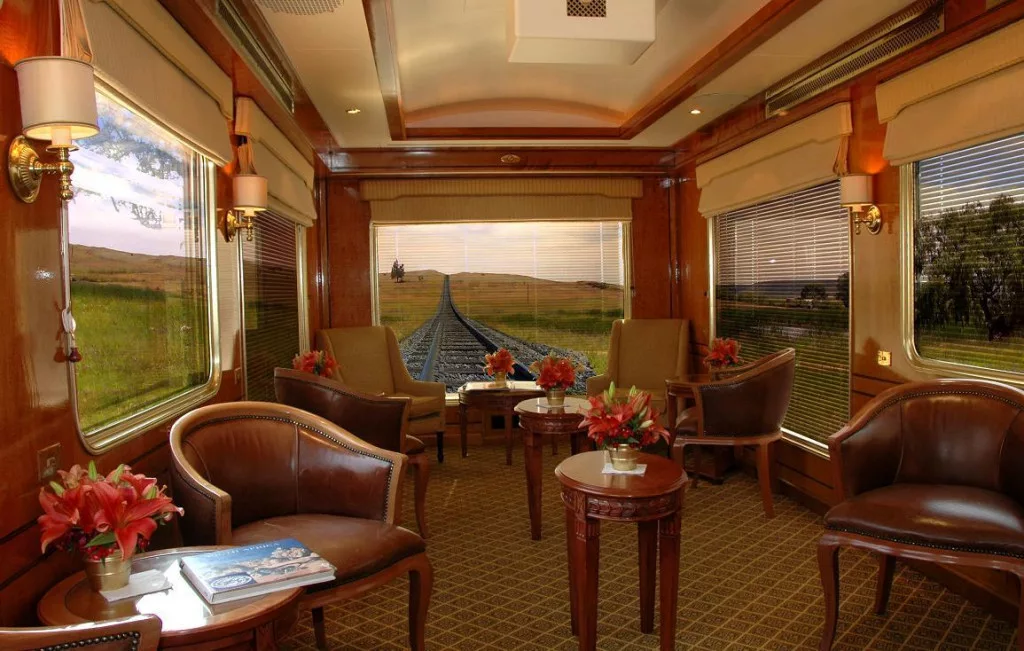 STAY IN AN ECO-FRIENDLY HOTEL
---
If an 'eco-friendly' hotel or retreat conjures up images of compost toilets and bug-ridden rooms with no electricity, you'll be pleasantly surprised. With more and more travellers looking for environmentally friendly accommodation, even the most upmarket hotels are responding to the demand.
Many hotels with green credentials have sustainability and environmental certification. One of the most common is LEED (Leadership in Energy and Environmental Design). Hotels with LEED credentials generate less waste, and work to conserve energy and water. You can also look out for hotels that are GSTC-certified, meaning that the Global Sustainable Tourism Council has designated them as being sustainably managed and having a low environmental impact.
One of the most environmentally friendly resorts in the world is the Brando, an eco-luxury resort located on Teti'aroa, an island in French Polynesia. It has been built using local and recyclable materials, relies entirely on renewable energy and uses an innovative air conditioning system that runs on water from the deep sea. With its opulent spa, spacious villas with private pools and pristine island surroundings, it shows that 'green' can mean 'luxurious'.
If you don't have the time to trawl through the internet looking up the sustainability certifications of different hotels, then there are several eco-friendly travel booking websites that have done the work for you. Eco BnB offers a wide range of accommodation, while Green Pearls focusses on high-end sustainable offerings.
TAKE A STAYCATION
---
Staying close to home when you go on holiday feels imperative in the wake of the coronavirus. But it also means that you'll dramatically reduce your carbon footprint, as you won't be taking long-haul flights. It will be more economical on your wallet too, as you won't be having to pay for transportation or any sundry items, such as adaptors or extra toiletries. It also requires a lot less planning – hop in the car on Friday night and you'll arrive at your destination a couple of hours later.
The idea of a staycation might bore you, but once you start researching, you'll be surprised at the diversity of environments and activities close to home. Our office in Norwich is less than two hours from London on the train, and only an hour to the windswept Norfolk Coast, where you'll find the UK's largest seal colony at Blakeney Point.
CHOOSE A RESPONSIBLE TOUR COMPANY
---
For those who prefer to go on tours instead of travelling independently, good news – many tourism companies are making real efforts to reduce their carbon footprint and be more sustainable. Recently, 78 travel companies came together to form 'Tourism Declares a Climate Emergency'. They have each vowed to develop a climate emergency plan and reduce the total carbon emissions per trip they operate.
In 2019, Better Places Travel launched its Positive Impact Trips. Each trip relies on working with small-scale, local operators, thereby benefitting local communities, and staying in low-impact accommodation.
"We want to create travel itineraries that contribute positively to local communities and the natural environment, and at the same time offer the best travel experience for the traveller. By working together with local initiatives like Resirest, Backstreet Academy and I Like Local we are able to increase our impact much more quickly and efficiently," said Sakia Griep, the organisation's CEO.
These days, a lot of travel companies have a section of their website devoted to their most environmentally friendly trips. Inn Travel has a particularly wide range of responsible holidays, such as a cycling holiday across Provence (accessible by rail) or a train journey on Switzerland's scenic Glacier Express.
Everywhere you look, you'll find examples that show travelling responsibly doesn't mean you have to sacrifice quality, comfort or adventure.