In our first edition of 'Getting Away From It All', our editor Dani Redd heads to remote Snowdonia for a digi-detox.
This is a year where it feels like anything could happen – and not in a good way. My husband and I wanted to get away from the stress and uncertainty of it all, though neither of us felt ready to travel abroad. We decided upon Snowdonia, a rugged, mountainous region in Wales. We booked a midweek break with Snowdonia Glamping Holidays, in accommodation consisting of two shepherd's huts (one functioning as a bedroom, the other as a bathroom) and an outdoor kitchen. The site was completely off-grid: we'd be spending four days without electricity. As the time for the holiday drew closer, we realised how much we were looking forward to being without Wi-Fi and phone signal.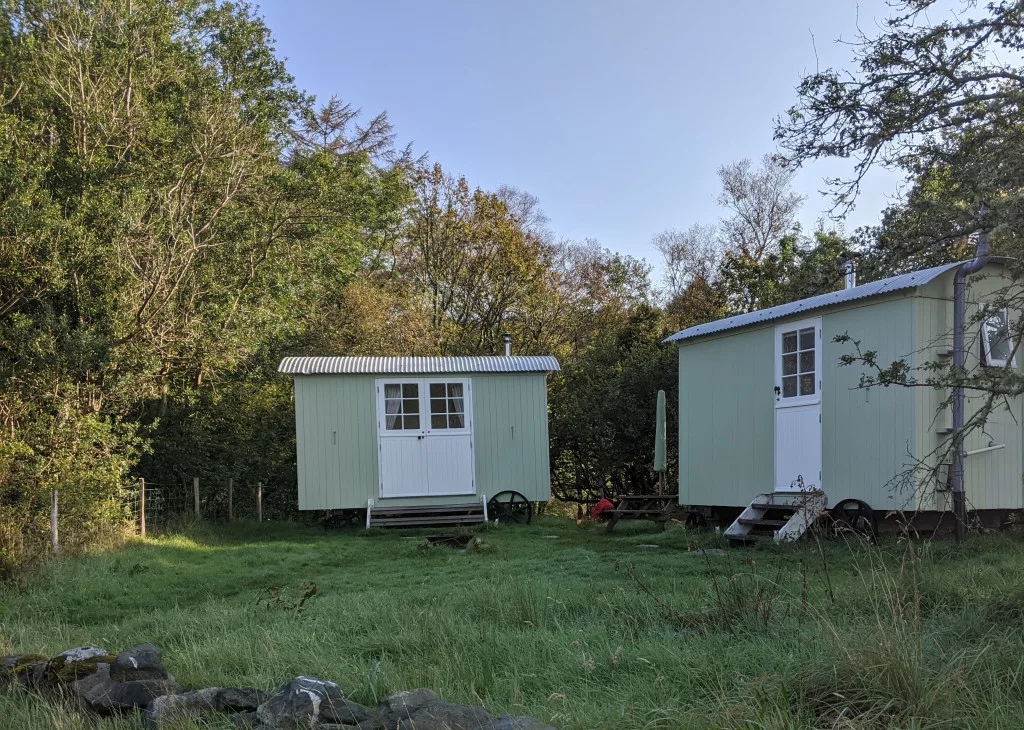 The shepherd's huts exceeded our expectations. They were nestled in a small clearing, surrounded by a small stream and trees burnished with the reds and golds of autumn. The bedroom consisted of a comfortable double bed, a table and chairs, a woodburner and a welsh dresser packed with the essentials – warm blankets, board games and a bottle opener. We were impressed with the bathroom, which boasted running water and a flush toilet (the site is connected to a natural spring and run through a UV particle filter), as well as a roomy wood-fired sauna.
After enjoying the last rays of sunlight with a glass of gin and tonic, we lit a fire and ate dinner, followed up by smores, toasted marshmallows sandwiched between two chocolate biscuits. Then it was time to retire inside, reading until our eyes grew heavy.
The next day, after cooking a fry-up in the outdoor kitchen, we headed out to climb Mount Snowdon, the highest mountain in Wales. We had been warned away from the more popular routes by our host Hazel, who told us that the paths up Snowdon were much more crowded than usual, especially at the summit. She'd lent us a laminated map of another, much quieter route. But by the time we arrived at the car park it was almost full, and we set out with a few other groups of walkers.
Before long, however, the groups spread out and we had the trail more or less to ourselves. We walked down a rocky path bordered by rough grass and encircled by craggy peaks. As we walked, the grass was replaced with large boulders, and the path grew ever steeper. Eventually we found ourselves walking along the top of a wide ridge, its sheer sides sloping away from us, with a spectacular view of the nearby lakes and mountains.
Getting to the top involved several steep climbs and took around two and a half hours. We decided against the final scramble to the summit, which people crawled over like ants. Instead we found a quiet place to sit nearby and had a lunch of sandwiches and cereal bars while taking in the view. We knew we'd made the right decision when we saw someone having a panic attack over the crowds they'd encountered at the summit.
Later, we eased our tired muscles with a long stint in the sauna. Afterwards we lay by the fire on the large outdoor beanbag, watching shooting stars arc slowly across the sky.
Even the inevitable Welsh rain couldn't dampen our enthusiasm. We spent much of the next two days indoors, playing board games, reading and accidentally stoking up the woodburner until the heat inside grew unbearable. When the rain eased off, we ventured outside for blustery walks, once getting lost on a sodden mountainside. No electricity meant no movies, no video games and no mindless social media scrolling. We had more time to talk to each other; we went to sleep earlier.
As we drove home, we decided that even if we couldn't go to Snowdonia every weekend, we could still have a "digi-detox" at least one night a week. So far, we've stuck to our rule, proving to ourselves you don't have to travel far to get away from it all.