The windmills in Zaanse Schans are the least explored of Netherland's countryside regions, where time stands still to preserve an important memory.

Take a huddle of six rustic-green windmills exuding a whiff of oil paint and cocoa with gigantic blades moving slowly in the background, a pace that makes you stare at them longer than intended. Located 11 miles north of Amsterdam, these windmills are observed throughout the Netherlands as historic and significant – but they have remained mysteriously untouched for decades. Back in the 17th-century, the modern-day riverside town of Zaanse Schans was home to more than 600 working windmills. The industrial trade would support countless communities of factory workers, and artisans such as cheesemakers would travel from afar and settle in the Dutch continent. Before the glory of internet fame, the town became a secret discovery for travellers who dared to stray further from the city. But nowadays, it is found scribbled in almost every European itinerary as a must-visit for its scenic allure.
In this sparsely populated region, I sit in the village of Zaanse Schans surrounded by an orchestra of crashing waves, waiting for the wind to slow down. The old wooden rooftops of nearby houses vibrate and squeak. It's quiet – just a handful of people in a cafe drinking Chocomel – and quieter still inside the Zaandam Time Museum on the main street, which houses a collection of animated clocks from the Dutch Golden Age, stood proudly as the only establishment in the country that pays homage to the intricate craft of timekeeping.
During the afternoon, in a brewpub somewhere nearby, a fillet of cod drowning in a batter of flour and breadcrumbs sizzle in hot oil, as Kibbeling, a Dutch favourite, is prepared for a large group of tourists. I sit with a couple of fishermen in their late 40s on barstools facing the sea, oozing athleticism. Last night, they say, a jeep full of tourists wearing masks and hazmat suits were begging to reopen De Kat, which I later understood was a reference to the oldest printmaking windmill. We strain our eyes for what feels like the hundredth time at the shore, 11 miles away. The windmill was barely visible on the horizon, a smudge of wood standing afar from civilization.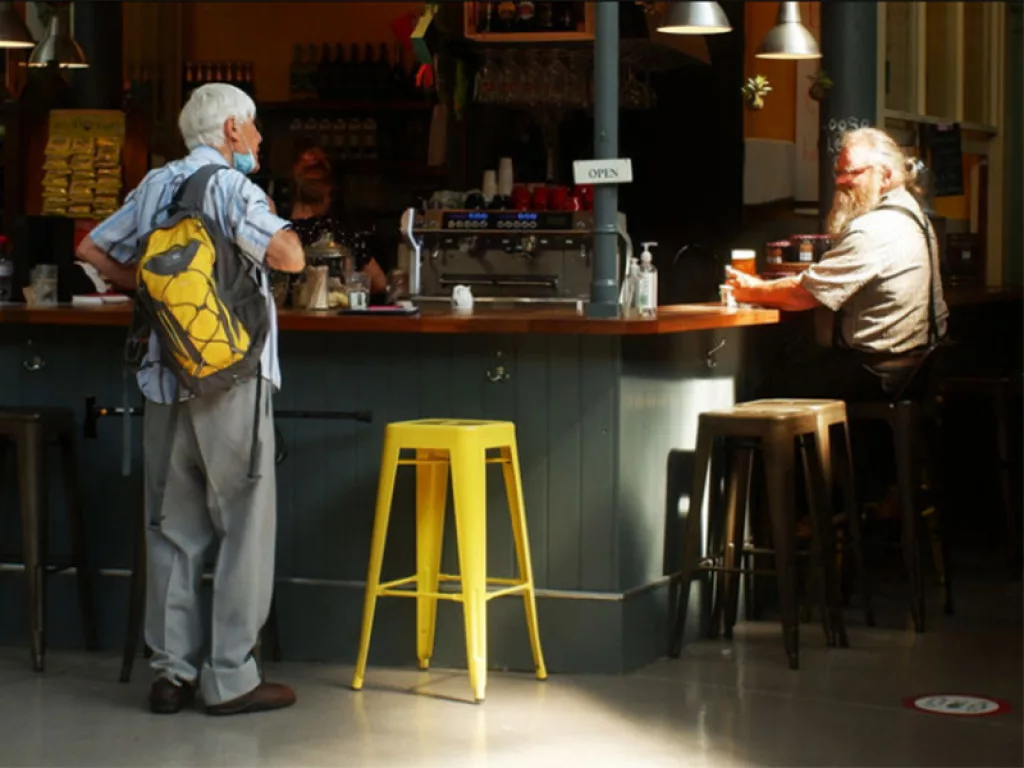 Captain and retired mill-engineer Fabian Leery gave me a ride the next day; four hours sailing on his dinghy boat, which he lovingly named Martha after his wife, describing Zaanse as a place of immense historic significance. "When the pandemic started, we were sure that it was going to be a quiet autumn. Many weeks passed by and nobody showed up anywhere near the village and the virus was already in Amsterdam. But we were wrong. When the city went under lockdown, travellers flocked here, to the Zaandam neighbourhood. One particularly quirky backpacker claimed that Zaanse holds the power to protect him from the virus."
A trout with a canary-gold stripe flings itself in the air as we sail closer to the De Kat windmill. De Kat was originally built as an oil mill in 1646. It was an industrial structure and was considered an important landmark. When the mill caught a devastating fire in 1782, the town immediately engaged in rebuilding it. Owned by Vereniging De Zaansche MolenI, the mill today is the last standing operational station for printmaking.
After eavesdropping on a guided tour and fascinating myself with an ancient process that traditionally yields pigments of colour, I wander around. A photographer politely whisks some workers for a snapshot. There is the other cluster of windmills–and the Zaan river–a serene landscape that makes you gasp. Wooden benches, big fans, and silence. A young woman, olive-skinned, sits on the edge facing the town reading Gerard Reve's De Avonden.
A wooden pathway shaped like a miniature bridge, De Kat's one walkway, is crowded with squashed blueberry crops that infuse the air with a tart aroma. There is no public transport for miles, just a small community of less than 8,000 Dutch settlers living on a peat soil landmass in houses made from upcycled 19th-century wood with slivers of the industrial revolution in their design. A significant reminder of 17th-century industrialization; shipyards, spice factories, and the paper industry. Museums dot the bay.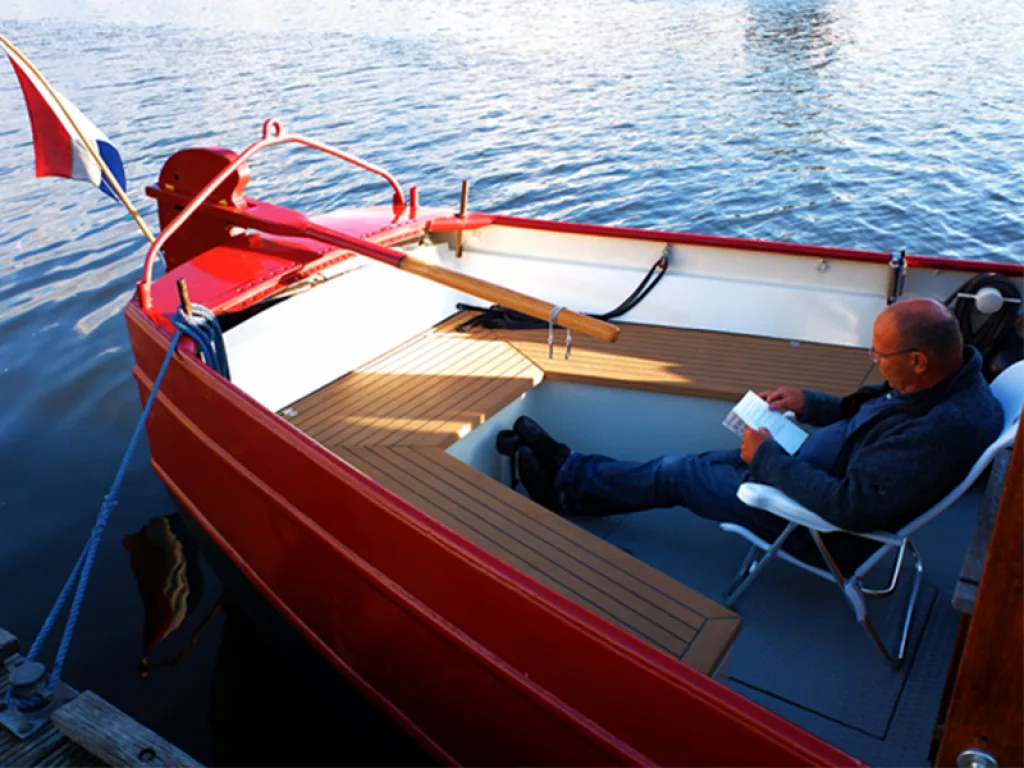 Now and, then a dinghy comes along carrying passengers tinkering with their face masks, trying to forget the reality of the pandemic. During the evening, a much larger crowd of teenagers and young adults stinking of Heineken drive in from Amsterdam for enormous mounds of Patatje Oorlog (War Fries) and then stay into the night, roaming in circles around town. The vintage local bar De Hoop op d'Swarte Walvis offers a limited dinner menu, where the barkeep whispers praises of the Veal Loin with a side of asparagus and some potato pancakes. A humble meal with a touch of Zaanse; warm, comfortable, and just the right amount of fancy.
The next day, I walk for hours with Abbe, the son of my host, and a history buff. Abbe has a long-lost connection with this place and now lives with his mother, finishing the renovation of his home in a hamlet called Zuideinde on the suburban landscape away from the city. I walk behind her, cautiously navigating puddles of mud as she swiftly walks on almost invisible trails, leading the way. The scene suddenly changes as we emerge from the tall shrubs and stand in a colony of miniature houses: a tribute to the original settlers of Zaanse. The image in front of me is a random cluster of 18th-century Dutch homes, painted dark green on the outside – almost like they were trying to camouflage, hide in plain sight. At that exact moment, the significance of the original settlers who built the town was empowering – all their traditions and sacrifice over the years coming into light.
Midday at Zuideinde's port a few days later. An hour away by boat and some 63 miles from Amsterdam, the Zaanse village rises, aesthetic, and quiet, with a population of less than 5,000 in winter.
Tourists on bicycles stop for mere moments to gaze at the windmills that line the horizon. No cars, no wheels. In the 17th century, paintings of windmills weren't just art, they would exude strength. In recent years, many locals still come to the shore to stare at the windmills and gather whatever vigour they can. Some say that it is greater than praying in the church.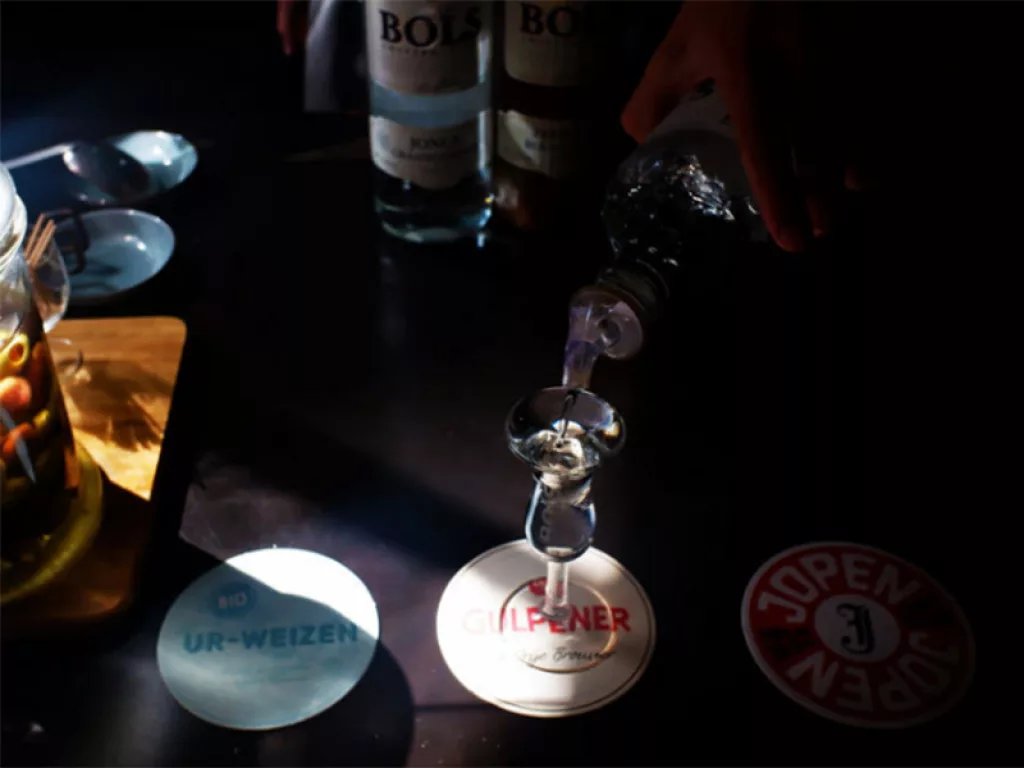 This afternoon, a group of elderly women is talking about the many ways to make carbonara, and a mill worker explains to a group of millennial travellers the importance of manual labour in the olden days. I spoon Boterkoek, an exotic form of butter cake in the Café "Van Ouds" Oost-Indië near the central square, where the cafe owner, 45-year-old Gilonio, peeks from over the counter, as though he doesn't want to get away from the radiator and passes a shy smile.
That night the water in the Zaan river was still. A few tourists chat with Captain Leery, preparing to take me back to Amsterdam on an early sail toward the city. He passionately recalls his past and tells stories about his days as a millworker back in the days, never for a moment caring about the tidal waves that kept coming his way, as if he knows them too well. The adventure was his fate, not a stagnant life. Hours later, through my rental-room windows, I gave the town one last look. In those somewhat emotional and semi-conscious moments before dawn, in all parts of the world, there was silence; but in this place, the profound steering of the windmills made me smile. In such moments, Zaanse can define serenity better than any other place in the world, and in others, it is just another suburban village in Holland that couldn't care less.