The Outlook Team explores preparing a feast in the atmospheric heart of Fez, the foodie capital of Morocco
Walking through the narrow ochre alleys of Fez's Medina is like stepping back into the Middle Ages. It is home to 40,000 people who eat, live, pray and work in the world's largest pedestrian area. Moreover, Fez is Morocco's foodie capital.
The Fez Cooking School's course, which includes shopping for ingredients in the souk, has its home at the Palais Amani. An Arab-Andalusian 17th century palace that was refurbished with Art Deco features after the earthquake of 1928.
With our guide Fatima, our chef Zakia and ample shopping bags, we head into a labyrinth of 9,500 alleys that are beyond mapping, beyond GPS, and beyond navigation. This is a medieval maze where you literally follow your nose to the fish souk, past the tanneries' stench, to the fragrant spice souk.
A morning spent food shopping in the souks, cooking in the Palais' rooftop kitchen and then lunching in the tree-shaded gardens is more than a culinary education, it is an intimate introduction to life in Fez.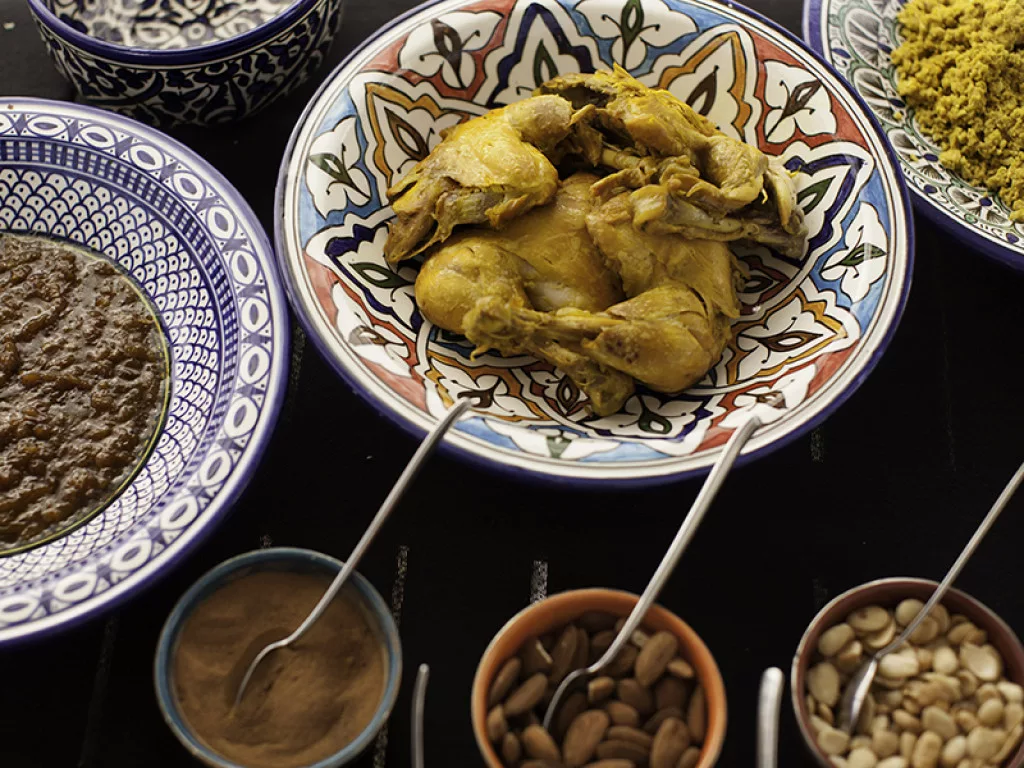 After all, we are what we eat. Food is not just sustenance. It is faith, family, geography, identity, politics, and society. Often the tablecloth is a national flag, a statement of nationality. From 1912 to 1956, Morocco was reluctantly a French Protectorate. Moroccans fell in love with French patisserie assimilating it into their lives but rebelled linguistically. Breakfast brioche, to Moroccans, are krachel.
In a city where the Muezzin's call to prayer echoes from numerous towers and where a Quranic library hosts the world's oldest book, food is inevitably shaped by faith.
"No, not that one," says Fatima as I eye-up a plump speckled chicken from a cage of just four fine birds. "They are for special celebrations, like the end of Ramadan. We are having one of those," she says, gesturing at cage after cage of what essentially are Fez's grumpy-looking value chickens.
"Besides, our chicken has marinated overnight in salt water and lemon juice to make it tender, less bitter," she continued. "Our First World sensibilities were spared a chicken's death throes."
This was shopping without plastic packaging, shopping without plastic payment cards. For centuries, Fez folk had shopped just for the day, partly because Dirham were tight, partly because, until recently, refrigerators had been scarce. Khili'i, preserving food through pickling and preserving, had become an essential skill in a baking climate.
"My mother would never buy packaged chicken from a supermarket," Fatima continued. "How does she know when it was killed? Where has it come from?" For Fez shoppers, provenance is not just the latest trendy fad; it had never gone away.
Religion shapes when people eat too. During Ramadan, the faithful look for a last burst of energy before sunrise and immediately after sunset. Countless sweet stalls sell sugar rushes. Chebbakia, plaited coils of saffron pastry – deep fried and then dipped in honey and sprinkled with sesame seeds – are served at the breaking of the fast with a bowl of Harira soup, freshly baked bread, boiled eggs and dates. For many Moroccans, the queen of pastries is the "corne de gazelle", half crescents of wafer-thin pastry filled with almond paste, flavoured with orange flower water, and then dusted with icing sugar.
Fez's stalls invented the concept of "fast food" centuries before McDonalds. For breakfast people sit at rough-hewn benches and tables for a bowl of bessara; garlicky split pea soup served with a hunk of kesra bread. Then at lunch they may opt for the local take on fish and chips, where the fried sardines are chilli spiced.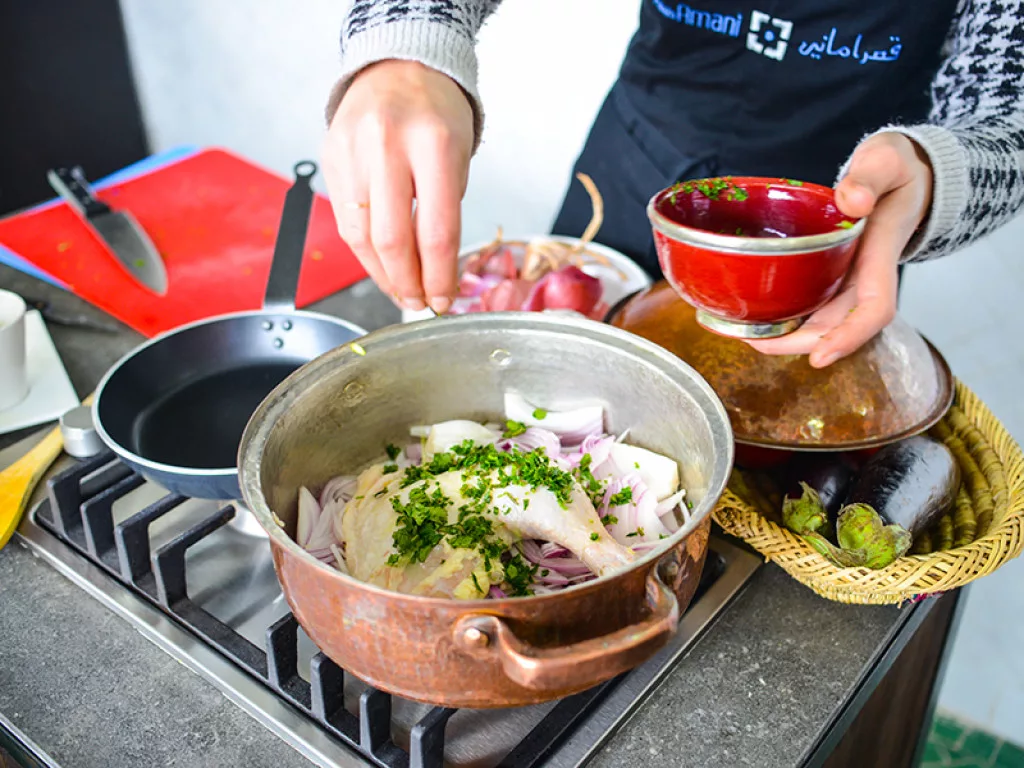 As with every culture bread tells political and social stories. Traditionally, women kneaded dough and shaped the loaves in their kitchens. And there, controversially, they were expected to stay. Children and elderly relatives of the extended family took the loaves to a communal baker who knew every family's tins by their dents and scratches. Old men tut their traditional values at today's wives who dare to personally deliver their bread to the baker.
Vegetables, couscous and spices had been bought for our chicken tagine along with ingredients for the zaalouk, a spicy aubergine purée, too. Jemima Mann-Baha, co-owner of the Palais Amani, describes zaalouk, with its heady smoked aroma, as her twenty-something son's "favourite seduction dish."
For us shoppers it was time for a tea-break, Moroccan style; mint tea. For over five decades, Atay Bnaanaa, wrapped in an extravagant cerise head-dress has been creating the Grand Cru of Fez's mint teas.
At 10 Dirham per cup, a day's wages for some in Fez, this is a middle-class treat. Stood by a shining silver samovar, Atay creates a flower-show of a cup; leaves of absinthe, geranium, verbena, sage, and plenty of mint.
Revived, we return to the kitchen of the Palais Amani to cook. Looking across the roof-top garden of terracotta pots of bougainvillea, olive trees, roses and vines towards the Middle Atlas Mountains, there can be few better places to chop, grate, simmer and spice.
Our work done, we head down to the Eden Restaurant, at the heart of the 18-room boutique riad. Lanterns hang in the gardens of lemon, orange and pomegranate trees. Fountains, by the blue-mosaic-tiled columns, play. When the Arabs were a forever-thirsty nomadic people, ferrying goods with caravans of camels across the desert, these cool, fertile gardens would have been a paradise.
Such hands-on experiences, like the cookery course, where you spend time with Fez's people, take you deep into the Fez way of life. The Palais also offers bread and baking lessons as well as an Arabic calligraphy course. Beyond the hotel you can even graduate from a traditional bookbinding course.
The Fez Cooking School at the Palais Amani Fez Cooking School, Fez Medina, Moroccos