Catering to location-flexible professionals with a global network of tasteful spaces in inspiring places, Outsite offers a co-living community to a generation of remote workers.
Outsite
When Emmanuel Guisset moved to San Jose, California, he came in search of the American dream – pursuing his passion of surfing whilst working remotely in stunning destinations.
Little did Guisset know that, as more of a metropolitan city, San Jose was far from the idyllic California surf town he had in mind. However, happening upon nearby Santa Cruz on a weekend trip, he found just what he was looking for.
"As a very keen surfer, he started spending more time there and negotiated for flexible hours in a time well before COVID-19 hit and remote work became the norm," explains Outsite's Content Manager, Rebecca Georgia.
It is an idea that encapsulates the very essence of Outsite, channelling the concept that it is possible to combine both life and work in stunning locations around the globe.
"Essentially, he started renting a property, got some friends involved and then acquired another location in San Jose. From there, they went to LA and that's when it really started growing."
Thus, in 2015, Outsite was born from the pursuit of both passion and professionalism, serving the growing demographic of location-flexible professionals seeking to integrate both travel and work.
Guisset was joined by two initial founding members hailing from diverse international backgrounds: Chief of Operations Liz Ribot and Chief Technology Officer Stijn Beauprez.
Today, the Outsite portfolio spans over 30 properties in an eclectic range of destinations, from lifestyle cities to remote coastal hideaways. Offering tasteful interiors across the US, Europe, Latin America, and Asia, the brand's global network of co-living spaces continues to cater to an ever-growing movement.
WORK ANYWHERE, LIVE DIFFERENTLY
The trend of remote working has exploded in recent years, with the restrictive measures imposed by the COVID-19 pandemic forcing its hand as telecommuting became not just a choice, but rather, a necessity.
"The last year has been really interesting for Outsite. There were a few months where we were almost empty in some locations, whilst in others, our members chose to lockdown with us. At a time when you had to stay with your bubble, it was handy to have a shared house where you could still be social," Georgia comments.
"Although COVID-19 added fuel to the fire, remote work was already gaining momentum for a lot of people."
Outsite is a true advocate of the advantages that remote working can bring, above all the beneficial flexibility that it offers people, allowing them to be more productive by following the schedule that works best for them. Essentially, this contributes to a higher level of motivation when it comes to working.
"The other side of this coin is that the jobs market now is much more open to everyone – you don't necessarily need to be in the city for incredible job opportunities that previously might not have been within your reach. This works for both candidates and companies.
"Everyone should have the flexibility to live and work in a way that suits them," Georgia adds.
Outsite serves a demographic of predominantly independent solo travellers with an average age of 35, while 35 percent of its membership base comprises individuals in a relationship. Typically, members stay for a duration of several months, enjoying long-term, immersive work-travel experiences.
"Our accommodation and services support people who want to live life and work anywhere in a way that suits them. It's the belief that, say if someone has a child, they shouldn't have to stick to a 9-5 – which isn't necessarily best for them or their company," she outlines.
The Outsite catalogue of locations includes destinations selectively hand-picked for a high quality of life. This includes lifestyle cities such as Boulder, Colorado – strategically chosen for its established start-up presence, whilst presenting a more affordable alternative to San Francisco. In Europe, this includes cultural hubs such as Barcelona and Lisbon, amongst others.
"We also include more remote destinations – whether rural, coastal, or alpine. For instance, somewhere like Ericeira in Portugal offers an extremely relaxed lifestyle in an idyllic coastal setting."
"Whenever you check into a location, our members-only spaces are what makes the Outsite experience unique"

Rebecca Georgia, Head of Content, Outsite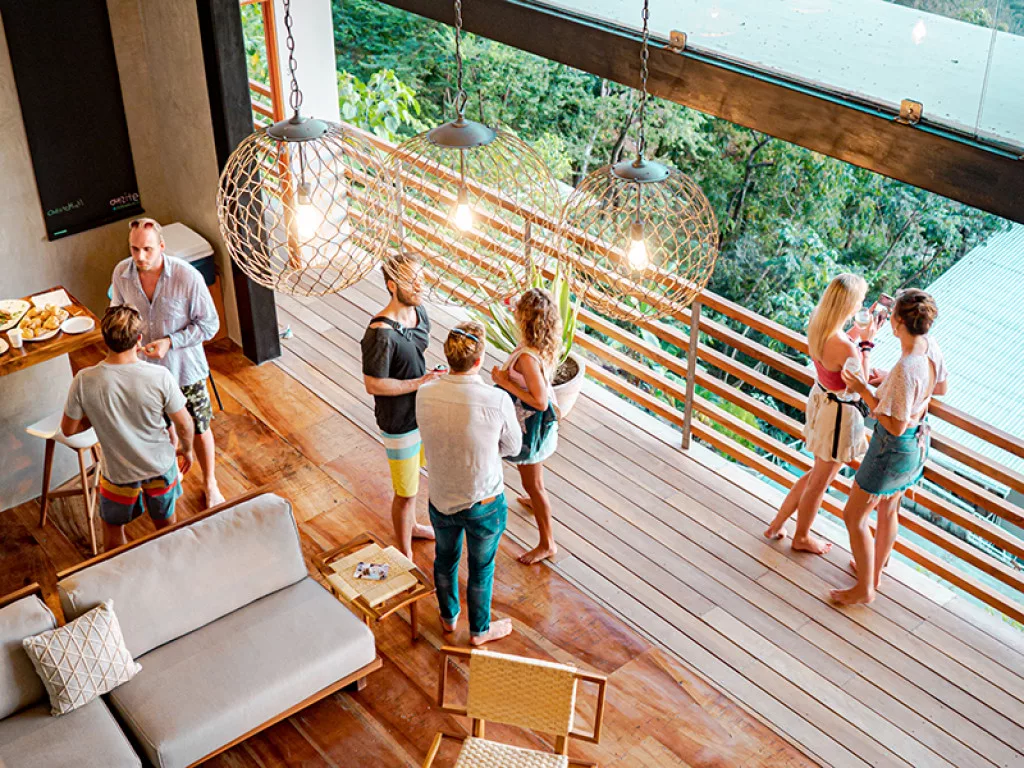 THE CO-WORKING COMMUNITY
All Outsite residents are part of the company's exclusive membership base, currently representing over 2,000 members. By working on a membership basis, an Outsite space guarantees a collection of like-minded individuals, fostering a spirit of conviviality.
"Whenever you check into a location, our members-only spaces are what makes the Outsite experience unique.
"People can be wary when they're sharing spaces, but all our guests have done an identity check for that extra layer of security, and it means everyone there is interested in the same type of lifestyle," Georgia explains.
This is just one of a host of ingredients that keep members coming back, creating customer loyalty thanks to the consistency of the Outsite experience regardless of where you are in the world.
"Whether you're in San Francisco or Costa Rica, you have the same amenities wherever you are."
One small touch that Georgia highlights as a differentiator at Outsite, is that all spaces are equipped with the same WiFi password. As a member, you may find yourself checking in to a space somewhere new like Nicaragua, and immediately find yourself connected as soon as you walk through the door, offering a precious feeling of coming home.
Technology is leveraged throughout Outsite to nurture the spirit of connection for all guests, encouraging community in what can be a solitary way of working.
"We have an online platform for every member. So, if you're hiring, looking for help, or for instance you want to start learning about coding or UX – you can post there and see if someone is willing to chat with you.
"Sometimes it will be that you're already in a location, and you happen to be sharing a space with the right person at the right time. Often, people find these connections that they didn't necessarily know they were looking for."
Finally, this connectivity is further enhanced by individual WhatsApp groups for each location, where guests can connect with each other before arrival and keep pace with the plans of others sharing the space.
"Whilst our product revolves around the idea that people are working remotely – and they do from Monday to Friday – everyone's still very social and wants to explore so it gives you that opportunity to meet people who are in the same boat."
For the year ahead, Outsite has its hands full with the roll-out of several new locations, with the company's expansion team continually identifying potential new areas for growth.
"We're growing significantly throughout Europe at the moment. We have several locations close to guarantee, including both Barcelona and Madeira."
Georgia also hints at the Balearic Islands as the location for an ongoing construction project due for completion in 2023.
With a growing footprint catering to the increasing momentum of the remote work movement, Outsite serves the needs of the workers of tomorrow.