DIGITAL ART MEETS ANIMAL CONSERVATION IN THAILAND
---
Unchained Elephants is an art project that aims to rescue Thailand's abused elephants using new technology.
Although elephants today are a major tourist draw, these enigmatic and majestic creatures are rooted in Thai history.
"We're in the middle of the jungle. We had no means of transport 100 years ago, so we used elephants to bring rice and medicinal herbs to Takua Pa that would be exchanged for salt," says Anek 'Lek' Dacha, speaking from the ethically run Khao Sok Elephant Sanctuary.
"Riding elephants was a safe way to travel as tigers didn't attack them, unlike horses," Dacha adds. Today, riding these adorable giants is a regal experience for many, but the moral aspect of elephant tourism compared to what is happening locally is complex.
Many tourists still don't know that most of Thailand's elephants are separated from their calves, isolated and beaten with bull-hooks to make them dance and paint for people's entertainment.
Unchained Elephants (UE) wants to make a difference, to rescue circus elephants and relocate them to ethical sanctuaries like Dacha's. UE is minting its first non-fungible tokens (NFTs) collection surrounding Luis Felipe Donoso's artwork. Working with UE, the Ecuadorian artist showcases elephants in meditation positions. Since UE launched on a public blockchain last year, the project has become more accessible to travellers and animal lovers who do not condone the ill-treatment of elephants.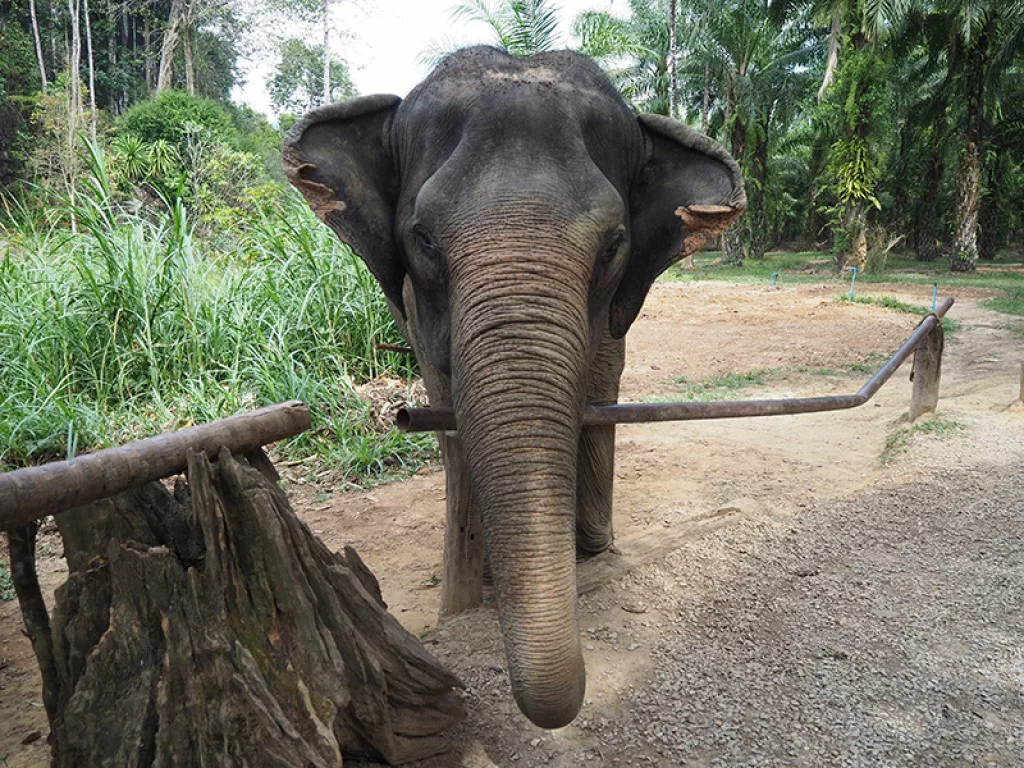 THE UNCHAINED ELEPHANTS DIFFERENCE
---
Saving captive elephants from horrific working conditions is the bedrock of UE.
"We're making sure that the elephants are taken care of wherever we put them, supporting their long-term well-being. We update NFT holders on their welfare with photos and videos. They get to be a part of the change," says Vicki Kiely, UE's animal activist.
Phuket-based for nine years and originally an Irish national, Kiely was involved in Ric O'Barry's Dolphin Project. Finding a sponsor from Hong Kong, Kiely helped rescue Maruay last year, one of the two elephants Lek looks after.
UK-based, international animal rights organisation, World Animal Protection (WAP), says wild animals belong in the wild, and stresses that if tourists can only ride, bathe, or touch them, they have been cruelly trained. Meanwhile, some elephant owners and business operators call certain claims by animal rights groups 'emotional and melodramatic', arguing that ethical sanctuaries can be less healthy for elephants as they get fewer opportunities for long walks.
Best Atthakorn from Wildlife Friends Foundation Thailand says that putting weight on an elephant's back is harmful and leaves their spines deformed over time.
UE is aware that the use of elephants for people's enjoyment cannot be stopped, as Thailand is home to almost three-quarters of the elephants in Asia's tourism sector. "We don't agree with it, but it's impossible to end this," says Kiely.
Although these majestic animals are at the top of the tree regarding animal hierarchy, they have been maltreated the most. According to WAP estimates, elephant tourism generated up to £626 million annually in Thailand pre-COVID-19.
Kiely states that for elephants to be in the tourism sector, they have to be trained in some way. "They are wild animals, but we wish for positive reinforcements such as food and high praise versus beating and deprivation."
The aim is to stop compensated tour operators from buying new elephants. "We don't just want to hand out money and displace elephants. The idea is to teach animal owners how to do business in compassionate ways, as we strive to change the demand for more responsible camps that promote riding- and bathing-free interactions," states Daniel Villota, founder of UE.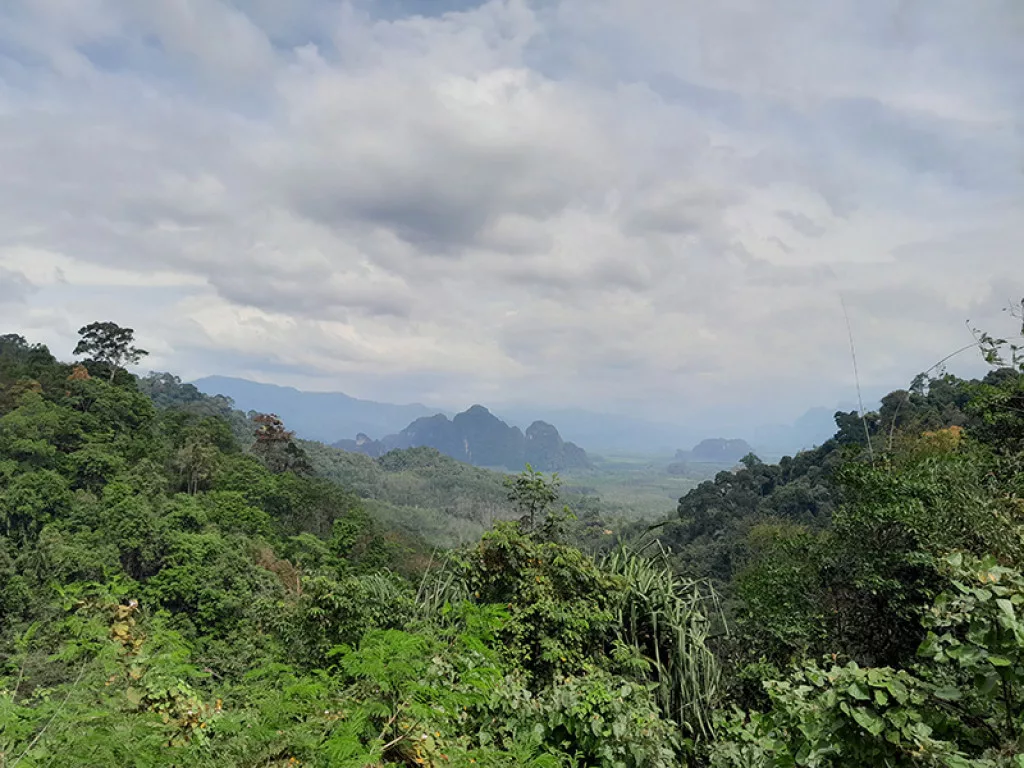 EASIER ACCESS TO NFTS AND A TRAVEL CLUB OPEN TO ANYONE
---
Simply put, UE's NFTs mean digitised funding for elephants. The project was developed in the throes of the COVID-19 pandemic when the people of Phuket asked Villota about ideas on how to raise money for the starving gentle giants. Much like the crowds that thinned out in 2020, the poor diet due to the measly tourist spend brought elephants to their knees.
To highlight the terrible working conditions of these massive animals in the long term, Villota is working on an online booking platform, Discovering Phuket, which will also serve as a channel to educate travellers.
"There's a huge expectation from tourists to have an experience with elephants when they visit Thailand," Villota notes. "Fortunately, trekking tours are on the rise, thanks to countries such as the UK, who raise awareness of the captive elephants' dire situation."
Elsewhere, UE is working with Supermojo, a finance platform that makes digital assets more accessible to users. Supermojo will shortly be launching a solution, enabling people to buy tokens without downloading a crypto wallet. UE is working on integrating the technology, so that people will soon be able to purchase NFTs.
Travellers supporting UE's cause can benefit from perks like cheaper excursions, accommodation, and restaurants – bookable on Discovering Phuket. "We'll include token-gate access, offering discounts of up to 30 percent," says Villota. Among the sponsors are luxury hotels such as Stay Wellbeing & Lifestyle Resort, and Hyatt Regency Phuket. The travel club and cross-border online booking platform will also be open to those not interested in NFTs – but without the discounts.
THE ETHICAL ELEPHANT EXPERIENCE
---
Set amid 1,500 palms, Khao Sok Elephant Sanctuary sits on a plot of 96 square kilometres, framed by towering karst peaks draped in jungle, where the calming calls of crow pheasants and the plaintive cries of Asian koels, caw for dominance. When wind rustles in the palms, it carries a black liquorice-like smell of elephant urine.
It is a rural idyll that two formerly abused elephants, Wassana, 45, and Maruay, 56, call home. The two colossal pachyderms welcome visitors warmly, happily flapping their ears which are smaller than those of African elephants.
Sleep-deprived Wassana once worked in the logging industry, where her life was not much better than the elephants of ancient Thailand, used as instruments of war. A wood company made Wassana legally knock down old rubber trees on hills that are unreachable for chained machines with ropes attached.
While illegal logging in national parks still exists, it was outlawed in the late 1980s to protect the kingdom's woods, paving the way for elephant tourism.
Kiely tells travellers not to hand-feed these gigantic animals. She wants them to put the food on the ground, but as elephants don't forget, Wassana and Maruay prefer nabbing bananas and sugarcane off people's hands, just as they have been trained to do. Their incredible memory is critical to surviving in the wild, where they live up to 80 years, however, the average life expectancy of captive Asian elephants in Europe is 47.6 years.
At four tonnes, Maruay is classed as past her best. The scar on her forehead nods to her previous life as a circus elephant where she was forced to dance, paint, play football, and gently step on people to massage them.
Tourists also used to ride Maruay, and eventually, she roamed the streets in north-eastern Thailand so her former mahout could beg for bananas.
Bananas and sugarcane are treats, not the main diet, which consists of about 300kg of bamboo, grass and palm leaves. Wassana and Maruay love sugarcane juice, as their outstretched trunks testify.
During my tour of the sanctuary, the elephants' bellows can be heard, as they blow air from their trunks. Walking among a sea of palms with a guide and only a few visitors, travellers can bond with these adorable creatures.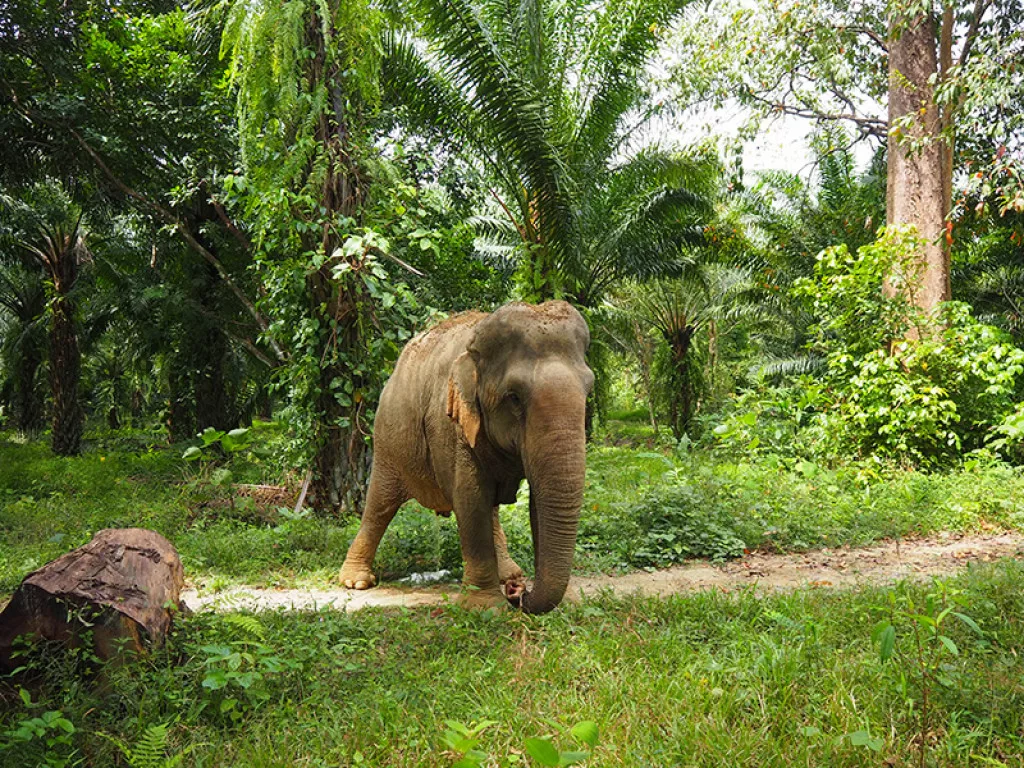 By observing them eating grass and palm leaves, visitors can learn about the elephants' behaviour and their stories. "Maruay didn't know how to break bamboo when we brought her here; Wassana taught her," says Dacha.
Tour guide, June, used to work in a Khao Sok hotel. She says, "this job is better. Different people, different ideas." Just as if she was talking to pet dogs, June lovingly says, 'Mah nee' (come here), luring the two elephants with treats. "It's easier to control them with sugarcane."
After a lifetime of abuse, they can now live out their senior years in peace and quiet, where they won't be hurt, abused, or used for human entertainment.
Climbing all over the elephants when they are in mud is a big no-no, as is riding or sitting atop an elephant's trunk. "They don't want to bathe hourly and when they do, they can do it alone. With people, you have to force the elephants to stay still, and after washing them, insects will come," explains Dacha.
The elephants pick up sand, spraying it over and under their thick, leathery bodies to keep flies at bay. Still, letting tourists watch elephants plod with their gigantic feet is necessary to sustain the monthly maintenance of about 50,000 baht (£1,230) per animal.
"It is important to me as an activist to encourage as many elephant camps as possible to train animals in a compassionate way," says Kiely. UE hopes to relocate elephants through NFT funding wherever possible.
Meanwhile, Dacha is happy to carry on rescuing elephants.
"But only a maximum of 10, because they wouldn't feel comfortable if there were more. We care about animals. Because elephants are like best friends; the same as a dog," he says.
Follow Unchained Elephants on Instagram or website for more updates.