The subtropical island of Ishigaki is the most-populated landmass within Japan's Yaeyama Islands – a remote archipelago found 400 kilometres southwest of Okinawa's main island, and approximately 75 miles from Taiwan.
Ishigaki Island: 24.4064° N, 124.1754° E
---
Although the most developed of the islands, Ishigaki's convenient airport access (connected with direct flights from most major Japanese cities) and ample accommodation options make it a fantastic gateway to the rest of the Yaeyama chain, should you wish to venture further afield to other undeveloped islets such as Iriomote. Ishigaki itself has a thriving domestic tourism scene, however Western travellers may find travel here both challenging and rewarding in equal measure. Since it is rarely visited by foreign travellers, non-Japanese speakers may encounter communication difficulties, yet you will be met with an authentically Japanese holiday experience.
A breath-taking haven of lush rainforest, dramatic peaks and cerulean seas stretching as far as the eye can see, Ishigaki is dotted with lighthouses and observatories from which to survey the island's mountainous interior and sparkling oceans. Here, you are surrounded by a submarine paradise, where snorkelling, scuba diving, swimming and glass bottom boat tours are the major draws.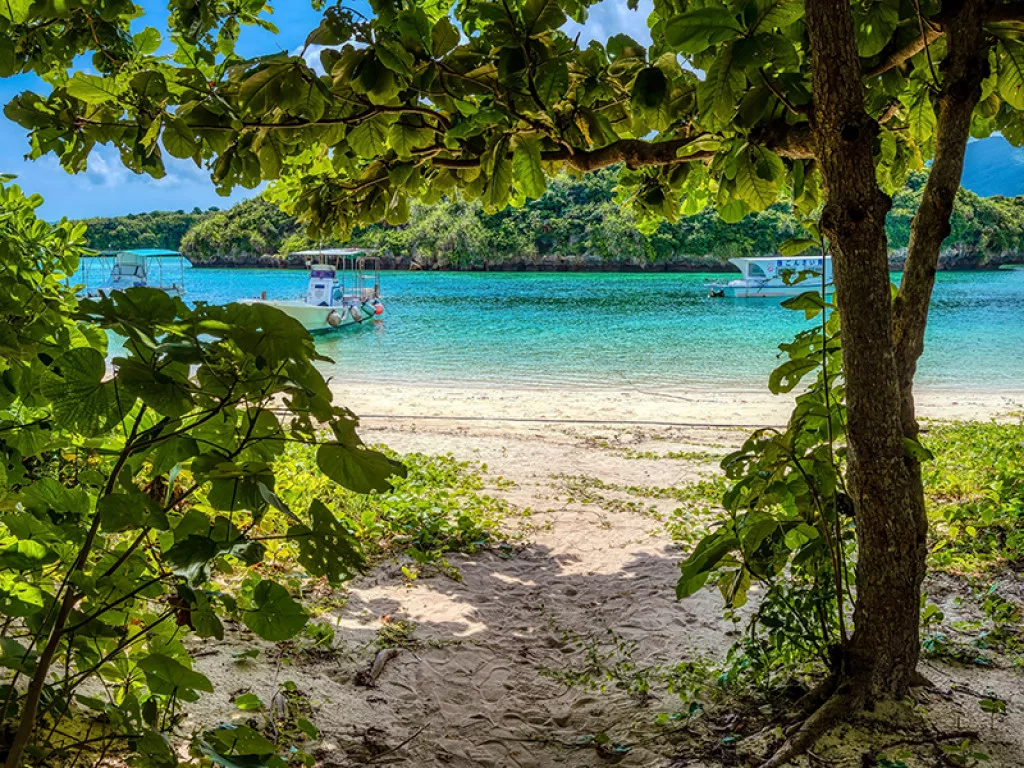 Below the surface, sea turtles and manta rays glide over rainbow-coloured corals, and at Shiraho Reef, you will find the largest community of blue coral in the Northern Hemisphere. Elsewhere, the postcard-worthy Kabira Bay hosts pristine white sand beaches, although these scenic shores are not suitable for swimming since this is just one of Japan's two cultivation sites for black pearls.
Inland, discover hot springs and enchanting jungle walks surrounding dramatic peaks such as Mt. Omoto, and mangrove forests which you can navigate via kayak.
Culturally speaking, musical traditions are woven into Ishigaki's very fabric. Lose yourself to the sound of local folk music, with islanders' songs accompanied by the evocative sanshin – a kind of banjo-like musical instrument made from snakeskin.
When evening descends, head to Sunset Beach on the island's far north for unbeaten sunsets, before night falls, and you are met with one of the world's best destinations for stargazing. The Iriomote-Ishigaki National Park is a designated International Dark Sky Park, where you can view a staggering 84 out of the 88 known constellations, including the Pleiades and the Milky Way. Guided night tours though Kabira Bay and Banna Park promise stunning skies entirely free from light pollution on this mesmeric island.