The Great British staycation has taken many forms; from the popular spa towns of the 1800s to the seaside escape boom brought about by the advent of paid holiday leave and the rise to prominence of the caravan.
For their time, their popularity was unparalleled, but times change, and the idea of what constitutes the perfect staycation continues to evolve. Following the COVID-19 pandemic, exploring the best of Britain has returned to being the trip of choice, but 2023 marks the start of a new era in how we holiday. A study commissioned by the luxury holiday home manufacturer, Victory Leisure Homes (Victory), reveals the new generation of traveller is inspired to stay closer to home and has the environmental impact of their travel at the forefront of their mind, with two-thirds of people surveyed (66 percent) saying that the environment played a big part in their holiday planning. "As the next generation of holidaymaker becomes increasingly environmentally conscious, it's only natural that these factors should play a greater role in their travel plans, and we're proud to be at the forefront of this change," says Shirin Kemp, Director of Marketing and PR at Victory Leisure Homes. 
"The staycation industry is booming, and its popularity shows no signs of going away, but the shape of our UK holidays will take on a new form."
STAYCATION BOOM
---
With the staycation boom showing no signs of letting up, the holiday home and lodge industry continues to thrive. However, true sustainability is only just being considered thanks to Victory Leisure Homes, who recently unveiled its world-first solution to the sustainable staycation, Evolution by Victory. 
"As with every major moment throughout the history of the staycation, their impact has been significant and transformative. Look at the advent of paid holiday leave opening up seaside holidays to the masses in towns like Scarborough and Blackpool, consider the swathe of holidaymakers making their way to Butlins for an all-inclusive redcoat experience, and remember how every other car used to be towing a caravan. Evolution by Victory is next," Kemp acclaims.
This concept for a new range of holiday homes will provide industry-transforming carbon savings to answer one of the biggest challenges facing the industry – how do we become more sustainable?
With hitting sustainability targets at the forefront of the consciousness of holiday parks, Victory's research and innovation team has been working tirelessly to design a solution to the industry's environmental impact while eliminating the need for costly investment in infrastructure upgrades.
"I've lost count of the amount of holiday park owners I have spoken to over the last few years who have been desperate to enhance sustainability from a perspective of both social responsibility and to give customers what they want," Kemp notes.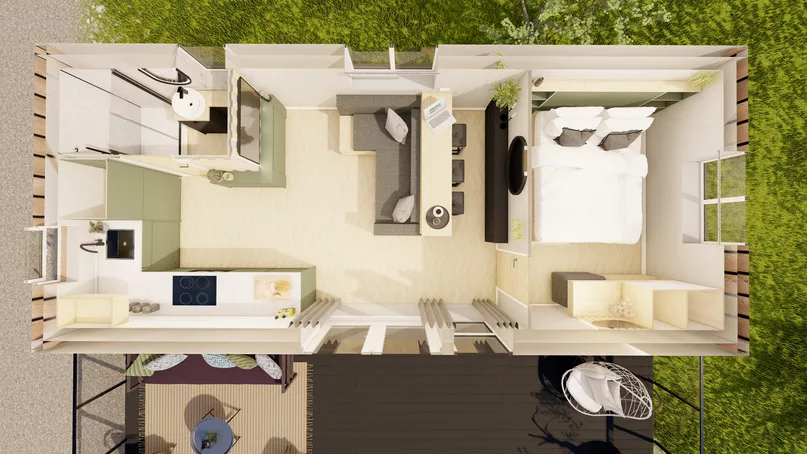 ENERGY EFFICIENCY
---
Such a transformational step for the industry has been achieved through Victory's innovative, industry-leading Next Generation Novus construction method, which has enabled the latest world-leading eco-smart tech solutions to perform at optimum efficiency and delivers an almost off-grid model.
This model is so efficient that it only requires one kilowatt (kW) of energy to maintain a comfortable indoor temperature (when the temperature outside is -5°C).
Park running costs are also significantly reduced, thanks to Evolution by Victory's thermal efficiencies and mechanical ventilation heat recovery system.
Evolution by Victory includes the new Envira-Max TG virtual triple-glazed window system, which is over 34 percent more efficient than the requirements of current lodge standards.
The tongue and groove, moisture-resistant wall system also enables improved heat retention, and the hollow ceiling plank sections increase thermal performance. In-wall 'I' beam uprights, meanwhile, result in 57 percent higher thermal efficiency and a 30 percent improvement in acoustic properties.
10 solar panels built into the roof generate enough power to save over £1,000 a year on energy bills per unit, while an integrated wastewater heat recovery system saves 68,000 litres of water and 2,200 kilowatt hours (kWh) of energy per year.
This equates to combined annual savings of £465 in running costs and 540 kilogrammes (kg) of CO₂ equivalent, with the use of 39 percent less steel reducing CO₂ emissions yet further by 718kg per unit.
"I am so proud of our research and innovation team for the countless hours of hard work they have put into Evolution by Victory. I can't wait to see it make its mark on the holiday industry," concludes Kemp.