The jewel of central Europe, Prague is a cultural wonderland where history rubs shoulders with contemporary creativity, hearty gastronomy and the best beer on the continent.
PRAGUE
---
A Bohemian beauty sprawled across both sides of the Vltava river, the picturesque city of Prague (or in Czech, Praha) holds a magnetic appeal. Located in the northwest of the Czech Republic, Prague stands out for its cultural splendour and emerging sustainability credentials, after being voted in 2021 as the 13th greenest city in the world. Enjoying a flourishing renaissance in tourism since the fall of Communism in 1989, Prague has become a dynamic metropolis and a cultural haven, where the Medieval meets modernity. The city continues its evolution as a destination for discerning travellers seeking a taste of authentic Czech culture, as reflected by its burgeoning prominence in the worlds of fashion, art, design and gastronomy. In terms of the latter, Prague boasts a wealth of world-class eateries celebrating the rich Czech cuisine, such as Mlýnec restaurant near the scenic Charles Bridge on the banks of the Vltava.
Rather like the hands of the Astronomical Clock where crowds assemble at the turning of each hour in the middle of the Old Town square, Prague itself fans out into 10 separate districts from its immaculately preserved historic centre. Each has their own unique draw, from Holešovice, known for its laidback hipster vibe, to the reputable cafés and bistros of Karlín.
With a Medieval cityscape dominated by fairytale castles and towers, Prague is known as the city of a hundred spires. Its streets represent an architectural smorgasbord, as a masterclass in the styles of Baroque, Gothic, Renaissance and Art Nouveau. However, its contemporary creative scene is equally captivating, with a colourful palate of art galleries and modern design studios.
In a metropolis that is renowned for having one of the world's best public transport systems, be sure to stray beyond the Old Town and you will be rewarded with evidence of a cultural revival that is bound to leave an impression.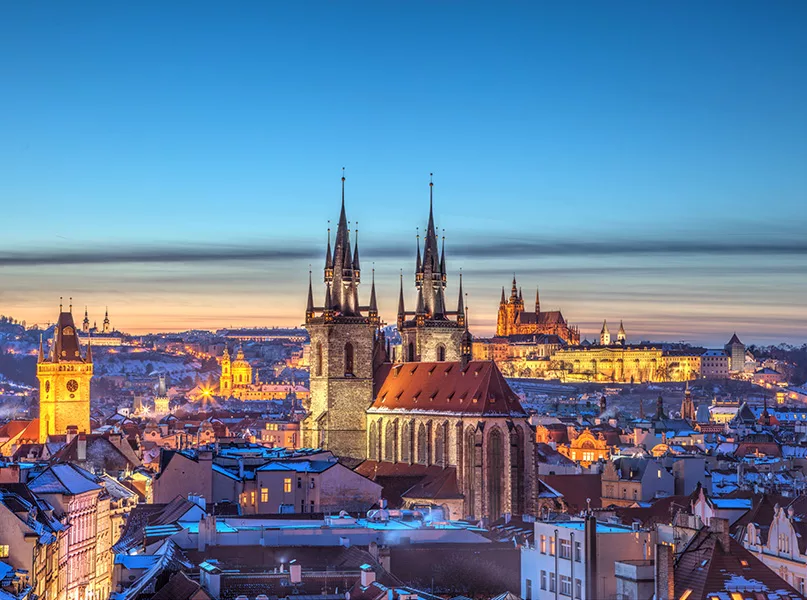 TOURISM INSIGHTS: PRAGUE CONVENTION BUREAU
---
Prague Convention Bureau
As the go-to guide to composing your next event in the capital of the Czech Republic, Prague Convention Bureau (PCB) is the non-profit organisation with unparalleled expertise in this captivating city. Celebrating 15 years of promoting Prague as the ideal business meeting destination, we find out how this location strikes the ultimate balance between business and leisure with PCB's Managing Director, Roman Muska
Tell us about the bureau and your vision and mission?
Roman Muska, Managing Director (RM): In 2023, PCB celebrates its 15th anniversary. We were established in 2008 as a non-profit organisation and our vision is to promote Prague as one of the most inspirative, innovative and sustainable meeting destinations worldwide. Our strategic goals are to profile the Czech capital as a global leader in fields such as artificial intelligence (AI), biomedicine, robotics, and creative industries, and through them also increase the number of international congresses and conferences held in Prague, while supporting the development of the meetings industry on the national and regional level.
How can the bureau assist business travellers looking to arrange a conference, exhibition or corporate events?
RM: Our team provides a wide range of services to those organising or planning to organise congresses and conferences in Prague. Firstly, we act as an intermediary between the planner, local service providers and the government authorities. We can recommend suitable venues and reliable service providers that are experts in their fields and ensure that the event will run smoothly. Destination and venue site inspections are an integral part of this advisory service, together with providing basic consultancy on local Czech conditions. We can also help with processing requests for free public transportation tickets or city tourism grants. In addition, we also provide marketing support for events confirmed in Prague.
What makes Prague an enabling environment for business travellers?
RM: There are many factors that make Prague an ideal meeting destination for event planners. The combination of rich history, UNESCO sites and our modern approach is very appealing to many business travellers. The fact that Prague is located in the heart of Europe, which makes the city easily accessible by plane or train with a small-sized city centre that is easily walkable, is another huge benefit. Last but not least, the meetings, incentives, conferences and exhibitions (MICE) infrastructure of the city is also crucial for decision-makers. I'm glad to say that even after the COVID-19 pandemic, Prague still offers a wide range of conference venues in different sizes and styles, as well as many hotels, restaurants, and companies acting in the meetings industry on a highly professional level.
Aside from business travellers, what kind of demographic does Prague most appeal to?
RM: In my opinion, everyone will find something for themselves in Prague. For history lovers, there are UNESCO sites amongst many other places to visit. Hipsters and modern art fans will be excited by the emerging parts of Prague, where old factories have been turned into galleries, cafés or other cultural spots. We also have one of the best-rated zoos in the world, which families with children will certainly appreciate. For those looking for sustainable ways to travel, Prague is a great destination. We have one of the best public transportation systems in the world and the country was ranked 8th in the Global Sustainable Development Goals 2020 Index. Indeed, 57 percent of Prague is covered by greenery, which makes it one of the greenest cities globally. The Czech Republic is also regularly recognised as one of Europe's most veggie-friendly countries. Speaking of food, gourmets will appreciate the many restaurants offering traditional Czech dishes together with Czech and Prague beer from local breweries or wine from the city's vineyards.
Recently, Prague presented its tourism strategy 'Putting Prague First'. This highlights the vision of sustainable tourism as intrinsic to the quality growth of the city, with an emphasis on its cultural heritage and the quality of life for Prague's residents. I see that as a key factor to move from mass tourism to slow tourism and to attract more sophisticated travellers.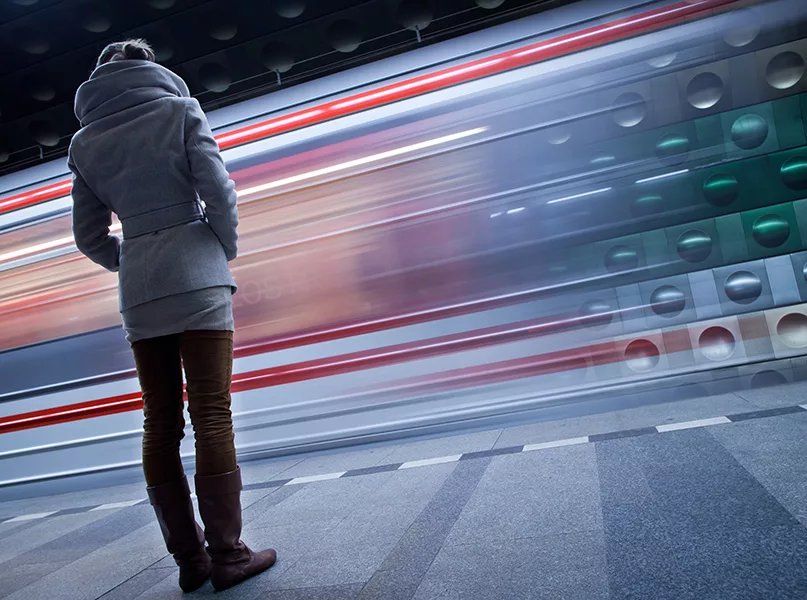 Are there any new or emerging destinations in the city that you would personally recommend?
RM: I would mention Kunsthalle Praha, a new art space that has just opened in the area around Prague Castle. I also recommend BRICK restaurant's offering of typical Italian dishes and the urban jungle of the stylish Monkey Bar Prague. There are also several new luxurious hotels in the city, with many more being built. You can now stay at Almanac X Prague (formerly Alcron Hotel), Andaz Prague, Stages Hotel Prague or Julius Prague.
How has tourism changed in the city in the wake of the COVID-19 pandemic? Have you seen any new trends emerge?
RM: The pandemic itself provided us with a rare break that the city put to good use by reconsidering the direction of its future development. New strategies were made and are now slowly being put into practice. Prague wants to attract the sophisticated tourist who travels for sightseeing, culture, but also for business meetings. There are new products and services being prepared or that have been already launched to improve the city in this way. The emphasis is placed on sustainability, slow tourism, experiences, and local residents, with the aim to avoid over-tourism or tourists looking for cheap drinking tours.
Could you expand on the bureau's involvement in supporting a sustainable Prague? Are 'green events' a growing phenomenon in the city?
RM: Sustainability is a hot topic, not only in the Czech Republic and Prague, but worldwide. We first turned our attention to it in 2016 with our first educational workshop, but I suppose it was too early for many stakeholders back then. Later in 2017, we joined the Global Destination Sustainability Movement to be able to better measure and set our green goals. One of our targets is to put together a new strategy dealing with sustainable meetings in the upcoming years.
Prague itself has made strong progress in this field. Aside from 'Putting Prague First', which incorporates sustainability on a large scale, there are new rules for events in Prague. Planners who consider applying for city grants must commit to replacing single-use cups and plates, for example, with reusable options. In recent years, Prague has also presented its Sustainable Mobility Plan, Climate Change Adaptation Strategy, and an improved food waste collection system. There is a strong focus on electromobility and the sustainable development of Prague Airport, and many of our partners are focusing on various sustainable initiatives.
You can find out more about our dedication to the sustainable development of the Prague meetings industry here.
Finally, what makes 2023 the year to visit Prague?
RM: I could name a long list of events, activities, or spots to visit this year. But instead of this, let me invite you to Prague personally. Just like our claim says, come to feel the atmosphere and let the city inspire you!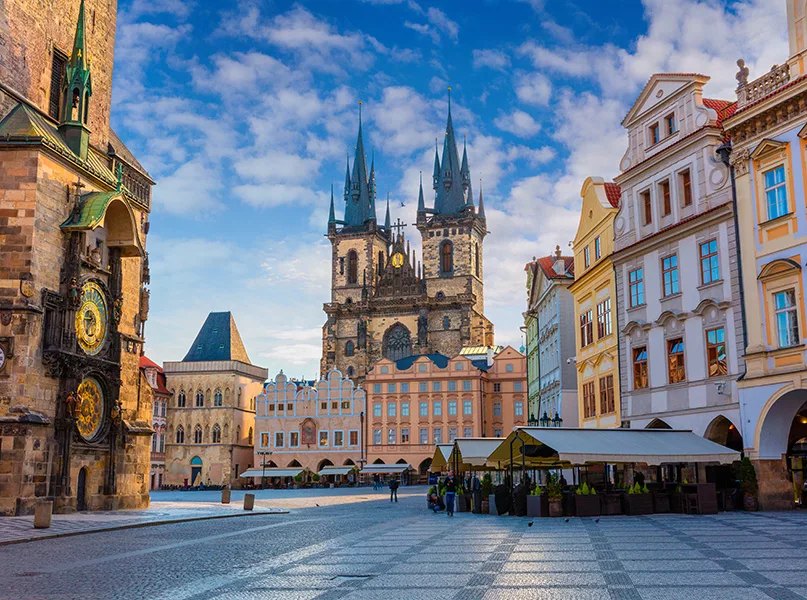 OLD TOWN PRAGUE IN FOCUS
---
Famously the most scenic district of the capital, the Old Town (or Staré Mesto in Czech) provides an atmospheric historical backdrop for a wander through Prague.
Equally, with so many sights to explore, it may be worth assigning a full day to appreciate the city's oldest district. People have continually gathered here over the past 1,000 years for the most significant moments in Prague's history, from demonstrations to executions, marriages to government meetings, and now, as its most popular tourist destination.
Originating as Prague's main marketplace in the 10th century, the historic square lies at the Old Town's nexus, and is lined by popular pastel-hued buildings and monuments that appear straight out of a Disney fairytale, such as the Kinsky Palace museum, the twin towers of the Our Lady Before Týn church, the Baroque church of St. Nicolas, and the iconic Old Town Hall. The latter gathers crowds every hour to observe the Astronomical Clock – the world's oldest, still-functioning timepiece of its kind – and its elaborate centrepiece that features the 12 apostles rotating with the passing of each hour. Although no longer used for government purposes, this is the most popular location in Prague for those wishing to tie the knot, and it is worth climbing the Hall's tower to admire views of the city of a hundred spires.
As the city's most visited area, it is recommended to explore the Old Town in the early hours of the morning before throngs of tourists descend. When they do, lose yourself amongst the labyrinthine cobblestoned backstreets where traditional bars and restaurants await, and admire spectacularly preserved Gothic buildings before moving on to the old Jewish Quarter or across the iconic Charles Bridge.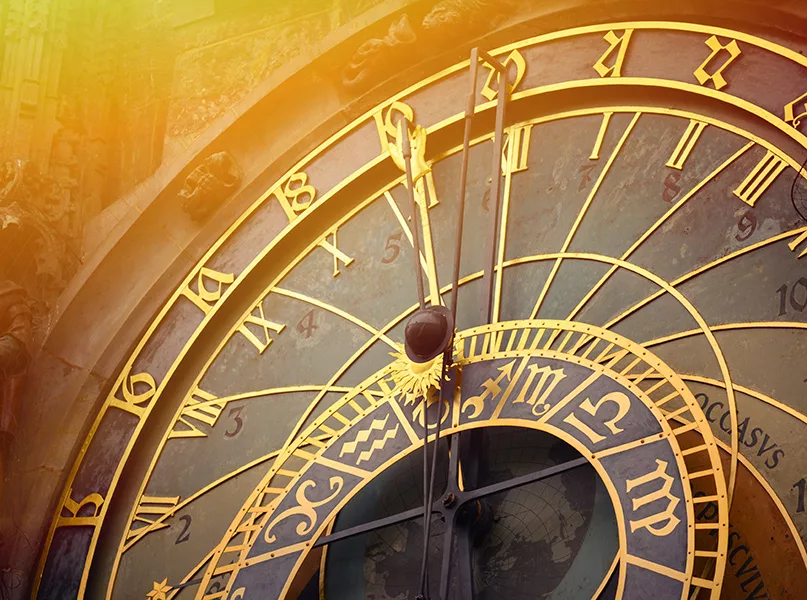 OUTLOOK RECOMMENDS
---
Eat:
For a sumptuous steakhouse…
Located in the heart of the Old Town, George Prime Steak promises an authentic American-style steakhouse experience founded on serving the highest quality beef. Aside from prime steak, expect handcrafted cocktails, Californian wines and fresh seafood served within a classy, contemporary setting. Private dining rooms are available for an exclusive experience.
---
Do:
For retail therapy meets local design…
For EXCEPTIONAL EVENT SPACES…
As the city's exhibition ground, Na Výstavišti is a complex of 36 hectares that provides the ultimate backdrop for unforgettable events. The grounds include the multifunctional event spaces of the Křižík Pavilions, which are available for both small and large gatherings, and have a maximum capacity of 1,500 people. Although originally built in 1991 for the General Czechoslovak Exhibition, the four pavilions have recently undergone a major reconstruction to provide an air-conditioned, barrier-free space suitable for concerts, exhibitions, conferences, sports/social events, fashion shows and more. Surrounding the scenic Křižík Fountain, they collectively form an outdoor amphitheatre able to hold 3,500 people.
Výstaviště Praha benefits from an easily accessible central location in a quiet setting full of greenery, with excellent public transport links and ample parking spaces. The airport is nearby, as are a plethora of accommodation options. The complex also boasts local sports facilities and the breathtaking Industrial Palace – an architectural feat completed in 1891 as a new exhibition complex. After an enormous undertaking in reconstruction and restoration of the structure, the palace is now blessed with both a historical setting and the modern technologies to provide a truly exceptional event space for the 21st century that will soon be put back on Prague's events map.
---
Sleep:
For a 5-Star stay in the Old Town…
A World of Hyatt property, Andaz Prague promises a luxurious lifestyle setting within the iconic Sugar Palace. Located in the historic city centre, guests can expect true comfort in an artfully designed space within walking distance of Prague's landmark attractions. Each room features a masterful blend of contemporary creativity with local heritage.
For a taste of decadence in
District 4…
The Corinthia Hotel Prague is a 5-star option offering a restful stay in an enchanting location. Boasting a pool and spa with spellbinding views across the city's skyline, there is no better place to recuperate after a full day of sightseeing. Satiate your appetite with sumptuous, seasonal menus and choose from a selection of bright and airy rooms and suites.
For Art Deco Indulgence…
A reliable option for any city break, the Hilton Prague Old Town delivers all your creature comforts in an Art Deco style building just moments away from the gates of the Old Town and Powder Tower. With spacious and stylish rooms combining plush furnishings and state of the art facilities, this upscale hotel has all you need for a memorable stay in Prague. Enjoy quality customer service and luxuries such as a 24-hour fitness area, and a health club and spa, alongside the on-site Zinc restaurant which serves a mixture of international and Czech cuisine. For a classy stay a stone's throw from the city's most-visited attractions, choose the Hilton Prague Old Town.
LANDMARK ATTRACTIONS
---
Charles Bridge
Spanning the Vltava river, construction of this historic bridge began in 1357 under King Charles IV as a vital means of connection between the castle and the Old Town. The bridge is rich in legend, including the grisly fate of St. John of Nepomuk, whose statue can be seen today and is thought to bring those who touch it good luck. Visit at dawn for a truly atmospheric experience.
Prague Castle
A must-see on any first visit to Prague, this UNESCO World Heritage Site is the largest coherent castle complex in the world according to the Guinness Book of World Records. The historical seat of power for Czech rulers, kings of Bohemia and Holy Roman emperors, uncover a history rich with intrigue, The Stag Moat – a natural ravine surrounding the castle – has recently reopened to the public and is well worth a visit.
St. Vitus Cathedral
This architectural marvel was constructed over the course of 600 years and is considered one of the most spectacular cathedrals in Central Europe. Marvel at stained glass created by Art Nouveau icon Alfons Mucha and discover treasures such as the tomb of St Wenceslas (from Christmas carol fame) and the 14th century mosaic of the Last Judgement.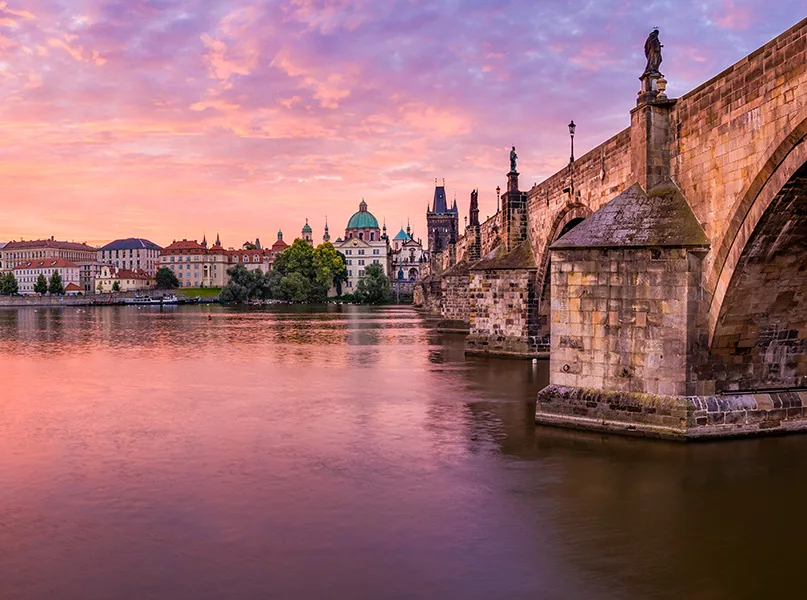 GET THERE AND AROUND
---
Thanks to its central location, Prague is easily reached from most European cities and further afield by both plane and train, with many budget flight options available. From the airport, the Airport Express bus is a good option to reach the city centre, as is taking the metro to the central railway station and continuing on foot from there.
For those arriving by rail, Hlavní Nádraží – Prague's main railway station – is centrally located close to the National Museum and Wenceslas Square and is a dated example of the city's Art Nouveau architecture. From here, you can connect with onward rail travel to major European destinations such as Budapest, Munich and Vienna.
As the 13th greenest city in the world, Prague has an impressive public transport system. Indeed, in April 2023, it was ranked by Time Out magazine as the second best city public transport system in the world. For a more atmospheric and authentic alternative to the ubiquitous hop-on-hop-off tourist buses, jump on board one of the picturesque vintage trams used on the Tram 42 route – an initiative introduced by the city's deputy mayor in 2021. Costing just 250Kč for a day ticket (the equivalent of roughly £10), the tram route runs in a regular loop every 40 minutes and connects the most popular attractions including Prague Castle, the Belvedere summer palace, through the Lesser Town district (Malá Strana), past the monumental National Theatre, across Wenceslas Square, and along the waterfront.
Thanks to its compact size, Prague is also easily walkable and can be comfortably enjoyed on foot, with the majority of the central districts remaining closed to all vehicular traffic. Alternatively, the metro's 'A' (green) line connects major sights and is also a cheap and efficient option.