For those seeking big adventure, A Tiny House Resort in the Catskills offers a cosy waterfront refuge in sensational surroundings. We check in with Marjorie Juszcak, Operations Manager, to find out more.
A TINY HOUSE RESORT
---
West of the Hudson Valley, you will find the Catskills region, a physiographic province of the mountainous Appalachians.
As a favoured destination for New York City vacationers in the mid-20th century, the area is embedded in American culture; Washington Irving's folktale of Rip Van Winkle and his lengthy slumber has endured for two centuries. In popular culture, it is famed as the site of the 1969 Woodstock Music Festival and the filming location for Patrick Swayze's Dirty Dancing. Most recently, it was the setting of the second season of The Marvellous Mrs. Maisel as a 1950s resort for the Jewish community.
The Catskills is now experiencing a renaissance, and it is not hard to understand why. The area inspired artists such as Thomas Cole, who was enraptured by the mountains, crags, and verdant valleys that skirt the Hudson River and used the abundance of lakes, ponds, creeks, and streams as inspiration for his paintings.
The landscape is a dissected plateau eroded into sharp relief by watercourses with dozens of state forests and rugged trials; its terrain lends itself to extreme adventure, cycling, hiking, horseback riding, and a plethora of water activities.
Artistic types will be interested in the Thomas Cole historic site in Catskill Village and Sunset Rock, which influenced many 19th-century landscape painters. There are craft beer breweries and quirky bars and restaurants, where farm-to-table is a central theme as the area has a thriving agritourism industry.
All of the above, combined with the increasingly popular choice of unconventional living due to the desire for a minimalist and freeing lifestyle, has seen a vacation destination with undersized homes exceed the expectations of the family who own it. Just two hours away from New York City and amongst the beauty of Catskill Creek, with half a mile of creek frontage, A Tiny House Resort invites you to enjoy and rejuvenate with a seasonal heated pool, its own waterfall, and a family of goats, ducks, and chickens.
The houses may be tiny, but they have everything you need for a comfortable stay, with the largest accommodating up to six people. There is a choice of vista to accompany your bijou boardings from waterfront to woods, but whatever scene you choose to wake up to, Marjorie Juszcak, Operations Manager and daughter of Founder, Bob Malkin, urges you to 'Think Big!'.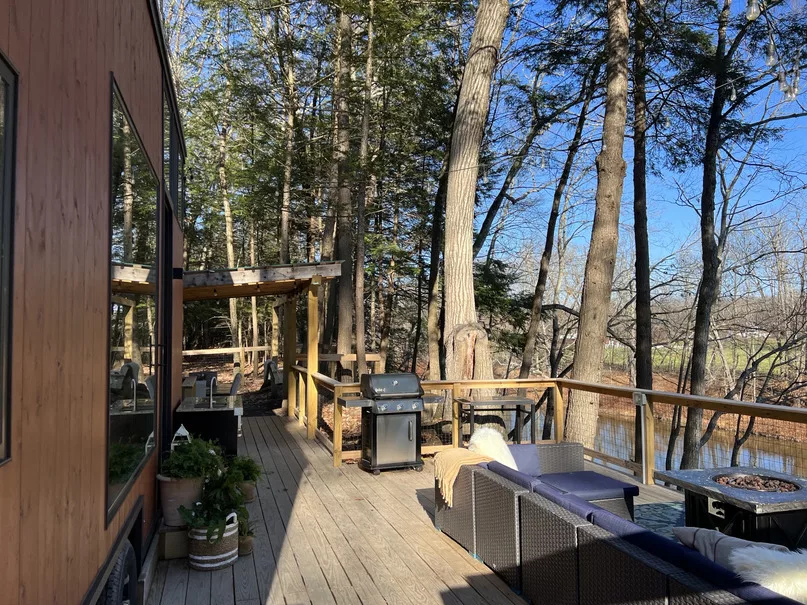 Q&A WITH MARJORIE JUSZCAK, OPERATIONS MANAGER
---
Firstly, could you tell us what led to the inception of A Tiny House Resort?
Marjorie Juszcak, Operations Manager (MJ): In 2016, I lived in my RV, managing my father's waterfront vacation rental properties in the Catskill Mountains of New York State. My adult daughter came to assist me with the management and live with me in the RV when a tenant in my father's Soho NYC store decided not to renew their lease. My father had invested in Soho to open a store called Think Big! in the 1970s, acquired some equity in the retail space, then came to my daughter and asked what we should do if he sold the store. My daughter then asked her grandfather, "if you sell the store, can you finance a tiny house for me? I love my mom but do not want to live with her." At that moment, the three of us could have lit the universe; we all said gee, I wonder if other people would want to rent a tiny house. In 2017, the store was sold, and we opened Think Big! A Tiny House Resort.
In the early days, what were the challenges the company had to overcome?
MJ: We are in the mountains, just two hours from New York City; it gets cold and snowy in the winter, so we had to keep water flowing in and out and we have truly mastered that art. Heated spigots, heated hoses, sink, and flush are our winter words and how we begin every day from January through March. The houses are super easy to heat and well insulated, and being so close to the ski slopes, it is super fun for people to mix a day of skiing with a tiny house experience.
In your opinion, what makes A Tiny House Resort so successful?
MJ: People are drawn to our resort for the tiny houses. When they leave, they talk about how clean and well thought out it is, how we have thought of everything, how beautiful the property is, and how friendly everyone is. There is so much to do that they can bring their dog or kids, and there is no need to leave the resort because it is all here. This is a labour of love and a family affair. Four generations of the Malkin family are involved in every aspect of every activity and experience. We are much more than just accommodation; we are the destination.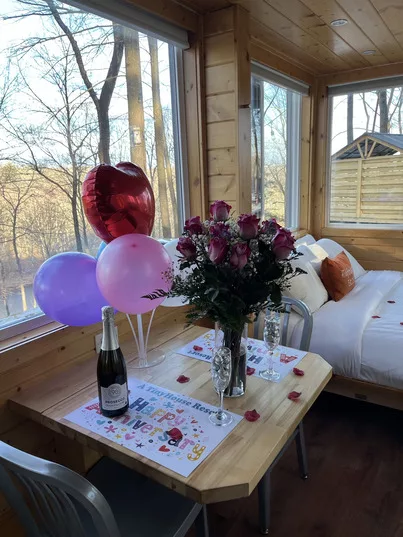 What is the appeal of this particular type of accommodation? What type of experience does A Tiny House Resort offer, and what kind of visitors does it attract?
MJ: It is a cosy, nest-like, fully functioning, view-driven experience which appeals to most kinds of people. The resort caters to families and couples in the summer with a heated pool, on-site tubing, a waterfall, hiking, goats, ducks, sheep, chickens, kayaking, a food truck, pickleball, basketball, volleyball, and a crafter, all providing amazing and unique activities in addition to spectacular settings. In the winter, private dinners for two, outdoor snowshoes, sledding, cross-country skiing, smores, gas fire tables, wood fires, and a serene waterfront setting all provide a beautiful mountain experience.
How would you explain the Catskills' tourism resurgence in recent years, and how do you market and promote A Tiny House Resort?
MJ: Catskills is located two hours from New York City, so there is no traffic, and a sense of calm in an otherwise crazy world, but still so much to do for foodies and shoppers. Word of mouth and returning guests are our number one source, and social media sites such as Instagram, Google, and Facebook all help us get the word out.
Finally, what does the future hold for A Tiny House Resort? Are any plans or projects coming up, or are there any goals you would like to reach?
MJ: We intend to add a treehouse village; we have the property, the location, and the design. Our family has grown with the addition of a new grandchild, with another along the way, and in time, we will look to add treehouses right by our waterfall. We will never look to be a giant resort, with 15 tiny houses and 10 tree houses; our roots are tiny, but we will always remain a full-service destination. While we frequently operate at 100 percent occupancy, we never feel crowded and don't want our guests to feel packed in. The experience we provide in nature is a cosy, clean waterfront setting.