Mauritius, an island in the Indian Ocean, is the perfect holiday choice with its breathtaking beaches, lush natural landscapes and fascinating Creole culture.
MAURITIUS
---
Mauritius is an island lying off the East Coast of Africa, surrounded by the turquoise waters of the Indian Ocean. It's popular with honeymooners, thanks to its idyllic white sand beaches and luxury hotels – think villas with private infinity pools and butlers on demand.
But there's far more to Mauritius than its beaches. Venture inland to discover the island's dramatic interior landscape of volcanic mountains and lush forests. In the Black River Gorges National Park you'll discover plunging waterfalls and dizzying gorges, as well as hundreds of colourful bird species. The Seven-Coloured Earths are a unique geological phenomenon – a multi-coloured, lunar-style landscape of otherworldly dunes.
However, beautiful Mauritius has a dark past. It was colonised by the French, who transported slaves from other parts of Africa to work the island's sugar plantations. By the time the British captured the island in 1850, slavery had been abolished – instead, they used indentured labourers from India to work the plantations. You can learn about the island's past with visits to colonial plantations and museums such as L'Aventure du Sucre, an interactive museum explaining how the sugar industry has impacted Mauritius.
These days, Mauritius has a warm, multicultural society with a distinctive cuisine fusing together Indian, Chinese and Creole flavours. Try dholl puri, flatbreads stuffed with split peas and served with curry, or rougaille, a piquant Creole tomato sauce served with shrimp or chicken. Whether you're trying the delicious Mauritian cuisine, hiking in the interior, or simply lounging on the beach, this amazing island will captivate you.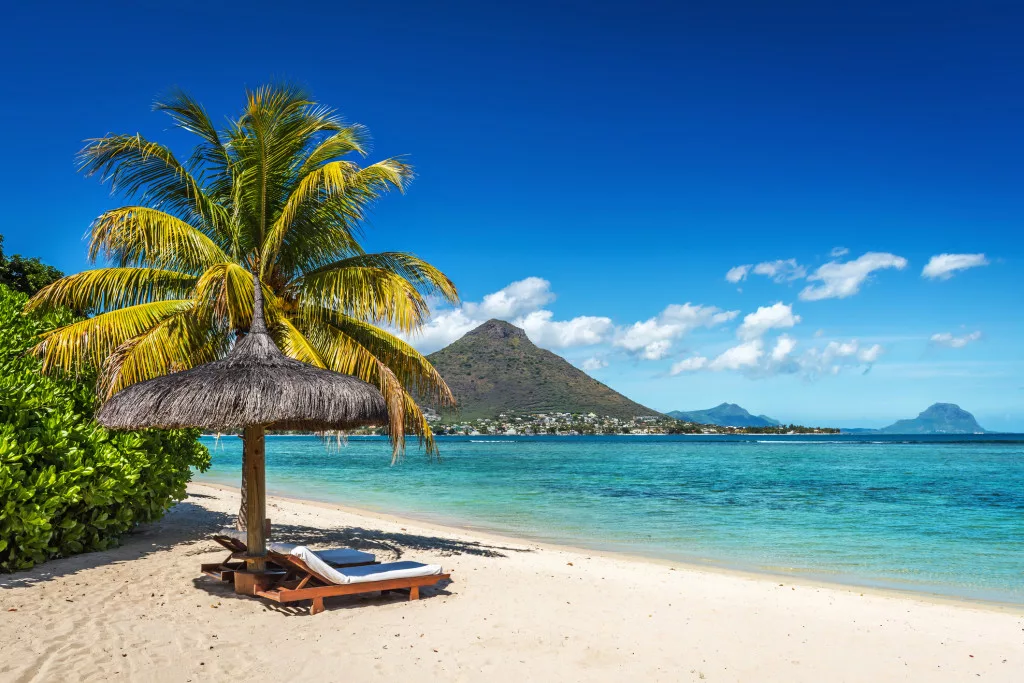 CHAMAREL IN FOCUS
---
This chilled-out mountain village is best known for its Seven Coloured Earths, a series of undulating dunes striped seven different colours. But it also has a host of other attractions, including a working rum distillery and the Curious Corner of Chamarel, an interactive museum of illusions.
The village is also renowned for its dining scene, boasting restaurants serving up the best Mauritian cuisine on the island. You'll be able to tuck into palm heart salad and octopus curry in local restaurants, as well as more upmarket twists on traditional cuisine.
Chamarel is located in stunning natural surroundings – it's the gateway to the spectacular Black River Gorges National Park. It's also home to the Ebony Forest, a conservation initiative to restore a pocket of indigenous forest to its original state. The Mauritius Conservation Foundation has reintroduced the endangered pink pigeon and echo parakeet. It has also set up an onsite natural history museum and walkways through the forest.
TOURISM INSIGHTS: MAURITIUS TOURISM PROMOTION AUTHORITY
The Mauritius Tourism Promotion Authority (MTPA) was established in 1996. Its main objective: to promote Mauritius abroad as a tourist destination. It achieves this through conducting advertising campaigns and participating in tourism fairs. It also provides information to tourists on facilities, infrastructures, and services available to them on the island. The MTPA also works with other tourism agencies to enhance cooperation and visibility of the destination. It researches market trends and opportunities, disseminating such information and other relevant statistical data on Mauritius. As the operating arm of the Ministry of Tourism, it advises the minister on all matters relating to the promotion of tourism. We caught up with MTPA's Director, Arvind Bundhun, to find out more about the organisation's goals and challenges, as well as the island itself.
Q&A WITH ARVIND BUNDHUN, DIRECTOR, MTPA
What are MTPA's current goals?
Arvind Bundhun: Tourism is a very important pillar of our economy, generating around 80,000 jobs directly and indirectly. We cannot be complacent; we must maintain our product quality and offer the best services to remain one of the most desired and visited island destinations. We must continually upgrade and innovate our tourism product to differentiate our destination from our competitors.To achieve this, we are planning new research-based advertising strategies for the short and medium-term that will increase our market share of leisure travel. We are also working to further improve the visibility of the brand, positioning of Mauritius as a first-class destination to visit at least once in your life. This requires an ongoing rebranding exercise, which aims to differentiate Mauritius from other destinations.
What, if anything, is your organisation doing to encourage sustainable tourism in Mauritius?
As a small island nation, we are on the frontline to witness and incur the consequences of ongoing climate change. Mauritius as a whole is concerned about sustainability. Single usage plastics have been banned for five years now and the government is working to phase it out. A masterplan on sustainability will be published by the Ministry of Environment in April. The tourism industry has long been implementing sustainable measures such as solar heaters, solar panels for electricity, phasing out of plastic straws and packaging, encouraging more and more use of local products and food, reducing waste, using wastewater for plants and golf courses. Most of our hotel groups have obtained certification in this respect from international organisations such as Earth Check and Green Globe. MTPA supports these initiatives and helps promote green tourism such as trekking in the island's forests, mountain climbing, and also eco-lodges, which are gaining in popularity nowadays.
How do you promote travel to Mauritius during the off-season?
We believe that Mauritius is an all-year-round destination because we are blessed to have a temperate climate, where generally our winter temperatures are around 20°C. This means our main attractions – the sea and the beaches – are enjoyable at all times. However, we are aware that tourists are more prone to coming during their vacation, especially with family. So, we are now offering a variety of activities for those willing to come at other times of the year, namely, golf, wellness, sporting activities, cultural festivals and nature parks. I must also stress that Mauritius is now a well-established MICE destination. There are several reasons for this: the quality and variety of accommodation; attention to detail in the provision of services; state-of-the-art conference rooms and a large number of additional activities on offer, guaranteeing real value for money. Whether you want to buy for large, medium or small groups, Mauritius offers world-class luxury MICE packages in the best places for business on the island.The diversification of the Mauritian tourism offer continues in line with the trends of world tourism and is now entering the sphere of wellness. Traditional spas give way to wellness centres and the first-ever Mauritius Wellness Festival took place last year in the unspoiled south of the island. With its beaches, gastronomy, leisure, nature and wellness, Mauritius will always have something for even the most demanding traveller.
Are there any interesting projects in the pipeline you wish to highlight?
We are working on the rebranding of Mauritius with the Economic Development Board and hope to unveil the new concept soon. In the meantime, we are continuing aggressive campaigns in our main markets and strengthening our efforts in new emerging markets.
At the beginning of 2020, Mauritius will be present in Berlin in March for the ITB fair. In the Middle East market, we are planning two campaigns in Dubai and the United Arab Emirates.
Why, in your opinion, should someone visit Mauritius?
The assets of Mauritius are indeed numerous. Renowned for its beaches and hospitality, it has today considerably expanded its offerings and is an ideal destination for cultural tourism, leisure, sports, nature, and other activities. Nevertheless, its people remain the main attraction; welcoming, smiling, hospitable, the Mauritian is known for his open-mindedness. This is not surprising when we know that the islanders are the descendants of migrants from Europe, Africa, India, and China. They live today in a harmony often cited as an example of peaceful coexistence for the world. It is not surprising that Mauritius has enchanted by illustrious travellers such as the French novelist Bernardin de Saint Pierre, who chose to set his famous novel Paul et Virginie on this lush island, or Mark Twain, an American writer to whom we attribute this aphorism, "Mauritius was made first and then heaven; and heaven was copied after Mauritius". The island is today synonymous with the ultimate tourist destination to visit at least once in life.
What trends are transforming the tourism industry in Mauritius and how are you utilising them?
It seems that Mauritius follows the global trends which see travellers preferring more and more local experiences, encounters with locals and cultural tourism. We have noticed that about 40 percent of our visitors do not go to the big hotels but choose smaller ones, lodges and rental apartments. This brings them closer to the population. To improve their experience, we are working with these small operators and other authorities, namely the Tourism Authority, so that these tourists get the expected standard of services. We are improving signage, infrastructure such as roads, introducing new modes of transport like tramways, and improving training for people such as taxi drivers and tourist guides. This can only be beneficial for the whole population, allowing them to get a fair share of the tourism industry.
What challenges does the tourist industry in Mauritius face?
Tourism is an industry subject to many external factors. On one hand, we have a growing number of competitors both in the Indian Ocean and other island nations around the globe. On the other hand, travellers also depend on economic factors. Tensions linked with political matters such as Brexit are troublesome and unpredictable. Also growing concerns about the carbon emissions of airplanes are bound to make people think a lot before opting for faraway destinations. Now we have the coronavirus problem, which has unpredictable consequences. Though tourists from China are not yet at a significant level, the prevailing precautionary measures – namely flights to and from China – are freezing our projected thrust in this growing market and we don't know how long it will last. We hope that it will not pervade the general tourism industry and discourage tourists from other countries to travel.
Are you optimistic about the future of the tourism industry in Mauritius?
We have no other choice. Tourism is now a major economic player in the economy of Mauritius and we will spare no effort to make it thrive. We have been through difficult times in the recent past with the SARS epidemics, the tragic 2001 attacks in the US and the economic crash of 2008. But we have never given up and never will.
OUTLOOK RECOMMENDS
EAT:
---
For refined Creole cuisine with a view…
Le Chamarel Panoramic Restaurant

For alfresco fine dining…
Le Courtyard

For Mauritian fusion cuisine in a colonial mansion…
SLEEP:
---
For a high-end hotel on a private peninsula…
Preskil Island Resort is located on a spit of land near the Blue Bay Marine Park, and boasts a gorgeous private beach. It offers an array of watersports ranging from kitesurfing to catamaran cruises. Relax in Banyan Spa after a day on the water, followed by a meal at 1810, a fine-dining Mauritian restaurant on the beach.
For luxury in the shadow of Le Morne…
For beach-side luxury…
DO:
---
For unique underwater weddings…
For workshops cooking traditional Mauritian cuisine…
For guided hikes in Mauritius…
LANDMARK ATTRACTIONS
LE MORNE BRABANT
---
A rugged mountain jutting into the Indian Ocean, its caves and woods were once used as hiding places by runaway slaves. It's been designated as a UNESCO World Heritage Site, as it is a powerful symbol of the slaves' fight for freedom. Take a hike to the summit for spectacular views.
FLIC EN FLAC BEACH
---
This picturesque eight-kilometre swathe of sand is one of the most popular on the island, frequented by tourists and locals. It's a great spot for learner divers, and there are plenty of restaurants and luxurious hotels dotted along the beachfront.
BLACK RIVER GORGES NATIONAL PARK
---
This is Mauritius' largest protected forest, a pristine landscape of forested hills and dizzying gorges. It's a protected habitat for some of the island's endemic species, such as the Mauritian flying fox and the Mauritius kestrel. There are some fantastic hiking trails through the park, too.
ILE AUX AIGRETTES
---
This small islet, lying just offshore from Blue Bay, is a pristine nature reserve that can be visited on a boat trip and guided tour. It's the home of giant Aldabra tortoises and pink pigeons, and is thought to be the last resting place of the dodo.
GETTING THERE AND AROUND
---
Mauritius Airport (also known as Sir Seewoosagur Ramgoolam International Airport) is the largest on the island, located near the capital of Port Louis. Carriers such as Air Mauritius and British Airways operate scheduled flights to 33 destinations in 21 countries across Europe, Africa, Oceania and Asia. The only domestic flight is to Rodrigues, a small island off the coast of Mauritius.
Although there are public bus services, the easiest way to get around Mauritius is by road. It's easy to flag down a taxi to take you anywhere on the island, or to hire one for the day. Some tourists prefer to hire a car, or even to rent bicycles for short hops along the coast.