Responsible travel and sustainability are crucial to the future of tourism in Trinidad according to the CEO of Tourism Trinidad Limited, Carla Cupid, who is optimistic about the development of the sector in 2023.
Q&A WITH CARLA CUPID, CEO, TOURISM TRINIDAD LIMITED
Can you talk me through the origins of Tourism Trinidad Limited and its initial vision?
Carla Cupid, CEO (CC): Tourism Trinidad Limited was established in June 2017 as a state enterprise under the then Ministry of Tourism. The mandate of the organisation is to develop and market Trinidad's tourism offerings and promote Destination Trinidad. We are in the business of attracting tourism investment into Trinidad. We do all of this while promoting education, awareness, and co-operation in advancing the expansion of our economy through tourism.
What are the current travel and tourism trends in Trinidad, and how are you utilising them?
(CC): Our natural beauty has already received high commendation from National Geographic as a family destination, inspiring journeys for all ages.
Our foodie culture has also been reviewed gastronomically by popular food blogger Mark Weins, and the videos from his trip have each received over one million views. Our strategy is to showcase, reach out and welcome, so we have a very active social media presence and have been on very successful trips to sell the brand overseas. Our first trip for 2023 was to the Netherlands, at Vakantiebeurs, where we took the message of visit Trinidad to the diaspora and European market.
We ensured that tour operators got a chance to see that our tagline of Trinidad, Always in Season, was not a myth and that we are accessible and aware of where the new markets are. This, coupled with KLM increasing its airlift to Trinidad, has been received positively.
How do you market Trinidad's tourism experiences and continue to position the island as a premier tourism destination?
(CC): We have taken a number of steps in this regard.
We constantly highlight our unique experiences and showcase Trinidad's unique cultural, natural and adventure experiences to attract travellers. We also build partnerships with travel agencies, hotels and airlines to promote Trinidad as a destination.
In this era, we utilise a lot of digital marketing platforms like social media, travel websites, and influencer marketing to reach a wider audience and drive bookings. We also do a lot of destination branding to create a strong and consistent brand image for Trinidad to increase recognition and attract repeat visitors.
On the back end through our Ministry of Tourism, Culture and the Arts and other government ministries and agencies, we look at improving infrastructure such as transportation, accommodations, and attractions to enhance the overall experience for visitors.
Finally, we host events, cultural and sporting, to attract visitors and generate media coverage. This also lends to our sustainable tourism practices to preserve our unique natural and cultural heritage.
What differentiates Trinidad as a tourist destination from other Caribbean islands?
(CC): Trinidad offers much more than sun, sand, and sea. Our appeal covers a wider range of activities that can appease any feeling of wanderlust. We have festivals of food and grog, tours of some of the world most unique eco-sites, and a wider range of nightlife and other entertainment opportunities than most Caribbean islands. Our island overflows with culture.
What is it that makes Trinidad the hub for entertainment, environment, business and other tourism activities?
(CC): As the inventor of the steel pan and limbo, we are culturally connected to and responsible for some of the newest forms of entertainment in this century. We are the home of calypso and soca, making us a musical and rhythmic people who cannot get enough of creativity.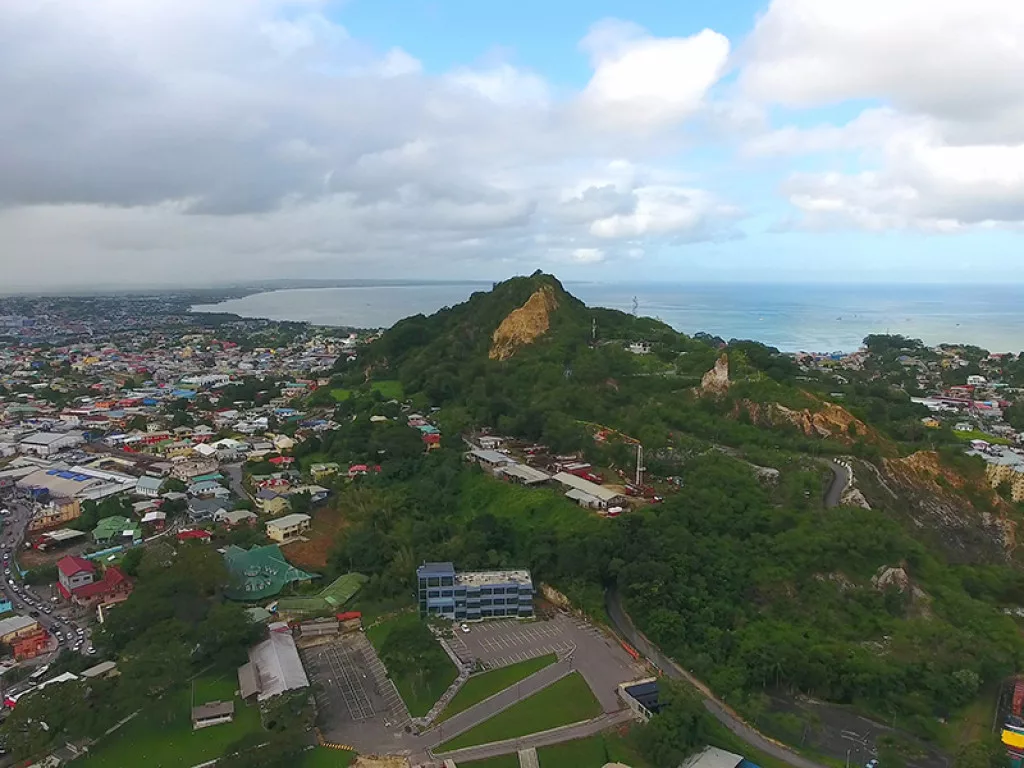 Why, in your opinion, should someone visit Trinidad?
(CC): We are world renowned when it comes to our rich culture, history, and beautiful landscapes. I would tell any would-be visitor to experience our:
Carnival – one of the largest and most vibrant street festivals in the world.
Beaches – well known not just for clear waters and amazing views but also for their food offerings.
Food – a diverse array of cuisine, influenced by our history as a melting pot of African, Indian, Chinese, and European cultures.
Wildlife – we are home to unique species of birds, mammals, and reptiles, as well as lush forests and wetlands. Trinidad is also one of the largest natural hatcheries for the Leatherback Turtle.
History – rich in colonial architecture, forts, and cultural heritage sites, including a UNESCO World Heritage site at Port of Spain's Botanic Gardens.
Overall, we offer a unique blend of cultural, natural, and historical experiences, making it a must-visit destination for those looking for an exotic and memorable vacation.
What are some of the country's most overlooked or underrated attractions?
(CC): Trinidad has many underrated attractions that are often overlooked by tourists. These are some of Trinidad's hidden gems that offer unique experiences and a glimpse into the country's rich culture and natural beauty:
• Tamana Bat Caves
• Turtle watching
• The Pitch Lake – the largest natural deposit of asphalt in the world, located in La Brea.
• Asa Wright Nature Centre – a former coffee and cocoa plantation, now a bird-watching paradise, located in the Northern Range.
• Fort George and St. James Barracks – a former military facility in Port of Spain, now a museum and cultural centre.
• The Guanapo Cave and the Aripo Caves – a series of caves and sinkholes with unique rock formations and crystal clear waters.
• The Caroni Bird Sanctuary – a mangrove swamp where thousands of scarlet ibis return to roost every night.
• The Temple in the Sea – a Hindu temple located in Waterloo, built entirely on stilts in the Gulf of Paria.
• The Chagaramas Bay – a serene and peaceful bay with several small islands and an area popular for water sports.
• The Pointe-a-Pierre Wildfowl Trust – a wildlife sanctuary and botanical garden dedicated to the conservation of wetland birds and other wildlife.
Tell us why responsible travel and sustainability are the future of tourism in Trinidad?
(CC): There are several reasons why this is crucial to the future of tourism in Trinidad:
Environmental protection – We are known for our rich biodiversity, including its rainforests, mangroves, and a wide range of unique animals. By encouraging and training our stakeholders in responsible travel practices we help reduce the impact of tourism on the environment and preserve these unique ecosystems for future generations.
Economic benefits – Sustainable tourism also provides long-term benefits for local communities by creating jobs and promoting the development of local businesses. Our Paramin area is a great example of this, where we have developed its already rich heritage into a viable and sustainable tourist product. This can help reduce poverty and improve the standard of living for residents.
Cultural preservation – Responsible travel also helps preserve the unique cultural heritage of Trinidad, including our music, food, and traditions. Our cultural identity is important to us and while we have adopted the callaloo concept of all the cultures coalescing into a melting pot of uniqueness we value the individual flavours that add to this product. Through our Ministry of Tourism, Culture, and the Arts, we strive to maintain the cultural identity of Trinidadians and provide an authentic travel experience for visitors.
Responsible resource use – Sustainable tourism will help to conserve the natural resources of our country, including water, energy, and wildlife. This ensures that these resources will be available for future generations and reduces the impact of tourism on the environment. So, our tour guides ensure that they create a small footprint while giving visitors the benefit of our various sites.
Social benefits – Responsible travel helps promote cultural understanding and respect between visitors and local communities. We always encourage tourists to interact with locals and really experience Trinidad outside of the glass box. We encourage immersion and this can help foster positive relationships. Responsible travel and sustainability are crucial for the long-term health and success of tourism in Trinidad. They help preserve the environment, support local communities, and provide an authentic travel experience for visitors.
Are you optimistic about the development of Trinidad's tourism sector in 2023?
(CC): Very optimistic. The development of the sector in 2023 will depend on a variety of factors, the major ones being consumer confidence and interest in what we have to offer. We are building our brand outside and beyond Carnival and religious festivals, both of which are big ticket items. However, there exists a slow period in between, where we are now putting in place festivals of food, music and other activities to generate interest and visits.
Added to this, our country is known for its rich culture, diverse landscapes, and vibrant Carnival, which attracts thousands of tourists every year. With continued efforts to develop new attractions and improve tourism infrastructure, Trinidad is expected to continue to be a popular destination for tourists in 2023.
Trinidad is the new kid on the block so there is a lot of curiosity surrounding what we have to offer. Curiosity creates awareness and we are using that heightened awareness to tell people to visit Trinidad.