Blessed with stunning mountains, lakes, rivers and coast, Slovenia is not surprisingly enjoying record-breaking levels of tourism arrivals and revenues.
SLOVENIA
---
Part of Yugoslavia for most of the 20th century, Slovenia has opened itself up to the world in a big way since it declared independence in 1991, an announcement which triggered the Ten-Day War. Made up of four major landscapes – the European Alps, the karstic Dinaric Alps, the Pannonian and Danubian lowlands and hills, and the Mediterranean coast – the country has always been of strategic importance and served as important routes for those crossing the Mediterranean and mountains.
However, rather than pass through, visitors are now staying in their millions every year to enjoy what is a scenic gem of nation. Lakes, rivers, caves, mountains, forests, coasts – Slovenia has it all and is unquestionably an outdoor destination, with its natural beauty paired with a huge varied architecture. Whether it's the baroque chapel in the centre of Bled Island to Venetian harbour settlements on the coasts, the array of styles reflects the nation's diverse and vibrant culture.
Indeed, influences from neighbouring countries such as Italy, Austria and Hungary can be found, not least in the cuisine which provides another reason to visit. Local and fresh ingredients are the centrepiece of local cooking, while its home-grown wine is another up and coming element of Slovenia's culinary repertoire.
THE BUSINESS END
---
Much of Slovenia's economy has been privatised following the period in which it was a part of Yugoslavia. Major sources of revenue derive from the manufacture of automotive parts, pharmaceuticals, and electrical appliances, but services represent the largest component of the country's GDP. Since the early 1990s, tourism has greatly increased in importance as more and more visitors take advantage of Slovenia's enviable topography – previously, many people simply passed through the country on their way to the eastern Mediterranean.
In 2018, tourism accounted for 12 percent of national income, some €5.7 billion in monetary terms. The sector is also a vital employer, with 12.8 percent of the country's workforce (110,700 people) engaged in some form of tourism related job. These figures surpass both European and global averages. In Europe, tourism contributed around 9.7 percent of GDP while on a global scale, the sector was responsible for 10.4 percent of income.
In terms of tourist arrivals, 2018 was a record-breaking year, with 5.93 million visits recorded and 15.69 million overnight stays. The number of international arrivals shot up by 11 percent last year (4.42 million), with Germany and Italy between them accounting for almost a quarter of these visitors.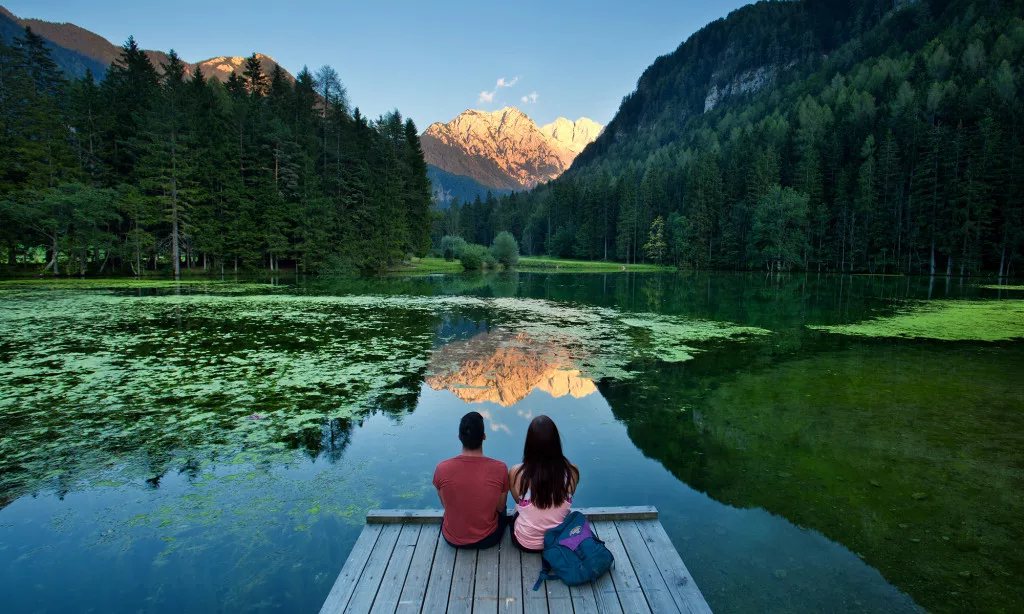 TOURISM INSIGHTS: THE SLOVENIAN TOURIST BOARD
---
Responsible for turbocharging the development of Slovenia's tourism industry is the Slovenian Tourist Board. Here is the organisation's take on what their country has to offer…
Welcome to Slovenia, a pocket-sized country which surprises with its vast diversity at every step. If you are eager to step out of the box and experience authenticity at its best, this is the country to put on your bucket list! Slovenia is one of the most diverse European countries. The crossroads between the Alps, Mediterranean and Karst, the Pannonian Plain and central Slovenia with the capital city of Ljubljana bring together history, cultures, natural beauties and resources from all over Europe. Nowhere else you will find such diversity packed in such a tiny piece of land – and this makes it so attractive at any time of year.
Let us tell you a little story. At first, the idea was to keep Slovenia a secret – not to tell anyone about it and to keep it all for ourselves, for the sake of beauty. It would be our little paradise on earth, or our happy place, if you wish to call it this. Everybody would live happily ever after, on their little piece of paradise, surrounded by pristine nature and breathtaking scenery.
But… (there's always a but) Slovenia is so beautiful that it's simply impossible to keep it secret. Once you visit, you want to tell everybody. It simply makes you passionate and evokes desire to return. You can imagine how hard it is for the locals to keep their little secret. Impossible.
So, we decided to show Slovenia to the world, but to keep it green. This is why we committed ourselves in developing sustainable tourism and promoting Slovenia as a green, active and healthy five-star destination. We believe that we have all the assets and conditions to make this happen. Numerous awards show that we are on the right track, and guests just can't stop praising the greenery that surrounds us… pristine, clean, green – these words are often heard when describing Slovenia.
My way of getting inspired
A green boutique global destination for high-end visitors seeking diverse and active experiences, peace and personal benefits. A destination of five-star experiences – this is the vision of the tourist destination Slovenia, as perceived and pursued by the Slovenian Tourist Board (STB), the central national agency for the promotion of tourism, one of the most successful and promising industries in the Slovenian economy.
Slovenia has become well-recognised globally as an excellent destination for active experiences in pristine nature and for pampering in numerous health resorts, where thermal water has beneficial effects on the body and mind. It is also a destination where various congresses and meetings can be held, or for organising challenging sports events and preparations for sportspeople, due to the combination of natural features, suitable infrastructure and qualified staff.
My way of going green
The core of all STB activities includes a sustained commitment, in which the placement of Slovenia as a green, active and healthy destination for five-star experiences is based. Continuous and systematic marketing throughout the years has paid off and we are recording a constant growth in Slovenian tourism. In 2018, Slovenian tourism marked record numbers. The number of international arrivals continued, and Slovenia was yet again above the European average. In 2018 we also achieved 5.93 million tourist arrivals and 15.69 million overnight stays, respective increases of eight and 10 percent on 2017.
Five stars also represent a tourism offering based on a sustainable concept and the development of high-quality and innovative tourist products with high-added value. The Green Scheme of Slovenian Tourism under the so-called Slovenia Green umbrella brand brings together all the sustainable efforts of Slovenian tourism at the levels of destinations, providers, national parks, tourist agencies and attractions. The national development and marketing platform Slovenia Unique Experiences encourages the development of five-star experiences.
My way of diverse experiences
Slovenia is the only country with the word "love" in its name. This love, in a unique way, connects four large European regions. Alpine Slovenia amazes with experiences among the highest mountains and the wildest waters. Mediterranean and Karst Slovenia invites you to visit world-famous karst caves and traditional salt pans on the Adriatic coast. Thermal Pannonian Slovenia boasts as many as 13 natural health resorts near thermal springs in the midst of wine-growing hills. Ljubljana and Central Slovenia combine the liveliness of the capital city and the green countryside with primeval forests of European importance. If you are looking for a boutique, sustainable tourism experience, Slovenia is the right choice for you!
My way of foodie heaven
Slovenia might be small, but it boasts 24 gastronomic regions and three wine-growing areas with 14 wine-growing districts. Slovenian winemaking tradition goes centuries back. The fertile soil accommodates 52 varieties of vine including the country's own Teran, full bodied wine grown from the rich red soils of the Karst region. The country is also home to a pioneering orange wine, a floral, honey-coloured variety unique to the Goriška Brda region.
Traditional Slovenian delicacies include Carnolian sausage and žlikrofi dumplings, while fresh fish and seafood is widely available in coastal restaurants. Those with a sweet tooth should seek out local specialties such as the potica nut roll or the decadent and multilayered gibanica cake from Slovenia's easternmost province.
This is also a country on the frontline of world cuisine, featuring top chefs like Ana Roš and Tomaž Kavčič (and let us recall that Ana Roš was also named World's Best Female Chef in 2017), and does not only create culinary masterpieces, but transforms Slovenia into one of the most desirable foodie destinations.
Thanks to richness of tastes, high-quality ingredients, gastronomic masterpieces and commitment to sustainable development, Slovenia was selected to become European Region of Gastronomy 2021.
My way of wellbeing
In Slovenia, water is the source of life and health. It is the quality of water that Slovenia has to thank for the fertility of the landscape. The country is home to some of Europe's finest natural spas and thermal springs, with a centuries-old cultural tradition of treating both body and spirit using world famous magnesium and calcium-rich waters.
We invite you to visit Slovenia, feel Slovenia and fall in love with Slovenia.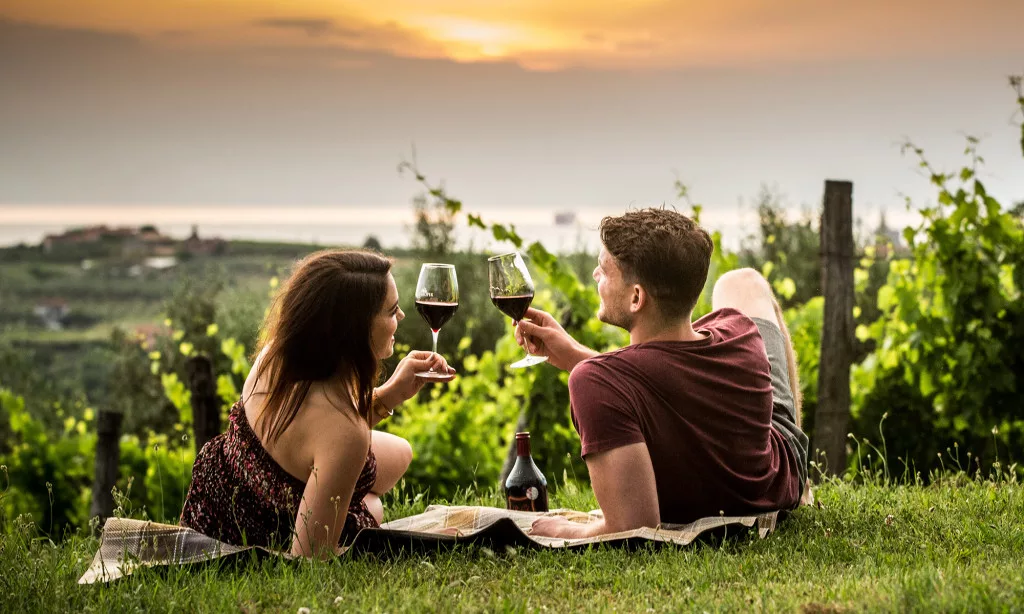 LAKE BLED IN FOCUS
---
Bled is Slovenia's most popular tourist resort and understandably so. Picturesque and pristine, the lake was formed when the Bohinj glacier met a huge body of rock, what is now known as Bled Island and the only island in Slovenia. Having carved the island, the glacier melted into the lake that we see today. The most recognisable symbol of Bled is the Church of the Mother of God on the lake's island, originally built in 1465
The six-kilometre trail around Lake Bled is ideal for walks or cycle rides and leads to nearby hills which offer spectacular views, Bled Castle offering perhaps the most notorious sightseeing opportunity atop a steep cliff of more than 100 metres. Sports activities and relaxation on Grajska beach (castle bathing area) are two other popular activities, the months of July and August being an especially busy time for the area with vast groups of tourists visiting. Even ski enthusiasts are catered for here in the winter season when the slopes at Straža snow over. Unsurprisingly, there are also a number of accommodation options spanning all levels of luxury and price ranges, while popular restaurants include Ostarija Peglez'n and the restaurant sat on the terrace of Bled Castle.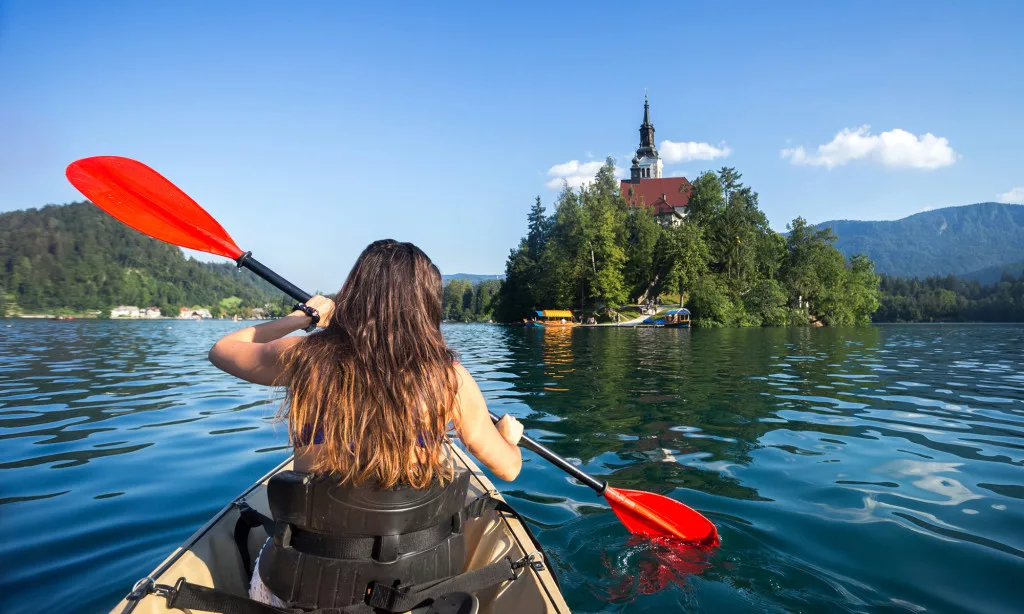 OUTLOOK RECOMMENDS
STAY:
---
Operating in five destinations across Slovenia, Sava Hotels & Resorts welcomed over 413,000 guests to its properties in 2018, equating to more than 1.15 million overnight stays. In the popular district of Bled, the company manages six hotels, ranging from the three-star Hotel Trst to the five-star Grand Hotel Toplice.
Sat between the coastal settlements of Portoroz and Piran, Grand Hotel Bernardin is known for its wellness centre and spa offering, a highlight being its swimming pool filled with heated sea water. The hotel also houses Slovenia's largest congress centre, able to accommodate up to 1,100 guests for events such as conventions, seminars, workshops, presentations, press conferences and business meetings, as well as banquets, fashion shows and gala dinners.
Situated in Portoroz, the Kempinski Portoroz is a luxury hotel that combines modern design and classical décor. Housing several impressive restaurants and bars, it is also home to a well-reputed spa offering with views over the Adriatic Sea. Its Grand Deluxe Double Room features 40 square metres of space and boasts one of the best views of any hotel in the area.
EAT:
---
NATURE:
---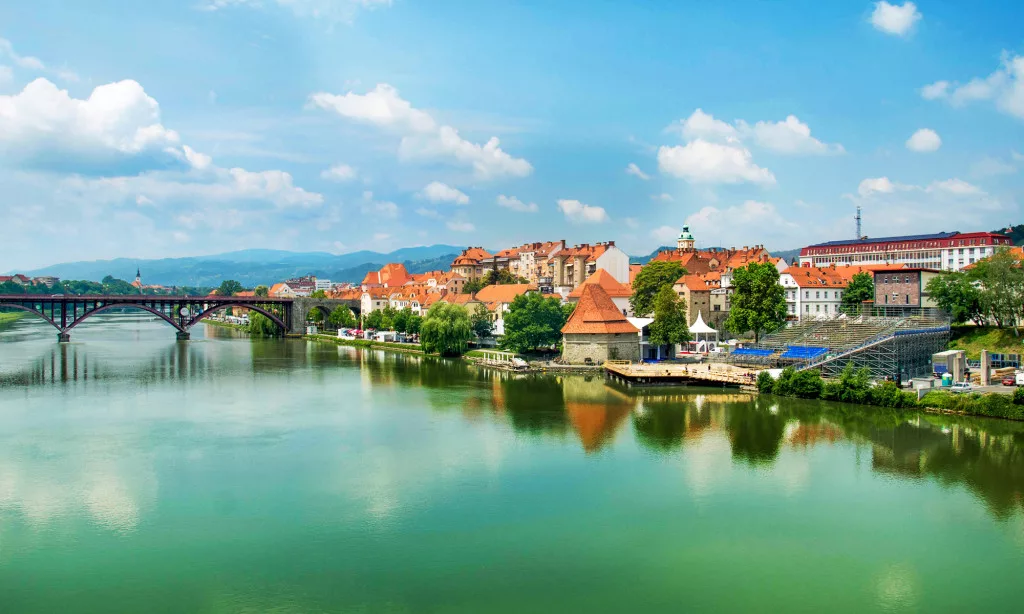 LANDMARK ATTRACTIONS
Ljubljana Old Town
---
"The Prešernov trg Square, the heart of the historic Ljubljana, has developed from a medieval crossroads from the former entrance to the walled city. It includes three of the most recognisable images of Ljubljana: the pink facade of the Franciscan Church, the monument to the poet France Prešeren, and the Plečnik`s Triple Bridge" – Visit Ljubljana
Ljubljana Castle
---
"Crowning a 375 metre-high hill east of the Old Town, this castle is an architectural mishmash, with most of it dating from the early 16th century when it was largely rebuilt after a devastating earthquake" – Lonely Planet
Praetorian Palace
---
"The Praetorian Palace is a Venetian Gothic palace, situated in the old town centre of Koper. Located on the southern side of the main Tito Square, it houses the Municipality of Koper-Capodistria and a wedding hall. It is considered one of the town's architectural landmarks" – culture.si
Vršič Pass
---
"Sitting at a view-enhanced elevation of 1,611 metres, this mountain pass is about 13 kilometres southwest of Kranjska Gora, via a storied road that zigzags madly and passes numerous sites of interest as it climbs" – Lonely Planet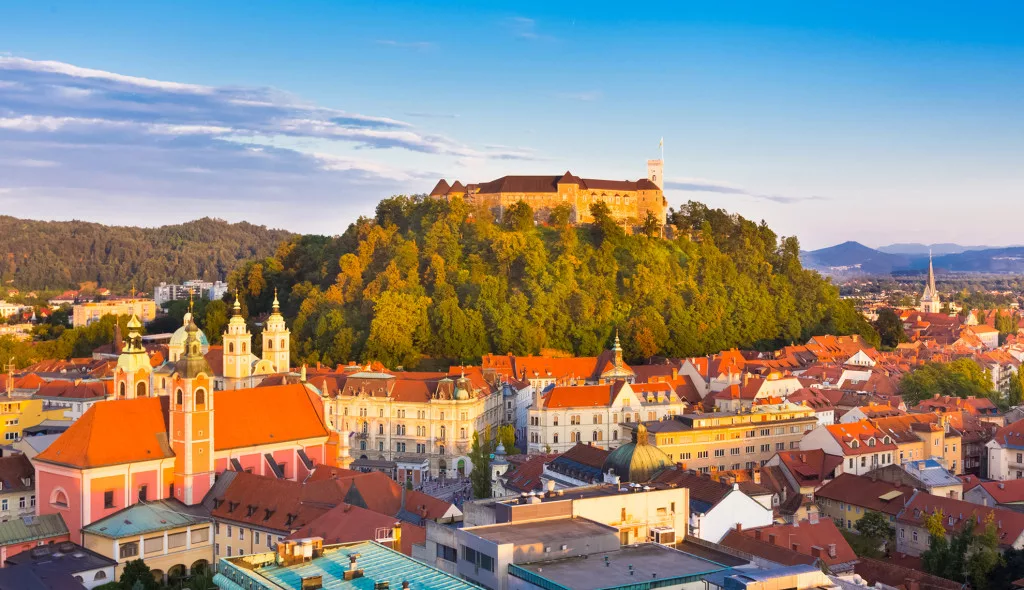 GETTING TO AND AROUND SLOVENIA
---
Jože Pučnik Airport, in the capital Ljubljana, is Slovenia's only international airport and where the vast majority of tourists will arrive. Sat 27 kilometres north of the city, it is a small transit hub and base of Slovenian carrier Adria Airways, which serves more than 30 European destinations and connects regularly to the likes of Zurich and Munich. Once arrived, a common way of getting between cities or towns is by rail, the country home to an extensive network which provides a more comfortable option than buses. Slovenian Railways operates the lines, and offers a simple pricing system which sees a return cost double that of a single and first class double that of standard class.
This said, Slovenia's bus network is another viable option covering large swathes of the country. The coaches used for longer journeys are modern and comfortable, with prices ranging from €4 for 25 kilometres of travel to €17 for 200 kilometres. Getting to some of Slovenia's rural and natural attractions may be more easily reached by car, and there is a wide variety of vendors offering rental services. Major players such as Avis and Hertz are present and offer similarly priced services – around €40 for the day or €200 for a week.
Cycling is another very popular way of getting around cities and their outskirts.