With its luscious landscapes, French-accented towns and timeworn ruins, the Southeast Asian country of Laos really is a world apart.
LAOS
---
Laos is an intriguing, evocative Southeast Asian country that will captivate you from the get-go. The verdant landscape shimmers in different shades of green, from the emerald tea plantations to the lime-green paddy fields. The northern highland regions are characterised by forested mountains and mist-shrouded crags. In the south you'll find the landlocked 'Four Thousand Islands' archipelago – also known as Si Phan Don – on the vast waters of the Mekong River.
The country appeals to nature enthusiasts. Trek into remote forests in search of the indigenous white-handed gibbon. Go trekking, rafting and mountain biking or visit Nam Ha National Protect Area, home to elephants, tigers and leopards.
But there's more to Laos than its landscapes. It also has a rich, multi-faceted culture. You'll love exploring its cities, infused with French elegance (after being colonised in the 19th century) and populated by the lichen-encrusted ruins of ancient Buddhist temples. Go with a local guide to visit the Akha and Hmong hill tribes of the north, who live in villages of thatched bamboo houses. Or if you're in search of luxury, head to a traditional Laotian spa, where you can indulge with a herbal steam sauna or a massage with aromatic lemongrass oil.
Laos has a magnetic quality that captivates travellers, whether they're looking for adventure, luxury, or a bit of both.
ECOTOURISM
---
Since opening to tourists in 1989, Laos – or the Lao People's Democratic Republic, as it's officially known – has been keen to position itself as an ecotourism destination. After all, the country boasts a low population density and a rich, extensive network of ecosystems, from ancient forest to limestone caves.
But that doesn't mean there aren't challenges. Deforestation in Laos was a major environmental concern during the 1950s. Back then, forest covered around 70 percent of the land area – by the 1990s, it was down to 47 percent. The government realised the importance of conserving the forest and established a network of 20 National Protected Areas (NPA). It also imposed a ban on logging and began planting more trees. Although illegal logging is still widespread, the government's efforts resulted in a return to 50 percent tree cover in 2015; a figure projected to increase.
The Lao National Tourism Administration, related government agencies and private stakeholders are working in concert to put forth the country's National Ecotourism Strategy and Action Plan. It aims to decrease environmental and cultural impacts, increase awareness of ethnic groups and biodiversity, and prevent over-tourism while ensuring local communities benefit economically.
One of the country's most well-known ecotourism projects is The Gibbon Experience, a tourism-based conservation project in the Bokeo Forest. The initiative employs local people to build treehouses and ziplines high in the trees, where locals and foreigners can observe the forest. They also conduct forest patrols and a reforestation planting programme – around 100,000 saplings come out of its dedicated tree nursery every year.
The Gibbon Experience was the first project of kind in 1996. Now there are many more like it. To discover more ecotourism initiatives in Laos, visit www.ecotourismlaos.com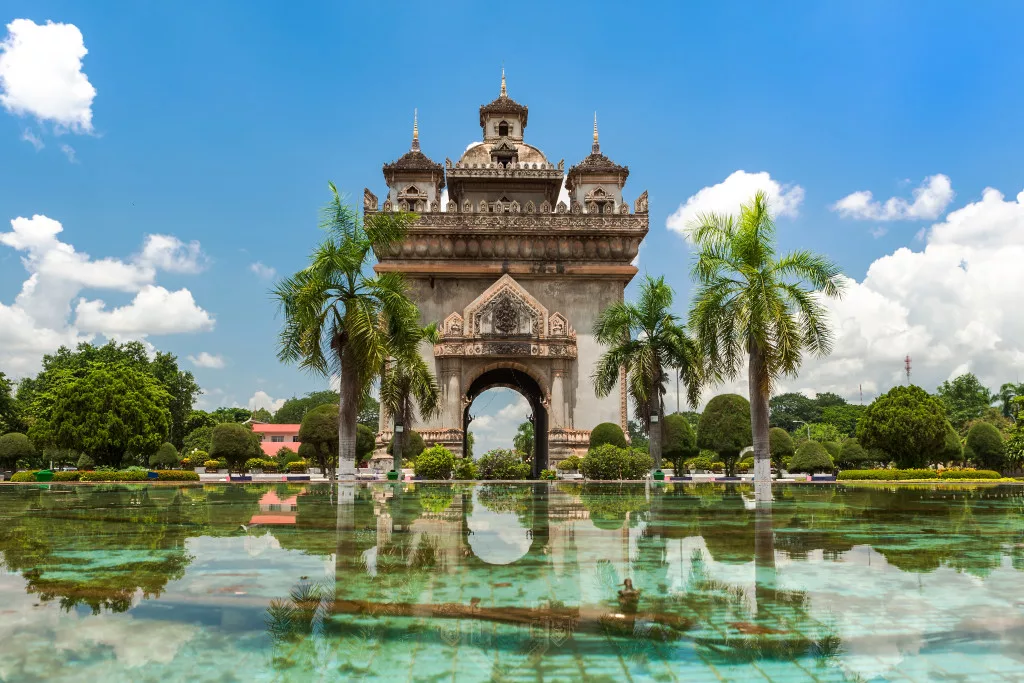 LUANG PRABANG IN FOCUS
---
Laos' ancient royal capital, Luang Prabang, is the sort of city travellers dream of. It's steeped in ancient history, boasts fantastic river views and a wealth of cultural attractions. Early in the morning, hundreds of saffron-robed monks glide through the quiet streets, chanting and receiving alms. The domed roofs and gilded prows of their wats (temples) rise above the streets.
There's so much to do here that people often end up staying longer than expected. Rent a bike and explore the lanes and byways of the city's historic district, which are lined with French-style buildings. There are plenty of boutique hotels where you can really experience the city's colonial architecture.
Explore one of the city's 33 temples – Wat Xieng Thong is one of the most popular. Head to one of the spas for a massage or steam sauna. For a taste of local culture, check out the bustling night market in the city centre. You'll find hundreds of small stalls selling handicrafts and clothes, as well as buffet spreads of Laotian cuisine.
LANDMARK ATTRACTIONS
THE PLAIN OF JARS
---
Hundreds of large, 2,000-year-old stone jars are scattered in varying locations around the town of Phonsavan. How, or why, they got there is a mystery – the most popular explanation is that they are funerary urns. 'Site 1' has the largest concentration of stone jars.
WAT PHU
---
A magnificent 6th century Khmer temple, built against the dramatic backdrop of Phu Pasak. As you walk around the courtyards and pavilions, you'll really get a sense of the past.
NAM HA NATIONAL PARK
---
This protected national park covers an area of 2,224 square kilometres, consisting of dense rainforest, remote villages and mountains. It's a popular eco-tourism destination, renowned for its guided treks and opportunities for wildlife-spotting.
OUTLOOK RECOMMENDS
EAT:
---
For Laotian cuisine with organic produce…
Vang Vieng Organic Farm Restaurant
For French-Laos fusion…
For authentic local dishes…
SLEEP:
---
For treehouse ecotourism…
For high-end urban stays…
Crowne Plaza Vientiane is one of the finest hotels in the capital. It boasts 198 spacious and stylish guest rooms, decorated in accents of blue and yellow. The hotel has four dining and entertainment venues, including Mosaic, which offers a high-end version of market-style dining. Facilities include a luxury spa and outdoor infinity pool.
For heritage style…
Savan Resorts is a unique hotel with architecture inspired by an ancient Southern Laos kingdom, warm hospitality and fantastic amenities, including the relaxing Sene Sabai Spa and an executive VIP lounge. It has several restaurants, including Chopsticks, which serves an array of Asian cuisines, and an onsite casino.
DO:
---
To connect with local communities…
For motorcycle tours across Laos…
For lazy days and waterways…
GETTING THERE AND AROUND
---
Laos has four international airports, the largest of which is Wattay International Airport in Vientiane. Airlines such as Air Asia operate flights to nearby regional countries such as Thailand and Vietnam. Most flights from destinations further afield will reach Laos via a connection through Bangkok.
Travellers can get around Laos by air or road. Domestic carriers such as Lao Airlines operate scheduled flights between major tourist destinations, such as Vientiane and Luang Prabang. Private air-conditioned buses travel long distances between cities. Bicycle and motorcycle hire is a popular mode of transport, although road conditions in rural areas can be poor.
Within the cities, you'll find tuk tuks and sŏrngtăaou (minibuses or large three-wheeled taxis) to help you explore the city. Private taxis can also be chartered for the day.