Untouched by mass tourism, Bangladesh offers diverse landscapes, heritage monuments and a warm and welcoming population.
BANGLADESH
---
Bangladesh might not top the list of the most visited countries in Asia, but therein lies its charm. You'll discover cities and villages untouched by mass tourism, where you'll be warmly welcomed. The country is known for its gorgeous rivers and backwaters, in particular the Sundarbans national park, an intricate network of mangroves and small tidal islands. A popular tourist activity is to take a boat trip around the park, searching for a glimpse of the elusive Bengal tiger. If you're interested in exploring Bangladesh's rivers further, take an indolent voyage on one of its heritage paddle steamers (known as 'rockets'), which run from Barisal to Dhaka or Morrelganj.
In the east of the country lie the hilly regions of Sylhet and Chittagong, where you can hike among tea estates, forests and waterfalls. Meanwhile, Cox's Bazar is the world's longest natural sandy beach, stretching for 120 kilometres and home to a burgeoning surf scene.
For those looking for more urban encounters, the capital of Dhaka is one of the most densely populated cities in the world, bursting at the seams with Mughal and Hindu landmarks, and a thriving arts and restaurant scene. A quieter alternative is Bagerhat, a UNESCO-designated open air museum of mosques and mausoleums beloved by history buffs.
Bangladesh is surrounded on both sides by India, and shares a small section of its border with Myanmar. Its cuisine is influenced by India (particularly the adjacent state of West Bengal) and also bears traces of Mughlai cuisine from its former Persian rulers. Travellers may recognise dishes from menus in western curry houses – such as curries cooked with the shatkora citrus, and bhuna curries – but there will still be plenty of new flavours. Popular dishes include ilish macher paturi (river fish marinated with mustard oil and chili, and steamed in a banana leaf) and haleem, a wheat and ground meat stew eaten during Ramadan. Make sure you grab a glass of the country's famous seven-layered tea, invented by Romesh Ram Gour, each layer with a different taste.
While Bangladesh is predominantly a Muslim country, heritage monuments attest to the influence of Hindu culture. Its Chittagong region is home to Buddhist and Adivasi tribal groups. Wherever you visit you'll receive a warm welcome, with the culture on display everywhere.
BANGLADESH TOURISM BOARD
---
Bangladesh Tourism Board (BTB) was established through the National Tourism Act in 2010 to help promote the tourism industry at home and abroad. Its vision: to make Bangladesh a popular tourist destination in Asia. Since inception, BTB has been working tirelessly with the government and other private stakeholders to achieve this goal.
Outlook Travel spoke to Mohibul Islam, BTB's Assistant Director, about how the organisation has fared over the past decade.
Q&A WITH MOHIBUL ISLAM, ASSISTANT DIRECTOR, BANGLADESH TOURISM BOARD
What are your current goals?
Mohibul Islam (MI): Bangladesh Tourism Board is currently working to promote Bangladesh to the rest of the world, so that it emerges as a top destination in the eyes of the international tourist communities. To achieve this, it has many ambitions to expand and develop the sector.
These include: providing advice, guidance and training to those involved with the tourism industry; ensuring the quality of tourism services and infrastructure; arranging for responsible tourism through advancing participation between the government, private sector, local communities and NGOS; promoting women's participation in the tourism industry; and arranging training programmes for those in the sector.
How was the tourism industry in Bangladesh affected by COVID-19 and what are its plans for recovery?
MI: The worldwide outbreak of COVID-19 has brought the world to a standstill, and tourism has been the worst affected of all major economic sectors. All the tourist destinations in the world have introduced restrictions in response to this pandemic.
On March 8, 2020, the first corona-infected patient was identified in Bangladesh. From March 26 to May 30, 2020, all tourist attractions, hotels, motels, resorts, restaurants, recreation centres, air, roads, railways and waterways were closed with the announcement of general holidays in the country. Domestic tourism has now been reopened under the guidance of SOP but outbound, inbound tourism is still closed.
As a result, the outbound, inbound and domestic tourism of Bangladesh fell into a catastrophe; people from all walks of life associated with the tourism industry suffered. About four million tourism workers and at least 1.5 million dependents have been plunged into deep uncertainty. According to the information received from various sources, the loss in the travel and tourism sector in these three months from March to May amounted to 1487.02 crore ($175,700,000).
BTB has developed a three-stage Tourism Recovery Plan. The first stage is crisis management and impact reduction, which includes a tourism support package, liquidity assistance to organisations in the industry, and protecting tourists to recover their loyalty. The second stage is to provide incentives for encouraging and accelerating recovery activities including visa-on-arrival for tourists, diversifying the market through new products and activities and creating employment opportunities for the future. The final stage of the plan involves preparing for the future, ensuring the resilience of the sector.
Are there any interesting projects in the pipeline you wish to highlight?
MI: Yes, we are currently working with an international consultancy firm, IPE Global Limited, to develop a Tourism Master Plan over the next 18 months. It will help with the government's goal to develop Bangladesh as a middle-income country by the year 2021 and a developed economy by 2041.The plan will serve as the guidelines for ensuring sustainable development of tourism and a blueprint for the planned development of the tourist sites, utilising country's tourism resources. It will identify the opportunities and development of heritage and cultural tourism, agri-tourism, community-based tourism, eco-tourism in the protected areas of the country, and will also focus on infrastructure development.
Preparation of the Master Plan will ensure participation of all concerned departments, parties and entities so that they can agree on the common vision, policies, strategic directions, programs, proposed projects and implementation. The Master Plan will provide a clear road map for the sector over the next 25 years, with the focus on achieving incremental growth of tourism in Bangladesh.
Why, in your opinion, should someone visit Bangladesh?
MI: Land of never-ending waterways and some of the friendliest faces in the world, Bangladesh is arguably the last frontier of South East Asia. Travel in Bangladesh is offbeat travel at its best – you won't find mass tourism here. Bangladesh is a raw country, fully charged with a unique energy that you won't find in any other country throughout the world. An energy that you can only feel and understand by visiting the country.
If you're coming to Bangladesh, you cannot miss out on a trip to the Old Town in Dhaka, a melting pot of chaos, culture and crowds. A huge collection of traditional wares like Dhakai Jamdani, Tangail and crafting will give you the opportunity to make it happen. A strong hit of sights, sounds, and smells –an attack on all of the senses. And it's awesome. Cox's Bazar is home to the world's longest unbroken stretch of sandy sea beach.
Another superlative for Bangladesh; it is home to the world's largest mangrove forest, famous for the Bengal tiger. Bangladesh is super friendly, super helpful, and super excited to see you. Its magical monuments, fascinating landscape and friendly people – Bangladesh has lots to offer. Discover history, culture and cuisine. Bangladesh is unique because of its simplicity.
Bangladesh will be there for you till we meet again.
What trends are transforming the tourism industry in Bangladesh and how are you using them?
MI: With travellers' desire for new experiences, the rapid global technological advancements, climate change, and other dynamics, the travel and tourism industry is constantly transforming. Having experienced an all-time high in the past decade, with 2018 recording the highest number of international tourist arrivals, according to the World Tourism Organization (UNWTO), the sector is now undeniably faced with big challenges and uncomfortable changes in the face of the COVID-19 pandemic. All the same, there are still rising tourism trends in Bangladesh that can help tour operators, Destination Marketing Organizations (DMOs), and other industry suppliers to revamp their businesses and experience success as we get into the new normal.
Bleisure travel is a growing tourism trend whereby people of Bangladesh travelling for work or business include some leisure time at their destination. In Bangladesh there is also a growing trend among millennials known as the "digital nomad" phenomenon, whereby online workers and freelancers adopt a lifestyle of travelling as they work. Tour operators can take advantage of this growing trend by creating offers that entice business travellers to extend their stay for leisure. For example, you can sell team retreat packages combined with perks like photos, videos, and transportation. Having WIFI and chargers in buses and accommodation (for multi-day tours) can also entice digital nomads and other travellers looking to stay connected for work.
Automation, digitisation and mobile bookings are also growing trends, with more and more bookings made online. This has made advertising cheaper for travel companies, but also customers are enjoying and increasingly prefer the convenience it offers. Tour and activities companies have also progressively adopted technology and online booking.
In Bangladesh, travellers believe that companies should personalise their buying experience and base it on their behaviours, personal preferences, and past choices. Personalisation is also important when it comes to the actual tour or activity. By offering flexible experiences that can be tailored to a traveller's needs, you stand a chance of better satisfying your clients, and that can lead to repeat visits. Your priority should, therefore, be on offering customer-oriented services.
Sustainable tourism is increasingly important – in Bangladesh more travellers are adopting this mindset and making their travel decisions with the environment in mind. Carbon offsetting, for example, is becoming more popular in Bangladesh day by the day especially since travellers want to help mitigate the impact of the climate crisis. Tour companies can also support this mission by making small but significant adjustments. You can do away with single-use plastics or opt to only use solar for all your energy needs. But it's important to note that sustainability is not only about the environment. It's also about making a positive impact on cultures, economies, and the people at the destinations that clients visit.
Other trends include transformative travel, – making a difference to the lives on others and oneself – solo travel and wellness travel. Almost any business can take advantage of these trends. Think of how you can market your business offers while developing and promoting communities, making it clear how tourists and locals can benefit. Your existing offers may already allow people to empower themselves by learning a new skill set, which also encourages personal growth.
Are you optimistic about the future of the tourism industry in Bangladesh?
MI: Domestic tourism in our country has already been booming. We are trying our level best to attract foreign tourists to our lovely land. Bangladesh is almost an unexplored destination to the rest of the world. The hospitable people, golden past and heritages, mouth-watering Bengali cuisine, adventurous hill tracts, lifestyle, calm and quiet villages, greenery landscape, amazing backwaters, enriched culture of our ethnic groups, the roar of the longest sandy sea beach and wildlife species from different forests like the Sundarbans will surely amaze tourists.
Thanks to our innovative approach to promotion, I am strongly optimistic about the golden future of the tourism industry of Bangladesh.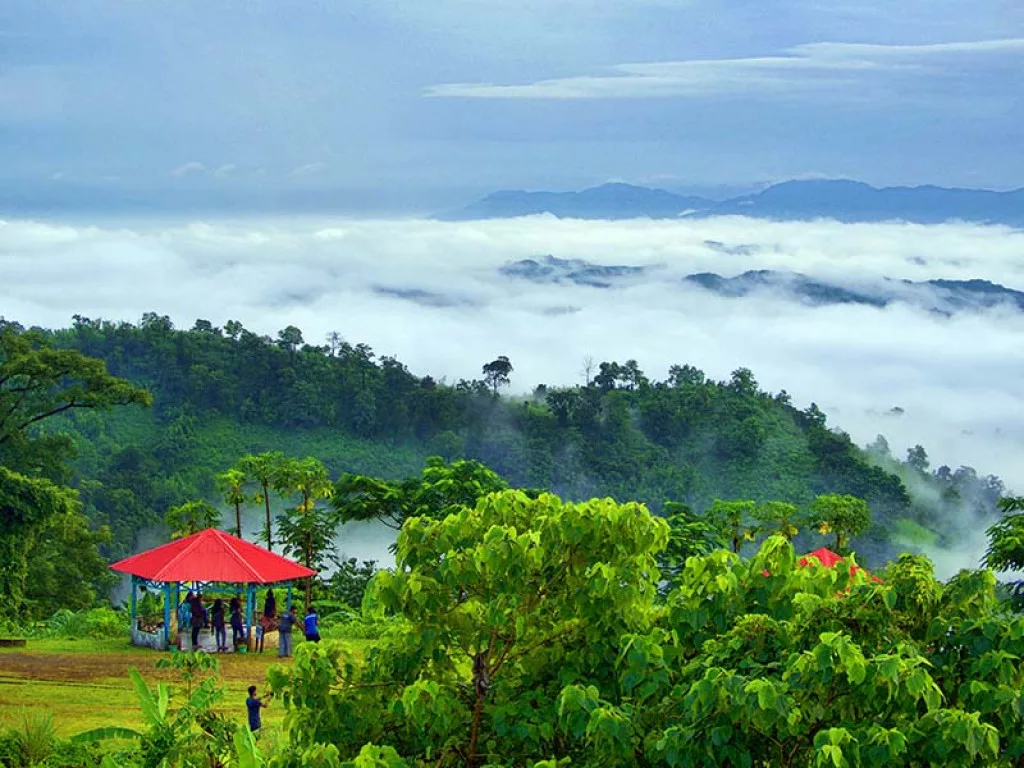 OUTLOOK RECOMMENDS
---
For high-end boutique villas in a tropical forest…
For endless variety…
Share Trip is Bangladesh's first and leading travel aggregator, designed to make travel within the country easier and more competitive. A winner of multiple prizes at the World Travel Awards – including Bangladesh's Leading Travel Agency – it has succeeded in its mission to become a one-stop shop for travel in Bangladesh. Travellers can book flights, hotels and apply for visas online. They can also choose from a series of tours to landmarks within the country. The site has a comprehensive cancellation policy and places a strong emphasis on customer care.
For unique sustainable tours…
For authentic cooking classes…
For high-end urban accommodation…
Radisson Blu Dhaka Water Garden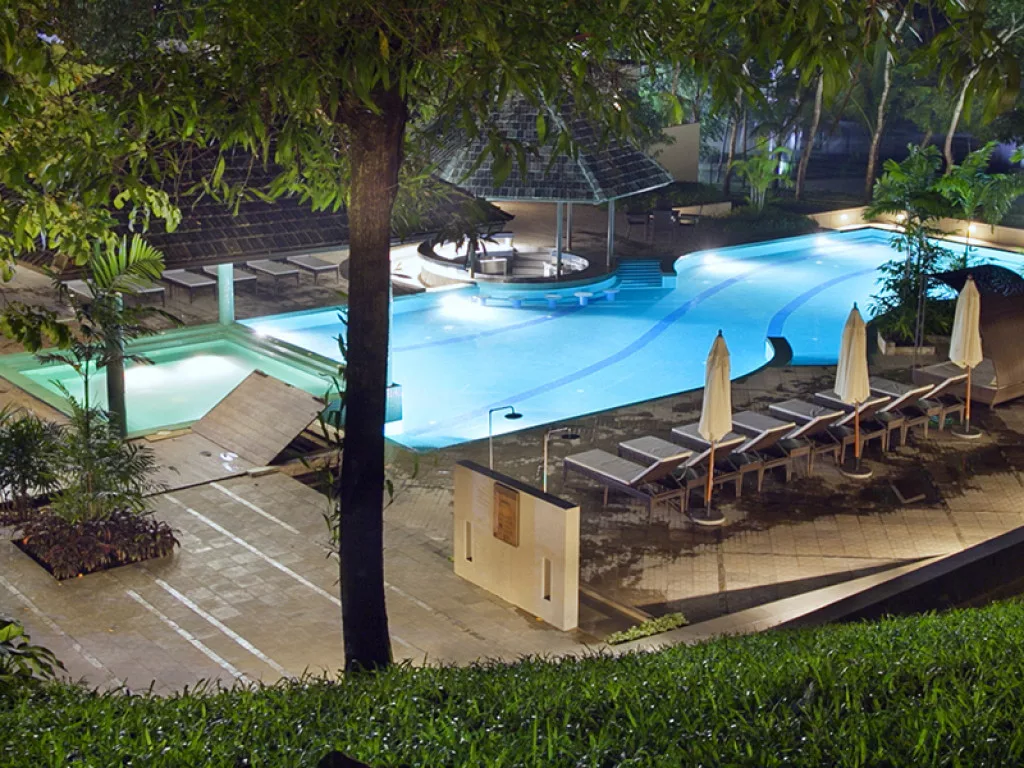 DHAKA IN FOCUS
---
Bangladesh's capital Dhaka is one of the world's most densely populated cities, and the noise and crowds can prove overwhelming for first-time visitors. But stick around and you'll discover some attractive monuments, an endless variety of restaurants and an unrivalled arts scene.
The city is at its best in the relatively cool winter months from November to March. This is also when it holds an array of fascinating cultural events, ranging from the biennial Dhaka Arts Summit (attended by 300,000 Dhakaites the last time it was held) and the Dhaka Lit Fest. The University of Dhaka's Fine Arts Institute – designed by pioneering modernist Muzharul Islam – is an airy structure enveloped in landscaped gardens.
There are plenty of sights to feast your eyes upon. Lalbagh Fort – a sprawling 17th century Mughal complex – is one of them. The pink-hued Ahsan Manzill, former pleasure palace of the Sheikh Enayet Ullah, is another. Dhaka also has plenty of chaotic, colourful markets to visit – Dhanmondi Hawkers' Market sells some of the most beautiful Jamdani and Tangail textiles and saris in the city.
Make sure you take the time to wander down the winding alleys of Old Dhaka, the city's historic centre. You'll pass timeworn buildings, shaded courtyards, religious buildings and plenty of markets. Bangla Bazar is crammed with book stalls, while Shakhari Bazar is a Hindu neighbourhood known for its shakhari makers (an instrument made with conch shells). There are plenty of places to eat, from street food stalls to heritage coffee houses and restaurants selling morog pulao (a variation of chicken biryani).
And no trip to the city is complete without a trip on the river! Catch a boat from Sadargat, the city's busiest river port.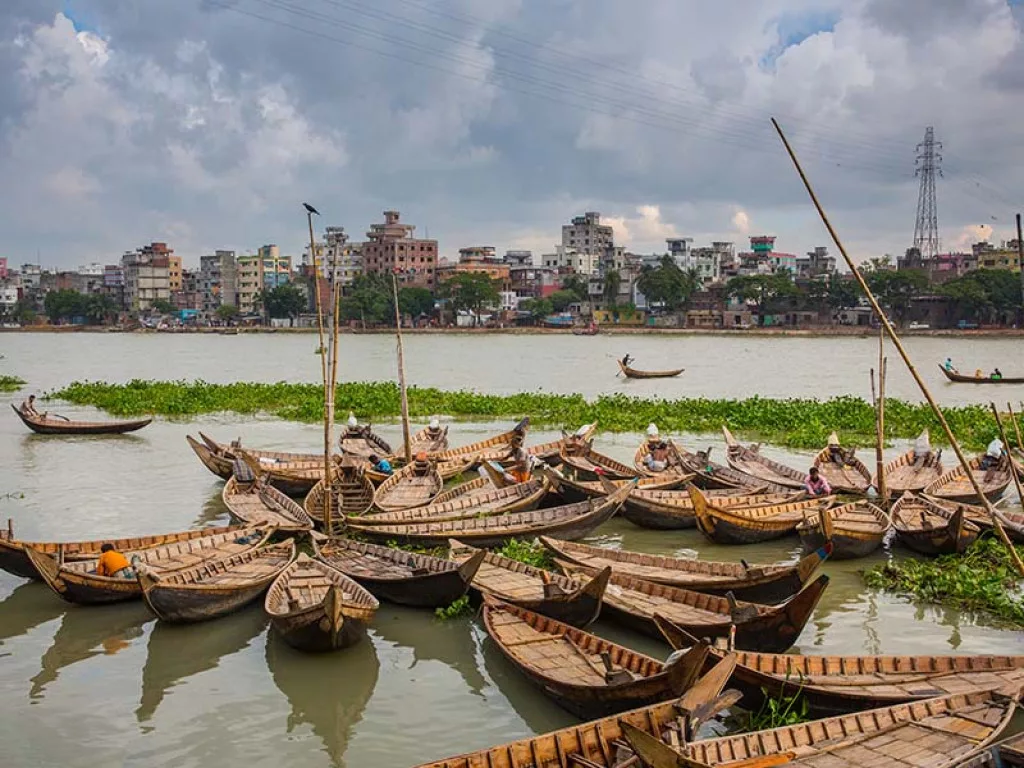 LANDMARK ATTRACTIONS
Srimangal
---
Srimangal is the tea-growing capital of Bangladesh, its hillsides carpeted in emerald plantations. Visit the Tea Museum to learn more about the region's history, or enjoy a picturesque hike in the surrounding countryside. There are several upmarket hotels where you can stay in comfort.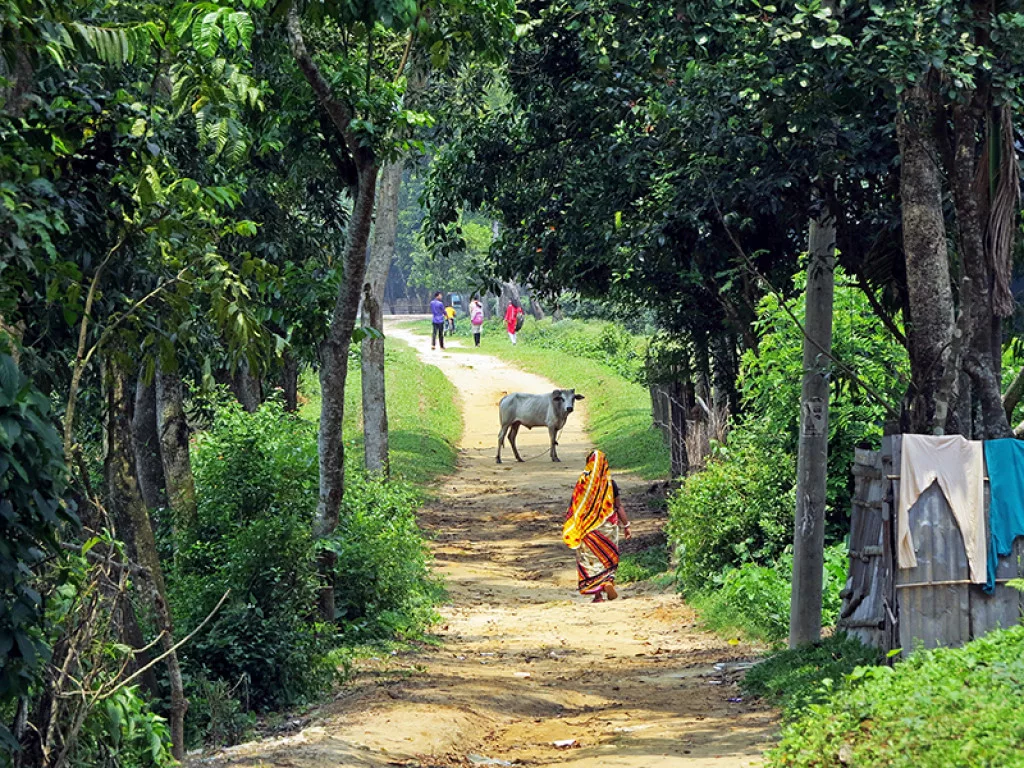 The Sundarbans
---
Located in the Bay of Bengal, where the vast rivers of the Brahmaputra and Ganges meet, the Sundarbans is an intricate network of mangrove forests, rivers, and tidal islands. It boasts an astonishing array of wildlife, including Bengal tigers, rhesus macaques, Gangetic dolphins, and estuarine crocodiles. This unique, fragile ecosystem has been designated a UNESCO World Heritage Site and is the top spot in Bangladesh for a boat trip.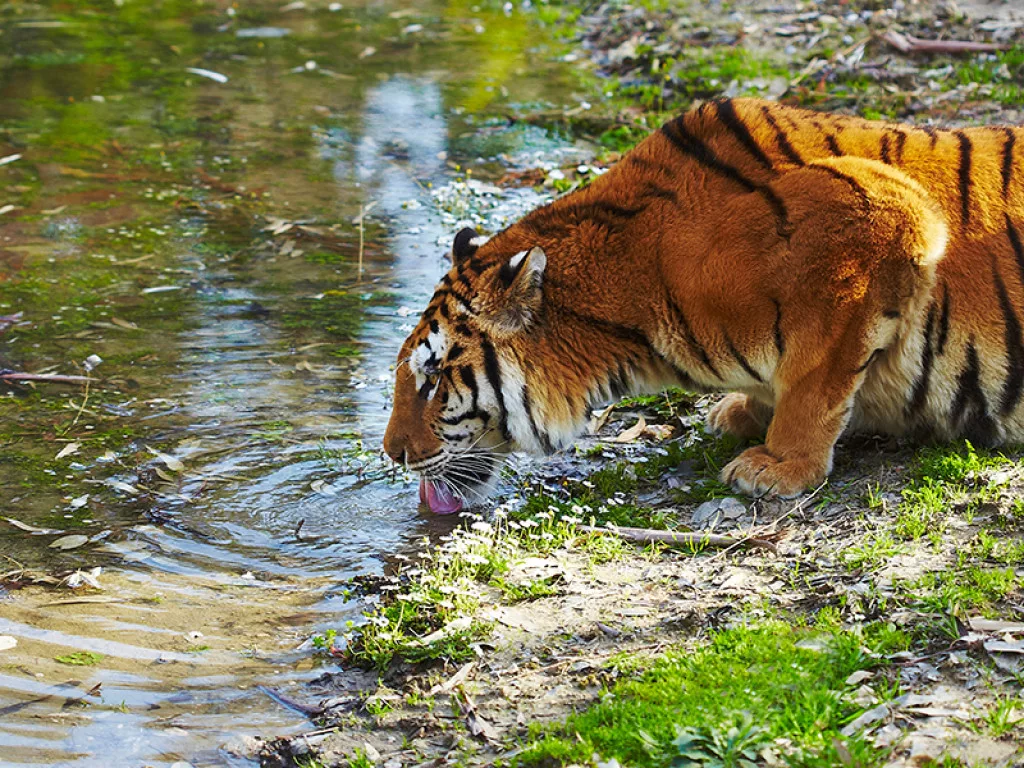 Cox's Bazar
---
This gorgeous sandy beach stretches for over 120 kilometres along the Bay of Bengal. It's a popular tourist attraction, offering activities such as jet skiing or boat trips to the nearby islands. However, there is more than enough space to avoid the crowds. It's an excellent place for watching dramatic, fiery sunsets.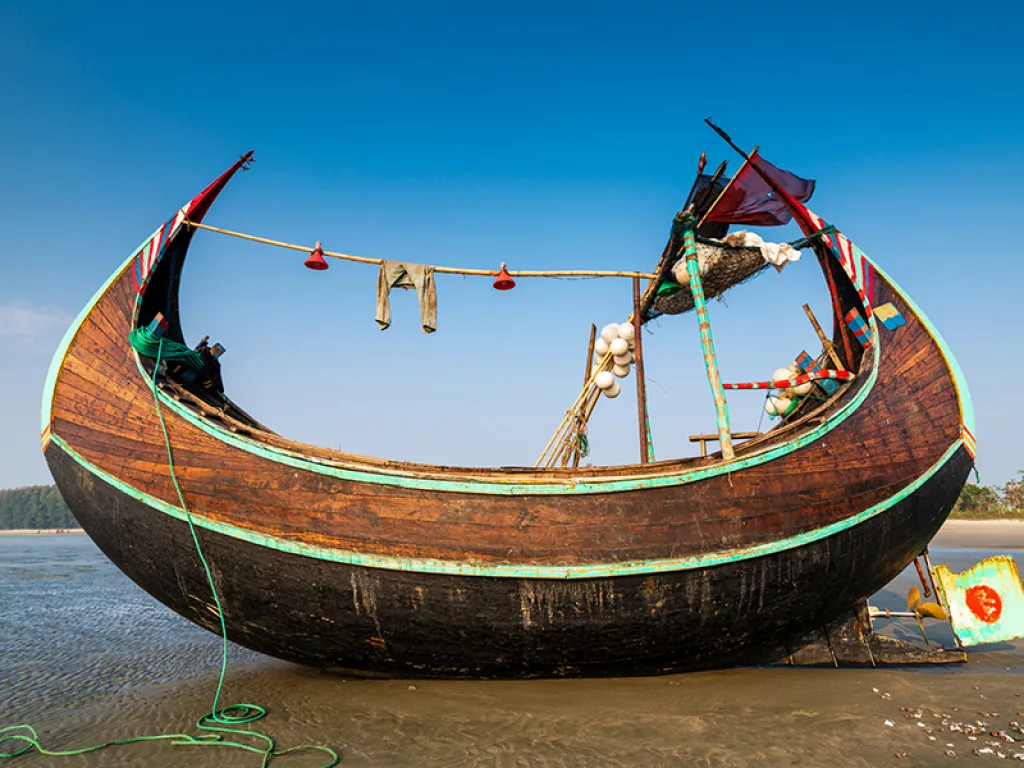 GETTING THERE AND AROUND
---
Hazrat Shahjalal International Airport, in Dhaka, is the largest in the country, with a handling capacity of 18.5 million passengers. Carriers such as Air Asia and Qatar Airways provide flights to destinations across Europe, the Middle East and Asia including Seoul, London and Muscat.
Bangladesh has a good network of domestic flights, with airports in popular tourist destinations such as Cox's Bazar and Chittagong. Top domestic carriers include US-Bangla Airlines and Novoair.
For those who prefer a more environmentally friendly alternative to travelling around the country, we recommend those with the time travel by boat. There are 8,000 kilometres of navigable inland waterways and a wide variety of different crafts on offer. These include public ferries – which travel long distances – and private boats, which take you from one town to another.
Trains are another option. Although the network is limited, first class carriages are very comfortable. There is a good network of long-distance buses – however, the state run BRTC buses can be uncomfortable, with limited toilet stops, so it's best to choose a private coach. A more comfortable but expensive way to travel long distances is to hire a private car with a driver, something your tour operator can help you with.
When travelling within cities, its possible to choose from a wide – and somewhat confusing – array of vehicles, from public buses to pedal-powered rickshaws. Many people opt for CNGs (three-wheeled autorickshaws powered on compressed natural gas) to get from place to place.