Phuket, Thailand's most popular island, serves up something for everyone, including dramatic beaches, a fabulous dining scene and serene Buddhist temples.
PHUKET
---
On Phuket, Thailand's largest island, there's a beach for everyone. If you've come for its famous party scene, check out Patong Beach, a sandy crescent lined with clubs and bars. If you'd prefer a laidback break, head south to Rawai, where you'll find a relaxed beach surrounded by forest.
There's plenty to explore on the water as well. Take a kayaking trip around Phang Nga Bay, where limestone karst formations jut out of jade-coloured waters. Diving is another popular sport, thanks to the iridescent shoals of fish and coral reefs below the waves.
The island has long welcomed visitors from other cultures to its shores, thanks to its location on trading routes between India and China. Because of this, it has a rich multicultural heritage. Visit Phuket Town to see eye-catching examples of Sino Portuguese architecture and Chinese shrines. Phuket's cuisine is equally multicultural. Tuck into a bowl of 'moo hong', garlic-pepper braised pork, or 'oh toa', a dish of eggs, taro, deep-fried pork rinds and spicy battered oysters, which is said to have originated from Chinese tin miners.
But Phuket also has a spiritual side. Its forested hills and shimmering bays are dotted with serene Buddhist temples, such as Wat Chalong. One of the buildings supposedly houses a bone fragment belonging to Buddha himself.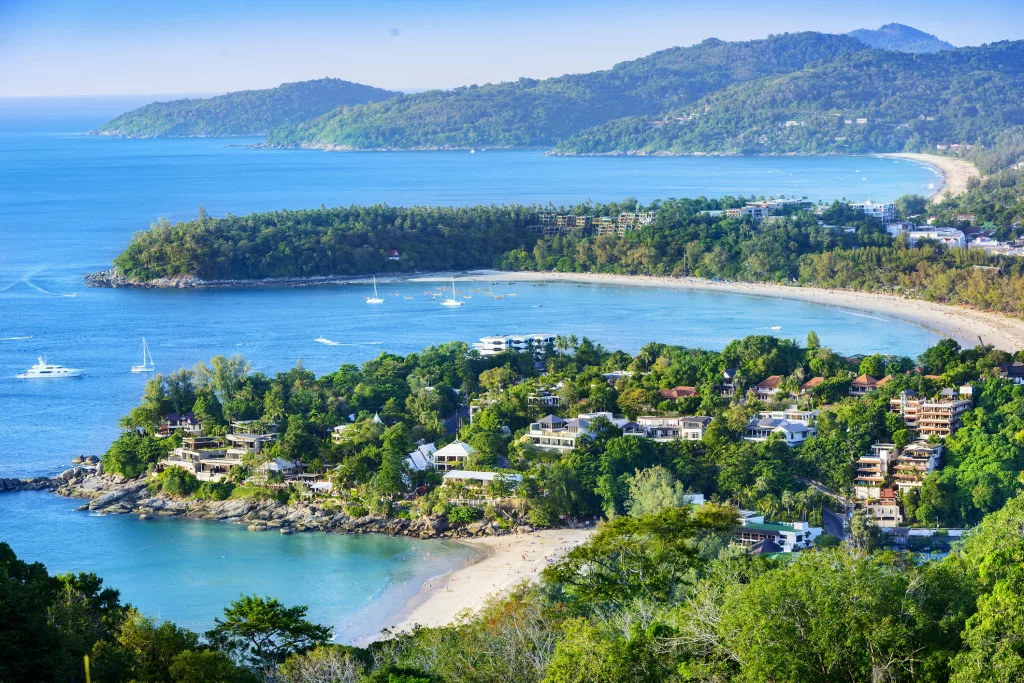 PHUKET TOWN IN FOCUS
---
Phuket Town is the island's cultural epicentre. The streets of Old Phuket Town are lined with colourfully painted Sino-Portuguese buildings. Many of these mansions have been transformed into quirky boutiques, hipster cafés and art galleries. Soi Rommanee is a particularly picturesque street – the pastel façades of former shophouses are illuminated by Chinese lanterns in the evenings.
The town also has some fascinating cultural landmarks. This includes the Phuket Thaihua Museum, where you can find out more about the island's culture, from its history of Chinese migration to its cuisine and literature. You'll find Chinese shrines tucked away between spacious mansions – the Shrine of the Serene Light has been recently restored.
Phuket Town is also known for its bustling night markets, where you can pick up clothes, curios and street food snacks. The Sunday night market on Phuket's Walking Street is particularly popular.
Foodie travellers will love visiting Phuket, which has a dining scene that's coming to rival Bangkok's. Even some of the town's humbler restaurants have been awarded a Michelin Plate, including Go Benz, which has been serving its signature pork with rice noodles and a side of peppery broth for 20 years.
RESTAURANTS YOU'LL LOVE
---
While most people come to Phuket for the beaches, Outlook recommends visiting for a different reason – the amazing cuisine on offer. Alongside the fantastic street food scene you'll find plenty of high end restaurants serving innovative dishes using local ingredients and traditional recipes.
PRU Restaurant (which stands for Plant.Raise.Understand) aims to elevate Thai farm-to-table cooking to a new level. They have their own farm where they raise free-range chickens and grow indigenous vegetables, which are then used in their fine-dining tasting menus.
Blue Elephant is part of a prestigious global chain of Thai restaurants, started in 1980 by Nooror Somany Steppe, marrying European techniques with Southern Thai flavours. Their Phuket restaurant is housed in a palatial mansion and serves dishes such as scallops with black diamond garlic, and foie gras with tamarind sauce.
Meanwhile, Acqua Ristorante is our top pick for a romantic dinner date. It's the first of a chain of restaurants designed by Sardinian chef Allesandro Frau, which use globally sourced, seasonal ingredients to elevate Italian cooking to a new level. Like the restaurant itself, the dishes are innovative and aesthetically pleasing, as well as being delicious. Standout dishes include tortelli stuffed with burrata cheese, with a sauce made of sea urchin and squid ink, and sous vide octopus salad with fennel leaves and olives. You'll be treated to spectacular views over the Andaman Sea as you enjoy your meal.
OUTLOOK RECOMMENDS
EAT:
---
For vibrant, innovative Thai fine dining…
For Phuket's best Italian cuisine…
For Phuket's only Michelin-starred restaurant…
SLEEP:
---
For ocean-facing hospitality…
Arinara Bangtao Beach Resort is located on the shores of beautiful Bangtao Beach. It boasts luxurious air-conditioned suites and studios with sea views. There's also a lagoon-like pool, three bars and two restaurants, one serving international food and the other Thai cuisine. A dedicated onsite consultant can help you arrange trips around the island.
For Phuket's best-designed villa accommodation…
For unique villas in the forest…
DO:
---
For romantic sunset dinner cruises…
La Moet

For Phuket's best wellness retreat…
DRINK:
---
For Phuket's most stylish beach lounge…
For Patong's largest nightclub…
LANDMARK ATTRACTIONS
BIG BUDDHA
---
This 45-metre high marble monument of a sitting Buddha is perched at the top of the Nakkerd Hills. Climb a steep flight of stairs to the monument and you'll be rewarded with the best panoramic view on the island.
PHI PHI ISLANDS
---
Many tourists touch down in Phuket with the intention of visiting the stunning Phi Phi Islands, with their dramatic limestone formations and picture-perfect beaches. The islands shot to fame after being used as a filming location in The Beach, a movie starring Leonardo di Caprio, and can get busy.
WAT HAI HARN
---
Phuket's undeveloped southern coastline is speckled with some of the island's best beaches, and topping the list is Wat Hai Harn. It's a gorgeous curve of white sand, lapped by turquoise waves – the perfect place to relax.
GETTING THERE AND AROUND
---
It's easy to reach Phuket by air, as Phuket International Airport flies to 61 destinations in 23 countries, nine of which are domestic. It's served by airlines including Thai Air Asia, Bangkok Airways and Air China. The island is connected to the mainland by a bridge, so is also reachable by road – it's a 13-hour bus ride from Bangkok.
There are lots of options for getting around the island. Phuket Smart Bus operates a route from the airport to Rawai in the south, stopping off at all major landmarks. Songthaews are the most common local mode of transport – pick-up trucks with benches in the back. They travel along most major routes, stopping when requested. Tuk tuks are also popular.
If you want to explore the island's quieter corners, it's worth hiring a motorbike or car. Motorbikes are particularly popular with tourists, and cost around 250 Thai baht (just over $8) a day.