From its gleaming hotels to its ancient pagodas, Danang is a Vietnamese city where the ancient and modern sit side by side.
DANANG
---
Located in the middle of the country and flanked on either side by a 60-kilometre-long coastline, Danang is a city becoming increasingly popular with tourists. With its beautiful sea views, wide riverfront boardwalk and cultural attractions both traditional and modern, it's easy to see why.
The city has several scenic areas. The Marble Mountains are five craggy limestone hills in the southeast of the city, bisected by shady walking paths leading to twisting caverns and ancient pagodas. You can also take a cable car up to the city's popular Ba Na Hills, where you'll find a picturesque replica French village and even a theme park.
The city centre is clean, spacious and well-developed, with gleaming high-rise hotels lining the riverfront. One of the most popular areas in the city is Bach Dang street, a boardwalk lined with restaurants and shops. The picturesque My Khe Beach, which stretches 30 kilometres down the coast, is a popular spot for an evening stroll.
If you're interested in Vietnamese culture, head to Danang Fine Arts Museum, which displays over 1,000 pieces of local folk art, modern art and traditional crafts. Meanwhile, Nguyen Hien Dinh Theatre puts on regular cultural performances.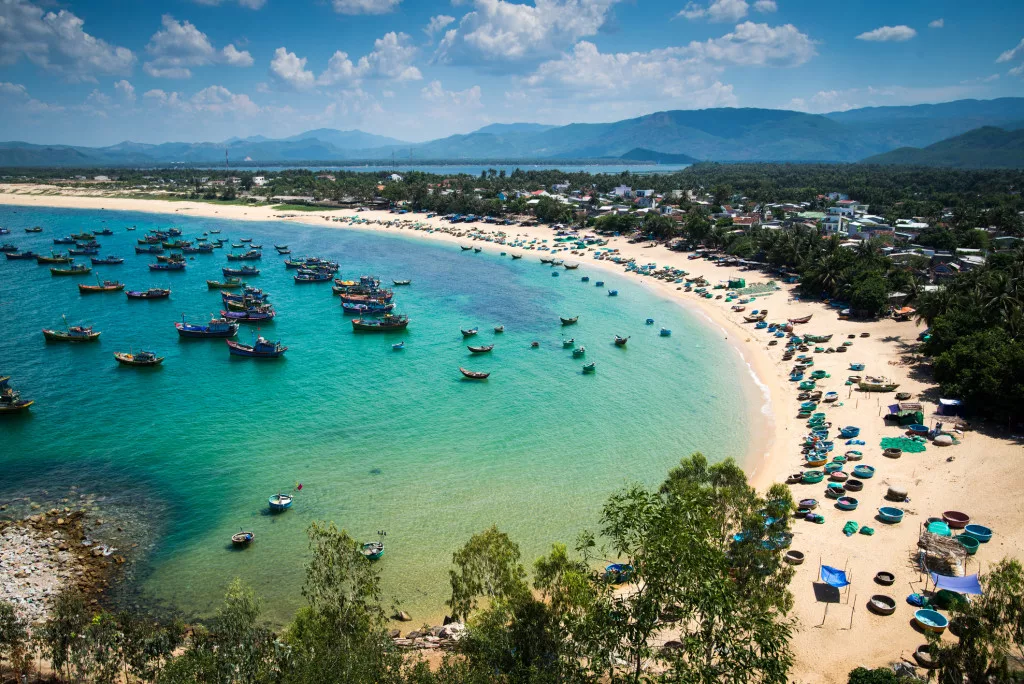 NAM O VILLAGE IN FOCUS
---
Travel north along the coast road from central Danang and after 20 minutes you'll encounter Nam O, a fishing village on the city's outskirts. Since the 18th century, the village has been renowned for its firecracker production. But in 1995, after the government imposed a ban on firecrackers, villagers needed a new livelihood. So they turned their hands to making one of Vietnam's most popular condiments, fish sauce. It turned out they were pretty good at it.
Nam O fish sauce is the only fish sauce in Vietnam made from long-jawed anchovies, which are caught by the villagers, dried, then salted for up to two years, giving the sauce a distinctive red-brown colour and a unique taste. If you visit the village, you'll get a chance to see how it's made for yourself, as well as trying it in local restaurants.
The Trung Thuy Group is going to be building a new eco-resort near the town, something which will draw tourists to the area. Meanwhile, Danang's local authority is investing around $11 million of its budget into implementing a community tourism project in Nam O, advertising the village and improving offerings for visitors. These include village tours, sunset coracle rides across Nam O Bay and visits to a snail museum, where visitors will be able to see products made from local molluscs. Meanwhile, at Ngu Ong Temple you'll find 47 whale skeletons once worshipped by villagers (in Vietnamese coastal culture, whales were once considered gods of the sea; they were never hunted, and funerals were held for any whales washed ashore).
Mr Nguyen Duc Thanh, Strategic Director of the Trung Thuy Group, said: "We are looking forward to developing Nam O into an inviting place in the city associated with the proper exploitation of the nature and cultures, and making this site a "do not miss" place in tour itineraries."
It is hoped that district authorities will be able to work closely with relevant bodies to create a specific plan for development, and to ensure that the villagers' livelihoods remain a priority.
TOURISM INSIGHTS: DANANG CENTRE FOR TOURISM PROMOTION
---
In April 1999, the Danang People's Committee established the Danang Centre for Tourism Promotion. It's vision: to organise and coordinate with tourism businesses in researching, surveying and exploring new markets; to provide guidance in tourism investment; and to coordinate with relevant government agencies in providing professional training for employees and officials working in the field of tourism.
We caught up with An Nguyen, Managing Director of Danang Centre for Tourism Promotion, to find out a little more about her organisation and the city itself.
Q&A WITH AN NGUYEN, MANAGING DIRECTOR
How do you market Danang as a destination?
An Nguyen: Until now, in accordance with the strong economic growth of Danang city, the activities of tourism promotion have experienced considerable changes, specialised in primary divisions, kept pace with the new trends of world tourism and quickly adapted to the fourth industrial revolution. Danang Tourism Promotion has placed emphasis on public relations and promoting the brand image and tourism products in Danang to tourism businesses, domestic and international tourists in many ways. For a start, it motivates and raises awareness about Danang to tourists by producing videos, brochures and publishing articles online. It employs other online technologies including social media, a chatbot and a tourism app for mobile devices (Danang Fantasticity). We welcome and support Fam trips, Press trip, bloggers, film crew, domestic and international journalists to our city. We also attend and organise tourism campaigns and events to showcase attractions and other tourism products in Danang. To best market Danang we undertake research to identify the core markets and the needs and wants of tourists, allowing us to shape the correct strategy. We also collect feedback from tour operators, travel agencies and tourists to improve or set up tourism products that meet the needs of tourists.
What recent projects are you most proud of?
Last year we organised the first Danang International Food Festival 2019 (DNIFF 2019), "The Taste of Homeland", from 2nd to 6th June 2019. It aimed to promote food tourism and boost cultural exchange – we were honoured by the attendance of Mr. Thomas Andreas Gugler, the President of World Association of Chefs' Societies, and 13 brilliant chefs from countries including Greece, India, Singapore and Mexico. Tourists were able to watch these chefs create their signature dishes, purchase local ingredients and spices and attend the Food Forum to listen to expert speakers.
Congratulations on your nomination at 2019's World Travel Awards for 'World's Leading Festival and Event Destination.' What sort of festivals and events occur annually in Danang?
Danang in 2019 lived up to its title as the 'World's Leading Festival and Event Destination' with many notable events. These included religious festivals such as the Avalokitesvara Festival, which originated from a Buddhist prayer ceremony to the spirits, and events such as the Techcombank Iron Man 70.3 Asia Pacific Championship and the Manulife Danang International Marathon. We also hold 'Danang – Summer Destination' every year. It's a festival offering many exciting events for tourists to experience while spending summer vacation at the beautiful coastal city. The multi-series event aims at promoting coastal tourism products and presenting Danang as the city of events. Moreover, the organising committee also hopes to highlight the gorgeous landscape of Danang's beaches and at the same time promote Danang as a safe, must-visit destination for domestic and international tourists. These large-scale and stunning events send a message that Danang is an exciting tourist destination for visitors from all over the world.
Is there any potential for ecotourism development in the region?
The environment is considered an important factor directly determining the quality and attractiveness of tourism products. The foundation and development of tourism as an economic industry relates to the ability to use natural resources and their surroundings in order to develop tourism products. Both natural resources (such as mountains, rivers and beaches) and cultural resources (such architecture and artworks) are potential tourist attractions. In other words, tourism activities and the environment support and influence each other. Tourism activities can improve environmental conditions through building natural parks and cultural villages. However, improper exploitation and poorly planned development can deteriorate the environment. The Danang Centre for Tourism Promotion realises the importance of striking a balance between tourism development and environmental protection. We hope to develop tourism in a socially responsible, economic and environmentally sustainable way. The local government aims to concentrate on improving the quality and landscapes of beaches, increasing investments in waste management and control at Danang Bay and the coast from Son Tra Peninsula to Marble Mountains. In addition, there should be strategies to protect Son Tra Peninsula and the Natural Reserve and increase green areas in the city centre. They also wish to develop an overall tourism plan limiting projects with a negative impact on the environment, ensure that any architectural works harmonise with nature and develop tourism models that preserve and strengthen the city's cultural environment, history and society. At the same time, the government should focus on raising awareness of sustainable development within the community through training, lessons and open communications channels. Against many obstacles and difficulties, Danang is making its best effort to develop tourism in a sustainable and responsible way towards its environment, economy and society.
Why, in your opinion, should someone visit Danang?
Danang is well-located in central Vietnam – just an hour from the capital, Hanoi, and Ho Chi Minh City. It's also near four UNESCO World Heritage Sites: Hoi An Town, My Son Sanctuary, Imperial Hue and Phong Nha Cave. Boasting natural beauty, amazing attractions, hospitable people and openness to the world, Danang is an ideal destination for any kind of tourist. Visitors will be impressed by the mysterious beauty of the sacred Marble Mountains, the fantastic and untouched natural scenery at Son Tra Peninsula, the festive vibes in the modern and lively recreational areas such as Ba Na Hills, Sun World and Danang Wonder, as well as the sparkling Dragon Bridge and Han River Bridge at night. In particular, what makes Danang different is the civility and friendliness existing within each citizen, contributing to the safe and hospitable tourism environment in Danang. Danang is also equipped with modern and synchronised tourism infrastructure including seaports, an international airport and international standard accommodation from respected brands such as InterContinental, Hyatt, Novotel, Sheraton and Hilton. Finally, the success of organising international events in Danang has reinforced the idea that the city is a must-visit destination. The Danang Centre for Tourism Promotion is proud to contribute to Danang's tourism growth and boost its presence in both regional and international markets.
OUTLOOK RECOMMENDS
EAT:
---
For Vietnamese fine dining…
SLEEP:
---
For ultra-modern accommodation and river views…
Novotel Danang Premier Han River is the first upscale and internationally managed hotel in Danang city. It offers accommodation in serviced apartments and spacious rooms, both with contemporary décor and panoramic views of the Han River. You'll also find a spa, fitness centre and outdoor infinity pool here, alongside two bars, a restaurant and an upmarket luxury lounge.
For Danang's most luxurious beach resort…
Where tradition meets luxury…
Intercontinental Danang Sun Peninsula Resort
DO:
---
For adrenaline-fuelled games and rides…
For guided motorbike tours of mountain passes…
LANDMARK ATTRACTIONS
SUN WORLD
---
This theme park is located in the heart of the Ba Na Hills. It has over 20 adrenaline-fuelled rides, such as the Alpine Coaster, and two large indoor game centres.
HELIO NIGHT MARKET
---
Danang's most popular night market is lined with hundreds of illuminated stalls serving international dishes and Vietnamese delicacies including banh xeo (Vietnamese pancakes) and my quang, a local noodle dish.
DRAGON BRIDGE
---
The longest bridge in Vietnam spans 666 metres over the Han River, and is constructed in the shape of a golden dragon. Every weekend, at 9:00pm, the sculpture shoots forward water and fire from its head – the most impressive free spectacle in the city.
GETTING THERE AND AROUND
---
Danang Airport is the third busiest in the country, flying to 43 destinations in 11 countries, predominantly in Asia. Most international tourists will fly to the capital, Hanoi, and then catch an 80-minute flight on to Danang – Jetstar, Vietnam Airways and Bangkok Airways all operate frequent services. The city's neighbourhoods can be explored on foot, but many of the attractions are spaced far apart and so motorised transport is necessary. Take a taxi for short trips, or hire a motorbike for a day to explore further afield. There are environmentally friendly electric buggies running the length of the beach road, in place especially for tourists.