Full of rugged vistas and star-spangled skies, we recommend some of North America's otherworldly rock formations of buttes and canyons perfect for camping, hiking, or just observing.
The US has manifold mesmerising rock formations beyond the obvious destinations of the Grand Canyon and Yosemite. In fact, they are just the tip of what the country has to offer in the way of arches, bridges, valleys, and peaks, all founded from nature. Indeed, there are many more rock formation locations organically deposited across the land.
These off-grid adventures provide opportunities for backpacking, photography and solitude, and there are many rare and remote natural areas to explore. The sights are awe-inspiring, and they will have you staring in wonder and amazement at these rocky hidden gems. So, be prepared to get up close and personal with some of America's greatest rock stars.
BRYCE CANYON NATIONAL PARK
---
WHERE: Paunsaugunt Plateau, Utah
Bryce Canyon National Park has the largest concentration of hoodoos (irregular columns of rock) found anywhere on Earth. The intricately carved spires, left standing by erosion, can be experienced along hiking trails. It is wise to keep in mind that Bryce Canyon is a high-altitude park, therefore, it is best to proceed with caution as even mild exertion can lead to altitude sickness.
The hiking trails are of various levels of difficulty, and one of the more moderate hikes happens to be the most popular. The Queen's/Navajo Combination Loop combines open views of the Queen's Garden Trail and the canyon walls of the Navajo Loop Trail. The Bryce Canyon Amphitheatre offers hoodoo views but hiking outside this area will yield more unique rock formations, and often
more solitude.
HOW: For more information, visit www.brycecanyon.com
PARIA CANYON-VERMILION CLIFFS WILDERNESS AREA
---
WHERE: Coconino County, Utah
Awash with thick Navajo sandstone, a 3,000-foot escarpment known as the Vermilion Cliffs dominates the wilderness with its red appearance, which is true in colour to its namesake. This geological treasure trove of steep, boulder strewn slopes is the habitat of the endangered Californian condor, among other wildlife, and as seasonal rainwater seeps into the arroyos, it gives life to the valley below. The colourful swirls of slickrock are akin to a magical land filled with fantastical formations such as The Wave, White Pockets, and Buckskin Gulch.
In the northwest portion lies the Coyote Butte, displaying domes, fins, aprons, and corridors. In the Paria Canyon section, there are arches and terraces with natural amphitheatres along the Paria River. For the truly adventurous, it is possible to obtain a special permit to sleep inside Paria Canyon.
HOW: For more information, visit www.blm.gov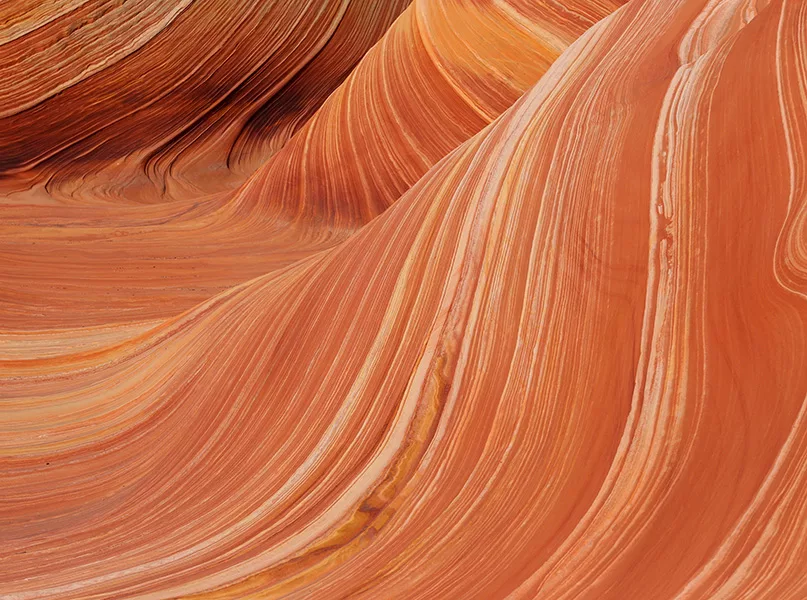 DEVIL'S TOWER NATIONAL MONUMENT
---
WHERE: Crook County, Wyoming
No rocky round up would be complete without the iconic and striking naturally formed butte – Devil's Tower. It stands at 1,267 feet above the Belle Fourche River and has cultural and historical significance. The Tower, also known as Bear Lodge, was declared America's first national monument in 1906 by President Theodore Roosevelt. Furthermore, it is a sacred place for over 20 Native American tribes.
There are red and maroon cliffs along the east and southeast face of the tower, known as the Red Beds. Their formation dates to the Triassic period, between 225 to 195 million years ago. The imposing monument is located within the Black Hills region and is one of the Earth's most impressive geological features.
HOW: For more information, visit www.nps.gov
BADLANDS NATIONAL PARK
---
WHERE: South Dakota
Geological formations mixed with grass prairies inspired the Lakota Native American people, part of the Great Sioux Nation of the Midwest, to dub this region mako sica (Badlands), not only due to its terrain but also the lack of water and extreme temperatures. Over millions of years, Badlands drastically changed from a sea to a subtropical forest, to an open savannah. Hence, in 2010 a visitor found a perfectly preserved sabre-tooth tiger skull, although any fossils should now be reported to a ranger.
Today, the old craggy rocks attract fossil hunters and hikers, and are an ideal location to spot wildlife such as prairie dogs and American Bison. Additionally, as the skies over Badlands are exceptionally dark, visitors can see the Milky Way as well as constellations of stars – the park even supplies telescopes.
HOW: For more information, visit www.nps.gov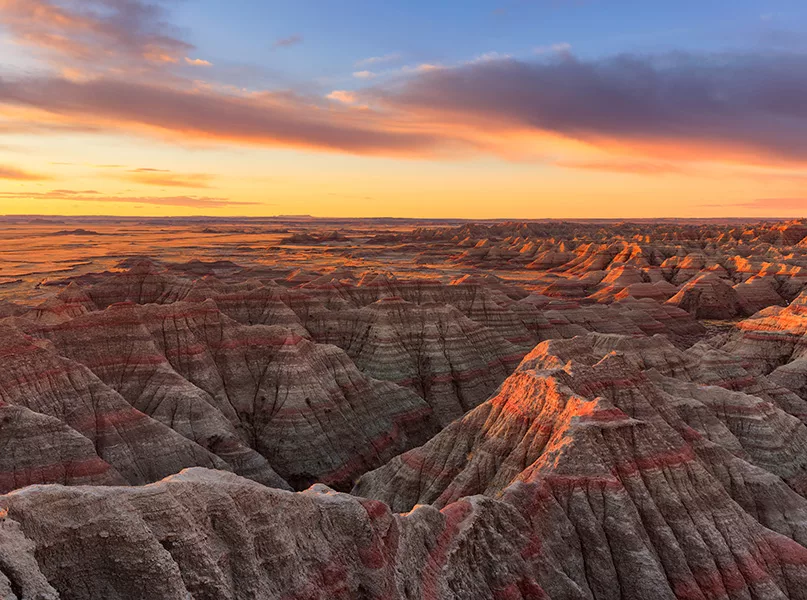 HORSESHOE BEND AND ANTELOPE CANYON
---
WHERE: Page, Arizona
In 1814, dramatic landscapes and unique topography were the backdrop for the Battle of Horseshoe Bend in a fight for pioneer settlement. Presently, it is a peaceful scene as the 270-degree curve in the Colorado River doubles back on itself, forming a horseshoe shape with much of its rim remaining exposed.
Less than five miles from Horseshoe Bend is Antelope Canyon, one of the most photographed slot canyons in the world. Upper Antelope Canyon is the most accessible part, and its dramatic stairs, ladders, and narrow sections are evidence as to why it attracts so many shutterbugs. As one of the natural beauties of Northern Arizona, the changing colours are caused by the sun's rays filtering between its walls, creating light beams in each canyon.
HOW: For more information, visit horseshoebend.com and antelopecanyon.az