Feel the vibe in Jamaica, the colourful Caribbean nation synonymous with good times, great company and gastronomical indulgence.
JAMAICA
The name alone instantly conjures images of postcard-perfect beaches and palm trees swaying to the sound of reggae music, as the quintessentially Caribbean getaway.
A spellbinding island bound to leave an impression, Jamaica strikes a fine balance between a relentless and intoxicating creative energy and blissful tranquillity. This is echoed by the island's explosive music scene, from the pulsating dance halls of Kingston to the lazy rhythms of beachside reggae bars whose beats promise to wash over you like the white-rum-clear waves lapping against the soft sand shores.
Rightfully ranked amongst Lonely Planet's Best in Travel 2023, most visitors here throng around the three primary resort hubs of Montego Bay and Negril in the west and Ocho Rios in the north. Elsewhere, venture into the verdant terrain of the Blue Mountains or explore beyond the beach resorts and you will discover a playground of adventure ripe for hiking and waterfalls that beckon for a cooling dip. Whatever you do, the world-renowned Jamaican cuisine is sure to whet your appetite, with spicy jerk washed down with a coconut water.
Sure, Jamaica may be the homeland of the fastest man in the world, but there is no better place to slow down, take it easy, and tune in to island time.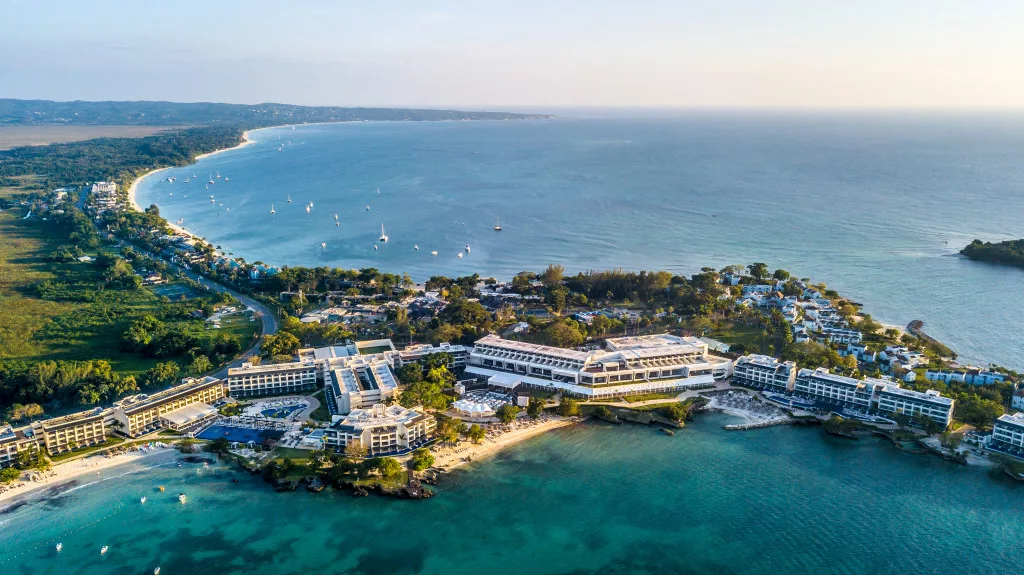 TOURISM INSIGHTS : JAMAICA TOURIST BOARD
Since 1955, the Jamaica Tourist Board has operated as the go-to reference point for anyone interested in visiting these Caribbean shores. We catch up with Director of Tourism, Donovan G. White, for some valuable insight into the destination today.
Can you talk me through the origins of the Jamaica Tourist Board and its initial vision?
Donovan G. White, Director of Tourism (DW): Jamaica was attracting a large share of visitors with the existence of lodging houses and a few inns, but the real spur for development was the Jamaica International Exhibition planned for 1891. This resulted in the formation of the Jamaica Tourist Association in 1910 whose primary purpose was "to enhance the claims of the colony as a health and pleasure resort at home and abroad and to give 'reliable' information to both prospective visitors and those already holidaying on the island". In 1922, the government started its direct intervention in the promotion of the industry and enacted laws which saw the establishment of the Tourist Trade Development Board.
By the early 1950s, it became evident that the island needed much more effective organisation with a greater scope of responsibility and operation, so in 1954, the Tourist Trade Development Board was abolished and the Jamaica Tourist Board was created, governed by the Tourist Board Act.
The Jamaica Tourist Board came into being on 1st April 1955. Our mission is to market the tourism product so that Jamaica remains the premier Caribbean tourism destination. We position Jamaica as the most complete, unique and diverse warm weather destination in the world, which offers the best vacation value available. Through creative programmes and advertisements worldwide, we market the uniqueness of the destination. We are the most preferred point of contact for anyone travelling to Jamaica.
What are your organisation's current goals?
DW: Our main focus is our new global "Come Back" advertising campaign. The ethos behind it is that we are inviting the world to come back to feeling their best selves again in Jamaica. Not only is travelling known to be good for our mental health and physical well-being, but travelling in Jamaica is particularly good for the spirit. Jamaica has a way of opening people up to new experiences that feed their natural curiosity, helping them rediscover their sense of adventure and to connect with people on the most human level.
The expansion and diversification of our source markets have strategically included India, Japan, countries in continental Europe and the Middle East and North Africa (MENA) region. Post-pandemic, our focus resumed on this activity through our participation in the World Expo and the inaugural appearance at the Arabian Travel Market, to forge new partnership arrangements. We will continue to participate through 2023 and going forward as a commitment to our continuation of new market development and diversification of our tourism penetration globally. We remain committed to our ongoing discussions with partners in Latin America to achieve a substantial airlift out of that region.
How does Jamaica cater to sustainable and eco-friendly travel experiences?
DW: We are the land of wood and water, and a great percentage of our attractions are eco-friendly. Jamaica has over 100 rivers and waterfalls with a generous amount of rainfall. The Blue and John Crow Mountains National Park, which is now a UNESCO World Heritage Site, remains one of Jamaica's most enduring and beguiling eco-attractions. Properties have also incorporated sustainable and eco-friendly practices into their operations with recognition and certification from international organisations.
What other trends are currently reshaping tourism in Jamaica?
DW: There is a marked increase in curated trips to meet the demand for exclusive experiences on the island. While our all-inclusive offerings are still in high demand, there is a noticeable interest in villa stays which highlights Jamaica's sought-after offering in this niche for high-end clients. Community tourism is thriving more than in the past, with discerning travellers wanting to immerse themselves in the lifestyle of community members.
Similarly, what kind of travellers does Jamaica appeal to most?
DW: Jamaica appeals to a wide cross section of travellers. The island has always been the destination that has helped visitors live out their bucket list – from families, singles, honeymooners, girlfriend groups, event lovers and more. Our market segments have always included experience seekers – a younger target audience who love to explore the island and discover romance and adventure while making a connection to the local culture. Family planners are another key demographic in attracting young families looking to experience their long-anticipated family vacation. And finally, we have always appealed to seasoned travellers whose experiences have unlocked their appetite for adventure, their curiosity about the local culture, and their lasting love for each other.
Name one overlooked spot on the island that you would recommend for a first-time visitor to Jamaica.
DW: Kingston Creative Artwalk in Downtown Kingston. Our capital city was designated by UNESCO as a Creative City of Music. The creative Artwalk is such a fitting experience since it is a space that is rich with our artistic expressions. The experience takes people on a colourful journey depicting Jamaica's culture. Kingston Creative has partnered with artists, artisans, and community-based organisations to develop Artwalks in four communities in Downtown Kingston, celebrating each neighbourhood's vibrant culture. Each work of art is born from a story that is memorable. It is a beautiful place for photoshoots, but a guided tour is the best way to understand the stories behind the artistry.
Finally, how do you see tourism developing on the island in the years ahead? Are you optimistic that tourism will return to pre-pandemic levels?
DW: We have grown exponentially since the days when we were known mostly for sand, sea and sun, with additional airlift and the expansion of gateways. Both Sangster International and the Norman Manley International Airports are expanding and building capacity. Meanwhile, investments from international hotel brands are adding to our room stock and enhancing diversity in our offerings. We are very optimistic about our industry as we have surpassed our recovery projections and are now on a path of growth.
We are always improving our product to remain relevant and competitive. Our road network continues to get upgrades, allowing for greater and easier access to the heart and soul of our tourism product, which is our people.
St Thomas in the east of the island is set for major development which will see it become a major tourism destination with many sights and sounds to experience. This will be an excellent addition to our tourism portfolio. We have built a formidable sector which was tested by the COVID-19 pandemic, and we are proud to be one of the fastest-recovering destinations in the world.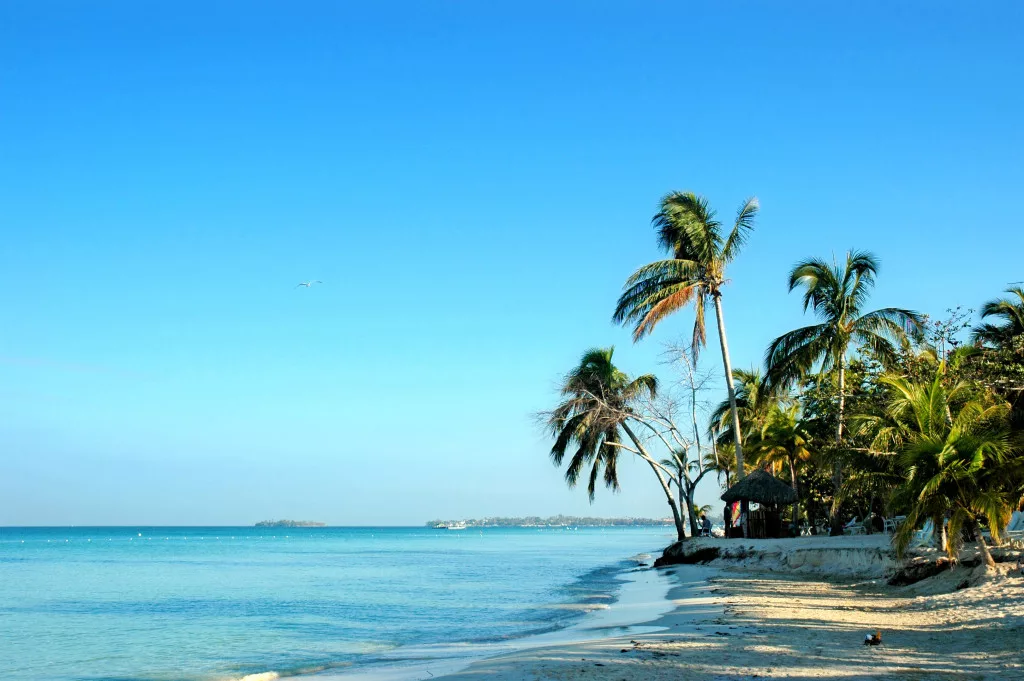 OUTLOOK RECOMMENDS
SLEEP:
FOR RETAIL THERAPY…
Whitter Village Shopping Mall is minutes away from the city's gateways, airport and cruise ship pier, in proximity to some of Jamaica's finest luxury resorts. Promenading its beautifully landscaped gardens creates a respite for visitors and locals, as a great melting pot for all. Highlighted by its signature landmark Clock Tower, Whitter Village facilitates the ease of modern shopping with the charm of the Jamaican lifestyle.
FOR UNCOVERING JAMAICA'S MATERIAL CULTURAL HERITAGE..
Jamaica National Heritage Trust
FOR RELIABLE EXCURSION BOOKINGS…
Maxi Travels Exquisite Heritage & Eco Tours is an official booking agency for carnival lines and its PL Partners. It caters to shore excursions, customised tours, language services, German private tours, wedding services, flight reservations, Central and South America and Caribbean group bookings, luxury cruises and fun cruises.
FOR AN ELEVATED RETREAT IN THE GOLDEN TRIANGLE…
The AC Hotel Kingston is strategically positioned in close proximity to the vibrant business district and city centre of Jamaica's entertainment capital. The hotel has ample amenities including a 24/7 fitness centre and outdoor pool, alongside a restaurant serving mouth-watering international cuisine. The Norman Manley International Airport is just 10 miles from the hotel, and all Kingston's major attractions are a stone's throw away. Those travelling on business can access a vast meeting event space, while those looking for leisure can recline in the tasteful AC Lounge with tapas-style hors d'oeuvres and signature cocktails prepared by expert mixologists.
FOR BLUE SKY INDULGENCE…
A new development on the iconic seven-mile white sand stretch of Negril beach, the Blue Skies Beach Resort occupies a perfect position on the ocean's edge. The resort encompasses a boutique collection of 16 suites and rooms, all just 100 yards away from the beach. Immerse yourself in beachside bliss on loungers, or rent kayaks, snorkels and paddleboards to make the most of your island surroundings. As evening falls, head to the on-site 7 on 7 Mile restaurant for in-house cocktails and seafood fresh from the ocean. Savour sunsets from the beachfront bar and satisfy your taste for adventure with some snorkelling along one of the most beautiful stretches of coastline in the world.
FOR JAMAICA'S HIGHEST-RATED RESORT…
Half Moon
FOR THE PURSUIT OF PLEASURE…
Hedonism II
FOR AN ADULTS-ONLY RETREAT…
Situated in idyllic Montego Bay, the Hyatt Zilara Rose Hall is a resort property that offers undisturbed romance in an adults-only setting. Nearby, its sister hotel, the Hyatt Ziva Rose Hall is the perfect choice for a family-friendly Caribbean getaway with a host of fun activities, from snorkelling to beach volleyball.
FOR A 5-STAR SOJOURN IN PORT ANTONIO…
Perched in a dramatic position overlooking Turtle Harbor, the palatial Jamaica Palace Hotel is a sight to behold. Found amongst the hills of Port Antonio, this 5-star boutique hotel promises a majestic stay located within an 18th century European palace. Its distanced location in the foothills of the Blue Mountains, sprawled across a five-acre estate, makes the Jamaica Palace the ideal getaway to escape the pace of city life. As the largest hotel in the northeastern port city of Port Antonio, the property comprises a varied selection of air-conditioned suites and rooms, complemented by three dining facilities and four bars. Enjoy luxurious traditional touches including hand-decorated beds, elegant Georgian bay windows, and crystal chandeliers. Immerse yourself in the lush verdure of the hotel's tropical grounds and cool down with a dip in the unique swimming pool built in the shape of the island. Elsewhere, the secluded hidden coves and romantic beaches of Port Antonio can be reached within walking distance, as can the attractions of Trident Castle and Folly Ruins. With a host of amenities and an attentive team on hand to make your stay as comfortable as possible, choose the Jamaica Palace Hotel for a memorable vacation close to the tranquil setting of Port Antonio.
FOR A COASTAL GETAWAY…
Overlooking the pristine white shores and glistening seas of Montego Bay, Grand Palladium Jamaica Resort & Spa is an ideal choice for families, couples and groups looking for some seaside relaxation. Enjoy a central infinity pool, on-site theme water park, spa, wellness centre and restaurants for an all-inclusive island sojourn.
FOR GETTING AWAY FROM THE CROWDS…
Mockingbird Hill promises a charming 10-bedroom eco-boutique in stunning Port Antonio. Renowned as the area's best eco retreat, the property offers tranquil charm in Jamaica's answer to Eden. Unwind amongst seven acres of lush, organic tropical gardens 200 metres above sea level, just outside Port Antonio on Jamaica's northeastern coast.
FOR A RUSTIC BOUTIQUE STAY…
Wild Coffee Retreat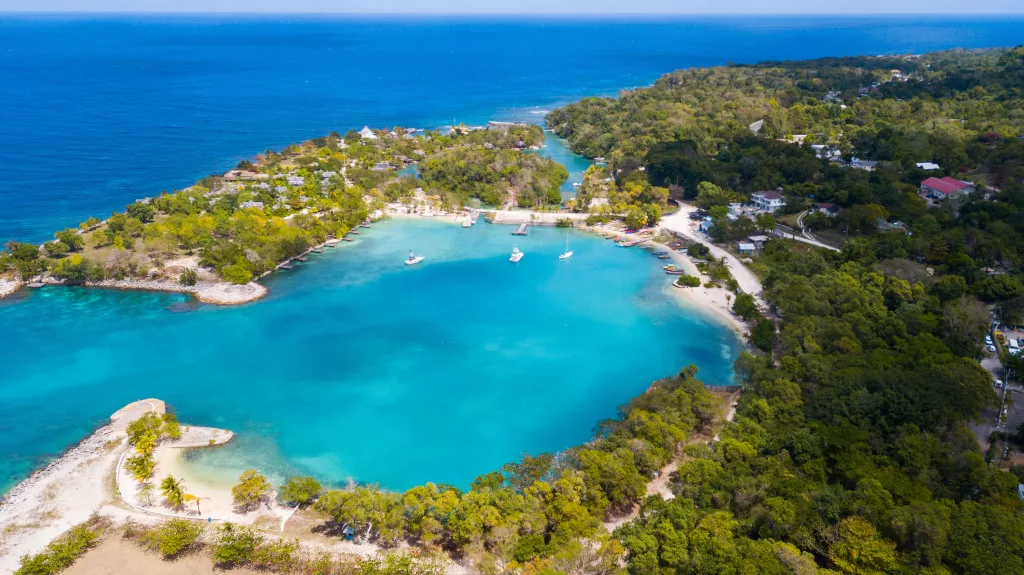 LANDMARK ATTRACTIONS
Negril
Home to Jamaica's longest natural stretch of sand – the erroneously-named Seven-Mile Beach – Negril became a hippie hotspot during its heyday of the early 1970s. Although now far more developed, this natural haven remains one of Jamaica's best beaches, home to spectacular sunsets, icing-sugar sands and a strong local concern for preserving the area's ecology.
Port Royal
Once known as 'the wickedest place on Earth', Port Royal is synonymous with Jamaica's piratical past, referring to its history as a significant shipping centre governed by illegal trading. Although now a sleepy fishing village, this infamous legacy is evidenced by various architectural remnants, heritage sites, and in the Fort Charles Museum.
Bob Marley Museum
One of Jamaica's most popular attractions, you can visit the well-preserved colonial-era house where Bob Marley lived and recorded between 1975 and his transition in 1981. The site was converted into a museum six years later by his wife, Mrs Rita Marley and houses a collection of memorabilia belonging to the reggae legend.
DIVE INTO JAMAICA WITH PADI
PADI's Global Director of Brand, Julie Andersen, shares her top tips for diving on the island
Diving in Jamaica offers the chance to see rays, sharks, sea turtles, colourful fish and corals up close. Jamaica's crystal-clear waters invite scuba divers to come back again and again to explore.
You'll see sponges, soft gorgonians, black coral, sea fans… and that's not even touching the 260-plus types of reef fish you're likely to come across while scuba diving in Jamaica. Some of the rarities you may encounter include the four-eye butterflyfish and sharpnose puffer.
You'll also see parrot fish, sea slugs, green and spotted moray eels, mackerel, turtles, crabs, barracuda, eagle rays, and more – not forgetting of course, the various hard and soft corals. Be sure to go to the Arches and the Caves, incredible rock structures where you can see rays and sharks. If you're a beginner, one of the best sites to try is the Surprise Reef, a pretty reef that is frequented by turtles and parrotfish.
WHAT IS SCUBA DIVING IN JAMAICA LIKE?
If you go to Jamaica, diving in Ocho Rios (AKA Ochi) is an absolute must. Ocho Rios is located on the beautiful northeast side of the island, in the parish of St. Ann. Situated near the Jamaican Blue Mountains, it is a thriving tourist area with a beautiful underwater landscape.
WHAT ARE THE TOP SITES IN JAMAICA?
Choosing a dive site in Jamaica is a process of determining what you'd like to see. There are over 100 active dive sites in Jamaica, and interest should match skill level to find the right one. To decide, ask yourself things like whether you'd be satisfied with seeing just tropical fishes, turtles and colourful coral of all types, or if you want to seek out rays and maybe even nurse sharks. Whatever the answer, there's a dive site for you in Jamaica.
CATHERINE SHIPWRECK
This shipwreck is one of the most popular dive sites in Ocho Rios. It is an old minesweeper, which was sunk in 50 feet (ft) / 15 metres (m) of water in the 1980s along a cavernous reef system. The ship is approximately 120ft / 37m in length. From the surface to the upper most part of the ship, it is 20ft / 6m.
What to see: barrel sponges, sea fans, sting rays, sergeant majors, flaming scallops, nurse sharks, caverns, lobsters, eels, sea snakes, hamlets, and snapper.
---
DICKIE'S REEF
A spectacular site for Advanced level divers, this reef is relatively flat, however it tapers off very gently down to 60ft / 18m. This site is also great for night dives.
What to see: barracuda, lionfish, sting rays, crabs, lobsters, parrotfish, butterfly fish, chromis, damsels, barrel sponges, sea fans.
---
DEVIL'S REEF
Located just three minutes from the Sandals Ochi Beach Resort.
What to see: turtles, Atlantic spades, eels, jacks, nurse sharks, barrel sponges, sea fans and gorgonians.
---
SHARK'S REEF
Advanced diver? Don't miss out on Shark's Reef, an out-of-the-way site where nurse sharks lounge and large stingrays rest on the sandy bottom. While visiting Montego Bay, dive the Wreck, a plane wreck lying at 18m. The many reefs within the bay are some of the best and healthiest in Jamaica, so take some time to explore these vibrant hideaways.
If you haven't yet discovered the underwater world but you're thinking about becoming a diver, as summer approaches it's the perfect time to dive in and learn to scuba. The weather is generally better, the waters are warmer and the seas calmer. These conditions are ideal to get scuba certified. The first step is to book your PADI Open Water Diver Course with a verified PADI Dive Centre. In doing so, you can be assured you're receiving top training from qualified dive professionals. They will guide you as you begin this exciting journey underwater.
HOW MANY PADI DIVE CENTRES ARE THERE IN JAMAICA?
PADI has over 20 PADI Dive Centres and resorts to choose from! You can book your dive adventure at:
https://www.padi.com/dive-shops/jamaica/
ABOUT PADI
PADI® (Professional Association of Diving Instructors®) is the largest purpose-driven diving organisation with a global community of 6,600 dive centres and resorts, 128,000 professional members and more than 29 million certified divers to date. Entirely committed to our blue planet, PADI empowers people around the world to experience, explore and take meaningful action to protect the world beneath the surface.
A TASTE OF JAMAICA
Jamaica is an island best explored through the tastebuds. Its national cuisine is distinctive, and a fierce source of pride for islanders.
Island staples include rice and peas, hot, flaky patties filled with seafood, meat, or vegetables, and of course, the iconic jerk chicken and pork. The latter is best experienced in the homeland of Jerk, (Boston, Portland) while fall-off-the-bone oxtail is another classic.
Meat is ubiquitous, and often spicy, and there is a natural predilection for fresh seafood, especially saltfish, peppered shrimp, and land crab served with peppers. Jamaican seafood is best experienced served straight on the beach, in destinations such as Negril on the island's west coast. Vegetarians are best catered for in Ital restaurants, where an entirely meat-free menu is served.
Start your day by imbibing world-renowned Jamaican coffee fresh from the Blue Mountains, alongside a traditional breakfast of ackee and saltfish. When evening falls, quench your thirst with a refreshingly cool sip of the iconic Red Stripe beer, or even better, local rum. Jamaicans consume four times more rum than beer, and liquor produced from the island's Appleton Estate is typically considered a firm favourite. Meanwhile, satisfy your sweet tooth with tropical coconut sweets or peanut candies that can be found for sale right on the street.
Food in Jamaica is a fantastic gateway into the island's culture and history. Interestingly, many key local ingredients, including sugar cane, bananas, plantains, mangoes, breadfruit, ackees, bamboo, and coconut palms, are not native to the island, having been imported by the Tainos, Spanish, Africans, Indians and British.
Regardless of preference, you can guarantee that there is an eatery to suit your needs, from fine dining restaurants to laid-back brasseries or cosy corner cookshops. If travelling on long journeys, be sure to stop and frequent a host of roadside vendors, taking pause for cups of pepperpot soup or fish tea, and plenty of peanuts and cashews.
Whatever you try, flavour abounds, and with such a varied and eclectic gastronomy, Jamaica's culinary scene is sure to delight, leaving you with a bellyful, but still hungry for more.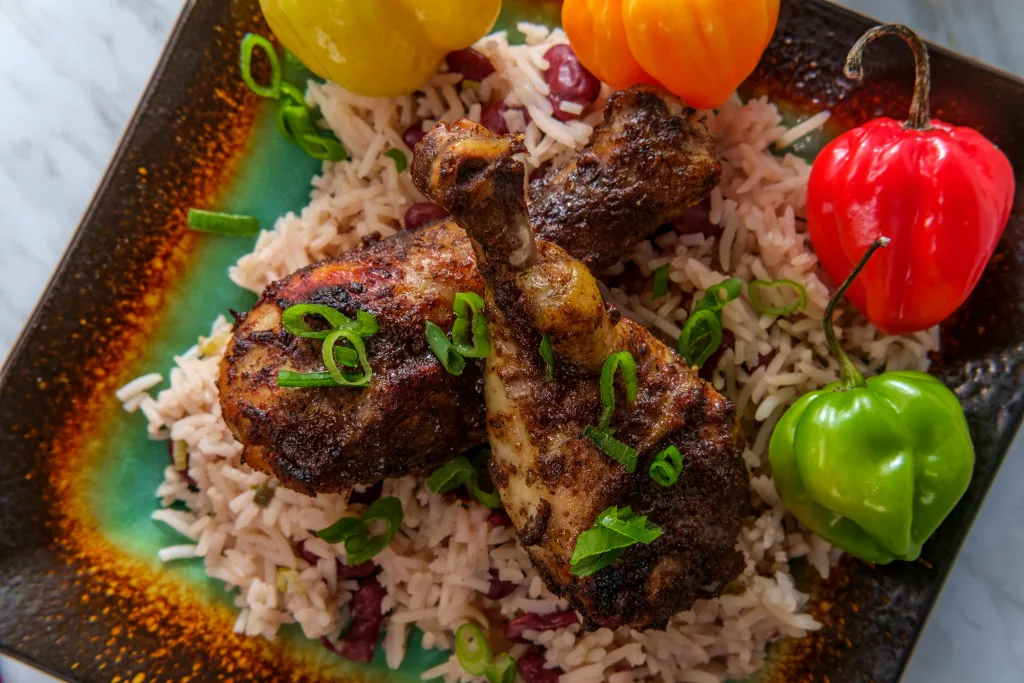 KINGSTON IN FOCUS
Jamaica's lively capital of Kingston embodies a beautiful kind of chaos. This cosmopolitan city is a destination of unique contrasts, half thriving business district and half eclectic cultural haven. Located between the rain-forested slopes of the Blue Mountains to the north and one of the world's largest natural harbours to the south, Kingston serves a dual purpose as both economic capital and an entertainment mecca. A veritable melting pot, it is in Jamaica's capital where you can experience the true heartbeat of the island.
Although devastated by the earthquake of 1907, some of Kingston's elaborate 18th century architecture still survives, with several historic buildings found on colourful Water Lane. Today, the street has been overtaken by vibrant hand-painted murals as a celebration of the thriving local arts scene. Echoing Jamaica's artistic heritage, nearby you will find the National Gallery of Jamaica, which is renowned as the best museum in the Caribbean.
Kingston also hosts some of the city's finest hotels and restaurants, and not to mention, its most-visited attraction. Here, on the appropriately named Hope Lane, visitors flock in their numbers to pay homage to the Jamaican legend, Bob Marley, in the colonial-era house where he lived and recorded music up until his passing. Nearby, the Hope Botanical Gardens offer a verdant escape, where you will find al fresco dining, and an amphitheatre that regularly hosts reggae bands.
You will soon realise that in Jamaica, it's all about the vibe, and Kingston is a soundtrack of its own, having been officially designated by UNESCO as a Creative City of Music. The city is renowned for the electricity of its dance halls and reggae dub clubs, where you can let your hair down and experience a true night on the town, or as the locals say, "do road."
Every inch of Kingston is an assault on the senses – whether its noise, hustle, food or visual culture. It may be overwhelming, with many tourists bypassing the capital in favour of heading straight to their resorts, however a visit to Kingston is an essential and unforgettable introduction to the island.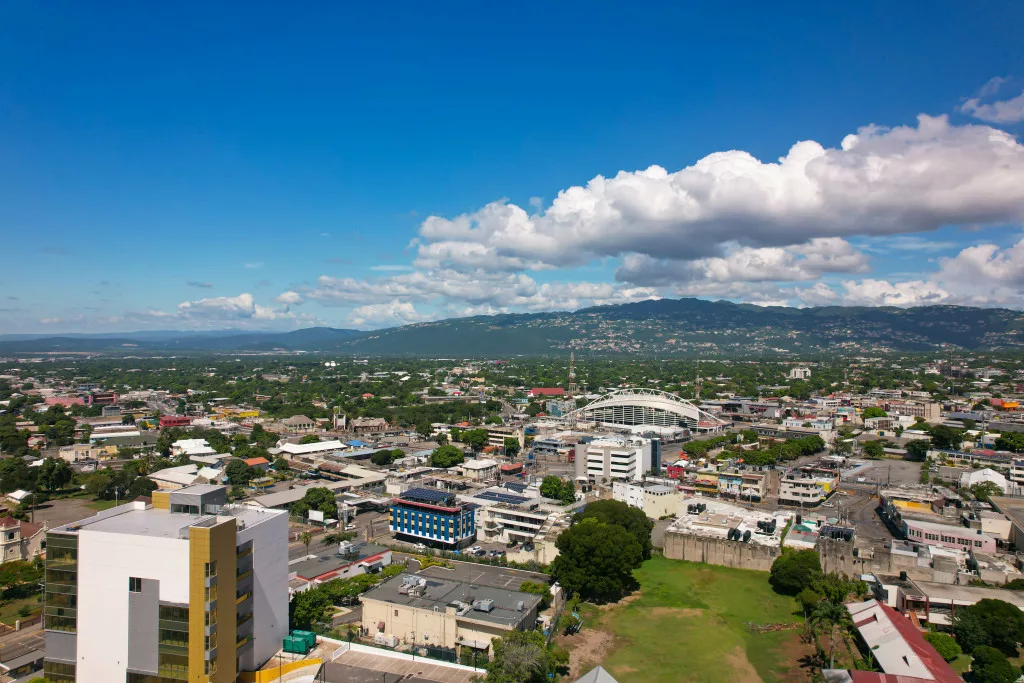 GETTING TO AND AROUND
As one of the world's most popular vacation destinations, Jamaica is a well-connected transport hub. The island has two primary international airports – Kingston Norman Manley International Airport (KIN/MKJP) and Montego Bay International Airport (MBJ). The former is the more convenient option if visiting Port Antonio, or the scenic Blue Mountains. Both airports are served regularly with direct flights from the UK, North America, and many parts of Europe. There are also additional airports for smaller aircraft, which are ideal for those choosing to travel in private, chartered luxury.
Aside from by air, many travellers arrive in Jamaica at the major cruise ports dotted around the island. If you are looking for a quiet island stay with secluded beaches, it is best to avoid these busy port terminal hubs.
The majority of travellers to Jamaica choose to stay within the three primary resort areas of Montego Bay, Negril and Ocho Rios, all of which are easily connected from international airports with a shuttle service typically included with most all-inclusive resort stays.
However, if you wish to venture beyond the resorts and discover more of the island, there are several transport options available. Renting a car is undoubtedly the best option for exploring Jamaica at your leisure. Although rental can be expensive compared to the UK or the US, and certain areas of Jamaica's road system are being developed, the island is easy to navigate, and distances aren't great. Car rental companies can be found across the island, but most international outfits are located within Kingston, Montego Bay and Ocho Rios.
Privately run minibuses are a cheaper option for short hops, as can shared route taxis. Finally, the more adventurous may prefer the exhilarating option of scooter or small motorbike hire which can primarily be arranged from outlets in Negril.