Famed as the hiking capital of the world, the agricultural charm and high-altitude landscape of Nepal is capturing the curiosity of travellers from all over.
NEPAL
---
Lying on the southern slopes of the Himalayas, Nepal is renowned the world's trekking paradise. Home to eight of the world's 10 tallest mountains, the alpine terrain offers and stunning views that are arguably unrivalled across the continent.
However, travellers are not only able to enjoy mountain climbing in Nepal. Landlocked between China to the north and India to the south, the country is home to some of the continent's most intriguing culture and history. Having only been declared to be a democratic republic in 2008, Nepal to this day has largely remained exempt from Western influences as a result of its self-imposed isolationist policy that had been implemented by a series of prime ministers up until 1951.
Untarnished by industrial and commercial influences, the country features a number of thriving national parks and nature reserves that are home to an array of exotic species such as the Asiatic elephant, one-horned rhinoceros and the Bengal tiger.
Meanwhile, having largely been inspired by the Hindu and Buddhist religions, Nepal exhibits some of the world's most amazing architecture, colourful artwork and music from the ancient times that has been preserved by families throughout generations. From world heritage sites to ancient squares to Mount Everest, there is an abundance of reasons to visit Nepal.
THE BUSINESS END
---
Agriculture remains Nepal's principal economic activity, with more than half of the population and roughly 27 percent of GDP accounted for by agricultural activities.The country grows a variety of crops including apples, pears, tomatoes, various salads, peaches, nectarines, potatoes, rice and wheat, with the lowland Terai region producing a surplus that helps supply food deficient areas in the forests and mountains. Meanwhile, progress is being made in a number of alternative and more advanced industries. The national resources sector has somewhat flourished in recent times, whilst Nepal has also expanded its hydroelectric capabilities with an estimated 42,000 MW of commercially feasible capacity.
However, one sector that has truly come to the forefront of the economy is tourism. 2017 alone witnessed a 24 percent increase in the number of travellers visiting the country, rising from 753,002 in 2016 to 940,218 in 2017, largely driven by interest from India, China, the United States and the United Kingdom. According to the World Travel & Tourism Council in its Travel & Tourism Economic Impact 2018 report on Nepal, the travel and tourism sector accounted for 7.8 percent of GDP last year, supporting more than 1,000,000 jobs.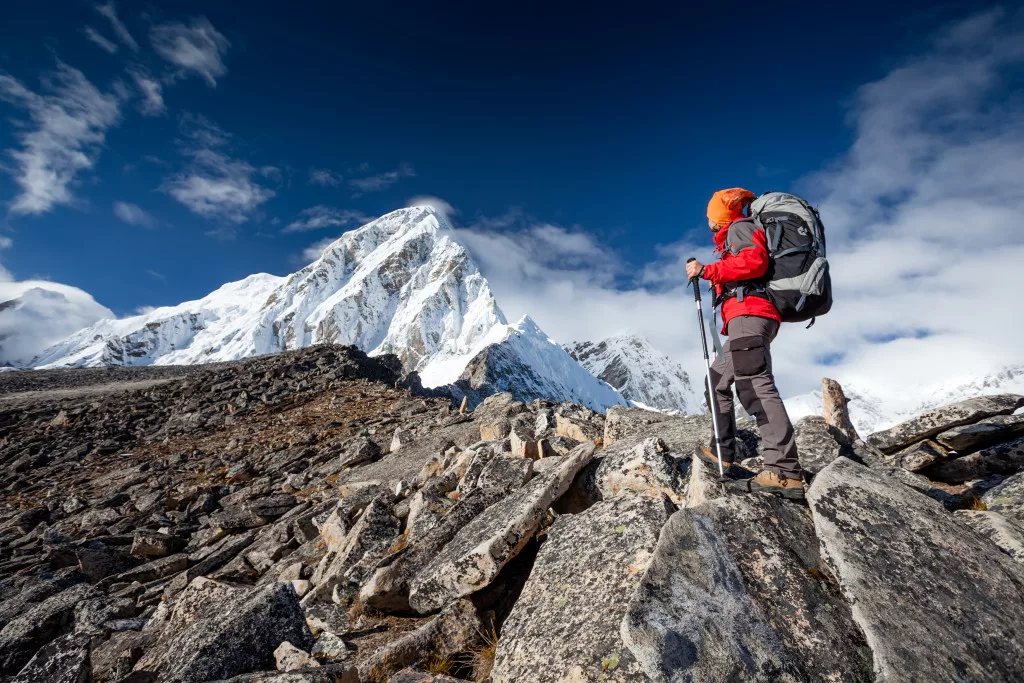 TOURISM INSIGHTS: NEPAL TOURISM BOARD
---
One organisation that has been playing a key role in bolstering Nepal's tourism offerings in the past two decades is the Nepal Tourism Board. Since its inception, the board and its current CEO, Deepak Raj Joshi, have been providing a platform for vision drawn leadership for Nepal's tourism sector, helping to integrate the government's long-term commitments with the dynamism of the private sector.
Outlook Travel: Can you firstly talk me through the origins of the Nepal Tourism Board, how it came about, and its initial vision?
Deepak Raj Joshi (DRJ): Nepal Tourism Board (NTB) is the national tourism organisation of Nepal, established in 1998 by an act of parliament in the form of greater partnerships between the government of Nepal and the country's private sector tourism industry. NTB is promoting Nepal in both the domestic and international markets and is working towards raising the image of the country. It also aims to regulate product development activities. The Board, chaired by the Secretary of the Ministry of Tourism and Civil Aviation, consists of 11 board members with five government representatives, five private sector representatives and the CEO.
Since inception, how has the Nepal Tourism Board developed and progressed in terms of its key objectives and the messages it tries to get across?
(DRJ): In the years since its inception and as per its objectives, NTB has promoted Nepal's tourism internationally while also providing service to the private sector. The organisation has progressed in recent years as an institution that enhances the country's tourism through the preservation of cultural and natural heritages, creating visibility of Nepal as an attractive and reliable tourism destination in the international market, while increasing the country's domestic product, foreign exchange earnings and employment opportunities.
How would you say Nepal has developed in recent years as a business travel hub and what are the key reasons behind its growing appeal?
(DRJ): As one of the pioneering and exemplary bodies of successful public-private partnerships, NTB has appointed representatives from the government as well as the private sector as board members to ensure that leadership gets the best of the public sector combined with the professionalism of the private sector. This is how we have been successful in establishing our identity. Our continuous promotional efforts through every situation, taking the lead at times of crises and being open to the tourism community have always been major factors in our growing relations with domestic and international tourism partners.
Why, in your opinion, should someone visit Nepal?
(DRJ): We're a diverse country, have the highest mountains in the world, and are home to some of the most exotic cultures and festivals. We are known as the Land of Mount Everest and the birthplace of Buddha. To a traveller from the west, a visit to Nepal is an enriching and enlightening experience when considering the novelty of the experience here in contrast to what other tourist destinations offer. In this age and time, most travellers are looking for meaningful experiences and Nepal, I believe, offers just that. It is a once in a lifetime experience.
Are there any specific attractions, landmarks or places to eat and drink that you would recommend?
(DRJ): There are many destinations in Nepal that are popular among tourists depending upon their interests. To name a few, Kathmandu is popular for its culture and cuisine, Pokhara is well known for adventure whereas Chitwan is famous for wildlife and nature. Beside this, due to our geographical diversity, each part of country provides unique experiences to tourists. Nepal is seen as a top adventure destination and trekking is a big part of the Nepalese experience. However, the luxury segment is equally very much an option here. We offer comfortable tours in Kathmandu, Pokhara, Chitwan and Lumbini, with these established destinations being filled with lavish hotels and resorts offering sumptuous experiences. Meanwhile, inner-city activities range from city tours, trying local cuisines, and enjoying cultural shows, casinos, herbal massages and spas. We also offer a brush with nature in style and comfort, from boating around lush lakes to seeing wildlife on jungle safaris to experiencing the best views of mountains from your own warm cosy bed, cable car rides, hilltop resorts and mountain flights.
What are the best ways of getting around the country?
(DRJ): The best way to get around Nepal is trekking, driving or flying to different parts. Nepal is a mountainous country, and so the ease of access to different regions can vary. The Himalayan region of Nepal is not fully accessible by road yet, but most of the southern areas have good road networks. Trekking is most rewarding in terms of experiencing nature and culture when it comes to visiting the mountainous areas, but to reach the trekking areas, one may need to fly or drive to the destination.
What trends are transforming the tourism industry in Nepal at present? How are you responding to these trends?
(DRJ): Nepal is also moving toward digital as per the global shift. As travellers are making last minute bookings online and visiting new destinations, they are increasingly requesting more new and authentic local experiences. Similarly, ecological and educational tours are in demand, and destinations that encourage responsible, sustainable practices are looked at most positively. Nevertheless, history, culture and adventure are still the most important features that attract tourists to a destination, and Nepal is very much keeping up with current trends to reach out to potential visitors.
How do you see Nepal developing as a business travel hub over the next year to two years?
(DRJ): In the next few years, we will be working closely on different markets through targeted programmes and campaigns on site and online, and we hope to be able to reach a mark of two million by 2020. I'm also positive that our dynamic tourism industry will be able to work in more innovative ways to create new products and packages. We recently concluded the first ever Buddhist International Travel Mart in Lumbini to promote Nepal among the Buddhist pilgrims. Further, we organise the Himalayan Travel Mart each year to showcase our trekking and mountaineering products. We are positive that, with joint efforts from the tourism industry, we can make the Visit Nepal 2020 campaign a grand success.
Are there any Nepal Tourism Board plans or projects in the pipeline that you wish to highlight?
(DRJ): Nepal is looking forward to welcoming two million visitors in 2020. To achieve this, we will be conducting major promotional activities through both the digital sphere and traditional media. We will also be organising special events, offers for tourists, and customised experiences for potential travellers in the target market, allowing our visitors make the most of Nepal for a lifetime of memories.
Are you optimistic about the future of the tourism industry in Nepal?
(DRJ): Yes, we are very optimistic about our future tourism prospects. As I mentioned previously, we are trying to increase international arrivals to two million by 2020, and substantial efforts are being made to develop and upgrade both infrastructure and services to facilitate tourists. Domestic airports are being upgraded throughout the country, and construction of international airports have been equally prioritised. Similarly, hotels are being improved and new international chains are being built in Kathmandu and different parts of the country. Tourism is seen as one of the most important tools for development, and we are positive that our products are unparalleled.
OUT AND ABOUT
---
Whilst Nepal is best known for its popularity amongst hikers and mountain climbers, so too is the country becoming renowned for the broad range of other adventurous activities on offer. Operators provide a range of helicopter tours and paragliding and bungy jumping experiences, whilst the country is also home to one of the most exhilarating rafting scenes on the planet. With a number of fast flowing rivers across Nepal, including the Sun Kosi River, Trishuli River, and others, rafting and kayaking excursions that last up to 10 days are in good supply.
On land, tours are a popular way of exploring the variety of sights. The beauty of Nepal is that wherever you decide to stay, there is almost undoubtedly going to be an abundance of places to see and things to do, and having a guide to show you the way is often the best option to satisfy cultural cravings and other interests.
Exploring city streets can pay dividends, with locals offering vibrant homemade food. Defined by its flavoursome but healthy ingredients, there are evidently gastronomic influences from India, China and Tibet throughout the country's national cuisine that isn't to be missed. Some cookery highlights include momos, Nepal's version of dumplings; dhal bat, considered to be the national dish of Nepal; and the local take on pulao.
OUTLOOK RECOMMENDS
STAY:
---
MUSEUMS:
---
DO:
---
EAT:
---
NATURE:
---
GETTING THERE AND AROUND
---
Due to the terrain, weather and the condition of the vehicles in Nepal, getting around can be a challenging business, so its worth ensuring you put aside plenty of time to accommodate for any delays or mishaps when travelling. However, for those looking to immerse themselves in local culture or the landscape, there are a multitude of transport options that allow tourists to soak in the sights. Flying is often considered to be the most effective option for quickly getting around, particularly with routes operating between Kathmandu and Pokhara operating fairly regularly.
Navigating the roads by bus can certainly be an interesting experience, with many local travellers opting to cram on top of vehicles. With this in mind, private car hire is likely the better option for those looking for a smoother, more comfortable, more convenient ride. However, if you're only looking to travel shorter distances, cycling can be the perfect option. Nepal's stunning mountain roads are ideal for experienced cyclists, whilst scooters and motorbikes are equally a relatively cheap and easy ride if you're able. To this end, it is no surprise that rickshaws have become regionally synonymous with Nepal, readily found in Kathmandu and Terai in particular, offering a more scenic and relaxing way of getting around the country's winding inner city streets.