The Southeast Asian country of Myanmar offers sights to enchant even the most jaded traveller, from the glittering spires of Buddhist stupas to remote indigenous villages.
MYANMAR
---
Even world-weary travellers will be captivated by Myanmar. By the glinting surface of Golden Rock, balanced precipitously on the edge of Mount Kyaiktiyo. By the 4,000 stupas scattered across the mist-shrouded plains of Bagan. By the untouched beaches of the Myeik Archipelago. Myanmar offers some of the most spectacular sights of Southeast Asia – without the crowds.
In this off-the-beaten track country, there are plenty of places where you can relax and unwind. Travel down the wide bends of the Irawaddy River or take a kayaking trip across the glittering waters of the Andaman Sea. Indulge in the bucket list experience of a sunset hot air balloon ride above the stupas of Bagan. Visit one of the many gilded Buddhist temples in the country.
Myanmar's towns and cities are hives of activity, especially the capital of Yangon. Visit the country's local markets or participate in its bustling tea house culture. Since tourism sanctions were lifted in 2015, the local people are delighted to talk to visitors and introduce them to their traditions. A community tourism trip to the remote Chin State to meet indigenous villagers is a particularly special activity.
Whether you're visiting Myanmar in search of religious monuments or stunning landscapes, we guarantee your expectations will be exceeded, again and again.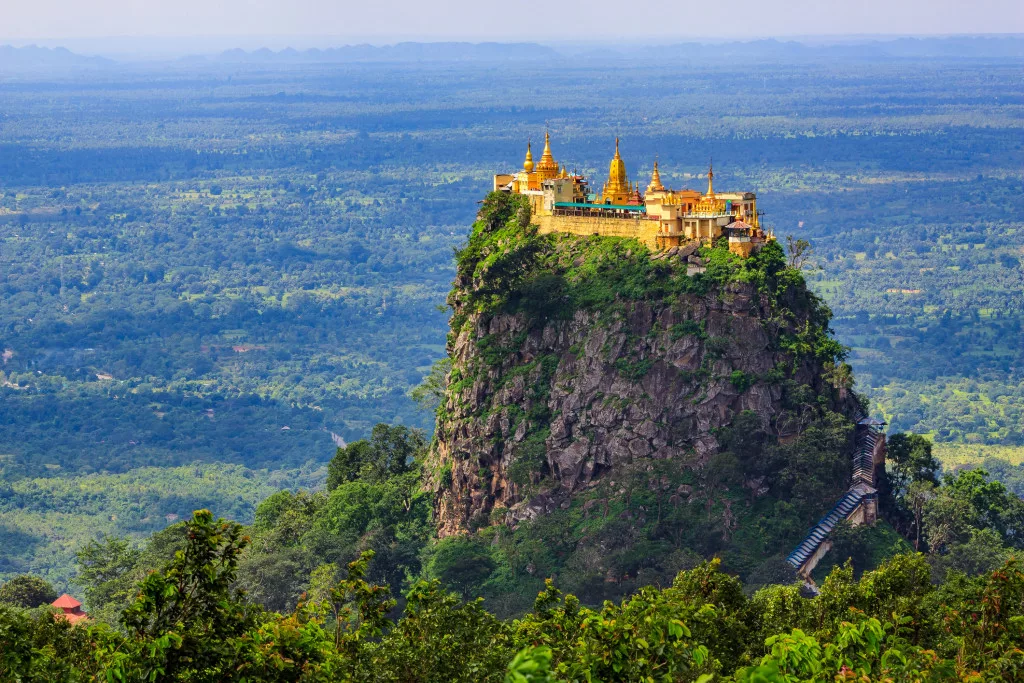 TOURISM INSIGHTS: MYANMAR TOURISM MARKETING
---
Myanmar Tourism Marketing (MTM) is the marketing branch of Myanmar Tourism Federation. It was set up to support the organisation's marketing, promotion and branding initiatives, helping promote Myanmar as a sustainable destination of choice. We caught up with MTM's Chairperson, Ms. May Myat Mon Win, to find out more about the organisation, and what makes Myanmar such a compelling country to visit.
Q&A WITH MAY MYAT MON WIN, CHAIRPERSON, MYANMAR TOURISM MARKETING
What have been the challenges and rewards of representing a country that has only recently opened its doors to tourists?
Ms. May Myat Mon Win: As the country has been closed to the outside world for so long, infrastructure challenges and shortage of skilled labour are some of challenges we face in the tourism sector. But now there are many training programmes and schools opening for the hospitality industry, and we hope the challenges of capacity-building will ease.
What steps do you take to market Myanmar as a sustainable tourism destination?
We believe sustainability is the key to the future of tourism in Myanmar. Destination management is needed to achieve sustainable tourism, which will contribute to jobs and long-term growth in Myanmar. The growth potential for tourism in Myanmar is immense – we need key destinations to be effectively managed and to create new innovative destinations as well. Myanmar's tourism sector is at an important stage between growth and sustainability. It is time for the government, private sector, civil society, development partners and local residents to join hands in identifying and addressing issues to support sustainable tourism.
How easy is it for tourists to travel to and within the country?
The Myanmar government has introduced new regulations to facilitate easier access for tourists visiting the country, the next step allowing us to open up to the world. Tourists from Japan, South Korea, Hong Kong, Macau and several other Southeast Asian countries are now granted visa-free entry. Tourists from India, Mainland China and 11 other countries (including Australia and Switzerland) are now granted a visa on arrival. Citizens of over 100 countries are eligible for e-visas and can get approval within three days. We do hope that these new regulations will ease access to Myanmar and will allow more travellers from around the world to discover the unique Myanmar culture, nature and most of all the hospitality of the people.
What are your organisation's current goals?
Myanmar Tourism Marketing is focussing on organising more media familiarisation trips, allowing travel journalists and influencers to visit the country and to share their experiences through the media. For European travellers we are promoting nine enchanting discoveries (Kyaing Tong, Loikaw, Mergui Archipelago, Mogok, Mount Victoria, Monywa, Putao, Hpa An and Hsipaw) to take travellers deep into Myanmar's hidden corners, and beyond the classic destinations of Yangon, Bagan, Mandalay and Inle Lake.
Are there any interesting projects in the pipeline you wish to highlight?
Sports and gastronomy tourism are some of the tourism types we want to emphasise in 2020. We are working on how to develop these types of tourism in Myanmar. MTM is always looking to promote Myanmar for new markets and for product development ideas.
What trends are transforming the tourism industry in Myanmar and how are you responding to them?
In the age of information technology, online promotion and digital marketing trends are crucial in trying to advertise and attract tourists to Myanmar. Private and government stakeholders in the tourism sector are trying to adopt the use of technology and digital transformation.
It was great to hear that the city of Bagan was designated a UNESCO world heritage site last July. Are there any other historic and cultural landmarks you recommend tourists visit?
After years of challenges, UNESCO inscribed Myanmar's ancient capital of Bagan as a world heritage site last year. It was a proud moment for the people of Myanmar, as Bagan has immense historical significance – it's the heart of the country. Along with the nine enchanting discoveries mentioned before, we would also like to recommend historic ancient cities such as Ava, Sagaing, Sri Ksetra and Beikthano.
Are you optimistic about the future of the tourism industry in Myanmar?
Myanmar is a hidden treasure, a destination bursting with magnificent monuments, beaches, glittering golden stupas and enigmatic ruins. And we continue to believe that tourism is a good way to connect people and to bring development and peace across the country for any race or religion.As the last frontier of Southeast Asia, Myanmar is an enchanting country and its tourism has great potential for development.
YANGON IN FOCUS
---
Yangon, Myanmar's capital, is an exciting city to visit; an eclectic mix of Buddhist temples, shopping malls and timeworn colonial architecture.
Wake up early and you'll see red-garbed monks going on their morning alms walk. Pick up a bowl of mohinga – noodles in a hearty fish broth topped with coriander and crispy shallots – from a local stall for breakfast.
Take a stroll through the downtown area, where you'll see some examples of colonial architecture including the red-bricked Secretariat, the seat of power for colonial Burma. The city's most iconic landmark is the Shwedagon Pagoda, with an impressive, gilded 99-metre high stupa.
For something a little more offbeat, head to the Yangon Drugs Elimination Museum. Housed in a brutalist building, it contains a series of solemn exhibits detailing the government's efforts to stamp out drug use, as well as a surreal diorama detailing the dangers of substance abuse.
Yangon has the best dining scene in the country – as well as streets lined with snack stalls, you'll also find upmarket restaurants serving Thai, Japanese and Indian cuisine. Come nightfall, head to Chinatown's 19th Street, where you'll find atmospheric outdoor restaurants serving beer, cocktails and barbecued skewers.
OUTLOOK RECOMMENDS
EAT:
---
For Anthony Bourdain's best BBQ joint…
For Burmese food with an upmarket twist…
For lakeside fine dining…
SLEEP:
---
For high-end hotels in Yangon…
You can't go wrong with a GCP Hospitality hotel, and the company has four fantastic properties in and around Yangon. For a start, there's The Strand, a colonial heritage building with modern amenities and a century-long reputation for luxury. Its sister property, The Strand Cruise, is a luxurious boat with 28 cabins, which takes passengers on cruises along the Irrawaddy River. Inya Lake Hotel, located on the lakeshore in Yangon, offers luxurious rooms and excellent amenities including a large outdoor pool. Meanwhile, Hotel G is a colourful, contemporary urban hotel in Yangon's downtown area. Great service is guaranteed, whichever property you choose.
For a classic yet contemporary urban escape…
FLY:
---
For a seamless experience…
MAI Air is an international airline operating in Myanmar, flying to 17 destinations in Asia from Seoul to Kolkata. They have a seven-star rating from Airline Ratings.com and offer comfortable seats with seamless service. MAI Air is affiliated with the KBZ Group which includes the company Air KBZ, a commercial airline flying to destinations across Myanmar.
LANDMARK ATTRACTIONS
INLE LAKE
---
This freshwater lake is encircled by green mountains, while gardens, temples and stilted houses float on its waters. It's best known for its fishermen, who propel and steer their wooden boats using an oar with their leg.
BAGAN
---
The ancient UNESCO city of Bagan was once the epicentre of the Pagan Kingdom – the remains of nearly 4,000 temples and pagodas survive to this day. Take a dawn hot air balloon flight over the city to experience the jaw-dropping sight of thousands of spires piercing misty sunrise skies.
KYAIKTIYO PAGODA
---
This Buddhist Pagoda is a well-known pilgrimage site at the top of Mount Kyaiktiyo. The pagoda is perched on top of Golden Rock, a huge boulder covered with golden leaves. It appears to be perpetually about to roll down the slope of the mountain – according to legend it's held in place by a strand of Buddha's hair.
GETTING THERE AND AROUND
---
Most foreign tourists visiting Myanmar will fly into Yangon International Airport. Carriers such as AirAsia and Nok Airways operate frequent flights to destinations in Asia and the Middle East – one of the most frequent routes is to Bangkok.
The airport is also a hub for domestic airlines such as Myanmar Airways International, which operates regular scheduled flights within the country, to destinations like Mandalay, Myeik and Nyaung U (near Bagan).
Many tourists travel around the country using long distance buses. It's also possible to hire a car and a driver, while many adventurous tourists hire bicycles (be warned, the frontier regions are mountainous). A more laidback option is to take a cruise down the Irrawaddy River from Yangon to Mandalay, taking in the sights on the way.
Within larger cities, such as Yangon, the best way to get around is by flagging down a taxi. Trishaws (or cycle rickshaws) are another way to travel short distances.