A land of magnificent temples, bustling markets and served by the enormous Mekong River, Cambodia is a welcoming country embracing millions of international visitors each year.
CAMBODIA
---
A land of plains and rivers, Cambodia has evolved into a unique destination combing both the ancient and the modern, from the temples of Angkor to the charismatic capital Phnom Penh. For 2,000 years the country's civilization has absorbed influences from India and China, and in turn imparted its own cultures and customs across the region, especially during the 12th century when the Khmer empire reached its peak, a time marked by the building of the remarkable Angkor Wat temples.
Cambodia's more recent history also draws visitors, the devastating events of the late 1970s mourned at numerous killing fields across the country, the most infamous being at Choeung Ek outside of Phnom Penh. The capital city itself has emerged as a revitalised city, revered for its riverside location and exceptional food and drink scene. What makes Cambodia, however, is its people, who remain remarkably welcoming to visitors despite having to live through years of instability. This diverse and fascinating offering has resulted in a steadily growing tourism trade, 2018's 6.2 million foreign tourist arrivals representing a massive jump on the 2.5 million recorded in 2010. Indeed, the country is home to the third fastest-growing tourism destination in the whole of ASEAN.
THE BUSINESS END
---
Cambodia's economy has historically been dominated by agriculture, which today still represents the most important share of GDP and employs most of the country's workforce. Rice is the nation's major crop, most important food and most commonly exported commodity. Given Cambodia's relative lack of resources, sectors like manufacturing and tourism have emerged as key economic contributors. In 2017, the tourist trade generated $3.63 billion in revenue, up 13 percent on the previous year and accounting for 12.3 percent of national GDP. This income and foreign exchange has helped mitigate the effects of large trade deficits, and a great deal of this investment goes into constructing hotels, developing resorts, and improving facilities for tourists visiting popular sites like Angkor Wat and Phnom Penh.
In terms of visitors to Cambodia, the country's largest tourism market comes from China, followed by Vietnam and Laos. Chinese tourist numbers shot up by 70 percent during the course of 2018, accounting for 1.9 million of the total 6.2 million foreign visitors. By 2020 this figure is predicted to rise to three million, helped by the fact the two countries are actively engaged in the cross-promotion of each other's major destinations and attractions.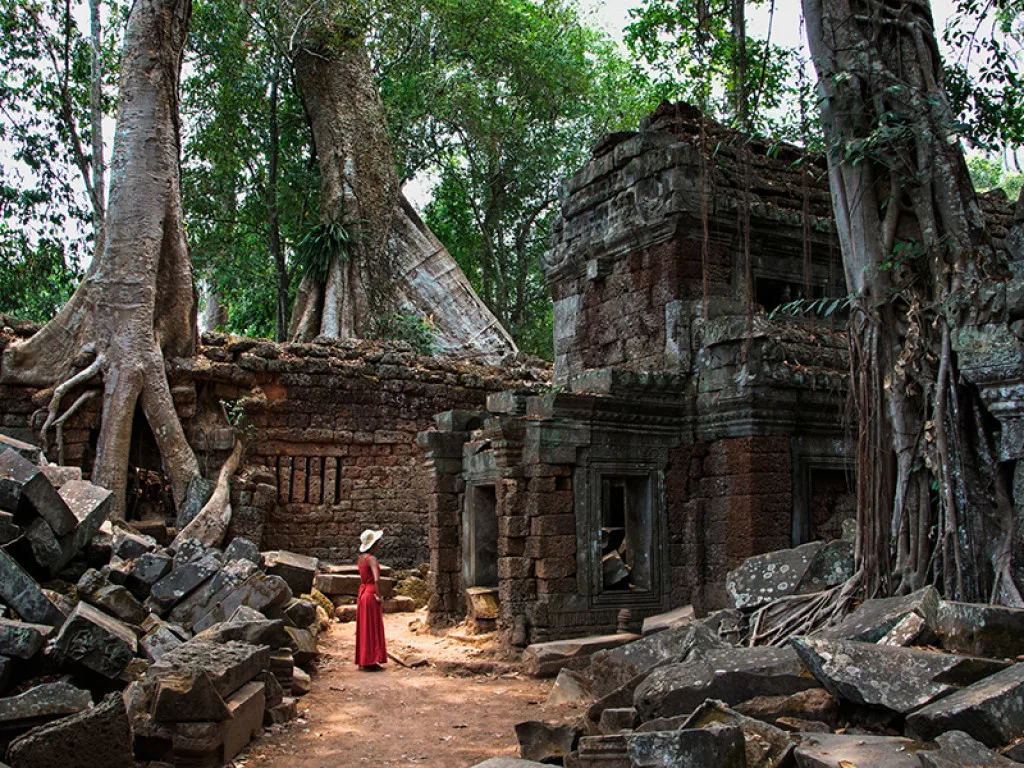 TOURISM INSIGHTS: CAMBODIA TOURISM FEDERATION
---
Operating with a mandate to put Cambodian tourism on the map is the Cambodia Tourism Federation (CTF). A relatively new body, it has bold ambitions to become the leading voice of organisations operating in the tourism and travel sphere. Sharee Bauld is its Executive Director, and here she took time out of her schedule to answer our questions on both CTF and the wider industry scene in the country.
Can you firstly talk me through the origins of the Cambodia Tourism Federation, how it came about, and its initial vision?
Sharee Bauld (SB): CTF began in 2015 and was put together by some industry leaders who believed it would be more effective than a group of smaller subsector players. It was thus set up as an umbrella association – for example, the Cambodia Hotel Association and Cambodia Restaurant Association are part of us. The difference with CTF's setup is that we have a secretariat that oversees the running of the association, which ensures the day-to-day activities continue when leadership changes occur. The initial vision, which is still the case today, is for CTF to be the leading organisation for tourism in Cambodia covering a wide range of subsectors. For instance, we will soon be setting up spa and sommelier associations along with one geared towards destination marketing companies, or DMCs. We also want to be independent of both government and companies that may want to exert influence.
Since inception, how has the Cambodia Tourism Federation developed and progressed in terms of its key objectives and the messages it tries to get across?
(SB): The federation has waxed and waned trying to find its feet in a sea of many associations. I am the first Executive Director to come on board and when I did so last year, I put together a strategy for CTF and the subsector associations underneath us to follow. Tourism is a crosscutting sector with many intertwined activities, meaning it is easier for all of us to move in the same direction and cross-fertilise our activities. We now have five pillars from which we operate. These are sustainability (social, environmental and financial); advocacy (representing on key issues to government); marketing, branding and product development; events; and education (especially vocational training).
How would you say Cambodia has developed in recent years as a business travel hub and what are the key reasons behind its growing appeal?
(SB): In the 1990s and early 2000s Cambodia had a lot of international development organisations, meaning international visitors would frequently be coming and going. However, that sector has slowed recently and now we are seeing more visitors of a business orientation. A lot of industries are growing and many international brands are arriving here. The government regularly reviews its investment and business regulations and is trying to reduce the red tape involved in setting up in Cambodia. With such a young workforce here as well, it makes for an exciting place to do business and Phnom Penh in particular is a hub for business travel. The city has become more sophisticated – there are more restaurants and places to eat and drink, along with other vital facilities to ensure business travellers can explore the place as well as conduct their business meetings.
Why, in your opinion, should someone visit Cambodia?
(SB): I have done a lot of market research over the past 16 years since I've been here and one question that never seems to go away is why people come to Cambodia. Most people when I ask them think of Angor Wat which, of course, is an incredible religious and anyone who comes here should go and visit. However, the number one reason is because of the people, and I would have to say I agree with that. When I first stepped into the country in 2001 it was the people who hooked me, and this is why I have never left. Even after all of this time, they are still so warm and welcoming to everyone who comes here.
Are there any specific attractions, landmarks or places to eat and drink that you would recommend?
(SB): As I have mentioned, Angkor Wat is absolutely magnificent and should be on everyone's itinerary. Cambodia's secondary destinations are beginning to take off as well – there are more facilities and infrastructure around these places, and one of my favourites is along the Mekong River in Stung Trend and Kratie, which are home to one of the last populations of the freshwater Irrawaddy dolphins. East of the Mekong in the highlands is Mondulkiri, which is beautiful. It is at least three to four degrees cooler up there and a lot of forest remains, making it a key destination for ecotourism. Siem Reap and Phnom Penh are the places to eat and drink. From Russian and Lebanese to Korean and French, these cities have an incredible choice of cuisine. Local Cambodian cuisine is also becoming more widely promoted to tourists, and CTF will be working with the industry this year to improve the perception and promotion of local gastronomy.
What are the best ways of getting around the country?
(SB): In terms of getting around the main cities, the best thing since sliced bread has been the introduction of Grab and PassApp which has made it much easier for tourists to navigate these places. For the other provincial areas, motorbikes with carts for passengers are everywhere and very popular. There are also flights between the bigger cities, which now includes a service from Phnom Penh to Sihanoukville, on the doorstep of some increasingly popular attractions.
How do you see Cambodia developing as a business travel hub over the next year to two years?
(SB): The infrastructure to support business tourism has definitely grown over the years, and there are certainly a lot more hotels and related facilities to host events and conferences. There are more coming online in the next two years. In Siem Reap, there have been several new facilities which are focussing on events and conferencing which can cater to large audiences. In the future I can see this city developing a very strong MICE sector. Cambodia is also seeing a lot more flights in and out of the country, especially direct flights from all over the region and the world. For example, a recent addition has been a direct service to and from Manilla. This is helping to facilitate more business travel and Cambodian Airports, a founding partner of CTF, is doing a lot of work to encourage more airlines to come here.
Are you optimistic about the future of the tourism industry in Cambodia?
(SB): Absolutely. When I first came here as a tourist in 2001, I could see the massive tourism potential Cambodia has, both in terms of its attractions and the kind-hearted, hardworking people. It was something I really wanted to be a part of, and the past 16 years have progressed an incredible amount. This has taken a lot of work, and seeing the industry come so far in a relatively short time has been very rewarding. There are plans in place to ensure it remains sustainable and there are a lot of public and private players eager to see the next phase of development.
OUT AND ABOUT
---
A visit to Cambodia is not complete without seeing the temples of Angkor. Described as a place with the proportions of the Great Wall of China, the intricacy of the Taj Mahal and the symbolism of the Egyptian Pyramids, Angkor is understandably a tremendous source of inspiration for all Cambodians.
There is far more to the country than its magnificent temples, however. Urban life is defined by interaction through markets, which are a great way to not only shop, but experience local culture and sample some delicious street foods. Most commerce is conducted through various markets, a particularly striking example being Central Market in Phnom Penh, one of the largest in the country and based in a huge French-style building. Anyone looking for gold, jewellery, food, silk, textiles and silver should visit here. Over in Siem Reap, Angkor Night Market is also worth a visit. Comprising more than 200 stalls, it is known for its unique range of paintings, figurines, puppets and other crafts.
Those looking to embrace nature should head to the Mekong River, the longest river in Southeast Asia and source of numerous boat cruises and water sport activities. A half-day cruise to Silk Island from Phnom Penh is a popular excursion, taking in the sights of the floating villages and fishing farms to be found on the river.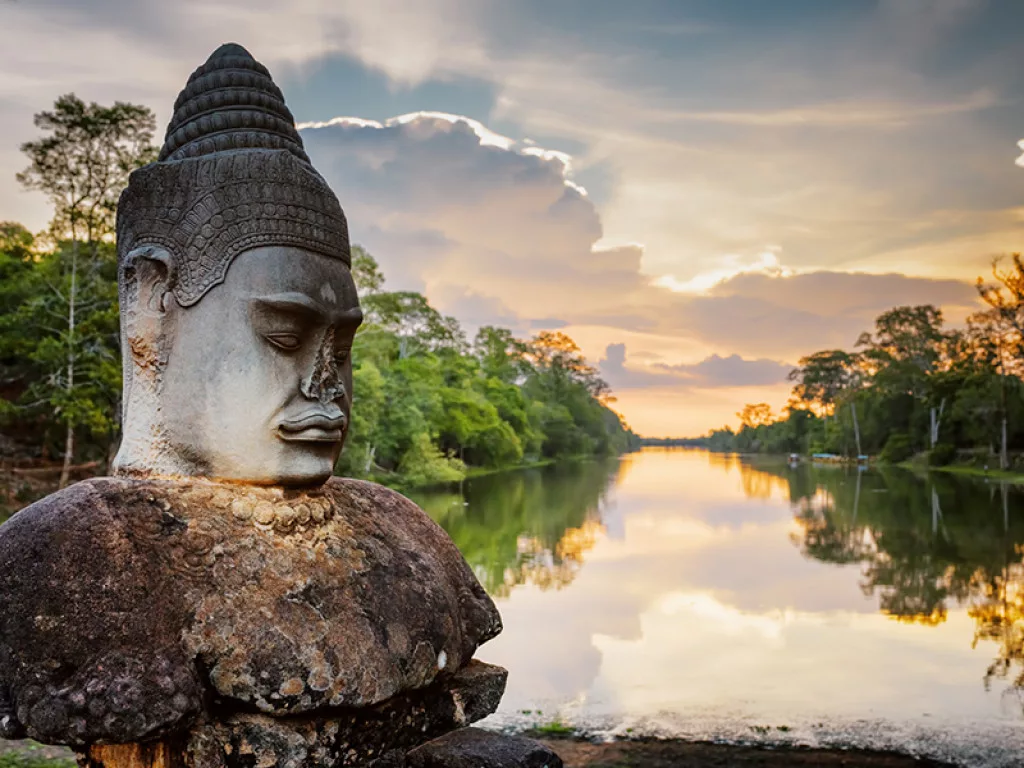 OUTLOOK RECOMMENDS
STAY:
---
Operated by Marriott, Le Méridien Angkor is within close proximity of Angkor Wat, Bayon, and Ta Prohm and described as a gateway to cultural exploration. The five-star hotel houses 213 guest rooms and suites, a Khmer-style outdoor pool and an extensive spa offering. 
EAT & DRINK:
---
MUSEUMS:
---
The Killing Fields Museum of Cambodia
NATURE:
---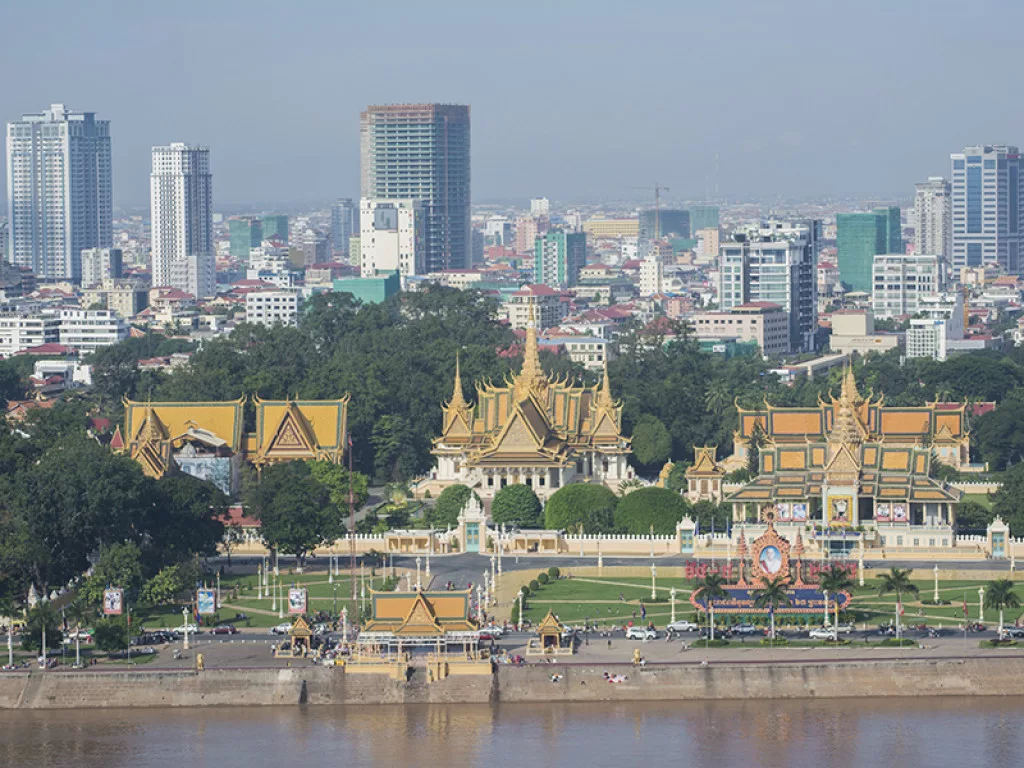 GETTING THERE AND AROUND
---
Cambodia has two major international airports serving Phnom Penh and Siem Reap, while another, smaller hub exists at Sihanoukville. The number of destinations flying direct into the country is increasing, with Cambodian Angkor Airways offering the most connections to cities around the region including Bangkok, Danang, Guangzhou, Seoul and Shanghai. Air Asia is another good bet, the airline expanding the availability of budget flights both domestically and regionally. Air is the simplest way to navigate Cambodia's major cities, though many tourists opt to drive or even use some of the country's 1,900 kilometres of waterways. Bus services, however, appear to be taking over much of the water-based transit, and are widely available.
Much of Cambodia is also flat or moderately hilly, making it ideal for cyclists with mountain bikes as road surfaces are often worn down and cycle trails unpaved. One should approach using Cambodia's roads with caution, as the volume of vehicles on the roads has increased hugely in recent years. Those wishing to take in the scenery from above may consider a private helicopter ride, the temples at Angkor a particular highlight with aerial tours offered by the likes of Helicopters Cambodia and Helistar.