Most people visit the Seychelles archipelago for the beaches, but from cuisine to culture, it has much more to offer than that.
SEYCHELLES
---
Describing the Seychelles, it's easy to veer into cliché. These picture-perfect islands are blessed with white sand beaches lapped by translucent water, fringed with palm trees and interesting rock formations. The dramatic sunsets, laidback atmosphere and a wide range of luxury accommodation make them a popular spot for honeymooners.
The Seychelles consists of 115 islands and some small islets, located in the Indian Ocean at a crossroads between Asia and Africa. Most of the action is concentrated around the three major islands: Mahé, La Digue and Praslin. Mahé is the largest and most populous; home to the capital, Victoria, and transport hub to the rest of the islands. La Digue is renowned for having some of the best beaches in the archipelago. Praslin, meanwhile, is home to the idyllic Vallée de Mai nature reserve.
But there's more to the Seychelles than just the beaches. Trek through the granite mountains and lush rainforests of the Morne Seychellois National Park. Try some of the island's traditional Creole dishes at a local restaurant. Or if you're a nature lover, head to Bird Island to observe its population of fairy terns and common noddies, as well as the giant Aldabran tortoises endemic to the archipelago. You'll be bowled over by what the Seychelles has to offer.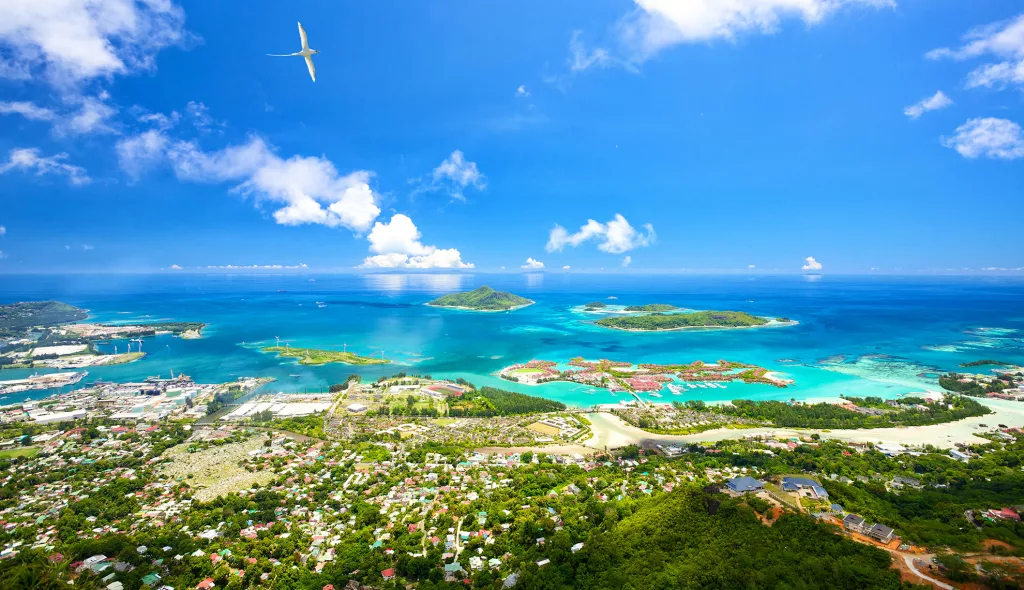 TOURISM INSIGHTS: SEYCHELLES TOURISM BOARD
---
The Seychelles Tourism Board was established in 2006, evolving from its predecessor the Seychelles Tourism Marketing Authority in an attempt to streamline operations, both locally and abroad, to better assist in the marketing of Seychelles as a desirable island tourism destination. Its efforts appear highly successful. The Seychelles was recently runner-up for 'Favourite Emerging Overseas Country' in the ninth edition of the Condé Nast Traveller. We caught up with Natacha Servina, Senior Marketing Executive for the Seychelles Tourism Board, to discuss how the organisation markets the Seychelles as a desirable island destination.
Q&A WITH NATACHA SERVINA, SENIOR MARKING EXECUTIVE, SEYCHELLES TOURISM BOARD
How do you market the Seychelles as a destination?
Sherin Francis (SF): There is no one-size-fits-all method for marketing Seychelles. Each market is different and requires special treatment, which is why we have representatives in those markets who can inform us about trends and market-specific considerations which need to be kept in mind. We then, in conjunction with our local ground handlers, formulate targeted strategies to win market share.
How do you promote off-season travel?
(SF): This is done by encouraging the local trade and where possible, the airlines, to come up with competitive prices to encourage people to travel at a particular time. We also look at organising events at these times to further attract visitors.
Are there any interesting projects in the pipeline you wish to highlight?
(SF): There is always something going on in Seychelles tourism – we are closing in on our second international MCB Staysure Tour Golf Competition as we speak. We also have our participation in the 2020 Wold Expo in Dubai to take care of, which is a considerable undertaking considering the size of the expo – it's a six-month-long event expected to attract 11 million foreign visitors. In 2020 we also have our own celebration, for the 250th anniversary of the settlement of the Seychelles Islands. This celebration will see the integration of the cultural dimension of our way of life with other tourism offerings – we want to bring it more to the fore.
Why, in your opinion, should someone visit the Seychelles?
(SF): Because Seychelles offers grand diversity in terms of its topography, ethnicity and culture. It has a broad range of tourism offerings such as diving, swimming, snorkelling, horse-riding, zip lining, walks and trails, spa and wellness holidays, sport fishing, sailing and cruising, golf and so much more. It also enjoys a pretty special climate – a year-round summer – and requires no visa!
What are some of the most unique landmarks on the archipelago?
(SF): Each island has its own character and story to tell. On Mahé, there are more than 65 beaches and the lion's share of tourism services, as well as great sailing, fishing and walks and trails. On Praslin it would have to be the Vallée de Mai where the world's largest nut, the coco de mer, grows in a hidden valley. Meanwhile on La Digue you can look forward to an old-world island lifestyle and one of the most beautiful beaches on the planet.
What trends are transforming the tourism industry in the Seychelles and how are you utilising them?
(SF): New digital platforms are exploding onto the scene every day. We are committed to the digital arena and to making the very most of it via hosting workshops for our trade partners, ploughing resources into creating new video and other content and using apps to advertise our attributes. We pride ourselves on staying ahead of the curve.
What challenges does the tourist industry in the Seychelles face?
(SF): The same as the rest of the planet: the need to strike a balance between the need to develop and yet conserve what we have; combat the fallout from global warming; ensure we are always refreshing our tourism offerings and remaining faithful to our sustainability goals.
Are you optimistic about the future of the tourism industry in the Seychelles?
(SF): Yes, I am. That is not to say we don't live in daunting times, but I do believe in the quality of our product and in our determination to make the best of them.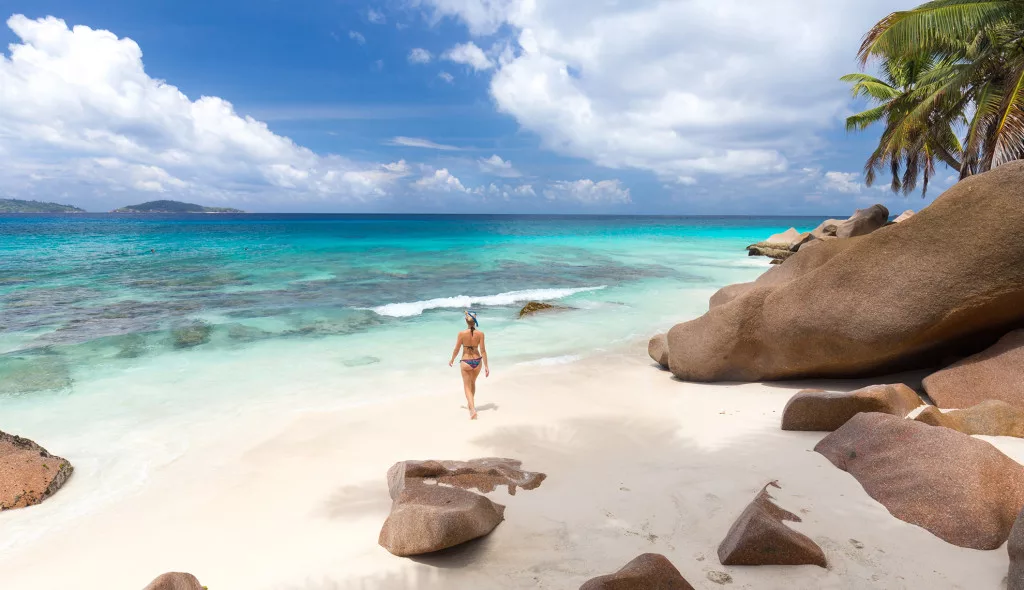 VICTORIA IN FOCUS
---
Most tourists visiting the Seychelles head straight to their beachfront resorts. But we recommend taking time out to visit the islands' capital, Victoria. Streets of colourful stone and wooden houses are nestled around an azure bay, against a backdrop of granite mountains. In this picturesque town, you'll find much to entertain you.
If you're interested in the islands' flora and fauna, take a trip to the Natural History Museum or stroll through the botanical gardens, which boast a spice grove and a pen of giant tortoises. And no trip to Victoria would be complete without a visit to the Sir Selwyn Selwyn-Clarke Market, where local produce is displayed alongside artwork and handicrafts.
Thanks to its oceanfront setting, it's easy to access the Seychelles' other locations from Victoria. There are frequent high-speed ferries to Praslin and La Digue. Or, if you're sticking around, why not take a sunset cruise around the small islands lying just offshore?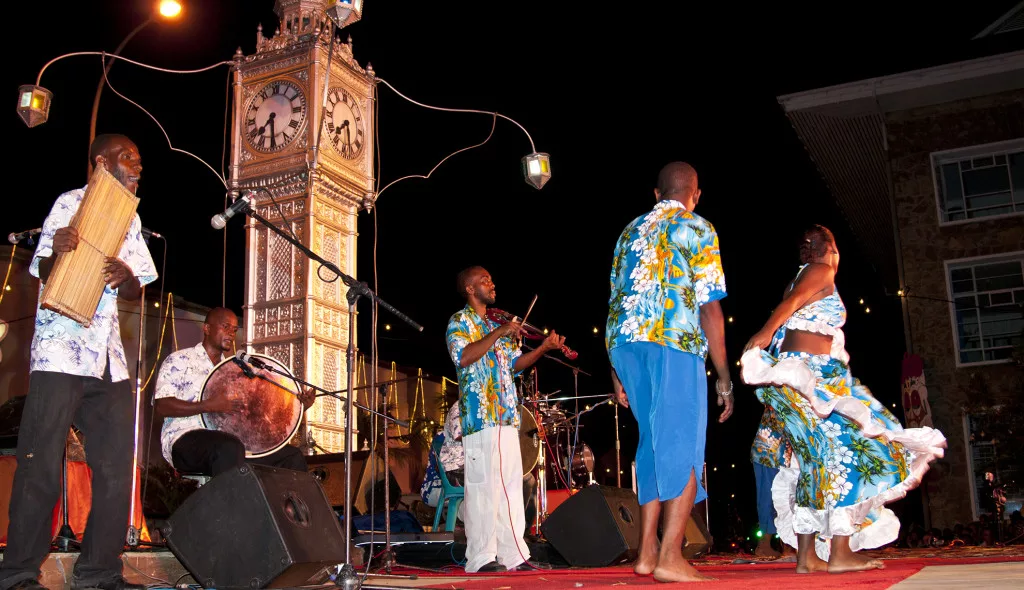 PRASLIN: THE GARDEN OF EDEN?
---
With its untouched forest and suggestive palm seeds, could Praslin really be the paradise mentioned in the bible?
In 1881, General Charles Gordon set sail for a little-known archipelago off the east African coast. He returned with a theory: "The Garden of Eden is at or near Seychelles. I could even put it at Praslin, a small isle 20 miles north of Mahé." The site in question was an intensely forested valley, known as Vallée de Mai. So why did Gordon think he'd found Eden?
Stepping into the Vallée de Mai, one has the impression of entering a natural world that has been untouched for thousands of years. Prehistoric trees stretch upwards to impressive heights. The densely forested canopy is stippled with different shades of green. Small wonder that Gordon, in the face of such abundance, thought he had found Paradise. But the main reason behind Gordon's claim was his sighting of the coco de mer palm tree. When he first encountered one of these mysterious palms, he thought he had stumbled upon the Tree of Knowledge.
The rare coco de mer is renowned for its giant, suggestive seeds, which bear a resemblance to human reproductive organs. The "male seeds" have an elongated shape, while the "female seeds" are often compared to a voluptuous woman's behind. Understandably, they have been treasured for their aphrodisiac qualities for hundreds of years. Coco de mer seeds are the largest and heaviest in the world, reaching weights up to 30 kilos. The only place in the world where they grow naturally is Praslin and the neighbouring island of Curieuse – the heaviest concentration is in the Vallée de Mai.
Whether or not you believe Gordon's claim, the paradisiacal qualities of the Vallée de Mai can't be overstated. The government has taken measures to ensure it remains unspoilt. The Vallée de Mai became a UNESCO-designated area in 1983 and is protected and maintained by the Seychelles Islands Foundation. The coco de mer seeds are strictly guarded by park rangers and their sale is strictly regulated – both tourists and locals need a permit to buy them. Anyone caught stealing a seed faces up to five years in prison.
Despite these strict measures, it's still possible for tourists to visit the park. You can take a free guided tour or a paid small group tour. Despite the park's small size, it's worth having a guide, as they can tell you more about the indigenous flora and fauna. Look out for the rare black parrots, unique to the islands as they only nest in coco de mer trees. To plan a visit to Vallée de Mai, visit the Seychelles Islands Foundation website.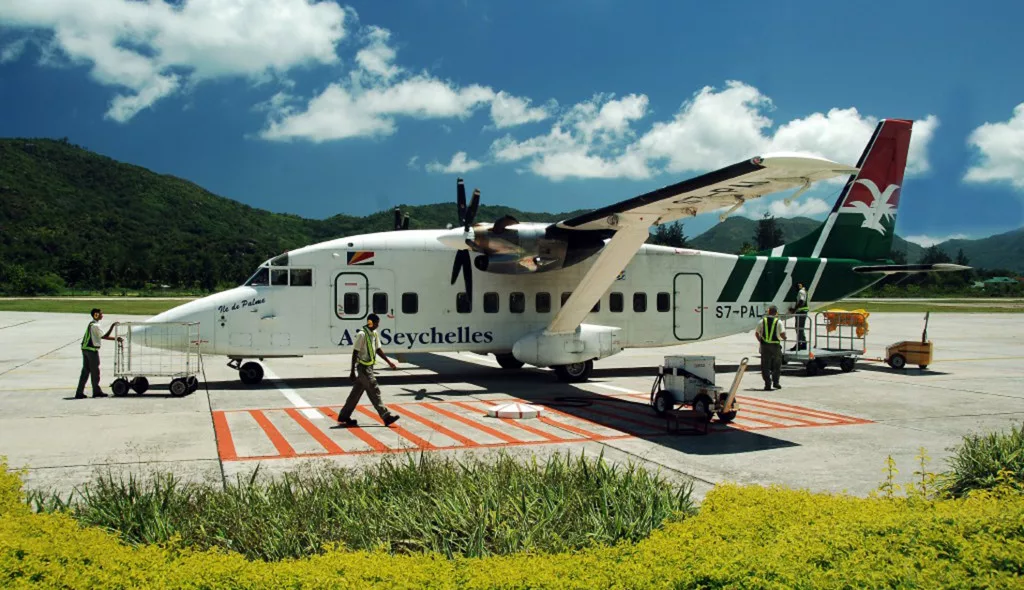 OUTLOOK RECOMMENDS
EAT:
---
For the best Seychellois cuisine…
Marie-Antoinette Restaurant
For Italian with a Creole twist…
For fresh seafood…
SLEEP:
---
For oceanfront elegance…
For an upmarket resort…
For fantastic hospitality…
Le Relax Hotels has six gorgeous boutique properties, located in some of the islands' most stunning locations. They include Le Relax Hotels & Restaurant in Mahé – renowned for its elegant poolside dining – and Le Relax Luxury Lodge, a series of luxury villas facing the ocean in La Digue. Whichever you choose, the concierge service team provide excellent hospitality and will arrange every detail of your stay, including a comprehensive island-hopping package.
For unique vintage accommodation…
La Digue Island Lodge offers unique accommodation set in 17.51 acres of lush green gardens, with its own private beach. Stay in individual wooden chalets or the iconic Yellow House, a colonial property that's been declared a national monument. The hotel has a luxury spa and several restaurants, including Marmit, which serves a global menu with local ingredients.
For a luxurious island escape…
JA Enchanted Island Resort is an exclusive island hideaway – perfect of those who dream of deserted beaches, but don't want to sacrifice their creature comforts. The resort is in the Sainte Anne National Marine Park, just a 15-minute motorboat ride from Mahé. You'll stay in one of 10 luxurious private villas, built in a Creole architectural style and boasting a private pool and a luxurious four-poster bed. Relax by the clifftop pool or soak up the sun on the private beach. Visit the spa for a beauty treatment or head to Bounty Restaurant for an innovative menu inspired by authentic Creole-Seychellois dishes.
FLY:
---
For luxury helicopter flights…
WIN:
---
If you're feeling lucky…
Maz Millions Tourism Lottery offers you the chance to buy lottery tickets to win a trip to the Seychelles. The star prize is a 14-night stay, including first class return tickets and luxury accommodation across the islands. Tickets can be purchased online and the winners will be announced during a live draw.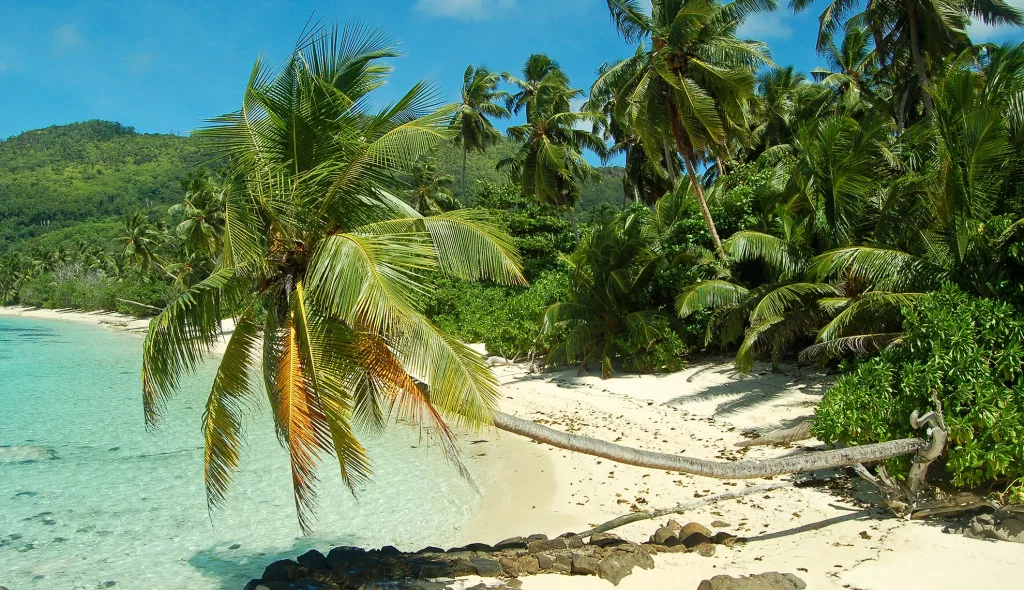 LANDMARK BEACHES
ANSE MARRON
---
If you want to get off the beaten track, visit this spectacular beach, only accessed by a two-kilometre hike from Anse Source d'Argent. It's a great swimming spot, as imposing boulders create a natural, crystal-clear pool.
Where: La Digue, south coast
ANSE LAZIO
---
A regular contender on lists of the world's best beaches, Anse Lazio is a sweep of white sand bordered with palm and takamaka trees, with a beachside restaurant offering food and refreshments.
Where: Praslin, north coast
ANSE VICTORIN
---
Rent a private villa on Frégate Island, and you'll get a chance to visit Anse Victorin, voted 'the world's best beach' by The Times. You'll normally have the place to yourself – relax on one of the loungers or go on a snorkelling excursion.
Where: Frégate Island Private, north coast
GETTING THERE AND AROUND
---
The Seychelles' only international airport is located on Mahé, about eight kilometres from Victoria. It offers direct flights to a handful of destinations across Africa, Europe and Asia with carriers such as British Airways, Air France and Emirates. Meanwhile, Air Seychelles offers regular flights between Mahé and Praslin – other islands can be reached by helicopter.
It's easy to travel around islands such as Mahé and Praslin on the extensive network of public buses. On smaller islands, tourists get around on foot or by bicycle. There are frequent ferry and catamaran services between Mahé, Praslin and la Digue, but to reach smaller islands you'll need to charter a boat or book a tour.