Eat
---
FOR LUXURIOUS DINING…
With two Michelin stars, Stand is the ultimate in contemporary gastronomy. Combining the flavours and textures of their Hungarian roots, the restaurant's two chefs skilfully reinvent classic dishes.
FOR SUSTAINABLE SUSTENANCE…
Sustainability aligns with high-quality cuisine and core values at Salt. Using local and organic ingredients for a low ecological impact, the Michelin star restaurant sits within a boutique hotel, with a menu created from Hungarian recipes.
Do
---
FOR A STUNNING PANORAMA…
The BalloonFly observation deck is a red and white striped hot air balloon anchored in Liget City Park. It works as a 360° viewpoint at 150m, accommodating 30 visitors at a time.
FOR INTERACTIVE RETRO FUN…
Experience life behind the iron curtain at the Budapest Retro Museum by time travelling back to communist era Budapest. Patrol in a real Lada police car, eat treats in a café from a bygone era, or find out what the first Hungarian astronaut of the Soviet-Hungarian space flight took into space.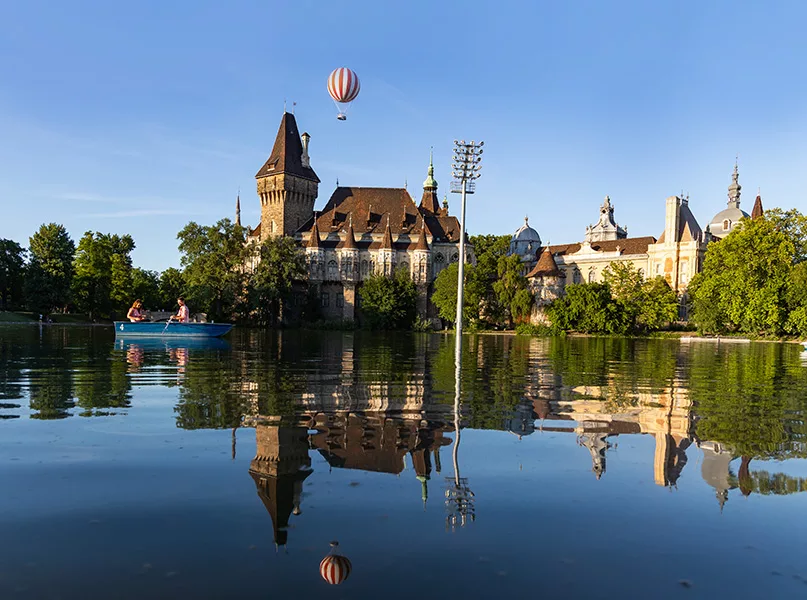 Sleep
---
FOR MODERN OPULENCE…
Housed in the Drechsler Palace, on the UNESCO World Heritage Site of Andrássy Avenue, W Budapest is located across from the State Opera House. The surroundings are enough to impress before stepping inside the hotel which blends modern design with art deco and boasts a pool and spa.
FOR A 5-STAR STAY ON THE DANUBE…
The Aurea Ana Palace Hotel embodies the cultural richness of Budapest with its Neoclassical style. Centrally situated on the banks of the Danube River, it is an ideal place to start the day with its breakfast buffet and gym.