Bisected by the majestic Danube River, Budapest has an undeniable vibrancy with its ruin bars and thermal spas, history, hospitality, culture and cuisine.
BUDAPEST
---
In the cityscape of Budapest, an architectural delight blessed with a bounty of old and modern designs, there are myriad unmissable sights to add to travel itineraries.
As a city of two halves, its quirkiness reveals itself within the many layers which comprise the metropolis. Until recently, the most noticeable difference between Hungary's capital and other city destinations was that no buildings were taller than 96 metres (m). This held an historic significance as the number 96 relates to the year 896CE, when the Magyars settled in the area. However, the new MOL Campus in the southern part of Buda stands at 143m and is the first modern skyscraper in the city – for a charge, it also has a public observation deck. Nonetheless, two symbolic buildings that stand at exactly 96m tall – the Saint Stephen's Basilica and the neo-Gothic Hungarian Parliament – represent the equal importance of religion and government, and likewise leave visitors stunned.
The city of two halves label does not only apply to the Old Buda and urban Pest areas which are separated by Europe's famous Danube River, but also to a secret, subterranean world of labyrinths and geothermal springs. The maze of over 200 caverns is open to the public for spelunking (the exploration of caves) adventures. After traversing the city and experiencing all it has to offer, there are many appetising specialities such as goulash, paprikash, and Tokaji wine to replenish stamina.
Described by many as the Queen of the Danube, Budapest is teeming with local delicacies fit for the palates of Hungarian royalty, dotted with landmarks, and boasts unique and diverse features to thrill and fascinate even the most seasoned traveller. A kaleidoscope of Neoclassical, Romanesque, Renaissance, Gothic, and Baroque Revival styles dominate Budapest's urban vista with the iconic Széchenyi Chain Bridge linking it together. Store a memory and post an Instagrammable moment by walking across the bridge to witness the beauty of Buda and Pest – looking back and forth at each one whilst standing over the Danube is pure perfection.
TOURISM INSIGHTS: BUDAPEST BRAND
---
As Budapest's new tourism organisation, Budapest Brand is responsible for managing the capital's marketing strategy. CEO, Csaba Faix, enthuses about the multidimensional aspects of the river city.
Can you talk us through the origins of Budapest Brand?
Csaba Faix, CEO (CF): Budapest Brand was born when two organisations merged at the end of 2020. The organisation working on the city's image and the cultural and tourism centre became a single entity with the aim to tell stories and give memorable experiences. Budapest Brand's mission is to connect the people who live here with the things and experiences that happen here. It gives them visibility by providing unique adventures through different events.
Budapest Brand shapes the capital's brand and tourism strategy, and is responsible for producing valuable cultural content and organising festivals and fairs. We identify the potential of the city to create a liveable and lovable city image for residents and visitors and connect communities in a way that defines Budapest.
Our priority is to showcase the values of this city, shape and coordinate tourism in Budapest, position it as a destination and adapt it to the ever-changing environment.
Why should someone visit Budapest – what defines the city?
CF: Budapest is a colourful and diverse city with a rich history, exceptional architecture, traditional thermal baths, and friendly locals, but it also has a contemporary feel and an über-eclectic vibe. Besides the grand boulevards, historic monuments, religious buildings and elegant cafés, visitors will find off the beaten path gems, such as hidden courtyards with bohemian or chic bars, amazing street art, unique designs, and clothing boutiques. Budapest has a wonderful combination of high culture and street life. The 'wow factor' is truly unexpected for most visitors.
This eclecticism is also present between the urban and natural features of the city. The Danube River divides the city into two parts – Buda and Pest – which you can easily cross with the many bridges spanning the river. Going on a river sightseeing tour makes you appreciate the city even more. Budapest has several green lungs in its centre, including Margaret Island, a recreational, car-free zone with ancient trees and ruins, a musical fountain, swimming facilities, and a plethora of green spaces. The City Park area is becoming the museum district of Budapest with long-established classical venues and contemporary new museums, such as the award-winning House of Music. These natural spots are surrounded by urban areas and grand buildings, such as the distinguished Parliament or the historical museums.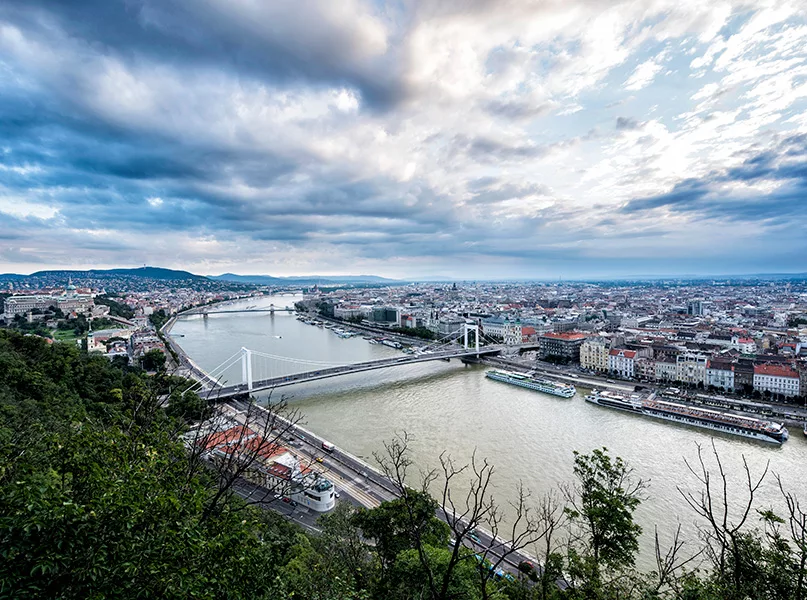 As a culturally diverse city, what type of travellers does Budapest attract?
CF: The tourism experience of Budapest is multi-faceted to reflect our cultural diversity. On one hand, the city attracts the affluent market as there are many high-end hotels and the number of luxury properties is growing with international brands opening new hotels. We also have several Michelin star restaurants for tourists to enjoy after exploring the cultural sights or visiting the newly renovated State Opera House.
On the other hand, the city is welcoming travellers with different budgets too. Budapest is considered a very affordable destination; although prices for flying in or taking the train have increased, they are still considered affordable for visitors from the euro, pound, or dollar zones. There is a great variety of accommodation in the 3-star and 4-star categories, and you can always find centrally located short-term rentals too.
Every year, large music festivals and sporting events shape the tourism landscape of the capital. They attract a large audience that primarily visits the city to go to those events. Think of the annual Sziget music festival, the World Athletics Championship in 2023, Harley-Davidson's 120th anniversary, or the annual Formula 1 race. Luckily, these travellers see the potential in the city and extend their stay by a few days before or after the events.
The MICE (meetings, incentives, conferences and exhibitions) industry is also getting stronger in Budapest with state of the art venues, congress centres, and professional local suppliers, and business travellers to the city on the rise.
Budapest is becoming one of the most important hubs for river cruising in Europe. Many of the river cruises start or finish their sailings in Budapest where passengers usually spend a few extra days. These travellers are primarily from North America and Western Europe.
As Budapest is a city of two halves, what is the strategy to connect the communities?
CF: In 2023, Budapest is celebrating the 150th anniversary of the unification of Buda, Pest and Old Buda. Although the city dates to Roman times (you can find the ruins of a Roman settlement here), it was in 1873, exactly 150 years ago when the metropolis was born. The communities of the smaller towns joined together, and Budapest was formed.
We consider it vital at Budapest Brand that local communities are part of the city's tourism and city branding strategy. We believe that these two entities (locals and visitors) are intertwined. We are creating cultural experiences, community events, festivals and fairs, and concerts that primarily target locals. We believe that if locals enjoy spending time in their city and are proud to be 'Budapesters', then visitors will feel a similar way.
We are extending the tourism borders of the city by creating memorable experiences in districts that are not predominantly tourism focused. By doing this, we are creating local, community-based events and denoising the central areas that have a lot of tourists.
In our strategy as the cultural organisation of Budapest, we are also showcasing and highlighting marginalised groups. By supporting local street art exhibitions, alternative music or local jazz festivals, and LGBTQ+ events, we are not only focusing on raising visitor numbers but most importantly building communities.
Our job is to help people notice how many amazing things are happening in their city during their daily routine so that they can raise their heads for a moment and marvel at what surrounds them. Since I have been working as the CEO of Budapest Brand, I have been constantly amazed by how many exciting details and people fill this city, and the amount of colourful and hidden areas that are waiting to be discovered and mapped. I think everything that is exciting in the world right now is here in Budapest in a small way.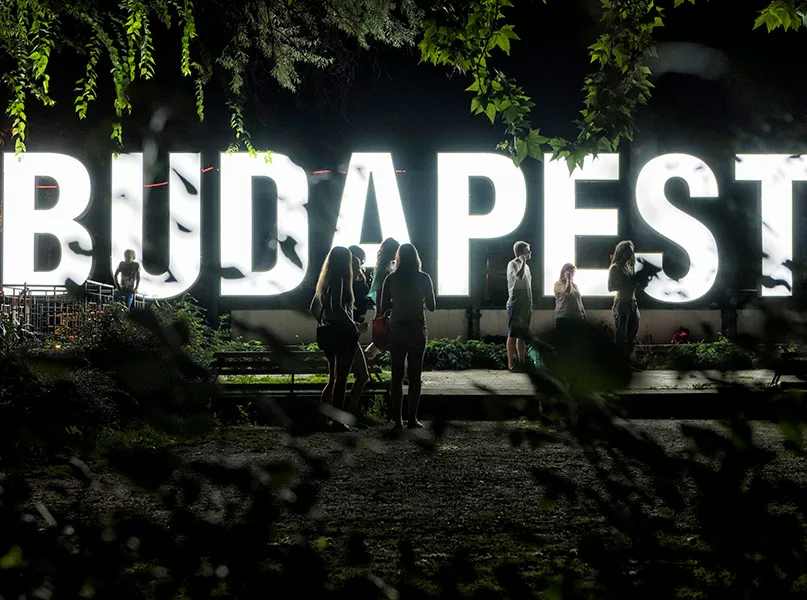 What does Budapest have to offer in terms of sustainable travel experiences, and are there any goals in place regarding this?
CF: Budapest has many green areas in the heart of the city which benefit locals and visitors alike. You can hike up to Gellért Hill, wander around the Buda Hills by taking the chairlift, or visit Margaret Island or City Park. The city has a very strong focus on green initiatives by planting more trees and making sure that new constructions and developments do not need to cut down trees.
Public transport is wonderful in Budapest and is also very affordable. The trams, bikes, buses and the underground system allow people to leave their cars at home. The Budapest Card, the official city pass, was created for visitors to offer free public transport and eco-friendly tours including electric minibuses.
During weekends, the Pest embankment along the Danube River becomes a car-free zone. People are walking, biking, roller-skating, playing sports or grilling food by its banks. It is a wonderful initiative where locals can reclaim a part of their World Heritage City.
Upcycling is cooler than ever before. Old tenement buildings and parking lots are converted into pop up hipster bars and community spaces. At Szimpla Kert, the original ruin bar, the design is eclectic, the music is mostly local, and every Sunday they have a farmer's market with local vendors.
There are wonderful market halls around the city where you can sample locally grown produce and buy goods from their producers. Ecser, just outside Budapest, hosts a well-loved flea market, where objects from bygone eras find new owners. Zero waste shops and package-free stores are on the rise, and there are several design focused handicraft and arts markets around the city.
Sziget Festival, the largest music festival in Hungary, has a very strong focus on sustainability. There are also increasingly greener events in the MICE sector, and the number of vegan restaurants is also growing. As demand rises both from locals and visitors, suppliers are seeing the business potential in opening meatless restaurants and food trucks; it is not just about goulash anymore.
The rail network is quite extensive in Europe and many international trains and night trains connect Budapest with the rest of the continent. One of our goals is to have a stronger focus on sustainable travel modes in the future. We are continually working on becoming more sustainable, focusing on local communities and finding new technological solutions that would also help travellers to be more sustainable during their time in Budapest.
We have launched a city-shaping community movement called Budapest Tuning, a competition that encourages residents to be creative. We expect ideas for experimental projects, cultural programmes, and art productions from people living here. Based on the decision of the jury, we implement these grassroot projects with professional know-how and funding – whether it's an outdoor action, a public space creation, community building or the installation of new green areas.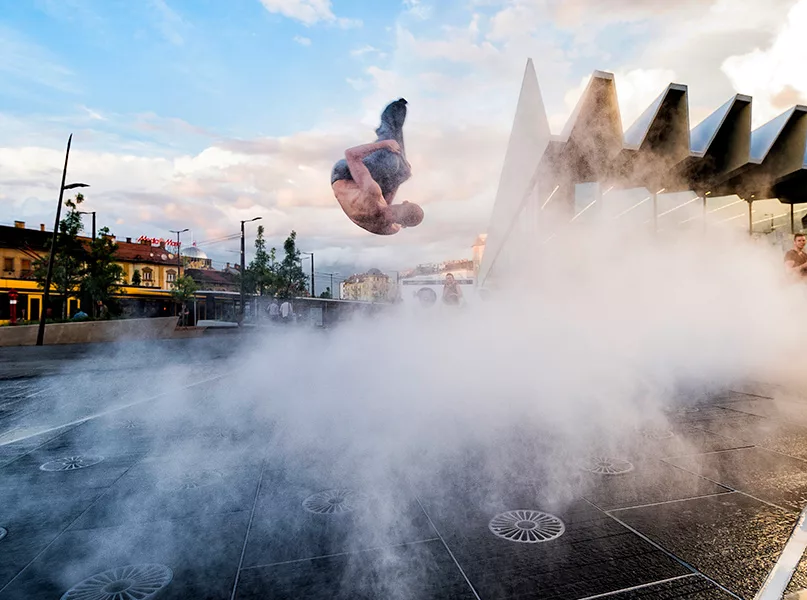 What trends are currently transforming tourism in Budapest?
CF: Artificial intelligence (AI) and new digital tools are shaping the marketing of Budapest. The beautiful shots of World Heritage Sites will simply not be enough in a few years' time. Travellers are looking for unique experiences that they cannot find elsewhere. We are constantly looking at these unique experiences and locations, and try to highlight them in our marketing. We have partnered with The Trip Boutique, a travel tech company that offers hyper-personalised travel itineraries based on the visitor's preferences and styles. We need to offer travellers feelings and vibes that they can only feel in Budapest, and that are also authentic to the city.
As for tourism in general, we need to carefully observe what other big cities are doing about overtourism as we do not want to become the next overcrowded tourist city in Europe. Sustainability and being more environmentally cautious are not only trends that transform tourism globally, but also sources of the world's survival.
For many years, there has been a shift from Budapest being a party city to a world-renowned cultural destination. Service prices (food and drink and mid-tier hotels) are still quite affordable in Budapest, which benefits many party-tourists. After all, these stag and hen party visits are shifting to other cities outside of Hungary and even the European Union.
Are you optimistic about the future of the tourism industry in Budapest, particularly with regards to bouncing back from the COVID-19 pandemic?
CF: Budapest's tourism industry, along with many other city destinations, has experienced the negative effects of the COVID-19 pandemic, the financial crises, the increase in gas prices and the war in Ukraine, which is our neighbouring country.
The situation caused by the pandemic forced us to re-evaluate our ideas. We had to come up with ideas that were born in the spirit of adaptation and invention in a period that did not promise to be easy from an economic point of view.
Despite all the difficulties, the number of visitors is back to the levels of 2019, with some months even surpassing pre-pandemic levels. New hotels are opening, big congresses are booked for the coming years, and with many international events this year alone, we are expecting a very good year in tourism.
There may be financial uncertainties in our local governance, but we are optimistic that tourism will remain a crucially important part of the Hungarian capital's economy.
OUTLOOK RECOMMENDS
---
Eat:
FOR LUXURIOUS DINING…
With two Michelin stars, Stand is the ultimate in contemporary gastronomy. Combining the flavours and textures of their Hungarian roots, the restaurant's two chefs skilfully reinvent classic dishes.
FOR SUSTAINABLE SUSTENANCE…
Sustainability aligns with high-quality cuisine and core values at Salt. Using local and organic ingredients for a low ecological impact, the Michelin star restaurant sits within a boutique hotel, with a menu created from Hungarian recipes.
---
Do:
FOR A STUNNING PANORAMA…
The BalloonFly observation deck is a red and white striped hot air balloon anchored in Liget City Park. It works as a 360° viewpoint at 150m, accommodating 30 visitors at a time.
FOR INTERACTIVE RETRO FUN…
Experience life behind the iron curtain at the Budapest Retro Museum by time travelling back to communist era Budapest. Patrol in a real Lada police car, eat treats in a café from a bygone era, or find out what the first Hungarian astronaut of the Soviet-Hungarian space flight took into space.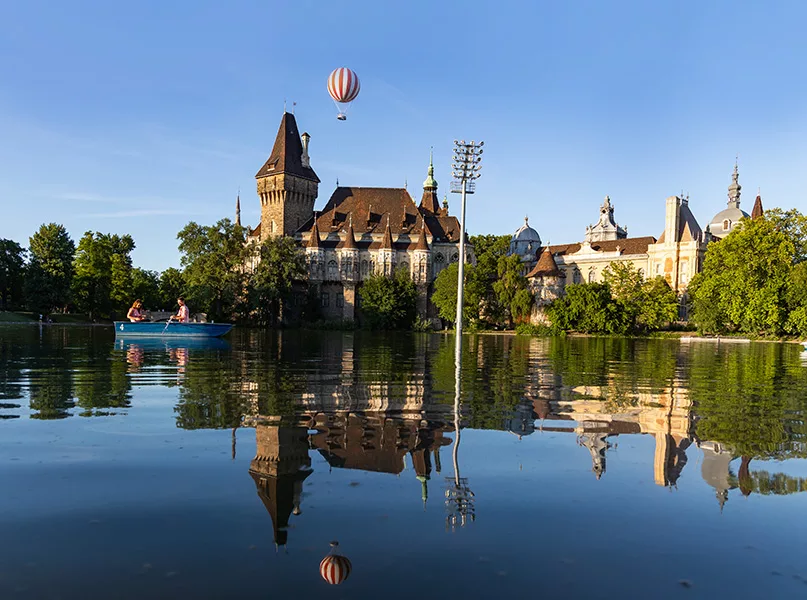 ---
Sleep:
FOR MODERN OPULENCE…
Housed in the Drechsler Palace, on the UNESCO World Heritage Site of Andrássy Avenue, W Budapest is located across from the State Opera House. The surroundings are enough to impress before stepping inside the hotel which blends modern design with art deco and boasts a pool and spa.
FOR A 5-STAR STAY ON THE DANUBE…
The Aurea Ana Palace Hotel embodies the cultural richness of Budapest with its Neoclassical style. Centrally situated on the banks of the Danube River, it is an ideal place to start the day with its breakfast buffet and gym.
IN FOCUS: BARTÓK BÉLA BOULEVARD
---
Located on the greener Buda side of the river, in the XI District, lies Bartók Béla Boulevard – a cultural hub among the top 10 of Time Out magazine's coolest neighbourhoods. Accessible by tram or metro, the tree-lined Bartók Bela Boulevard is brimming with galleries, exhibitions, local cuisine, and twice a year it hosts the ELEVEN art festival.
If you are exhausted by the extensive list of activities, a trip to the Art Nouveau Gellért Baths might be in order. Set in an elegant palace, the baths are both beautiful and historical, and the relaxing experience of a soak in geothermal pools has a natural healing power. The spring water, discovered in the 15th century, is not the only relaxation method on offer, as massage treatments, saunas, and a sunbathing terrace overlooking Gellért Hill are all there to enjoy.
Trendy cafés and bars such as Szatyor Bar, an updated ruin bar, attract a slightly different crowd to the usual spots in the party district. Duck confit and sous-vide venison leg along with craft beers are among Szatyor's culinary repertoire. Attached to Szatyor Bar is Hadik, a legendary café that was once a haunt of pre-World War II Hungarian bohemian writers and poets. Today, it has a more contemporary décor, but its mission is the same – a meeting spot for Budapest's artists.
For an outdoor jaunt, you will find Feneketlen-tó (bottomless lake), surrounded by greenery and with an abundance of fish and birdlife as the urban park has given over to nature. With a tennis club, a concert stage, outdoor gym, playground, and jogging course, there is plenty of space for recreation.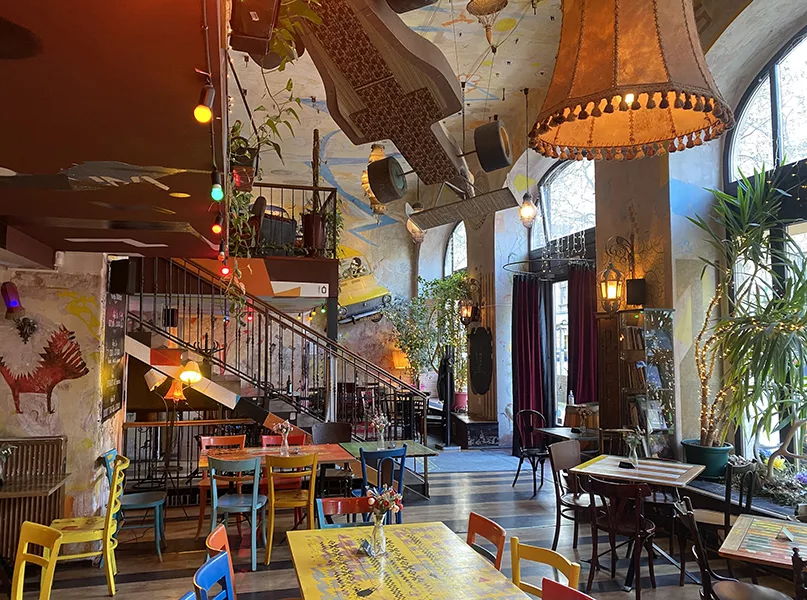 LANDMARK ATTRACTIONS
---
Buda Castle
As a Medieval royal residence, Buda Castle has seen many invasions from the Mongol Empire in the 1240s to the Ottomans of the 16th century, the latter of which left the Gothic and Renaissance complex destroyed. Today, it is a Neo-Baroque palace and one of the most Instagramable castles in Europe. Learn about the history of Hungarian kings and discover the sprawling Buda Castle District which houses the Hungarian National Gallery, the Budapest History Museum and the National Széchényi Library.
Liget City Park
The park has endless leisure and cultural opportunities, and at 100 hectares, this public space is a fusion of modern standards and the park's 200-year-old heritage. Incorporating the NEO Contemporary Art Space, House of Music Hungary, Museum of Ethnography, a sensory garden, lake, bird trail, sports facilities, and many more attractions, the park offers a wide range of institutions and green spaces alike.
Museum of Fine Arts
Full of artefacts and collections, there is an extensive feast for the eyes at the museum. Various exhibitions of prominent artists are on display throughout the year – currently, Hungarian painter Csontváry is here until mid-July. The graphics collection includes outstanding masterpieces by Cézanne and Van Gogh, whilst other parts of the museum house an Egyptian and an Old Hungarian department. The building itself is a distinctive Neoclassical design with different chambers and halls evoking various eclectic architectural styles.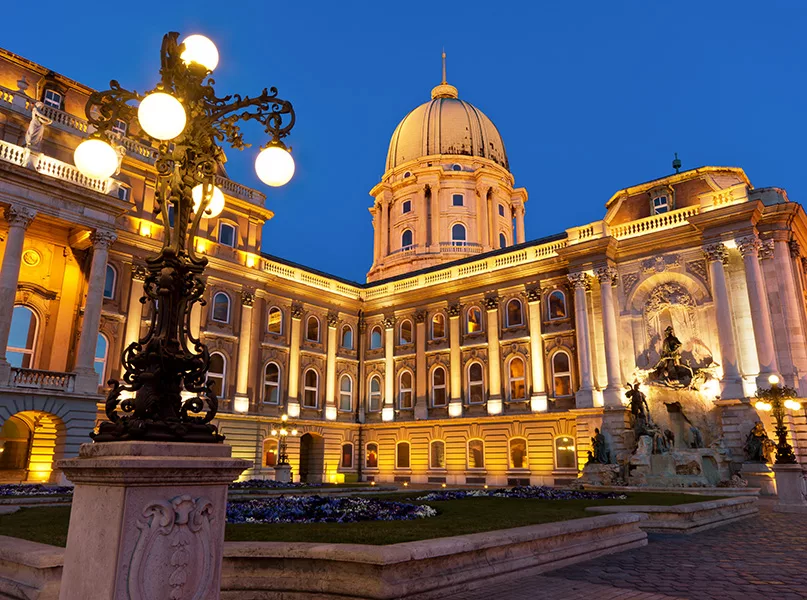 GETTING THERE AND AROUND
---
Arriving in Budapest into Budapest Ferenc Liszt International Airport, in the southeast region, is quick and easy. The large hub serves budget airlines Wizz Air, easyJet, and Ryanair which all fly direct from the four London airports, totalling 32 flights per day. Spain, France, and Italy also operate non-stop flights from their main cities.
At departure, the Universal Airport Hub in the centre of the city provides a stress-free experience of storing luggage and allows you to print boarding passes and luggage tags, tick off the check-in part of the journey, and purchase any last-minute souvenirs when it's time to depart. Renovated metro stations make transfers to and from the airport more comfortable. A direct airport to city centre express bus service is also available.
The transport system offers many options to experience Budapest while saving the tread on your trainers. An eco-friendly mode of travelling around is by renting a MOL BUBI bike, which even has a holder for mobile phones when you need to digitally capture the essence of the city.
The main attractions in the City Park are discoverable by hop on-hop off electric buses that can enter areas which are off limit for cars. The eco-friendly vehicles take visitors around the Heroes' Square, House of Music Hungary, Vajdahunyad Castle, and Széchenyi Baths.
The Budapest Card allows free public transport, free Pest and Buda guided walking tours, and free admission to both the Lukács Thermal Bath and the Pálinka Experience Museum, along with 30+ tourist attractions and services and discounts of up to 50 percent.