The Ring
---
A true icon of Montréal, this 30-metre-wide steel circle is suspended above the staircase to the Esplanade Place Ville Marie. In a touch of Montréal flair, The Ring's evening illumination mirrors that of the Mount Royal Cross, an unmistakable symbol of the city's landscape, whilst simultaneously symbolising the historic bond of the built heritage along an important axis in the city's downtown core.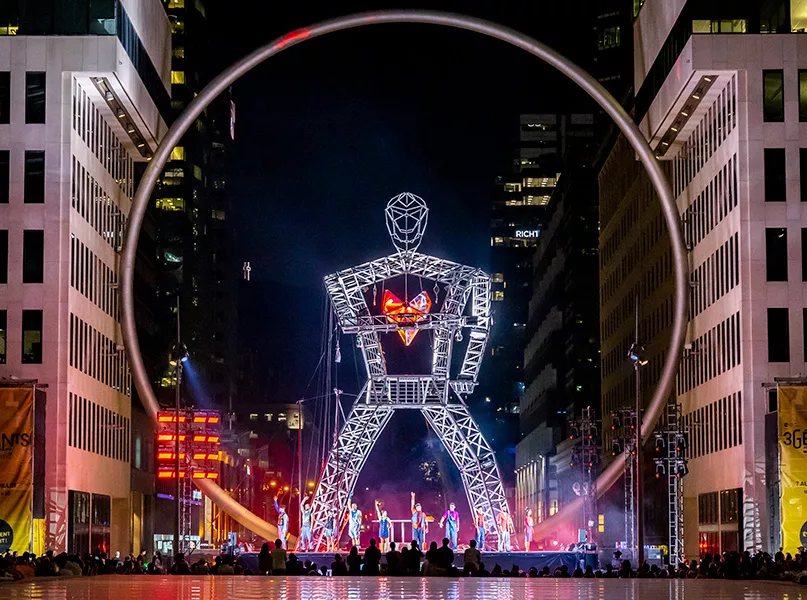 Notre-Dame Basilica of Montréal
---
The stunning ceiling, wood carvings, stained glass windows and massive organ of this gorgeous Gothic Revival church will leave you awestruck. Notre-Dame Basilica of Montréal stands as a majestic testament to the importance of religion and art throughout the city's history. The basilica's interior is a sight to behold, with its bright blue colours, shimmering gold-leaf ornamentation, intricate woodwork, religious paintings, and colourful stained-glass windows.
Jean-Talon Market
---
A bastion of Little Italy, this is one of North America's largest open-air public markets. Jean-Talon Market's lively atmosphere, authentic character and wide selection of fresh, local produce and specialities from here and abroad always make for a pleasant and appetising outing. True to its culture and spirit, the Jean-Talon Market showcases local and ethnic eats and a diverse array of merchants. Open year-round, the market changes with the seasons.