With European charm and North American attitude, Montréal merits the moniker of an international city that has proud roots in the past and enthusiastically embraces the future.
MONTRÉAL
---
The cosmopolitan cultural mosaic of Montréal is home to 120 distinct ethnic communities and more than 3.6 million people.
This island gem on the magnificent St. Lawrence River was originally inhabited by the First Nations people before the arrival of French colonists, whose influence permeates to this day in the world's second-largest francophone city after Paris.
Montréal not only has a reputation for being a charming French-Canadian city with European roots, however, but is also renowned worldwide for its fantastic, flavoursome food.
From 5-star restaurants and carefully prepared dishes from around the world, to legendary local diners and street-side food trucks, Montréal offers one-of-a-kind experiences and caters to all tastes, all year round. Bring your appetite and get ready to discover the city's award-winning cuisine, as Montréal's masterful chefs continue to elevate its reputation as a gourmet destination.
Poutine is one of Québec's most famous culinary exploits, and Montréal even celebrates this humble dish during La Poutine Week, an annual festival devoted to its divine incarnations.
Such festivals and grand events are a cornerstone of life in Montréal; whether it's poutine, jazz, comedy, or avant-garde dance – name a signature local dish or art form and you'll find a festival for it.
The city's cultural calendar brings together locals and visitors alike in the name of celebration, be it illuminated winter festivals of art, gastronomy and outdoor sports or international rhythms and circus performances in the heat of summer.
Day or night, summer or winter, Montréal pulses with activity.
TOURISM INSIGHTS : TOURISME MONTRÉAL
---
At the crossroads of Europe and North America, Tourisme Montréal is positioning Canada's second-largest city as a leading international-calibre destination. President and CEO, Yves Lalumière, outlines the appeal of this young and effortlessly cool cosmopolis.
Firstly, can you talk us through the origins of Tourisme Montréal, your initial vision and current goals?
Yves Lalumière, President and CEO (YL): Tourisme Montréal is one of the oldest, if not the oldest, tourism convention office in North America. We were established in 1919 and celebrated our 100th anniversary four years ago. In terms of vision and current goals, we've really changed from a traditional tourist office to investing in the product. We're now very much a destination management organisation (DMO), and we put part of our budget into festivals. We hold over 120 festivals every year, including Just for Laughs, the Osheaga Music and Arts Festival, and the Festival International de Jazz de Montréal, which is the world's biggest jazz festival. There are tonnes of festivals in our city in the summer and even in the winter as well. We're also heavily circus-dominated; Cirque du Soleil was founded here, and we've got two other circus troupes.
Our vision is to invest in our strategic assets as much as possible and create what we call a harmonious destination. Tourism will double in size over the next 20 years; it's going to grow about 4.3 percent year over year, and about 6.2 percent in the luxury market, so we want to make sure that the destination is a harmonious one. We have our visitor's promise, which is a commitment to live harmoniously alongside locals during their trip, as well as a carbon footprint calculator on our site, and accreditation for events that are zero emission. We rank as number one in North America and the third metropolis in the world in terms of the Global Destination Sustainability Index, so we're a very good example of a diversified and purposeful tourism office and do a lot in terms of the attractivity of the destination. The vision is to make sure our residents and visitors have commonality and can live together.
What are the key demographics and types of people that Montréal appeals to?
YL: We're second behind Boston in terms of the number of university students. We have 200,000 students, so it is a very young city and visitors describe Montréal as "effortlessly cool" and a "dish with attitude". We're a fun, cool city with a high quality of life, and there is very much a young, family vibe that resides here, so that is the key demographic. We're also very diversified and truly international, with direct flights from 150 destinations around the world, and we host the most international events in North America. We have a luxury lifestyle product that is transforming itself as well, whether it's hotels or restaurants, so we're also a good luxury and international destination.
Why, in your opinion, should someone visit Montréal? What makes it different to other North American destinations?
YL: First, we're a four-season destination. We don't suffer any complex in relation to winter; we have a winter attitude, or "wintertude". We've actually got an outside electronic music festival in the winter called Igloofest, as well as the Montréal en Lumière festival of light. The summer is also filled with hundreds of festivals, three circus troupes, three orchestras, more than 60 museums all year round, 1,000 kilometres (km) of bike pathway, 1,500 parks and a mountain, so we've positioned Montréal as a wide-open playground. We're a year-round destination and I think that one of the trends you'll see is more and more places varying their seasonality. We also attract digital nomads because the cost of living here is very affordable, so you get a lot more for your money.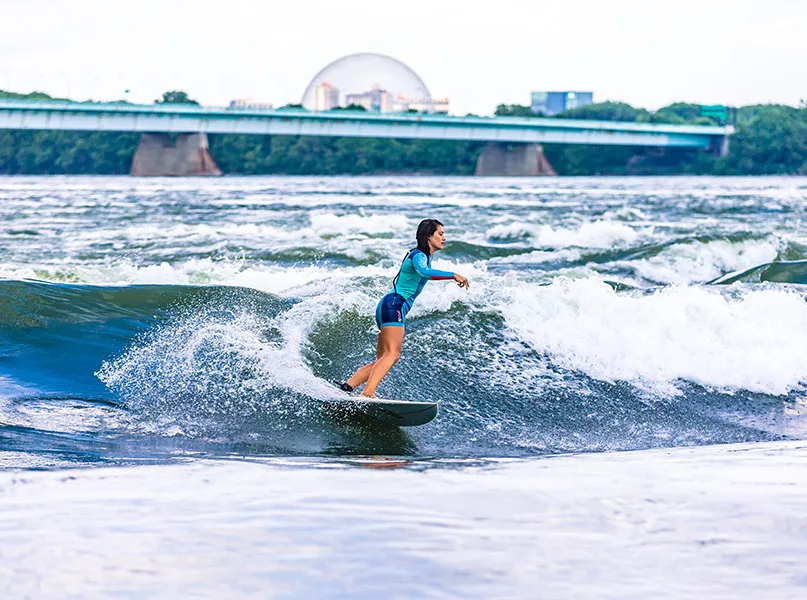 What all-new, awe-inspiring attractions can visitors enjoy in the city?
YL: During the COVID-19 pandemic, we invested in some of our strategic assets. We've invested CAD$1,500,000 in The Ring, a beautiful, Instagrammable landmark in the centre of downtown Montréal. We've also invested in three enormous steel giants, that go in different parts of the city during the MONTRÉAL COMPLÈTEMENT CiRQUE festival, as well as a brand-new winter ice rink. The Leonard Cohen mural in Montréal is unlike any other and can be viewed from the mountain – it's just amazing. Through the Murelles project, we've also started adding murals and public installations to alleyways in downtown Montréal to make them friendly and safe for visitors. We've got about 15 ready to go in the next three to four years. There has been a lot of investment into the product to generate a cool vibe for people to enjoy.
As home to one of North America's most vibrant culinary scenes, what are some must-eats for travelling foodies?
YL: A recent survey showed that Montréal has 40 percent of Canada's top 100 restaurants, which is quite a lot. The other thing is that we have 57 different types of cuisine, so we are truly international in terms of our selection of restaurants. MTLàTABLE is Montréal's annual Restaurant Week with a set list of participating restaurants and menus, and we also have La Poutine Week. We've launched the Office Montréalais de la Gastronomie (Montréal Office of Gastronomy) and are very much pushing gastronomy at a reasonable price.
Equally, what is there to explore in Montréal's thriving arts scene?
YL: There's a lot of public art outside. Montréal is a bit of North America and a bit of Europe; not many cities in North America have that international feel. We've got three orchestras – the Montréal Symphony Orchestra, the Orchestre Métropolitain, and we've got the McGill University Orchestra.
We are the circus capital of the world, home not only to the Cirque du Soleil, but also two other circuses and many other troupes that are in Montréal and travel internationally. Then you've got the theatre and Les Grands Ballets, so there's probably about 75 activities every day in terms of the cultural scene.
We call ourselves the cultural capital of Canada and we subsidise about 60 of the city's 120 festivals, some of which are musicals, some are comedy festivals, and some are related to gastronomy as well.
We also invest in the murals and wall lightings in downtown Montréal, so it's very much an artistic community here.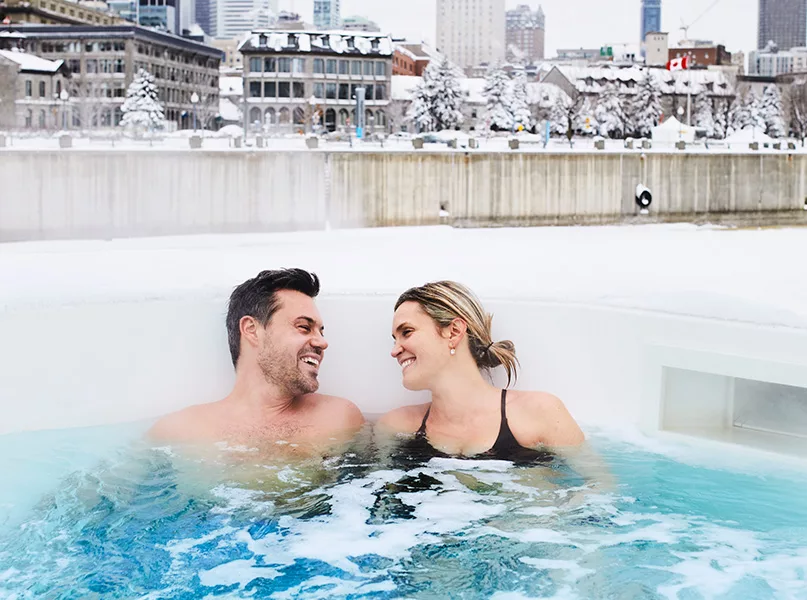 What trends are transforming the tourism industry in Montréal and how are you utilising them?
YL: People are spending more time in Montréal, not only because of the value but also because it's a young city. You'll see a lot of digital nomads that decide to work out of Montréal. We are also seeing more leisure travellers, and a resurgence in business travel.
We're getting more and more international flights, and Emirates is launching a new daily service from Dubai in July, so international visitors will continue to boom. We see companies now budgeting for attractions in the city and I think that's a very nice touch, especially as Montréal offers so much in terms of cultural events.
How do you forecast the tourism sector in Montréal developing in 2023?
YL: This year is going to be very strong in terms of international visitors. The UK and France are particularly robust markets, with about 700,000 visitors between them, and we're very pleased with the London market.
We always say that we're at the crossroads of America and Europe. We're really the francophone metropolis of North America, and the only major city that speaks French.
Then, of course, we expect a very strong year from the US both by car and air. We've increased our promotional investment in California, New York, and obviously the francophone market. We're probably going to be 20 percent over our 2019 revenue because people are spending more money and have more savings.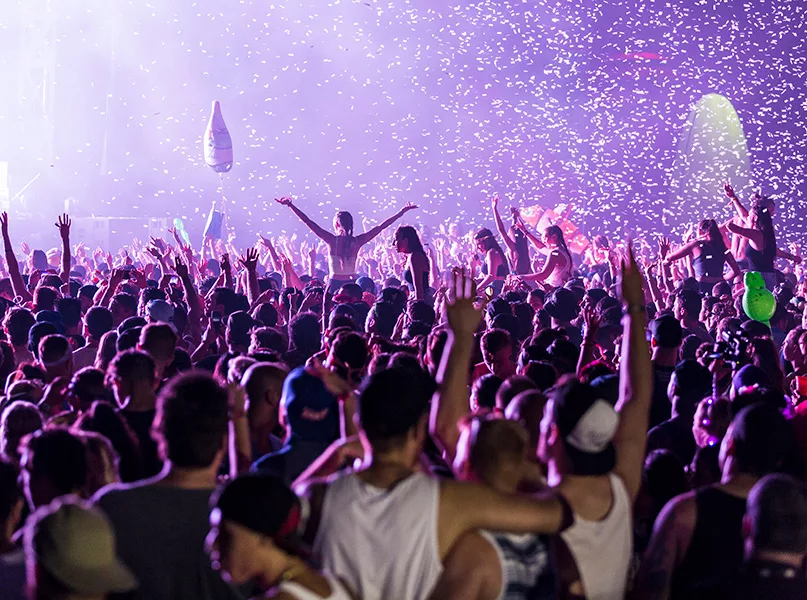 OUTLOOK RECOMMENDS
---
Do:
FOR ART IN ALL ITS FORMS…
The PHI Foundation for Contemporary Art is dedicated to making contemporary art accessible to everyone by bringing impactful experiences to the public. The Foundation is driven by a desire to break down and challenge entrenched perceptions of what contemporary art is and who it is for, with the fundamental belief that art is for everyone. Experience an intersection of art, film, music, design and technology at the PHI Centre, which has earned its status as an exciting cultural nexus for art in all its forms and brings together many of the most talented creators of our time.
---
Sleep:
FOR AN INVITING SENSE OF WARMTH…
Guests arriving at Ruby Foo's Hotel are welcomed into a stylish lobby teeming with Asian-inspired character. The hotel's spacious accommodation comes with a wealth of thoughtful perks, from free Wi-Fi and plush robes to white goose-down duvets and feather pillows. Conveniently located just 15 minutes from downtown Montréal, you're never far from the action.
AWARD-WINNING RESTAURANTS
---
With an amazing range of restaurants, there are fabulous flavours and unique culinary experiences in every neighbourhood of Montréal
It's therefore no wonder that so many of the city's eating establishments are routinely ranked amongst the very best in Canada, including:
Vin Mon Lapin
1st on Canada's Best 100 Restaurants list
Occupying the elusive sweet spot between being a special-occasion restaurant and a place to grab a quick bite, dishes at Vin Mon Lapin are always delightfully surprising.
Joe Beef
3rd on Canada's Best 100 Restaurants list
A place where locals congregate, and around which tourists plan their trip to Montréal. The popular lobster pasta is a must for first timers, although anything on the menu will make your taste buds sing.
Restaurant Toqué!
6th on Canada's Best 100 Restaurants list
A staple on the Montréal culinary scene since 1993, chef Normand Laprise's restaurant is built on his passion and commitment to shedding a spotlight on Québec's local and seasonal ingredients. With delightful dishes and exceptional service, a meal here is an experience to remember.
Montréal Plaza Restaurant
7th on Canada's Best 100 Restaurants list
A meal at Montréal Plaza Restaurant will always surprise and delight. The dining room has a modern, crisp ambience adorned with quirky accent pieces that will make you do a double take. Sink into one of the leather banquettes in this sophisticated space and order specials that include whelk gratiné and other culinary wonders.
Le Mousso
16th on Canada's Best 100 Restaurants list
Known for its tasting menu and wine pairings, Le Mousso has been a hit on the Montréal dining scene since day one. Plated like works of art, its dishes are colourful, original and flawless, fit for unforgettable celebrations.
MONTRÉAL COMPLÈTEMENT CIRQUE IN FOCUS
---
Montréal is the circus hub of North America. The city is home to the National Circus School, which enrols more than 150 students from across Canada and around the world each year
A pioneer of the new circus in Canada and North America, the National Circus School has contributed to the emergence of many circus companies, including Cirque du Soleil, Cirque Éloize and The 7 Fingers, all of which are based in Montréal.
Created in 2010, MONTRÉAL COMPLÈTEMENT CiRQUE is the first North American international festival dedicated to circus acts. Every July, over the course of 10 days, the festival offers a stunning circus programme in various locations around Montréal, as dazzling acts take over the city and light up the urban landscape.
Watch the streets, sidewalks and parks of Montréal come to life as circus performers wow audiences with awe-inspiring, colourful and high-flying displays. Look out for Le GÉANT on the Esplanade Place Ville Marie – it's hard to miss, as this immense steel giant stands before the horizon at 50 feet tall, waiting for life to take hold of it. Le GÉANT will host Cirque Éloize at this year's festival, from 7th to 30th July.
MONTRÉAL COMPLÈTEMENT CiRQUE presents diversity in all its forms and expressions, and brings together the most talented artists from the circus world. The festival contributes to Montréal's status as an international capital of circus arts, and the rise of Quebec's circus scene by offering programming that allows the province to truly shine.
Not to be missed, this is a must-see event for circus fans who love to see death-defying stunts, bright costumes and more.
LANDMARK ATTRACTIONS
---
The Ring
A true icon of Montréal, this 30-metre-wide steel circle is suspended above the staircase to the Esplanade Place Ville Marie. In a touch of Montréal flair, The Ring's evening illumination mirrors that of the Mount Royal Cross, an unmistakable symbol of the city's landscape, whilst simultaneously symbolising the historic bond of the built heritage along an important axis in the city's downtown core.
Notre-Dame Basilica of Montréal
The stunning ceiling, wood carvings, stained glass windows and massive organ of this gorgeous Gothic Revival church will leave you awestruck. Notre-Dame Basilica of Montréal stands as a majestic testament to the importance of religion and art throughout the city's history. The basilica's interior is a sight to behold, with its bright blue colours, shimmering gold-leaf ornamentation, intricate woodwork, religious paintings, and colourful stained-glass windows.
Jean-Talon Market
A bastion of Little Italy, this is one of North America's largest open-air public markets. Jean-Talon Market's lively atmosphere, authentic character and wide selection of fresh, local produce and specialities from here and abroad always make for a pleasant and appetising outing. True to its culture and spirit, the Jean-Talon Market showcases local and ethnic eats and a diverse array of merchants. Open year-round, the market changes with the seasons.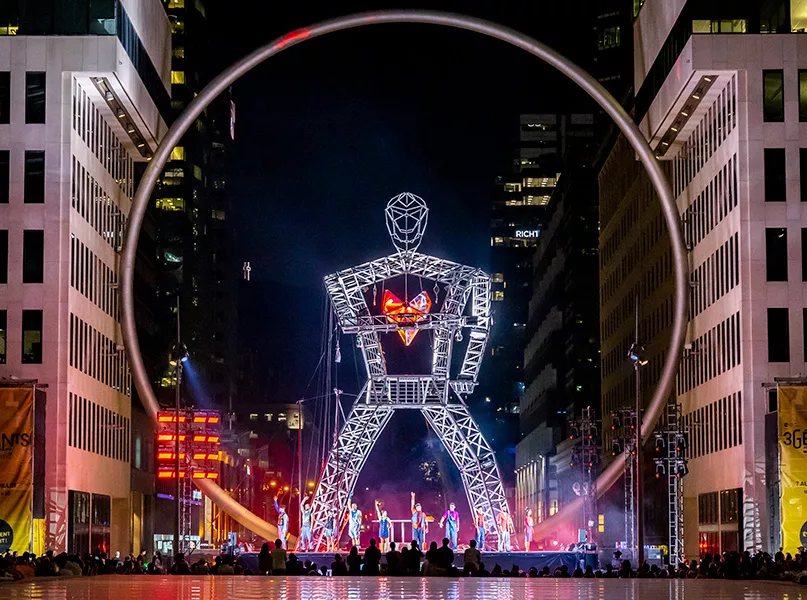 GETTING THERE AND AROUND
---
Montréal is an international destination of choice that is easily accessible by land, air, and sea.
Travelling to Montréal by car is made easier by the various highways and bridges leading right into the city centre, whilst downtown is located a mere 20 minutes from Montréal-Trudeau International Airport.
Arriving by boat or by cruise ship has also become an increasingly popular way to get to Montréal, as a strategic starting point or destination for thousands of cruise passengers every year.
Getting around the city on a day-to-day basis is equally hassle-free. The best way to get to know the city is on foot; Montréalers love to walk, and this safe, healthy and budget-wise mode of transportation is one of the best ways to see the city's lively neighbourhoods, day and night.
Public transport is another affordable way of getting around Montréal, with a clean, safe and fast metro system and a relatively simple public transit network comprising just four lines connecting downtown to major tourist sites, bus stops and train stations.
Montréal's 1,000km of bike paths, high-quality bike rentals and tours, meanwhile, make it a breeze to experience the sights of the city on two wheels. Indeed, the city's ever-expanding cycle network has been named one of the most bike-friendly in North America.
Alternatively, admire the view of Montréal from the St. Lawrence River via water taxi, or take a scenic drive on the streets in a rental car. If you prefer to get around by taxi, it's easy to flag one down on the street, or find them at one of the city's many taxi stands and hotels.