St. Vincent and the Grenadines (SVG) is one of the last untouched corners of the Caribbean. Blessed with verdant volcanic slopes, welcoming locals and remote island outposts that stretch across 70 miles of clear blue sea, it is a place where savvy scuba divers and adventurous island hoppers alike can discover wild adventures both above and below sea.
ST. VINCENT AND THE GRENADINES
---
One of the world's flourishing and most trendy tourist hotspots, St. Vincent and the Grenadines is a nation of 32 islands located in the Lesser Antilles between St. Lucia 24 miles to the north, and Grenada 75 miles to the south.
The largest and northernmost island is St. Vincent, which has a forest-covered mountainous interior, dominated by the towering La Soufriere, an active volcano that stands at 4,000 feet tall. Elsewhere, on the southwest coast is the bustling Kingstown, the nation's capital boasting a unique atmosphere which is both eclectic and electric.
The remaining Grenadines lie to the south, with the largest and most populated being Bequia, Mustique, Canouan, and Union Island. Smaller inhabited islands include Mayreau, Palm Island, and Petit St. Vincent; elsewhere, the Tobago Cays is a marine park located to the east of Mayreau and is a delightful collection of tiny islands, sheltered lagoons, and coral reefs.
Underwater, SVG is known for its rare and exotic marine life and has been coined the 'Critter Capital of the Caribbean', boasting unparalleled dive sites ready to be explored.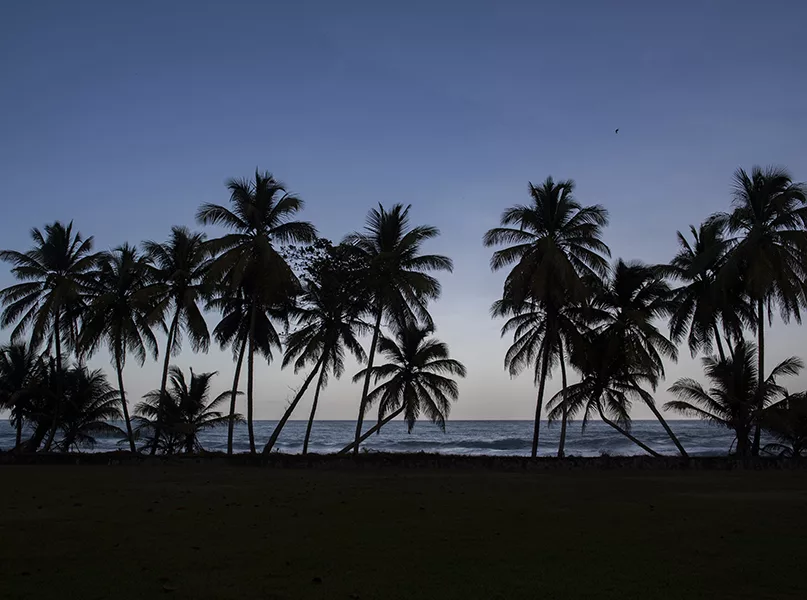 TOURISM INSIGHTS: ST. VINCENT AND THE GRENADINES TOURISM AUTHORITY
---
Tasked with enhancing the burgeoning travel industry within St. Vincent and the Grenadines, St Vincent and the Grenadines Tourism Authority (SVGTA) is nurturing the growth and popularity of this idyllic haven. We get the full story from CEO, Glen Beache.
Q&A WITH GLEN BEACHE, CEO, SVGTA
---
Can you talk me through the origins of SVGTA and its initial vision?
Glen Beache, CEO (GB): The organisation is here to promote St. Vincent and the Grenadines as a tourism destination and to set standards for the industry within the country. Alongside this, it carries out tourism research in terms of potential visitors, what type of traveller we attract, and where we look at as our main source markets.
We ensure that the correct standards are in place, whether that's our tour guides, hotels, travel agents, tour operators, or taxi drivers. We also analyse statistics in terms of the numbers coming into SVG and we did play a crucial role in negotiations to bring major airlines into the nation once our first international airport opened six years ago.
I tell my staff that tourism is no different to being a doctor, an engineer, or a lawyer. It's an industry that continuously changes and we must work hard to keep up-to-date with exactly what's going on in the sector.
As we continue to grow as an organisation, we always look at where we are and how we can change things and continue to look at diversifying. So far, I think we've done a fairly good job, but there's always room for improvement.
What are your organisation's current goals and how do you plan to achieve them?
GB: Where most organisations usually look at the visitor numbers as an indicator of success, we tend to look at things a bit differently. Compared to our neighbours, the immediate competition being the Caribbean, we're still relatively new to the tourism industry, but in terms of how we look at success, it's not just the data we're measuring ourselves by.
There's more to success than just numbers, and if you have visitors who have genuinely had a great time, that's going to translate to data eventually because there's no better marketing than word of mouth.
I love nothing better than to see somebody write something from the heart expressing how happy they were with their visit to SVG.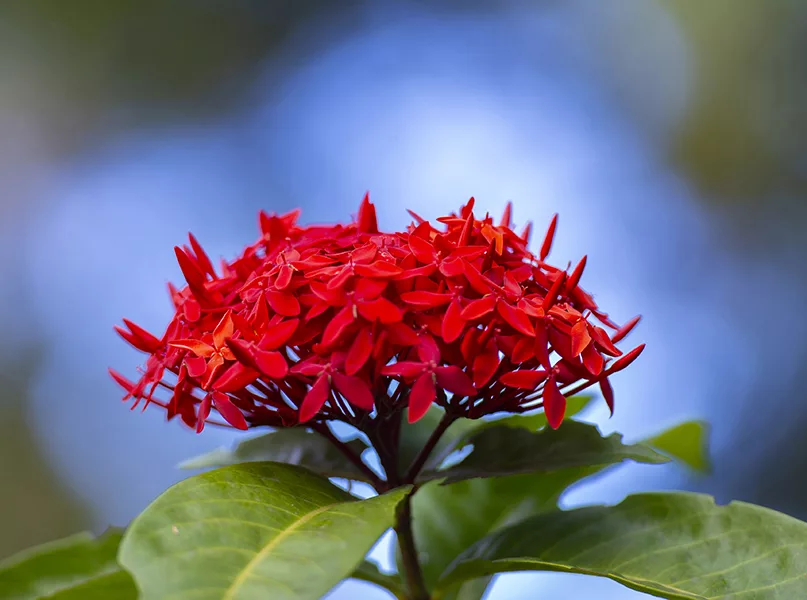 Why, in your opinion, should someone visit St. Vincent and the Grenadines and what defines the country?
GB: Every nationality believes that their country is the most beautiful and that the people are the friendliest, warmest, and most welcoming, and in this way, SVG is no different. However, on a deeper level, SVG is the most diverse destination in the Caribbean.
The mainland of St. Vincent is volcanic and features a lot of black sand beaches, whereas in the Grenadines we have the stunning contrast of coral islands with pristine white sand beaches. One of the things that people don't realise about black sand beaches, especially where the waves break, is that on a sunny day, the water is clearer than that of a white sand beach. I usually say that the perfect poster for SVG is a black sand beach that merges into a white sand beach.
Similarly, our tagline is "SVG, the Caribbean you're looking for", which alludes to our fantastic breadth of diversity.
If I say the word Caribbean, it brings up a certain image in your head and I don't think people realise how powerful the word Caribbean is. It immediately paints a vivid picture, whether it's a white sand beach, mango tree, blue waters, or beautiful sunshine, but everybody has a different image of what the islands mean to them, and whatever that image is to you, SVG offers it.
We're one of the few Caribbean islands where you drive around and still have the coconut trees on the side of the road, and the mango trees and greenery are unspoiled because we care so much about the sustainability of our home.
Furthermore, our four main niche markets are sailing, diving, romantic getaways and honeymoons, and adventurers who come for the incredible nature trails and hikes. We truly cater for all sorts of travellers.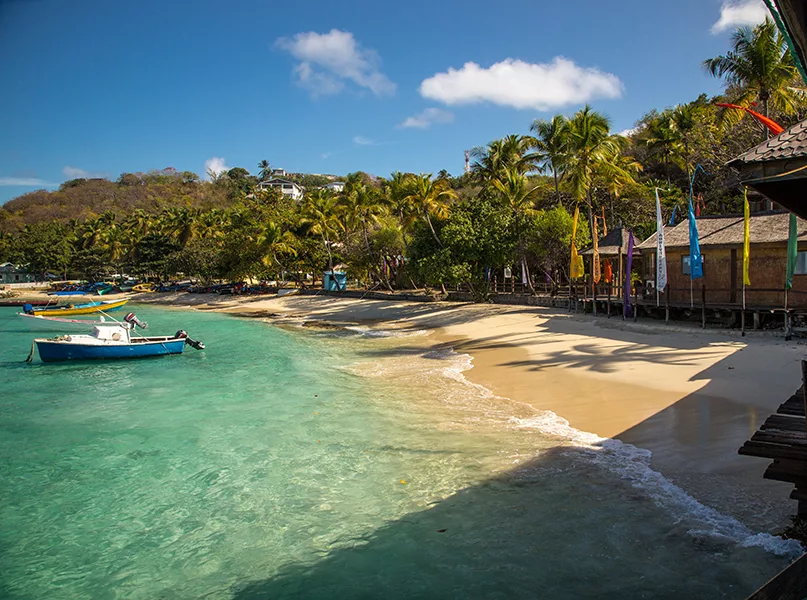 Are you optimistic about the future of the tourism industry in SVG, particularly with regards to bouncing back from the COVID-19 pandemic?
GB: The COVID-19 pandemic has taught us not to take things for granted. I'm always optimistic and as much as we complain sometimes, human nature shows that we're fighters and tend to come back stronger after dealing with different challenges.
I look for that silver lining, and one of the things that the last few years has shown us is that we have certain things we take for granted.
I think tourism has come back with a vengeance. People talk about revenge travelling and are now seeking out experiences and things they've always wanted to do, whether it's diving or other activities and destinations they had always wanted to explore. Some people were probably living together for years, and after the COVID-19 pandemic decided to get married because they realised how life is so precious to them, so overall I'm very optimistic.
That's not to say we won't have other challenges in the future. For example, if you look at the weather over the past few months, this is the hottest the world has been over the past 100 years.
I also believe that education is not just about what you do in school; it's about travelling and experiencing new cultures, and having an appreciation for what's different, which is vitally important for young people around the world to embrace.
Are there any particularly unique experiences or underrated activities that the country has to offer, which are perhaps lesser known?
GB: The Tobago Cays is something truly amazing to see. The water there is some of the clearest you'll find in the world, and certainly the clearest you'll find in the Caribbean.
The three islands that make up the Cays are surrounded by the Horseshoe Reef, where you can swim with turtles and scuba dive. It's a wonderful experience.
The last one I will recommend is Salt Whistle Bay, an oasis of calm compared with the exposed waters of the Cays. It's not a big beach, but the quality of the sand and water is incomparable. I've travelled a lot and I'm yet to find a beach as pristine as this one.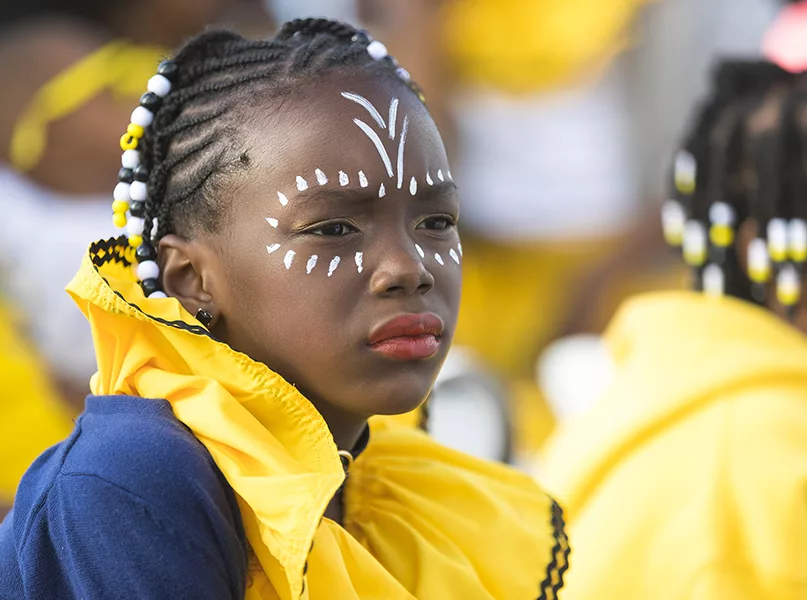 OUTLOOK RECOMMENDS
Eat:
---
FOR A COMPLETELY ELEGANT, SENSUAL,
YET CASUAL EXPERIENCE…
Flow Wine Bar and Kitchen was conceived as an exciting urban destination, showcasing a new approach to the good life, specialising in wine with a kitchen to appeal to any appetite.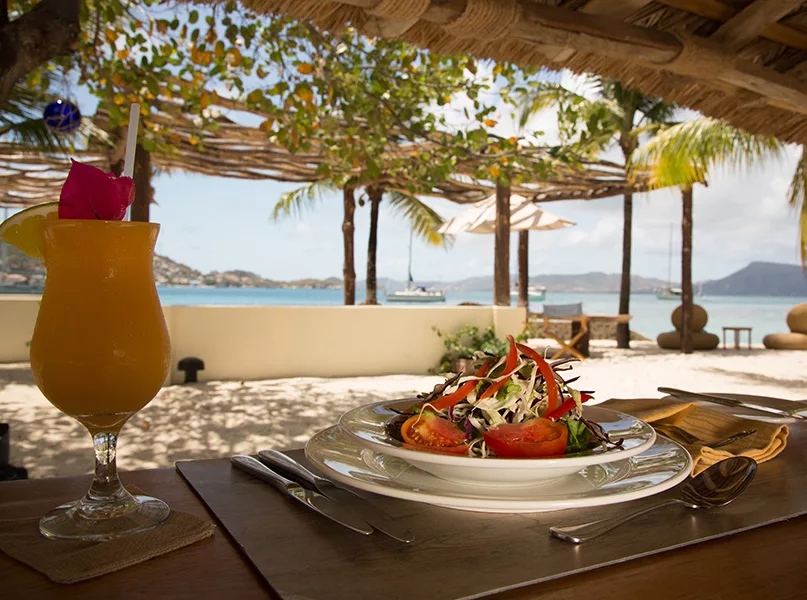 Do:
---
FOR A WARM CARIBBEAN WELCOME…
Horizon Yacht Charters aims to create the most amazing experiences for its guests to sail and enjoy the crystal-clear waters of the Caribbean. The company's teams have lived and sailed in the Caribbean for many years and provide a wealth of knowledge that is unrivalled, from technical advice to the best local hang-out to dine on fresh lobster.
FOR AN EXPLORATION OF BEQUIA'S FAMED MARITIME HISTORY…
Bequia Heritage Museum gives a fascinating insight into the lives of the Indigenous people who settled in Bequia and in the region going back thousands of years. One of the buildings has a fine display of Amerindian pottery and artefacts almost all found on Bequia, together with a selection of items dating from the European period of Bequia's settlement.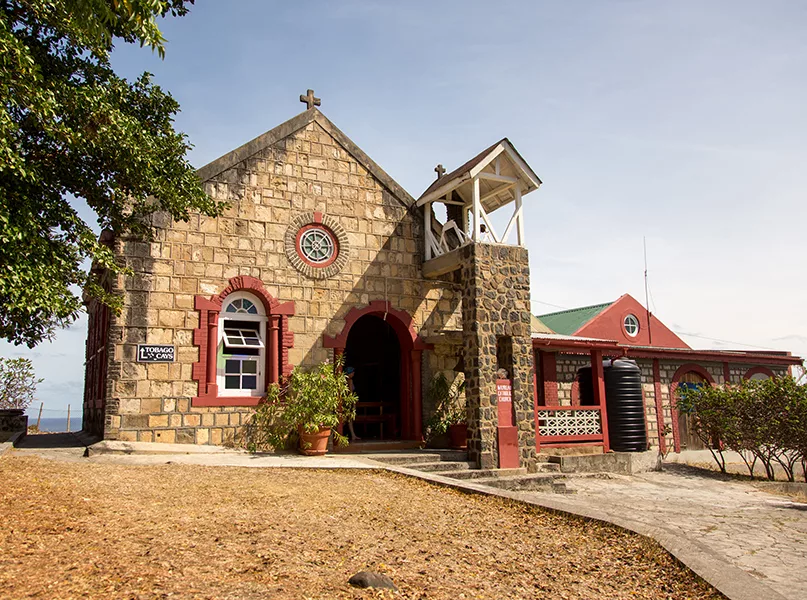 Sleep:
---
FOR COMFORT, QUALITY AND A STUNNING LOCATION…
FOR SPACIOUS ROOMS WITH PICTURESQUE VIEWS…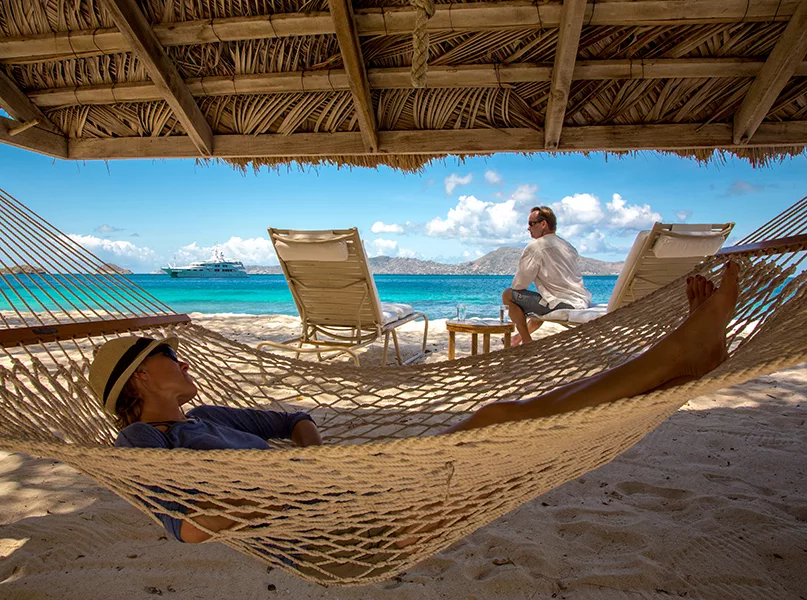 BIRDWATCHING IN FOCUS
---
St. Vincent and the Grenadines is blessed with an abundance of bird species. There is nothing quite like seeing parrots in full flight, and when they are as unique as the Amazona guildingii, you simply cannot beat it.
Also known as the St Vincent parrot, this endemic species is the national bird of SVG and can be seen at the Botanical Gardens on the outskirts of Kingstown. However, for those who like to observe birds in the wild, it is best to venture into the island's lush forests. There are an estimated 500 parrots living in the interior of St. Vincent, and one of the very best places to see them is at the Vermont Nature Trail, with dusk and dawn the prime times to spot them. As you near the parrot lookout on the far side of the trail, listen for their calls before catching sight of them flying across the forest canopy in front of you.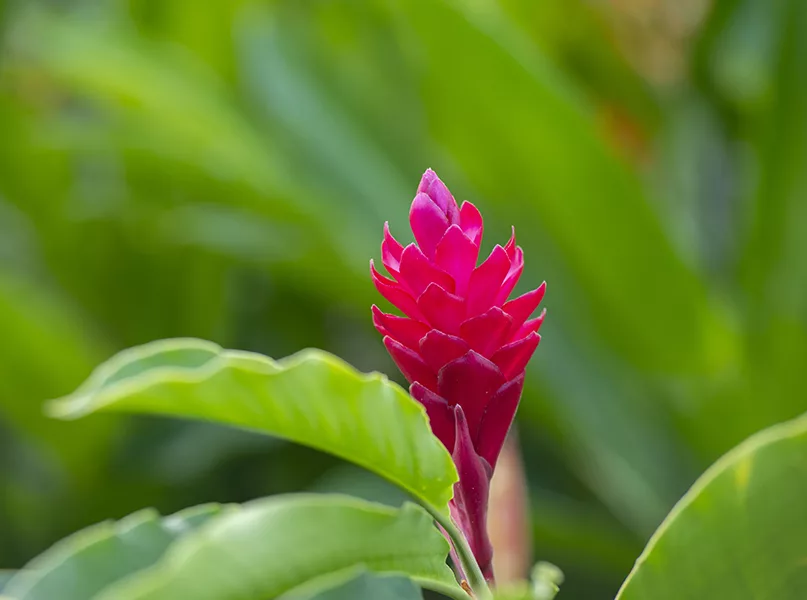 Another endemic bird you may hear in the forest setting is the whistling warbler (Catharopeza bishopi), a small black bird that flitters around the undergrowth. Regionally endemic birds that you may encounter at the trails also include the Antillean crested hummingbird, purple-throated carib, lesser Antillean tanager, brown trembler, and the rufous-throated solitaire.
Along the nation's coasts, ponds, mangroves, and hovering high above the inshore waters of the Grenadines, look out for the magnificent frigatebird, white-tailed tropicbird, terns, egrets, herons, and the occasional glossy ibis. Over 170 species of resident and migratory birds have been recorded in SVG, making the islands an interesting and beautiful destination for professional ornithologists and amateur birders.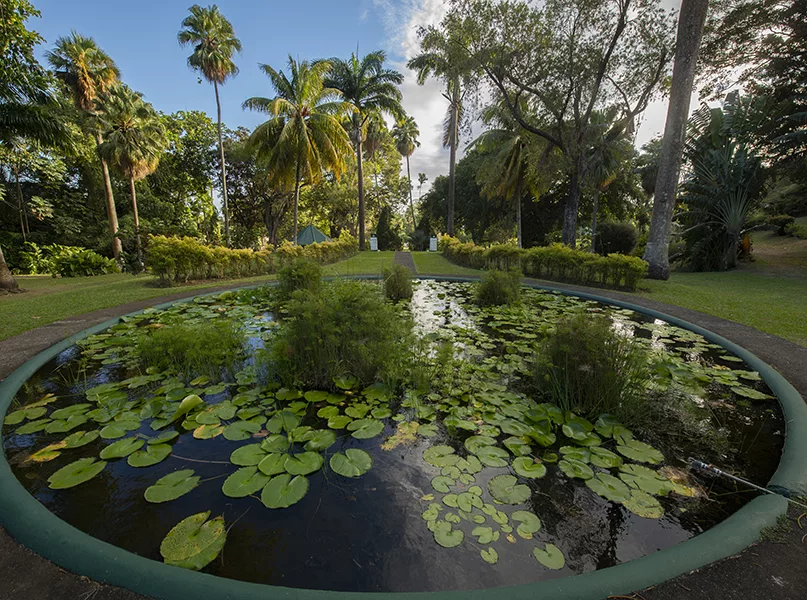 LANDMARK ATTRACTIONS
Japanese Garden Dive Spot
---
A zen-like experience, this extremely pretty dive spot leading into a breathtaking marine environment looks as though it has been tended to meticulously by Japanese gardeners. Featuring a bottom of gently undulating sand, coral outcrops, sea fans, and a forest of sea fronds plus masses of fish, this location will appeal to all divers or varying skill and experience.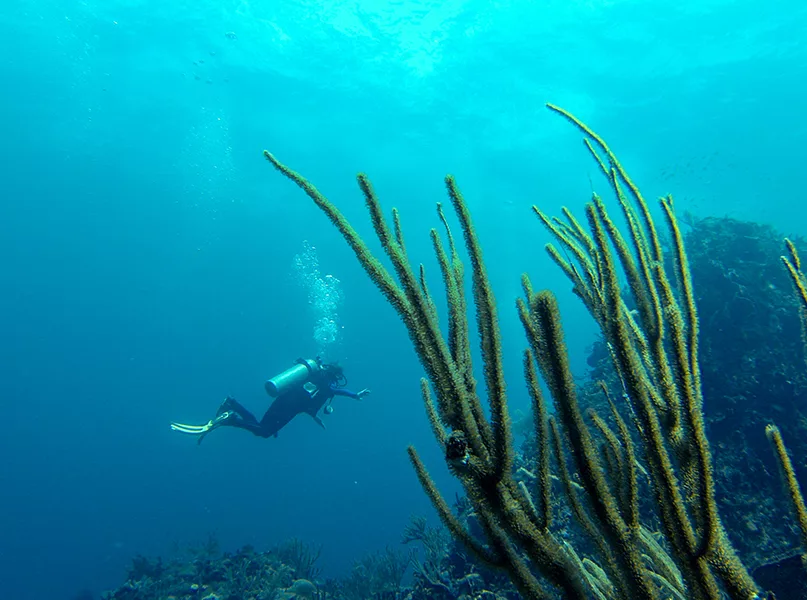 La Soufriere Volcano
---
At over 4,000 feet above sea level, the active La Soufriere volcano dominates the landscape of mainland St Vincent. It has long captured the imagination of adventure seekers with the famed Daniel Defoe, author of the adventure novel, Robinson Crusoe, writing about its majesty. La Soufriere experienced a series of explosive eruptions in April 2021 and is currently deemed to be out of its explosive phase. However, explorers are discouraged from hiking until further notice by the local authorities, and instead encouraged to observe from a safe distance.
GETTING THERE AND AROUND
---
Argyle International Airport is one of St. Vincent and the Grenadines' most important infrastructure assets and the country's first international airport. It is the largest international gateway into the country and connects SVG to major airports such as Miami International Airport, John F. Kennedy International Airport, Toronto Pearson International Airport, London Heathrow Airport, as well as many others across the Caribbean.
It is the largest of five airports in the multi-island nation of SVG, the others being J. F. Mitchell Airport in Bequia, Canouan Airport, Mustique Airport, and Union Island Airport, all in the Grenadines.
For boat service to the surrounding islands, you'll want to check with your accommodation. Chartering a boat is recommended, as it is easily the most convenient option for island-hopping.
By car, SVG's twisting roads are tricky to navigate due to potholes, steep turns, and aggressive drivers, but if you're up for a roadside adventure, keep in mind you need to drive on the left side of the road.
For rented vehicles, you'll need to present a valid driver's license as well as a temporary local license, which you can pick up from the police station on Bay Street in Kingstown or at the Revenue Office located in Port Elizabeth, Bequia.
If you don't want to deal with the hassle of renting a car, buses provide an easy and affordable way of getting around, but be prepared for slow speeds and crowded conditions.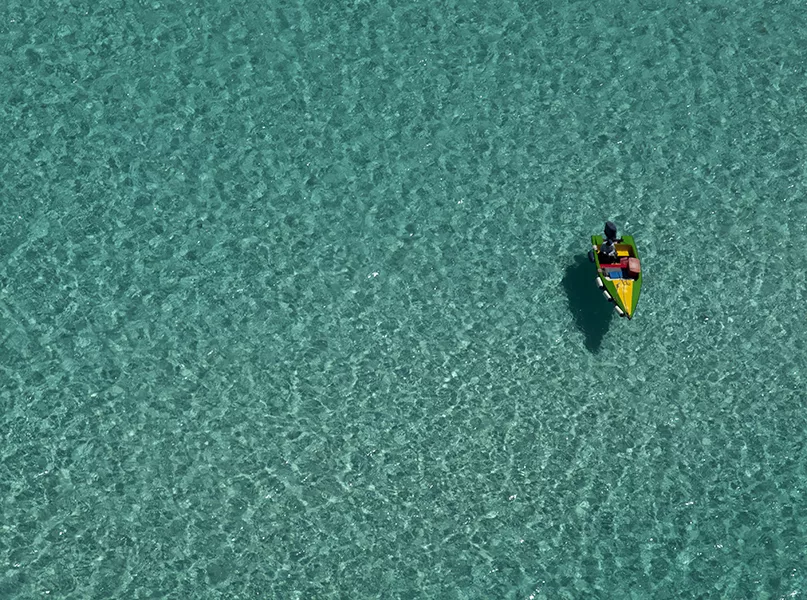 VIEW THE ST. VINCENT AND THE GRENADINES TRAVEL GUIDE