With its glacial peaks, vast lakes and primeval forests, Winston Churchill once referred to Uganda as the "Pearl of Africa," and it's easy to see why.
UGANDA
---
Winston Churchill once referred to Uganda as the "Pearl of Africa," and it's easy to see why. According to the Ugandan Tourism Board, this East African country "offers some of the continent's most diverse wildlife viewing, dramatic landscapes, and immersive cultural experiences." It's where you'll discover Africa's largest mountain range, the snow-capped Rwenzori Mountains, and vast Lake Victoria, the source of the River Nile.
Uganda is home to more than half the world's population of mountain gorillas. Trekking to observe them in their indigenous habitat, Bwindi Impenetrable Forest, tops many bucket lists. Head to the remote Kidepo Valley National Park to come face with "The Big Five" ­– lion, leopard, rhino, elephant and buffalo – on safari. Jinja is East Africa's adventure capital, and a renowned spot for white water rafting on the Nile.
For hundreds of years, Uganda has been a cultural melting pot with more than 50 distinct ethnic groups, speaking an array of indigenous languages. The country's oldest inhabitants are Batwa and Bambuti people – descendants of ancient hunter-gatherer cultures. As a result, Ugandans have a diverse cultural life which permeates everything from food to festivals. Their national dish is matooke, steamed and mashed green banana served with groundnut sauce and meat.
Uganda was named by UK Business Insider as the "world's most welcoming country to raise a family." Tourists are also guaranteed a warm welcome here. There's something for everyone in Uganda, whether you're interested in visiting ancient monuments or adrenaline-fuelled safaris.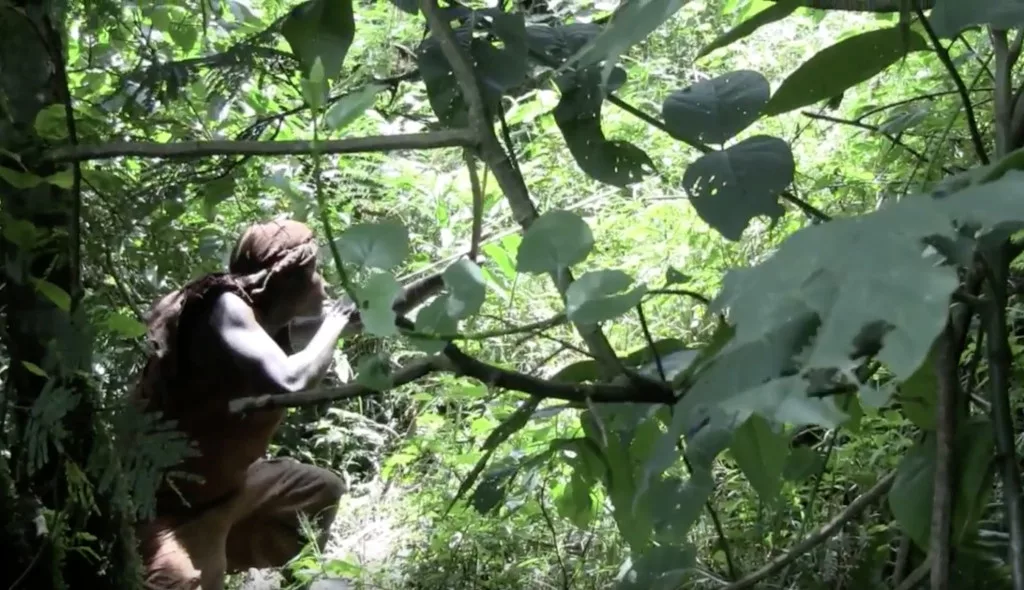 THE BUSINESS END
---
Since the 1990s, following a period of political instability, Uganda's economy has been growing rapidly. The country has been praised for its high rates of growth by organisations such as the World Bank. In 1997 it was selected as one of only a few countries to receive debt relief, thanks to its economic reforms. This has allowed Uganda to focus on eradicating poverty and expanding its infrastructure.
Uganda's economy is predominantly agricultural. However, tourism is also a major part of the economy, with visitors flocking to experience the country's diverse landscapes and abundant wildlife. It accounts for 7.7 percent of the GDP, and is also a major source of employment, accounting for more than 667,600 jobs.
The tourism sector continues to expand. The number of visitors to Uganda increased from 1.4 million in 2017 to over 1.5 million in 2018. The Uganda Tourism Board aims to expand into emerging markets such as Japan, and to increase provision for both budget and luxury travellers. However, according to the CEO, Lily Ajarova, the board also wants 'to promote domestic tourism and have more Ugandans visit Uganda."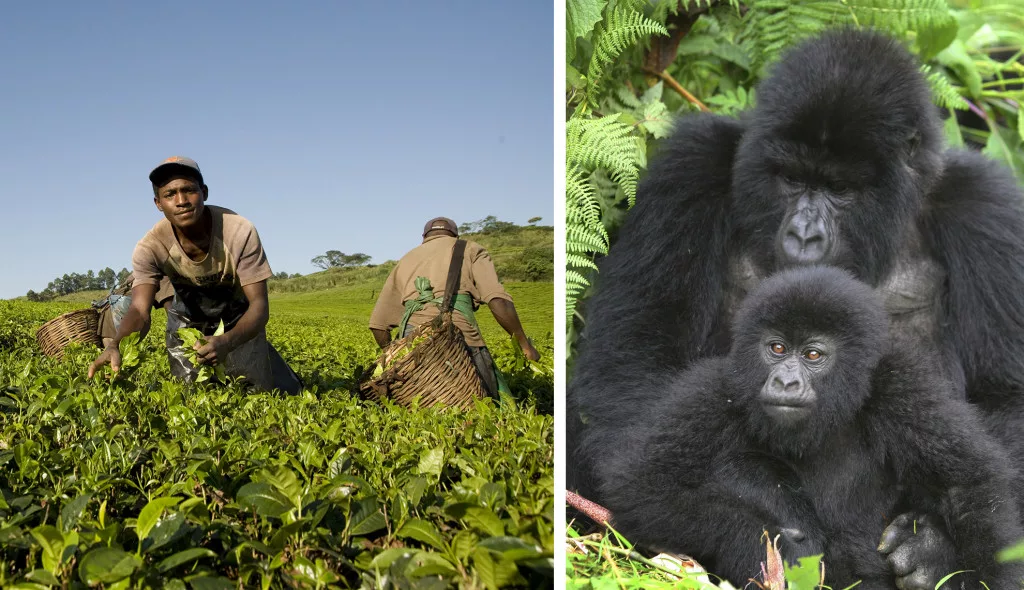 TOP COMMUNITY EXPERIENCES IN UGANDA
Community tourism experiences, such as village walks and cultural performances, allow visitors a unique insight into Ugandan society. Buying local crafts and food products also contributes to the economic wellbeing of communities. Outlook recommends the following projects.
RIDE 4 A WOMAN
Ride 4 A Woman was set up in 2009 to empower women in the Buhoma sector of Bwindi Impenetrable Forest through learning skills and developing careers. The program initially began by renting bicycles to tourists to generate capital. Tourists can now visit the organisation's lodges to learn how to cook Ugandan dishes, harvest crops and pedal sew from local women.
THE BATWA EXPERIENCE
The Batwa tribe no longer live in their ancestral home of Bwindi Impenetrable Forest. But visitors can still learn about their heritage and traditions on a rainforest hike with Batwa guides. Learn how the tribe lived, hunted and foraged, and listen to their ancient songs and legends on the The Batwa Experience.
BUNYANGABU BEEKEEPERS COOPERATIVE
Bunyangabu Beekeepers Cooperative in Rubona promotes sustainable beekeeping for economic development. Visitors to the apiary will learn about the beekeeping process, and how it benefits the community. Tours also include a beeswax camdle-making workshop and a honey tasting session.
RWENZORI TURACO VIEW VILLAGE WALK
Mihunga is a village in the foothills of the Rwenzori Mountains, inhabited by the Bakonzo tribe for over three centuries. The local community tourism group, Turaco View, takes visitors on a cultural tour of the village. The Rwenzori Turaco View Village Walk
includes a demonstration from a traditional healer, a trip to the local school and a basket-weaving demonstration.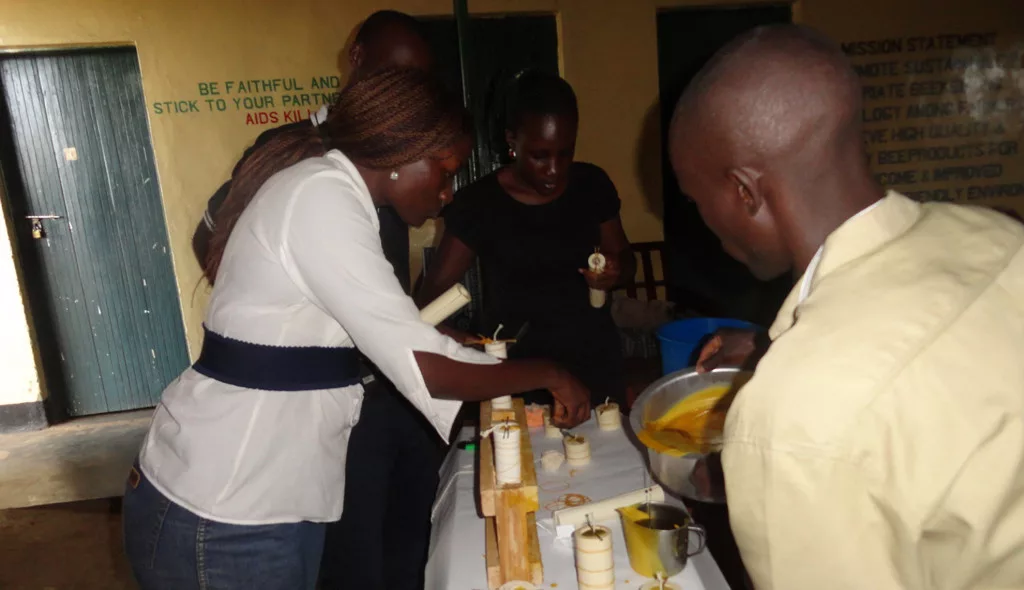 TOURISM INSIGHTS: UGANDA TOURISM BOARD
---
Can you firstly talk me through the origins of the Uganda Tourism Board, how it came about, and its initial vision?
Lily Ajarova (LA): Uganda Tourism Board was established in 1994. It aims to promote and market Uganda across the region and internationally. We are also tasked with promoting quality assurance in tourist facilities through training, grading and classification, promoting tourism investment, supporting and acting as the liaison for the private sector in the development of tourism. The broader goals of UTB are to increase the contribution of tourism earnings and GDP; improve Uganda's competitiveness as an international tourism destination; and increase Uganda's share of Africa's and World tourism market.
Since inception, how has the Uganda Tourism Board developed and progressed in terms of its key objectives and the messages it tries to get across?
(LA): One of UTB's key objectives is to promote the country's abundant wildlife and conservation efforts, especially the mountain gorilla, which has come off the 'critically endangered' list in our country. We also aim to highlight Uganda's stunning natural landscapes and the array of outdoor activities on offer, including trekking, game safaris and white-water rafting.
How would you say Uganda has developed in recent years as a business travel hub and what are the key reasons behind its growing appeal?
(LA): Our tourism industry has grown steadily over the years, and we have had remarkable developments in the sector. Currently, tourism is the number one foreign exchange earner for the country and one of the key sectors offering employment.The tourism sector is expanding, and we should see even more growth as we begin to put into effect the key focus areas identified in the Tourism Master Plan.
Why, in your opinion, should someone visit Uganda?
(LA): Uganda is one of the most beautiful countries in Africa, offering some of the continent's most diverse wildlife viewing, dramatic landscapes, and immersive cultural experiences. Safari opportunities abound in savannah, forest, and wetland settings throughout 10 national parks. Visitors can come face to face with "The Big Five" – lion, leopard, rhino, elephant, and buffalo – as well as giraffe, zebra, chimpanzee, hippopotamus, crocodile, and more than half of all bird species found in Africa.
Are there any specific attractions, landmarks or places to eat and drink that you would recommend?
(LA): Among Uganda's extraordinary natural attractions are the snow-capped Ruwenzori Mountains, expansive Lake Victoria, which forms the source of the Nile River; and Murchison Falls National Park. The unspoilt Kidepo Valley National Park was voted the third best national park in Africa by CNN in 2013. Jinja is East Africa's adventure capital, home to some of the world's best white-water rafting. A visit to our capital, Kampala, is also recommended. It has some great attractions, such as Kabaka's Palace and Uganda Museum.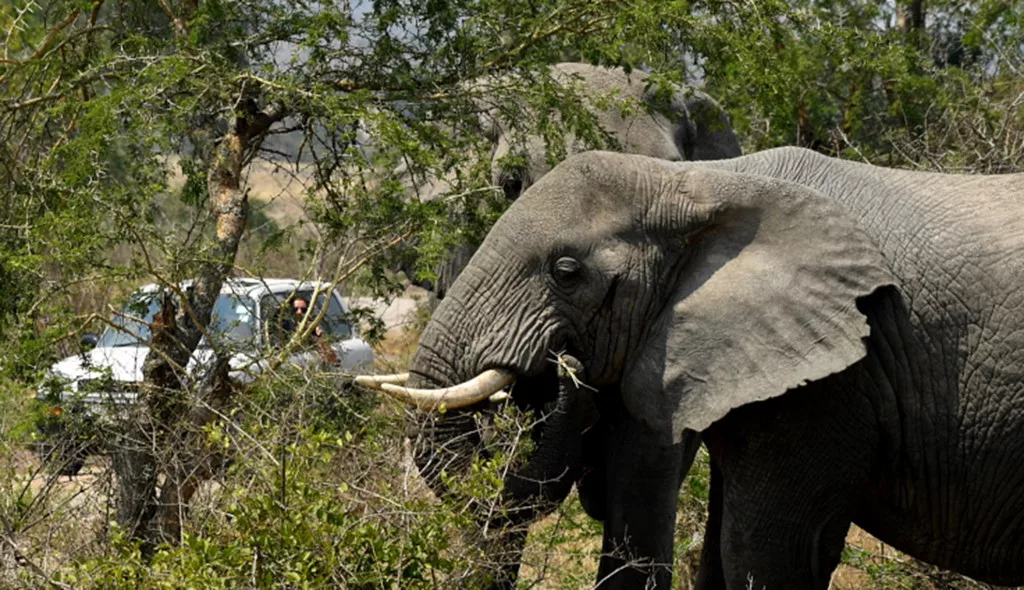 What are the best ways of getting around the country?
(LA): Uganda has several domestic scheduled operators who fly to various locations across the country. Public and private transport is available to various parts of the country, including marine transport on Lake Victoria. The railway line is also currently being redeveloped to foster transport within the East African region.
What trends are transforming the tourism industry in Uganda at present? How are you responding to these trends?
(LA): We are aiming to increase revenue from domestic tourism by finding ways of making travel easy and affordable for Ugandans. The challenge we had in the past was that many Ugandans felt that tourism was only for foreigners. We are thus looking at changing this mind-set. Internationally, our focus is on promoting Uganda to different source markets: United Kingdom, North America, and the German-speaking countries; Germany, Austria, and Switzerland. We are also ensuring that we have a presence in emerging markets, such as the Gulf States, Japan and China. We are moving away from a sole focus on high-end tourists, to expanding provision for budget and mid-level travellers, as well as FITs (free independent travellers).
How do you see Uganda developing as a business travel hub over the next year to two years?
(LA): Uganda is positioning as a MICE (Meetings, Incentives, Conferences and Events) destination. We have conference venues spread over the entire country and are also in the process of setting up a convention bureau. Between February 4-6, 2020, we will be hosting our annual Pearl of Africa Tourism Expo. The expo brings together tourism and travel trade partners from Uganda, East Africa and the world over to foster tourism knowledge and business exchange.
Are there any plans or projects in the pipeline that you wish to highlight?
(LA): We will focus on developing tourism across the country, reaching out to various stakeholders to ensure every Ugandan is involved in tourism through either investment or service provision. This is with the key objective to increase foreign exchange, development and employment. In April 2020, we will launch a strategic plan targeting marketing, product development, investment and quality assurance. We believe this will drive our sector and ultimately the economy forward onto where we aspire to be.
Are you optimistic about the future of the tourism industry in Uganda?
(LA): Year-on-year growth in the number of tourist arrivals has been steadily increasing and our aim is to maintain this momentum. In the short term, our target is to grow numbers from the current 1.7 million tourists per year to four million by 2021. We have lots of
diversity which other countries do not have. The World Tourism Organisation has ranked Uganda third among the world's top 10 most promising tourism destinations. Both Condé Nast Traveler and National Geographic have praised our national parks, and we won a Gold Award for best exhibitor at the Africa Travels Indaba Fair in South Africa. We believe we are on the right path to helping Uganda achieve her economic aspirations.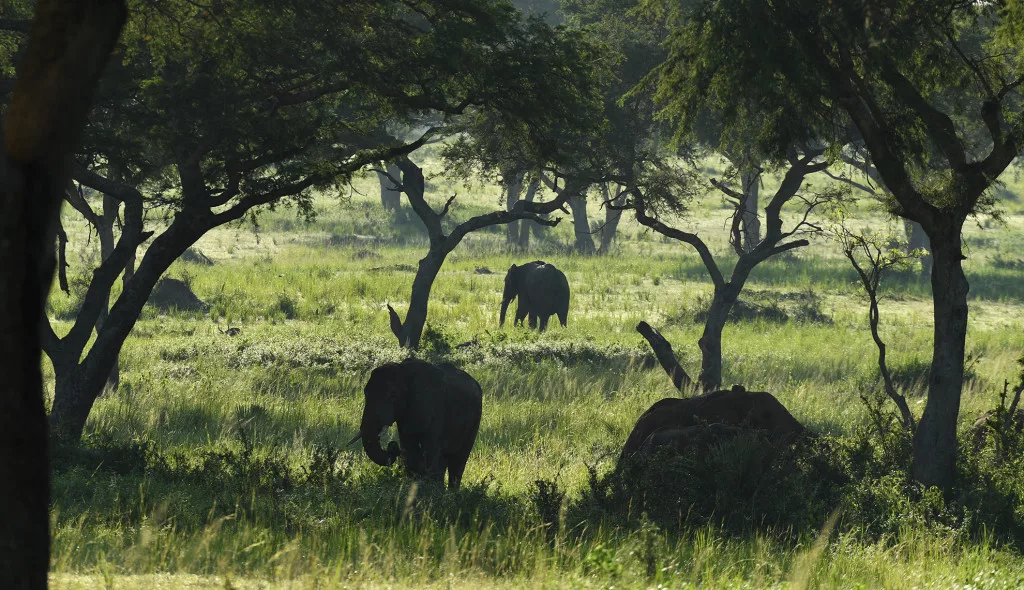 KAMPALA IN FOCUS
---
Kampala is situated in the heart of the former Buganda Kingdom, on the shores of Lake Victoria. Once built across seven hills, it is now one of Africa's most rapidly expanding cities, with a population of over 1,650,000. The ancient and the modern collide in this bustling, multicultural city.
Visit the UNESCO-designated Kasubi Tombs, where the Buganda Kings were buried in buildings with large thatched roofs. Browse the ethnological and natural history exhibitions at the Uganda Museum, where you can learn about the country's colourful past. The city is home to numerous cultural festivals, including the Bayimba International Festival of Music and Arts.
Kampala is renowned for its nightlife, offering everything from cocktail bars to salsa clubs. Centenary Park, with its maze of bars and central location, is a popular haunt for locals and tourists. The capital also has a great dining scene, whether you're looking for local street food or international restaurants.Head away from the crowded city centre to Nakasero Hill, the city's most affluent neighbourhood. In this leafy suburb you'll find some of the capital's most upmarket hotels and state buildings. Kampala is a popular East African MICE hub, as it offers an array of accommodation and conference facilities.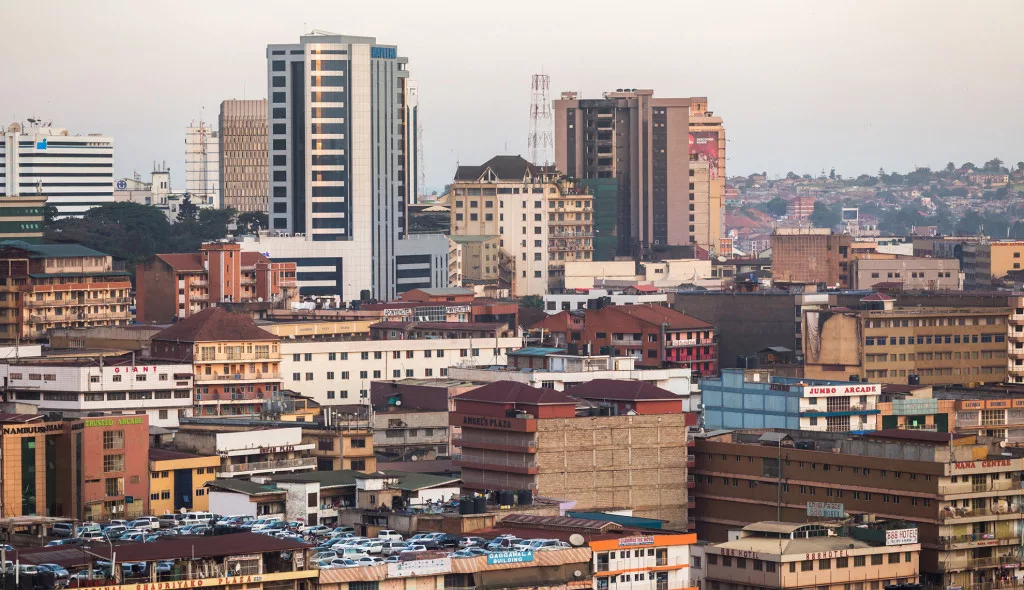 OUTLOOK RECOMMENDS
STAY
---
Laburnam Courts is a luxury hotel, located next to State House Nakasero in Kampala. It boasts state of the art facilities, including a spa, outdoor pool and restaurant. The upmarket rooms and studios are decorated in a neutral palette, with en-suite bathrooms, air-conditioning and balconies. It's the perfect spot to explore the capital.
Mboro Safari Lodge is a luxurious and eco-friendly lodge, nestled in Lake Mboro National Park. Accommodation is provided in thoughtfully designed cottages, with comfortable king-sized beds and traditional grass-thatched roofs. Each cottage has a private balcony, offering panoramic views of the national park and a chance for wildlife spotting.
EAT & DRINK
---
OUTDOORS
---
DO
---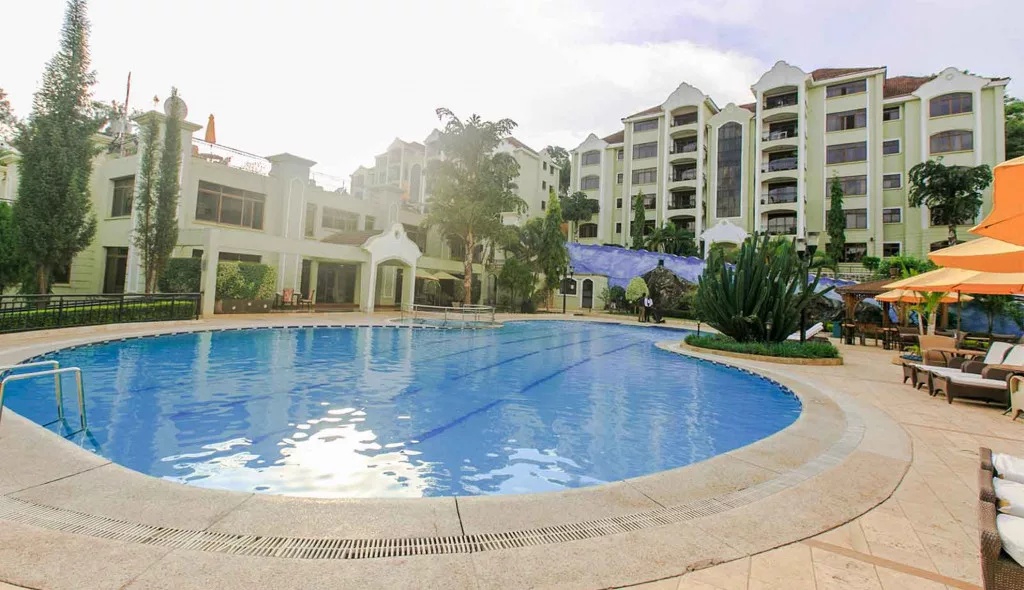 GETTING THERE AND AROUND
---
It's easy to travel to Uganda by air. The country's largest airport, Entebbe International Airport, is serviced by various international carriers including KLM, Qatar Airways and Emirates Airlines. Uganda recently revived its national carrier, Uganda Airlines, beginning with routes from Entebbe to Nairobi, Dar-es Salaam and Mogadishu. In the future it will be expanding to more African destinations.
The country also has several domestic scheduled flight operators, offering flights to different locations within the country. Fly Uganda serves remote destinations such as Kidepo National Park, with flights leaving from Kajjansi Airfield.
Transport within Uganda is very affordable. There are several intercity buses in Uganda, including Post Bus, most of which depart from the capital Kampala. The best way to travel within cities is by private taxi or shared minibuses, which run on a fixed route. Uganda has a good road network, making car hire a possibility. Several companies offer self-drive safaris, where tourists can rent a 4 x 4 vehicle to go off the beaten track. It's also possible to explore Uganda via railway. There are two lines, one from Kampala to Port Bell, and the other from Kampala to Tororo on the Kenyan Border.