With its snow-capped mountains, tropical islands, vast plains and powdery beaches, Tanzania is a country just waiting to be explored.
TANZANIA
---
Tanzania is one of Africa's most stunning and diverse countries. From the vast grasslands of the Serengeti to its miles of tropical coastline, there's so much to explore. The country also boasts Africa's highest point – snow-capped Kilimanjaro, which is climbed by around 20,000 people every year. And don't forget its offshore islands, including magical Zanzibar and the more off-the-beaten-track Mafia Island.
If you're interested in outdoor activities, there's no shortage of things to do in Tanzania. Trek through tropical forests, alpine meadows and ice fields. Take to the ocean to surf or go scuba diving through coral gardens. Explore overland on quad bike or horseback. When it comes to safaris, Tanzania is unrivalled. There's a huge variety of wildlife here – visitors flock to the Serengeti every year to observe the Great Annual Migration of wildebeest and zebras.
But there's more to Tanzania than just wildlife. It also has a vibrant culture and friendly inhabitants. You'll receive a warm welcome from everyone, be they indigenous Maasai warriors or inhabitants of tropical metropolis Dar es Salaam. Whether you're looking for a laidback beach break or a trekking adventure, a trip to Tanzania is an experience that will stay with you for years to come.
THE BUSINESS END
---
Tanzania has a predominantly agrarian economy, with around 40 percent of the workforce employed in the agricultural sector. The most lucrative exported cash crops include coffee and cotton, while the island of Zanzibar produces around a tenth of the world's cloves.
The economy is also reliant on mining. Diamonds, tanzanite and gold are all mined in the country. International countries have been exploring petroleum resources both onshore and offshore.
Tourism is also important to the Tanzanian economy. According to World Travel Tourism Council, in 2017 tourism made a nine percent contribution to Tanzania's GDP – a number predicted to rise with every passing year. Indeed, last year saw a record number of 1.5 million tourists setting foot in the country.
What explains Tanzania's increasing appeal? At a conference in 2018, Professor Adolf Mkenda, Minister of Tourism, suggested that "the development is largely explained by the ongoing extensive promotional efforts coupled with beautiful tourist attractions in the country."
Decisive measures to combat poaching in national parks and game reserves have also increased the appeal of Tanzania's great outdoors. The country continues to develop its travel and business infrastructure, which will also boost tourism.
TOURISM INSIGHTS: THE HOTELS ASSOCIATION OF TANZANIA
---
Last year, Africa Outlook interviewed the Hotels Association of Tanzania about the growth of the tourism sector, and how they are helping to promote and preserve the industry. The Hotels Association of Tanzania was formed in 2004, with the goal of helping the private accommodation sector navigate a relationship between the public sector and other stakeholders. As they told us last year, "our ultimate objective is to make the Tanzanian hospitality industry competitive globally, and viable for the investors, employers, employees, local communities, suppliers and the government." We caught up with Nura-Lisa Karamagi, the organisation's CEO, to discuss the most recent developments in the association.
Q&A WITH NURA-LISA KARAMAGI, CEO, THE HOTELS ASSOCIATION OF TANZANIA
It has been around a year since we last caught up. How would you describe the past 12 months' activity at the association?
Nura-Lisa Karamagi (NK): The association's mandate has remained the same: to advocate for fair laws and practices for the interest of both the members, and those who will benefit from the tourism sector. Our focus these past 12 months has been on engaging the government to understand first-hand the challenges facing our members and trying to find the best ways to resolve those challenges. We have worked well with the Ministry of Natural Resources and Tourism on this. They are engaging us more and more before implementing new regulations. The challenge remains to coordinate with other government agencies, but it's in progress. Skills development also remains a key issue. We continue to work with various stakeholders to address some of the skills gap issue in the country. A positive result from this work is that finally, a Sector Skills Council is in the process of being set up.
How would you say Tanzania has developed in the past year or so as a travel hub, and what are the key reasons behind its growing appeal?
(NK): Tanzania continues to grow as a travel hub. This is partly due to the positive press it continues to have with regards to its attractions, and partly because of the continued efforts by public and private stakeholders to advertise the destination. Security is of paramount importance to a country's appeal, and this government continues to do well in that arena.
Why, in your opinion, should someone visit Tanzania?
(NK): Tanzania is blessed with every type of attraction someone would wish to see, not simply wildlife and beautiful beaches. We have lots of diverse attractions. Some are harder to find than others, but uncovering a hidden gem is always rewarding. There is really something for everyone here; it's one of the few countries in the world I can think of that would tick most of the boxes for different types of tourism products. Above all, it's authentic. Having had the privilege to visit many other countries in the world, I have realised that something which makes Tanzania stand out as a destination is the friendliness of its people. Tanzania and its residents are amazing hosts.
Are there any specific attractions, landmarks or places to eat and drink that you would recommend?
(NK): I believe that there are so many unique attractions and properties in Tanzania. The south of the country is a rising star and has much to offer. Onsea House in Arusha has a long-standing reputation in fine dining. The Gran Melia in Arusha, which recently opened, offers a variety of fine dining restaurants and bars on its property.
What trends are transforming the tourism industry in Tanzania at present? How are you responding to these trends?
(NK): More and more tourists are conscious of eco-friendly and conservation practices as a means of protecting the surrounding environments in places they visit. For a long while now operators have appreciated this and want to make their properties as eco-friendly as possible. It is a selling point.
How do you see Tanzania developing as a tourism and travel hub over the next year to two years?
(NK): The continuing improvements in infrastructure are opening up more areas in the country. This is in line with the government's aim to diversify tourism products and expand tourism to every corner of the country, not only the Northern Regions and Zanzibar. You will start to see other areas become popular attractions – not only Kilimanjaro, Ngorongoro, Serengeti and Zanzibar. As I said, Tanzania has much to offer, and the government is working on facilitating investments in other areas to help them develop.
Are there any plans or projects in the pipeline that you wish to highlight?
(NK): A large portion of the Selous Game Reserve – which is a world heritage site – was recently directed by His Excellency President Magufuli to become a National Park. This offers a great opportunity. In the future, more hunting grounds will become photogenic conservation areas. Tanzania's commitment to conservation must be highly commended.
Are you optimistic about the future of the tourism industry in Tanzania?
(NK): I believe tourism in Tanzania will improve in value so long as conservation, environmental practices and a fertile business environment continue to be fostered. The will and efforts continue to be present for that in the country: therefore, I am optimistic.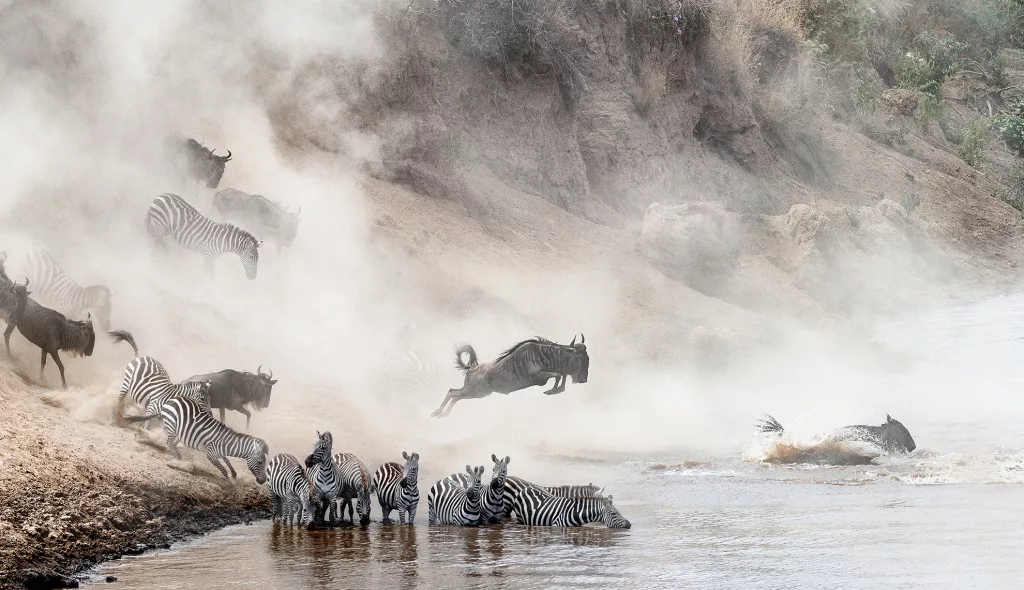 Q&A WITH MOUSTAFA KHATAW, CHAIRMAN, TANZANIA SOCIETY OF TRAVEL AGENTS
Tanzania Society of Travel Agents (TASOTA) was formed in 1980 with the intention of bringing all IATA-accredited travel agents in Tanzania under one umbrella, so they could speak with a single voice. Last year we spoke to TASOTA's chairman, Moustafa Khataw, about how the organisation has grown and changed since inception. Now we sat down with him to discuss the organisation's most recent developments and their aspirations for the future.
It has been around a year since we last caught up. How would you describe the past 12 months' activity at TASOTA?
Moustafa Khataw (MK): TASOTA has been having regular meetings for its members – including its suppliers, service providers and airlines – with a view of enhancing their efficiency. They are also able to avail a wide range of products to their clientele at large. It has been indeed a busy year.
How would you say Tanzania has developed in the past year or so as a travel hub, and what are the key reasons behind its growing appeal?
(MK): With the revival of Air Tanzania – the country's national carrier – which has taken delivery of eight brand new aircraft, and the opening of Terminal 3 at Julius Nyerere International airport, Dar Es Salaam is poised to become a regional hub.
Why, in your opinion, should someone visit Tanzania?
(MK): Tanzania has the best attractions, be they safaris, beach holidays and other unexplored parks and game reserves. Tanzania has been named as one of the top destinations in Africa and a must visit-country. It boasts Mount Kilimanjaro – the highest free-standing mountain in Africa – and the great Serengeti Plains with the amazing wildebeest migration. There's also the world-famous Ngorongoro Crater, Gombe National Park (boasting unique chimpanzees), Zanzibar, Pemba Island and diving spots in Mafia, to mention just a few.
Are there any specific attractions, landmarks or places to eat and drink that you would recommend?
(MK): For Dar Es Salaam, the Makonde Carving and Village Museum are a must to visit. Many restaurants are there, offering variety of cuisines. The Slipway is a place to be for a sundowner.
What trends are transforming the tourism industry in Tanzania at present? How are you responding to these trends?
(MK): The Tanzania Tourist Board (TTB) has been organising various road shows in China and India with a view to tapping into these markets. They have been participating heavily at trade fairs such as WTM and ITB as well. TTB has been on a campaign to advertise in UK, Europe and Americas, attempting to increase the number of tourists visiting from these countries.
How do you see Tanzania developing as a tourism and travel hub over the next year to two years?
(MK): Tourism is growing exponentially, and the country has a target to reach 1.5 million tourist arrivals by 2020. Tourism contributes at least 20 percent of Tanzania's GDP, and provides employment to over a million people.
Are there any plans or projects you have in the pipeline that you wish to highlight?
(MK): TASOTA Is encouraging its members to move towards embracing digital technologies. This will allow them to reach their audience in an easy and cost-effective manner.
Are you optimistic about the future of the tourism industry in Tanzania?
(MK): There is no doubt that tourism will be the number one foreign exchange earner for the country for the foreseeable future. With government support, its growth is all but guaranteed.
DAR ES SALAAM IN FOCUS
---
Dar es Salaam is Tanzania's largest city, with a population of more than four million. Although not the country's capital, it's the seat of government, industrial centre and largest port in the country. Many leisure travellers pass through Dar es Salaam on their way to attractions such as Zanzibar Island, but it's worth stopping by for the food alone.
A multicultural population means that cuisines from all around the world are available. The city is renowned for its Indian food, ranging from sweet chai to kebabs, and it's possible to pick up African and Turkish street food. Dar es Salaam also has its fair share of upmarket restaurants and high-end bars, if you enjoy travelling in style.
The city's architecture reflects its colonial past, with buildings incorporating Swahili, German and Asian styles. Learn more about the country's past with a visit to The National Museum. Head to Mwenge Woodcarvers Market to pick up Makonde carvings – a traditional style of woodworking unique to Tanzania.
Dar es Salaam is a rapidly developing hub for MICE tourism. Business travellers will find an array of conference facilities, luxury hotels, and good transport connections to the surrounding area and the rest of the world.
OUTLOOK RECOMMENDS
STAY:
---
Serena Hotels operates a chain of upmarket hotels, tented safari camps and lodges across South Africa, including 10 properties in Tanzania. Whether you're looking for an ocean-facing hotel in Zanzibar, or a camp in the stunning Serengeti, you'll find your perfect accommodation with the company. The fantastic Kirawira Serena Camp offers 25 lavish tents, with private balconies overlooking the Serengeti plains. They offer a unique bush dinner on the plains, with campfires, Maasai dances and a five-course feast prepared on the barbecue. There's also an outdoor pool, and game drives taking you in search of the 'Big Five.'
Four Seasons Safari Lodge Serengeti
Plantation Lodge is a safari hotel located near Ngorongoro Conservation Area. It's nestled in tropical, landscaped gardens, home to around 140 different bird species. There's also a restaurant and an outdoor pool – the perfect spot for a sundowner. Accommodation is provided in opulent rooms and suites overlooking the garden.
EAT:
---
DRINK:
---
DO:
---
GETTING THERE AND AROUND
---
There are many ways to explore Tanzania. If you're pushed for time, taking flights is the quickest way to cross the country's vast expanse. A decent domestic flight network connects major travel hubs such as Dar es Salaam, Arusha and Zanzibar, as well as major national parks. Flight carriers include Air Tanzania and Air Excel.
Air Tanzania also provides international connections. The busiest international airport is at Dar Es Salaam, which sees an average of 2.5 million passengers a year. This is expected to rise to nine million, following the completion of a major new terminal in June 2019.
Tanzania can also be explored on water. Ferries operate routes across Lake Victoria, between Dar es Salaam and Zanzibar and from Pemba to Tanga. It's also possible to visit these destinations on traditional sailing boats known as dhows, which have been converted for tourist travel – local tour operators will help you book a private charter.
Another scenic option is to take the train. Tanzania has two railway lines, one linking Dar es Salaam to New Kapiri Mposhi (in Zambia), and the other running between Dar es Salaam and Mwanza. There is also a long-distance bus network. For shorter distances, the best option is to take a taxi or a 'dalla-dalla'; a shared minibus taxi.