St. Kitts is blessed with Caribbean charm, romantic scenery, and mouth-watering cuisine. Set foot on the island of a thousand treasures.
ST. KITTS
Limin' – to hang out, enjoy yourself, and kick back on island time. This one small word encapsulates the St. Kitts experience, as the ultimate destination for some sun, sea, and laidback indulgence.
Found in the azure waters of the Caribbean, St. Kitts lies in the Leeward Islands chain and is one half of the dual-island nation of St. Kitts and Nevis Federation. Although in modern times it is rarely referred to as St. Christopher, St. Kitts' official name hearkens back to when explorer Christopher Columbus was so captivated by the island's natural beauty that he decided to name it after the patron saint of travellers.
From the rain-forested verdure of the towering volcanic peak of Mount Liamuiga, to the kaleidoscopic swathes of virgin coral reef coating the ocean floor, St. Kitts is a natural paradise from top to bottom. A haven for scuba divers, to venture deeper off the shores of St. Kitts promises a spectacular submarine display of shipwrecks, sea turtles and rainbow fish, and much more.
On land, St. Kitts' colonial past is tangible in lavish plantation estates that are a reminder of the once thriving sugar cane trade, and in the quaint architecture of historic Basseterre – the island's capital, where visitors have arrived at the bustling Port Zante for centuries.
St. Kitts' culinary scene is sure to whet your appetite, including fine dining restaurants in Basseterre and quintessentially Caribbean reggae beach barbeques on Frigate Bay, best enjoyed over a rum punch or two as the soothing beats of soca music pulsate in the background. This stretch of sand is one of the liveliest spots on the island, home to a string of beach bars known as The Strip. For those in search of sun-soaked seclusion, head to the deserted coves surrounding Sandy Bank Bay or the volcanic sands of Dieppe Bay. Wherever you go, you can't go wrong, since St. Kitts' greatest calling card is the warmth and hospitality of the Kittitians themselves.
TOURISM INSIGHTS: ST. KITTS TOURISM AUTHORITY
We catch up with Ellison 'Tommy' Thompson, CEO of the St. Kitts Tourism Authority, for some expert insight into this enticing island destination.
Q&A WITH ELLISON 'TOMMY' THOMPSON, CEO, ST. KITTS TOURISM AUTHORITY
Firstly, could you provide us with a brief introduction to the tourist board?
Ellison 'Tommy' Thompson (TT): The St. Kitts Tourism Authority was founded in 2007, and our objective is to put St. Kitts on the map as a holiday destination for the wider market. We also have the responsibility of onshore quality assurance, working with everyone from our stakeholders to taxi drivers, and auto vendors, to ensure that they're complying with the legislation that governs the tourism authority. We cooperate with the Ministry of Tourism in terms of new product initiatives, alongside working with cruise lines and airlines to ensure that we are maintaining adequate visitor and passenger levels to St. Kitts.
We want to look at how we can increase the number of arrivals and the economic benefit of tourism on St. Kitts. Ever since the historic shift from the sugar industry into tourism, this has become our major source of employment and the greatest avenue for foreign exchange into St. Kitts. Our vision is to ensure that the wealth of tourism continues to expand throughout the island.
What kind of traveller does St. Kitts appeal to most?
TT: We appeal to the traveller who is looking for something new to experience – someone who is looking to get a richer experience beyond just a beach holiday. The tagline of our new campaign 'Venture Deeper' hints at the kind of adventure activities that travellers can take part in, but we also appeal to romantic holidays and family vacations. St. Kitts is known for its diving, and just this year, we were awarded the title of the Caribbean's leading dive destination.
Whichever kind of traveller you are, we are a destination where you can join in with what the locals are doing through a seamless relationship. Coming here, people feel very welcomed and like they are at home. It is a feeling that will make you want to come back.
What differentiates St. Kitts from other Caribbean island destinations?
TT: I think the greatest thing about St. Kitts is the Kittitian people themselves – I cannot stress how warm and welcoming they are. There are not many destinations in the world where you feel as comfortable as a tourist in local spots as you do in St. Kitts.
Aside from that, St. Kitts stands out for the physical beauty of the island, with its lush rainforests, mountains and beaches – it's simply a stunningly beautiful place. One of our most popular activities, especially for kids, is the opportunity for tourists to explore the rainforest with a certified guide to learn all about the flora and fauna of the forest and its medicinal benefits. We recently won an award as a leading Caribbean hiking destination and recommend the opportunity to climb Mount Liamuiga at just over 3,000 feet.
Finally, it is our culinary experiences – whether it's at our beach bars, fine-dining restaurants, and everything in between. This is where the rum industry first began, and we have started a programme, Kittitian RumMaster, where you can learn all about the theoretical and practical history of rum making in St. Kitts, culminating with the practical experience of our leading rum producers on the island. Jack Widdowson from the Wingfield Estate provides the theory, while Roger Brisbane from Hibiscus Spirits introduces guests to the practical side, where you can create your own brew before receiving your certificate at the end of the course.
How does St. Kitts incorporate sustainable travel experiences?
TT: We see this as a major platform that must be incorporated in our tourism. As such, we have a Sustainable Tourism Council between the Tourism Authority, the Ministry of Tourism and the environmental agencies where we look at several initiatives. One of the most important ones is 'Plastic-Free', where we are educating the general public on how to minimise the use of plastic on the island.
I would also like to highlight the work of a new resort, Sunset Reef, where they are employing geothermal and solar technology to heat and power the hotel.
I think one of the most important things that we must look at when we talk about sustainability is how we sustain the culture of St. Kitts, not just the environment. This extends to how we sustain our people, and thereby protect our culture and preserve our history. In order to conserve the sustainability of our people, we need to look at our human resources, working with colleges, culinary schools and other institutions to ensure that we're getting the manpower that is going to take our tourism industry even further. St. Kitts is relatively new to tourism, since it has only really developed here in the last 20 years, so there is still plenty of room in terms of opportunities for future development.
Looking ahead, what are the tourism board's key priorities for the coming year?
TT: We were quite late coming out of COVID-19 in terms of relaxing our protocols for entry, so we are still playing catch up. In August, we elected our new Minister of Tourism – the first female in the role – and she eliminated the need for vaccination and testing for people coming here for vacation. Visitors only need to fill out a mandatory immigration form online before arrival.
As we move forward, we're looking at how to keep cruise visits stable in terms of the number of cruise calls that come into the destination, and how we increase our stopover business which is a matter of working with the airlines to extend seasonal service.
In September, we launched our new marketing campaign 'Venture Deeper', focusing on three different content pieces – our history, our culinary scene, and our romance. Each piece tells a different story about the destination, and this has already gained a lot of traction in the marketplace.
In the US, we are developing our key feeder market with non-stop flights and greater connectivity from New York, which is being supplemented with our PR activities. We've had a number of influencers, journalists and media come and visit from the US, Canada and the UK, who we are hoping will become great ambassadors for the island.
Finally, we have a major event coming up in June with the St. Kitts Music Festival which will be a huge draw for both international and regional guests. We feel like we've got the wind at our back now and we're elevating the profile of St. Kitts, not only in the US market but also in Canada and the UK.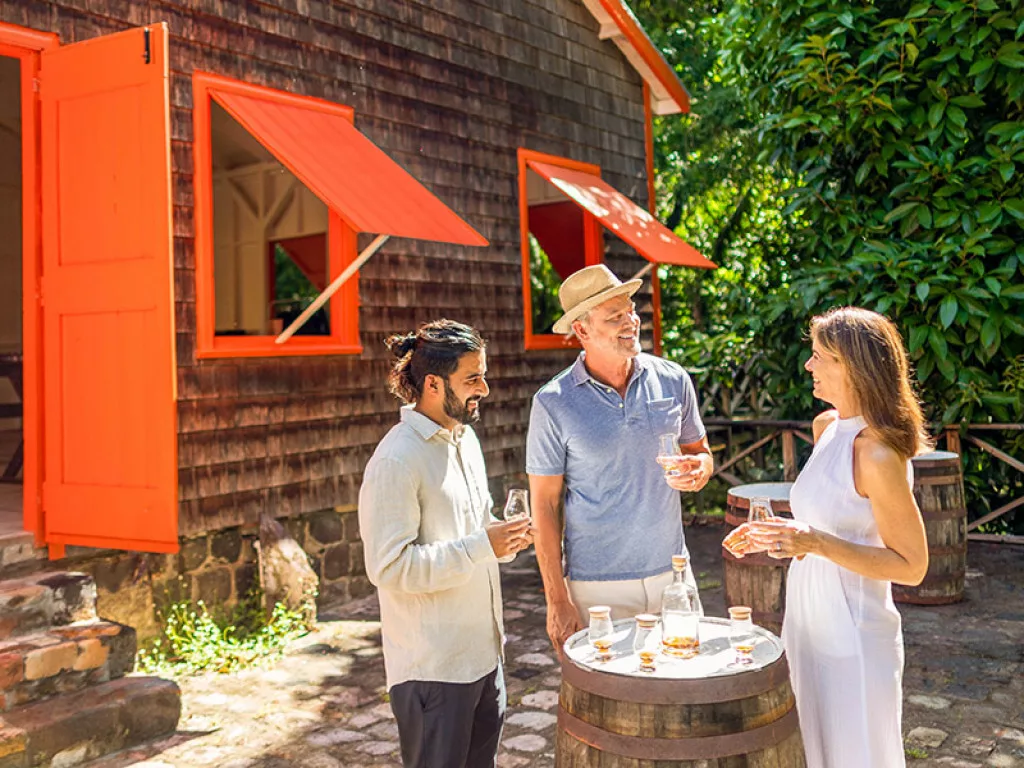 OUTLOOK RECOMMENDS
DO:
For Luxurious Private Tours and Charters…
For an Unforgettable Wildlife Encounter…
Dolphin Discovery introduces you to the best friends you will find on St. Kitts, offering a range of activities and the experience of a lifetime with the island's resident dolphins. The perfect combination between action and adventure, choose from the Dolphin Royal Swim, Dolphin Swim Adventure, and Dolphin Encounter.
For a taste of the island's finest…
SLEEP:
For a welcoming stay on Frigate Bay…
For a unique organic resort…
Embodying a proudly local philosophy, Belle Mont Farm at Kittitian Hill specialises in authentic West Indian culinary experiences with fresh produce gathered from around the island, either farm-to-table, or fresh-from-the-net. Choose from a range of accommodation on site for an unforgettable sojourn on the verdant slopes of Mount Liamuiga.
EAT:
For a local favourite…
While in St. Kitts, be sure to try goat water – a rich meat stew swimming with local vegetables including yams, breadfruit, carrots, sweet potatoes and red beans. As a national dish, this is traditional Saturday lunch fare.
For a seafood delicacy…
Conch fritters are a Caribbean classic and can be found in eateries across the island. Conch – a kind of mollusc – is abundant in the shores surrounding St. Kitts and is typically eaten either as a snack or a starter.
BASSETERRE IN FOCUS
Situated on the Caribbean shores of the island's southwest, Basseterre is the capital city of St. Kitts. Basseterre began life as an official settlement in 1626 when it was established as a French colony, hence its name, which translates as 'low-land' in reference to the city's strategic valley location.
Small enough to explore on foot, history abounds in Basseterre as a significant Caribbean outpost. A flourishing port town, both today and in bygone centuries, in 1660 it was named the colony capital of the French West Indies.
Basseterre's colonial heritage is evidenced by its architectural footprint, including ornate Georgian buildings with elegant verandas and traditional 'skirt-and-blouse' style houses, although many of the French and British buildings were wiped out during the devastating fire of 1867.
For history aficionados, a walking tour is highly recommended to guide you through the many stories behind Basseterre's rich past – including landmarks like Independence Square, the centre around which the city developed, to St. George's Anglican Church, which is home to the oldest pipe organ in the Western Hemisphere.
Basseterre remains a thriving contemporary location with many shops, cafes and restaurants to enjoy. The majority of people arrive here through the 'gateway to the island', passing through the archway of the Old Treasury Building at Port Zante, now home to the National Museum.
The city's thriving epicentre is The Circus – a plaza whose original design was modelled on London's Piccadilly Circus. On a Friday, you will find it heaving, as locals come here to lime – sitting, drinking and relaxing long into the night.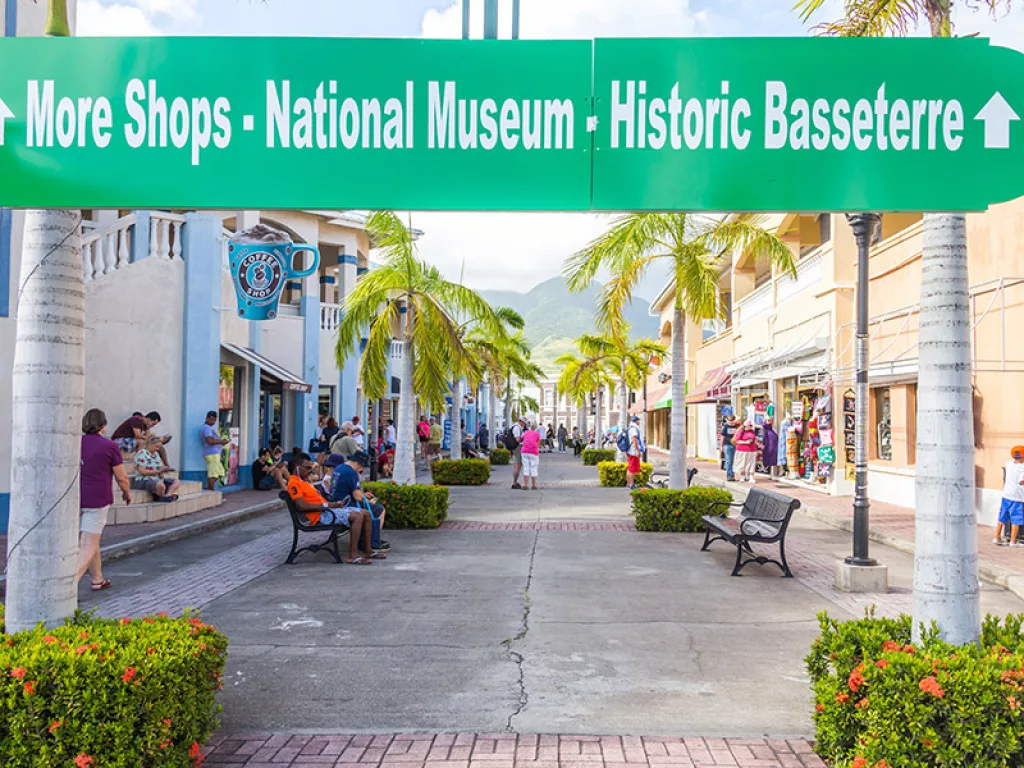 LANDMARK ATTRACTIONS
COCKLESHELL BEACH
Widely acknowledged as the best beach on St. Kitts, Cockleshell is just a stone's throw from the neighbouring island of Nevis, which you can reach with a seven-minute water taxi ride across the Narrows. This scenic white-sand crescent boasts the iconic Reggae Beach Bar, plenty of dining choices and a host of activities for water sports lovers.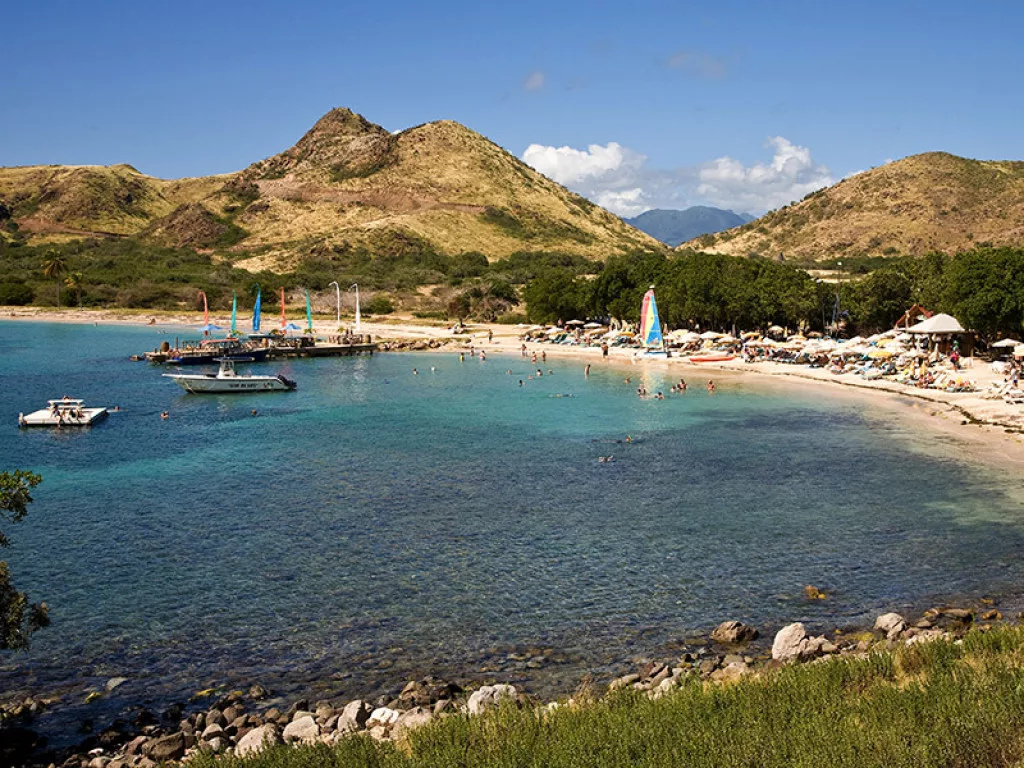 ROMNEY MANOR
This historic site is the former residence of the owners of the Wingfield Estate sugar plantation and is now the home of the Caribelle Batik craft workshop and store. The Manor is renowned for its gardens, where you will find a 350-year-old Saman tree and the old bell tower which was once used to regulate the working day during the manor's colonial heyday.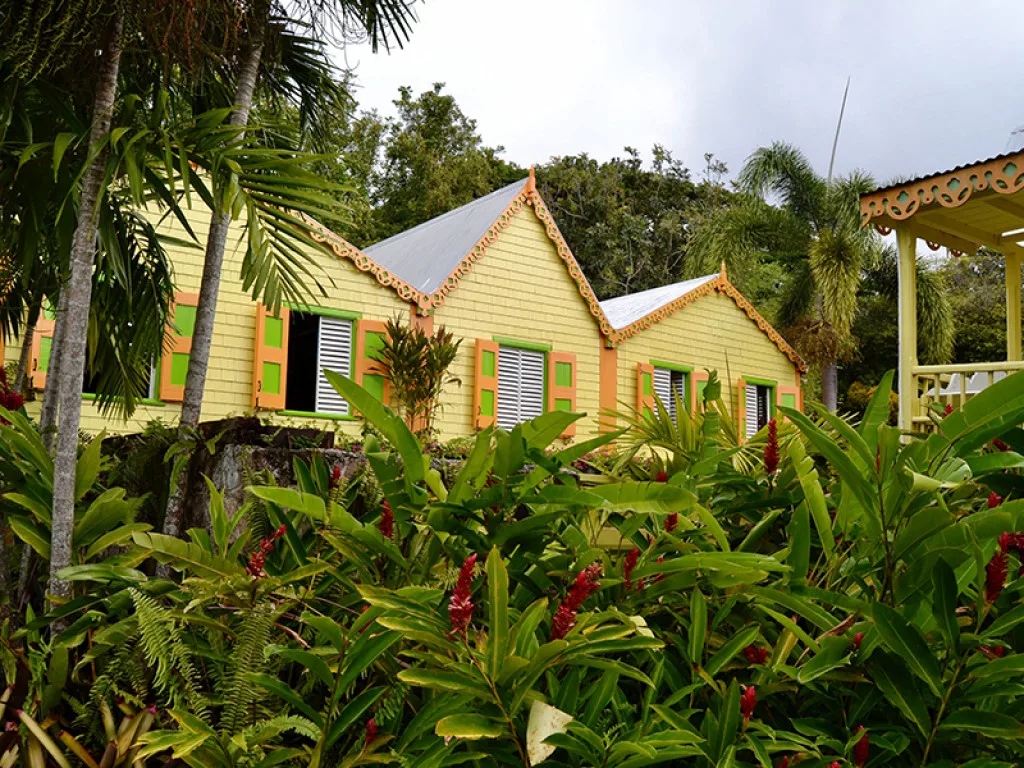 BRIMSTONE FORTRESS
This UNESCO World Heritage Site is one of the largest forts in the Caribbean. Perched dramatically on a mountainous outcrop of the island's western side, Brimstone takes its name from the dark volcanic rock used in its construction and was once known as the 'Gibraltar of the West Indies'. It is worth scaling the heights of the fort's complex for epic island views.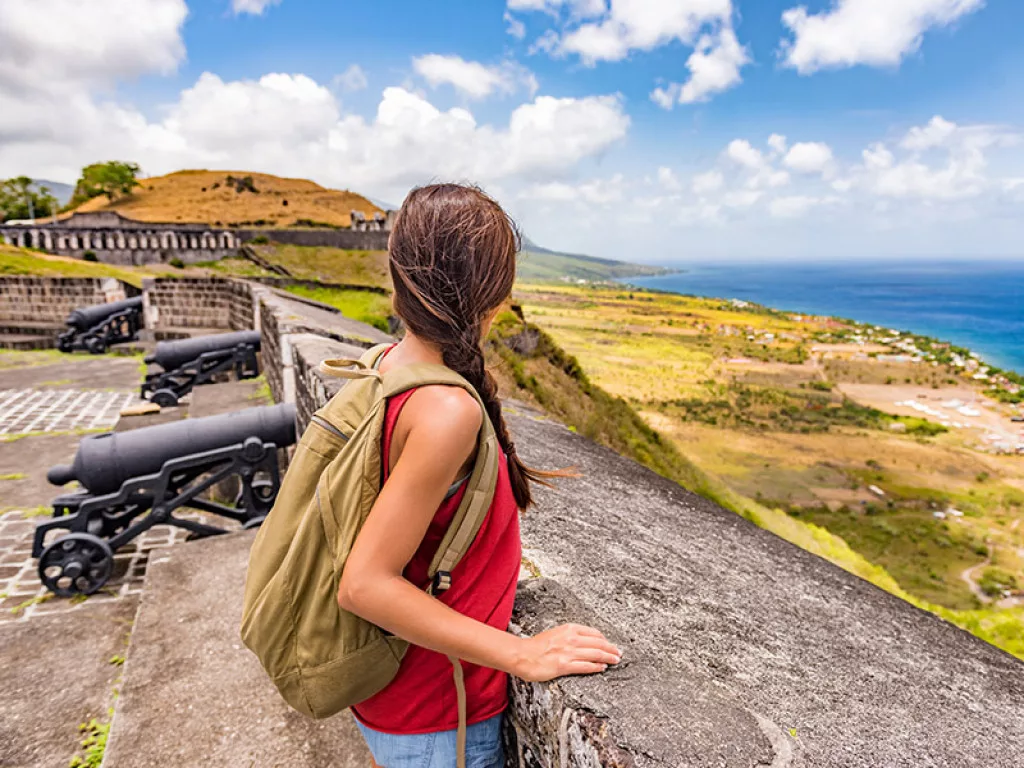 GETTING TO AND AROUND ST. KITTS
Thanks to its proximity to the US, St. Kitts is extremely well-connected with regular flight services, including direct and stopover international connections from Canada, the UK and Europe. Arrivals will touch base on St. Kitts at the Robert Llewellyn Bradshaw International Airport (SKB), which has many connecting flights to other Caribbean destinations should you wish to continue your travels.
While on St. Kitts itself, there are many ways to explore either land or sea. For full freedom to cover the whole island at your leisure, car rentals are widely available with convenient options for airport pick-up. Almost anywhere on the island can be reached within roughly 45 minutes, including Mount Liamuiga and Brimstone Hill Fortress. If choosing this option, it is worth noting that you will need to obtain a driver's permit at an extra cost, even if you are in possession of an international driver's licence.
Elsewhere, the St. Kitts Scenic Railway is well worth a ride, taking passengers on a circular tour circumnavigating the island on the 'Last Railway in the West Indies', originally built for the transportation of sugar cane. You would also be remiss not to travel across the Narrows to St. Kitts' sister island of Nevis. The best way to get there is to hop aboard the island's iconic ferry, described by many as one of the most scenic ferry crossings in the Caribbean. The majority of ferry rides and public boats will take you straight to the Nevisian capital of Charlestown, where you can easily find ground transport for your next destination.