Rugged and lush, Grenada has a well-earned and evident reputation for being one giant garden. With tangling mangroves that hide everything from adolescent shark pups to sunning iguanas within the twisted roots to crumpled green peaks buzzing with the sounds of cicadas and tumbling waterfalls that lead into unspoilt rainforests, the islands of Grenada are a pure, authentic haven for explorers and leisure-seekers alike.
GRENADA
---
Known as the "Spice of the Caribbean", the islands themselves were erected by active volcanoes millions of years ago, resulting in rich, fertile soil and a flourishing ecosystem. This nickname stems from the abundant production of nutmeg, along with various other spices, that gives these islands a sweet and aromatic breeze that fills your lungs with each breath you take.
Because of the particularly fruitful soil of the islands, the cuisine is intimately connected to fresh produce and draws influences from Africa, India, Britain, and France. With everything from cabbage to grapefruit and mango to sweet potato and even a budding chocolate industry, Grenada boasts dishes that will leave you dreaming about the flavours for years to come.
When looking down from a bird's eye view, these green islands provide a stark contrast to the white sand beaches surrounding them. Plunging even deeper beneath the cobalt waves, there are so many colours from the coral and marine life you will think you are looking through a kaleidoscope as you swim alongside groupers, parrotfish, scorpionfish, and sea cucumbers.
Grenada is unparalleled when it comes to other destinations in the Caribbean. With no high-rise hotels or beaches crowded to the brim and littered with empty sunscreen bottles, even the largest resort is set back in the groves of palms and sea grape trees.
This opportunity to experience "gentle tourism", where the people, culture, and environment are always put first, is one that should not be overlooked. Let the gentle waves lap at your feet and feel the warm breeze dance across your body as you venture into nirvana.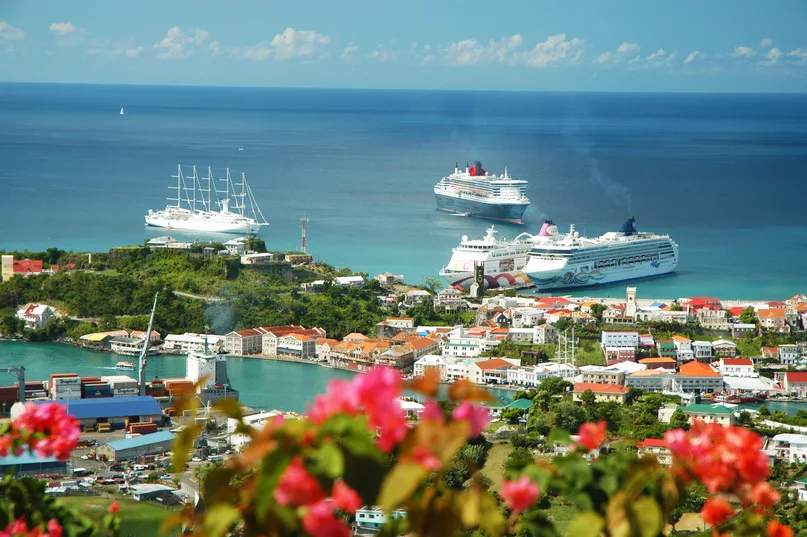 TOURISM INSIGHTS: GRENADA TOURISM AUTHORITY
---
As a location rich with both natural beauty and expansive culture, Grenada is a country that deserves recognition for the luxurious and memorable travel destination that it is. The Grenada Tourism Authority (GTA) is the National Tourism Organisation of Grenada working hard to transform the state of the tri-island nation through an inclusive, sustainable tourism industry that delivers nothing but the best for those who come to visit.
We speak to Petra Roach, CEO of GTA, about how the company encapsulates the unique qualities of Grenada while still maintaining the history that has sculpted the land.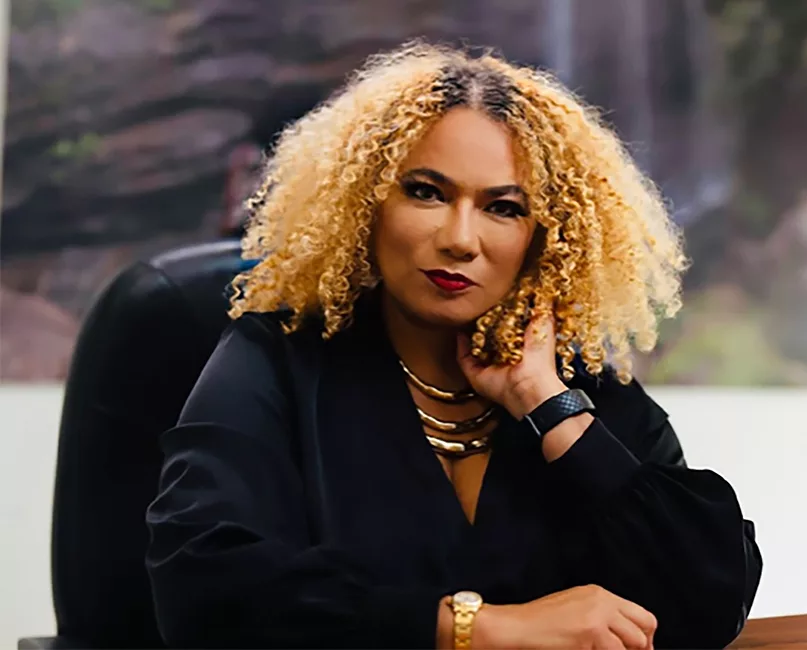 Q&A WITH PETRA ROACH, CEO, GRENADA TOURISM AUTHORITY
---
Can you talk me through the origins of GTA and its initial vision?
Petra Roach, CEO (PR): GTA was formed by an Act of Parliament in December 2013 with the vision and mandate to market and manage the destination's tourism industry and develop all tourism enterprises.
What are your organisation's current goals?
PR: The organisation's current strategic goals are to grow total visitor arrivals and spending in Grenada, Carriacou, and Petite Martinique; create a high-quality and unique tourism product; increase the local awareness of tourism; and run an effective and efficient tourism authority.
How do you market Grenada as a destination?
PR: Grenada is marketed as a desirable Caribbean vacation destination under the aspirational brand Pure Grenada, the Spice of the Caribbean. We are a hidden gem with unspoiled beauty, offering a lifestyle so pure and authentic that you will feel instantly renewed. Grenada is famed for its aromatic spices and organic chocolate, along with the islands of Carriacou and Petite Martinique, located in the eastern Caribbean. The Pure Grenada experience beckons visitors to its 40 white sandy beaches, including the world-famous Grand Anse beach, 15 breathtaking waterfalls, seven chocolate factories, four rum distilleries, and more than 30 unforgettable dive sites, including the largest shipwreck in the Caribbean, 'Bianca C', and the world's first underwater sculpture park. Grenada was also named the world's first 'Culinary Capital' by the World Food & Travel Association (WFTA). This World Travel & Tourism Council "Safe Travels" approved destination is committed to protecting your health and safety while allowing you to tailor a beyond-the-ordinary experience of a lifetime. Our call to action is – to plan your next vacation to Grenada, visit
www.puregrenada.com.
How do you promote off-season travel, for example during the rainy season?
PR: We promote year-round travel as our warm, healthy climate is not subject to torrentially heavy or monsoon rainfall. The high-volume winter season from October to May is sold at higher price points, based on overall demand. The summer months feature sailing regattas and carnivals that enjoy high visitorship from returning nationals. In April this year, a report from IQ Air confirmed that breathing a high quality of air (like that which exists in Grenada) daily can lessen the possibility of disease from stroke, heart disease, and lung cancer, as well as chronic and acute respiratory illnesses such as asthma!
Are there any interesting projects in the pipeline you wish to highlight?
PR: Yes, indeed! There are several interesting projects in the pipeline we wish to highlight, beginning with Grenada's sister-island Carriacou hosting the 58th anniversary of the Carriacou Regatta Festival from 4th – 7th August. This is the longest-running regatta in the Caribbean, having begun in 1964, and then we jump right into our Spicemas Carnival Festival, which features calypso and soca shows, beginning from 1st August. The pace increases for the Spicemas events, with concerts, parties, food, drinks, and fun every day and night – literally – from Wednesday, 9th August, until Carnival Tuesday, when revellers dance in the streets until midnight. From 19th – 22nd August, we will relaunch our Underwater Sculpture Park, named by National Geographic as one of Earth's 25 Most Memorable Places to Visit, with the instalment of 31 new sculptures depicting iconic representations of Grenada's history and culture.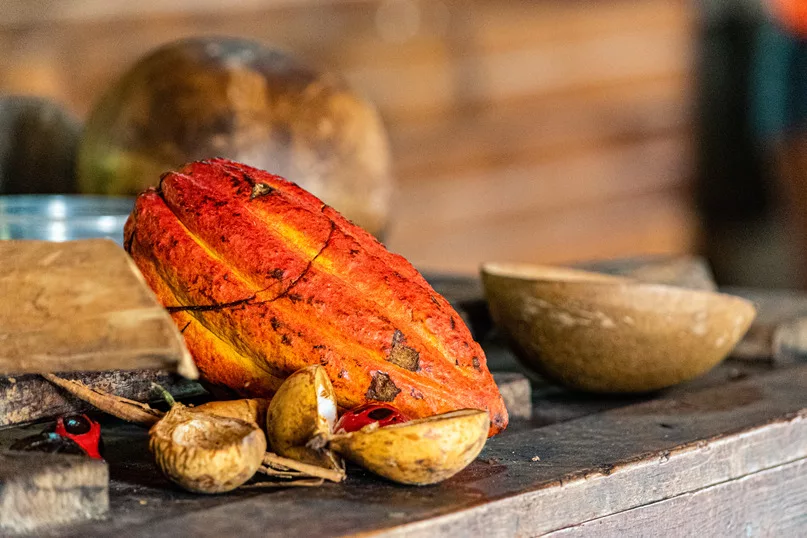 Why, in your opinion, should someone visit Grenada?
PR: My point of view is that we all wish to escape at some time to relax in a place where the air is measurably pure and the people are demonstrably hospitable, warm, friendly, and open. You awake in the morning to birdsong, and all around you can see verdant greens of nature, bright and beautiful flowers, and fruit and vegetable trees filled with abundance. Our beaches feature crystal clear blue waters, healthy reefs, and marine life with lots of fresh fish. Grenada is, therefore, definitely a place to slow down and rejuvenate with an eclectic mix of accommodation. As the world's inaugural culinary capital, we have a plethora of delights for foodies to experience, all from garden to table. We are the "Dive Wreck Capital of the Caribbean" with more than 15 wrecks at depths that can be explored by new divers, progressing to more technical dives like the "Bianca C".
What are some of the country's most unique landmarks or places to visit?
PR: The top 12 things to experience in Grenada include the following amazing activities:
Visiting Grand Anse Beach.
Snorkelling or diving at the Underwater Sculpture Park.
River tubing.
Driving an ATV or a Jeep on and off-road.
Hiking in the Grand Etang National Park and Forest Reserve.
Dancing the cocoa beans at Belmont Estate, the Caribbean's #1 Attraction in the US Reader's Choice Awards 2023, and learning how to make chocolate from bean to bar.
Eating organic chocolate at the House of Chocolate and learning the Grenadian way of making cocoa-tea.
Eating street food and dancing the night away at Dodgy Dock.
Touring the River Antoine Rum Distillery and seeing how our potent white rum is made using an 18th-century water wheel that is still operational today.
Having a dip and a drink (or the other way around) at Annandale Waterfalls.
Visiting Carriacou (Sandy Island and Paradise Beach, voted the Caribbean's #1 Beach in 2022 by the US Readers' Choice Awards).
Sailing through the Grenadines archipelago, beginning with the largest Grenadine island, Carriacou – "the land of reefs".
What trends are transforming the tourism industry in Grenada and how are you utilising them?
PR: Some of the top 10 global tourism trends that we are utilising to increase our visibility in the marketplace and the right type and quantum of visitors to Grenada include the following:
Authentic and seamless automation for routine and financial transactions.
A newly revamped and relaunched website.
Our marketing programmes, like Travel Experts, Voluntourism, and 473 Connect, for members of the travel trade and returning nationals provide discounts at various retail outlets and hotels, rental companies, and tours.
Imprinting new sustainable behaviours in Grenadian travel and tourism businesses, with conservation leadership shown whilst snorkelling or diving the Pyramids at Grand Anse, which is an artificial reef built out over the past eight years.
Experiential and curated tours that emphasise health and wellness, trekking in open spaces, and culinary experiences and that cater to the needs of digital nomads, couples, multi-generational, and friendship travel.
What challenges does the tourism industry in Grenada face?
PR: A few of the challenges we face include:
Seasonality and ensuring the consistent delivery of the highest levels of service excellence year-round.
Mitigating climate change.
Talent draining.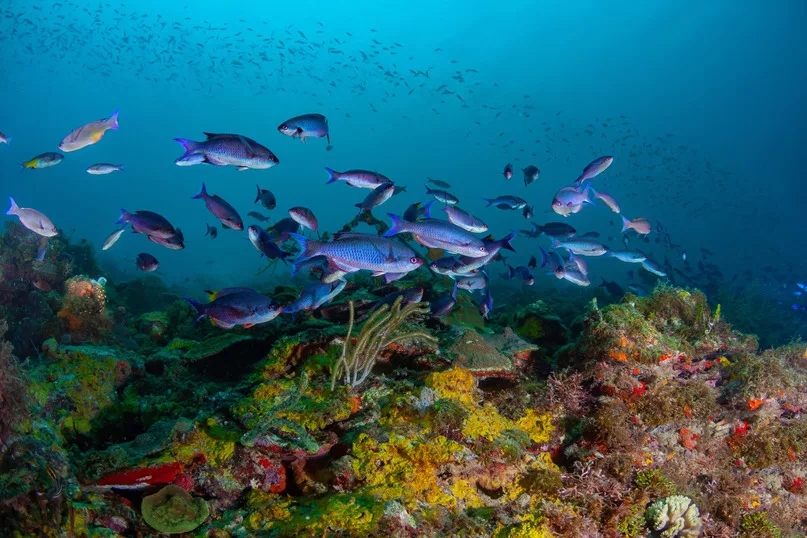 GRENADA UNDERWATER SCULPTURE PARK IN FOCUS
---
Surrounded by opalescent water, never-ending beds of vibrant coral, and darting fish synchronised in acquatic dance, the Grenada Underwater Sculpture Park masterfully combines modern art with nature.
An unforgettable and almost otherworldly experience, the Grenada Underwater Sculpture Park was constructed by eco-artist Jason de Caires Taylor in 2006 after the devastation of Hurricane Ivan two years prior. This underwater park consists of 75 sculptures located five to eight metres deep across 800 square metres of the Molinere-Beauséjour Marine Reserve off the island's west coast.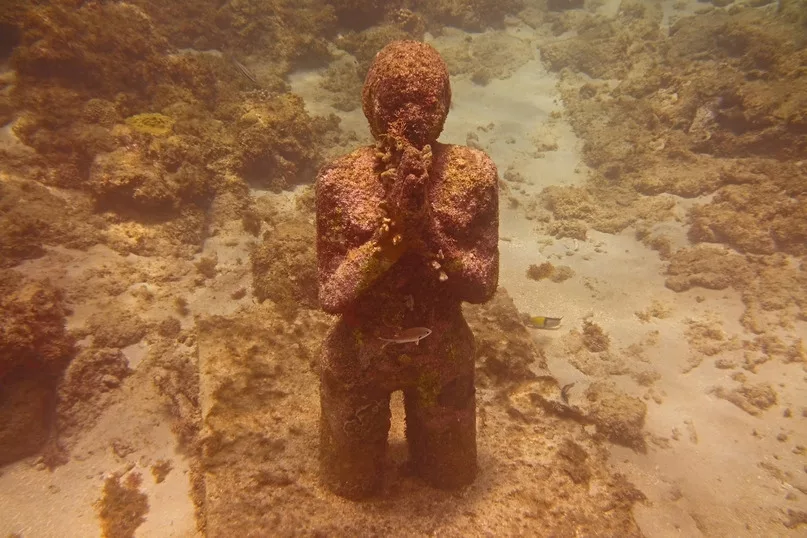 Listed as one of National Geographic's 25 Wonders of the World, these sculptures are made of pH-neutral cement to not only minimise the impact on the water but also to allow coral and polyps to cling and regrow after the natural disaster that wiped out so much of the ecosystem. Not only does this allow the marine life in this bay to flourish, but it also promotes ecotourism for those that are up for the underwater escapade.
There are multiple viewing options for those looking to venture into this unique art display. Scuba diving is undoubtedly the best way to get up close and personal with the sculptures. Despite the slightly more advanced nature of this mode of adventure, plenty of tours are available for those seeking guidance. Additionally, snorkelling tours and cruises are abundant and are often organised straight from your hotel. There is also the option of taking a boat with a glass bottom for those looking to explore the underwater world without an oxygen limitation.
No matter how you choose to visit these expansive and ethereal figures, this experience is absolutely unmissable and should be at the top of your to-do list.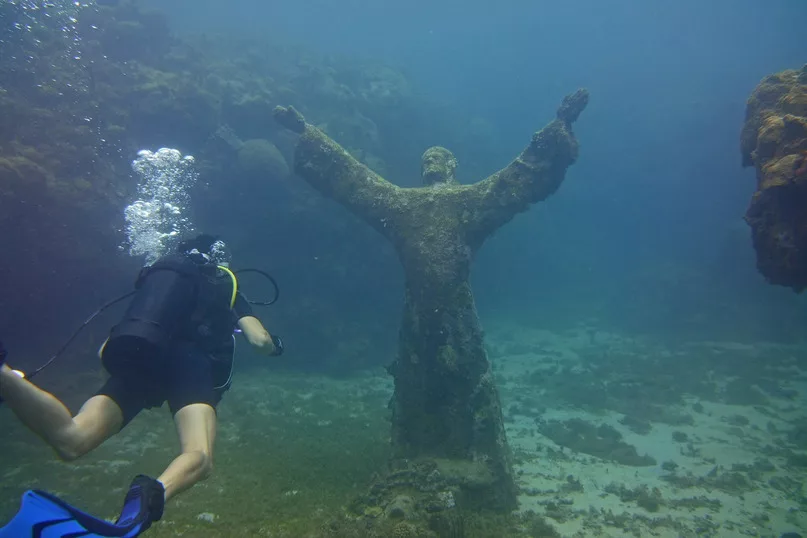 OUTLOOK RECOMMENDS
Eat:
---
FOR AWARD-WINNING EXPERTISE…
BB's Crabback, a vibrant building surrounded by greenery, was opened nearly 20 years ago by Grenadian celebrity chef Brian Benjamin and is incredibly popular with tourists and locals alike. Famous for its namesake, the crabback, along with signature dishes like the goat curry, this restaurant serves a friendly and authentic atmosphere, even providing you with a pen to write your name on the walls before you leave.
FOR A TRULY GRENADIAN MEAL…
Although not an actual restaurant, Fish Fry is a famous event that takes place every Friday evening in the island's fishing capital, the coastal town of Gouyave. With options like shrimp, fish cakes, jerked marlin, lobsters, snapper, and more, the official end time is 11pm, but live music, dancing, and delicious food continue long through the night.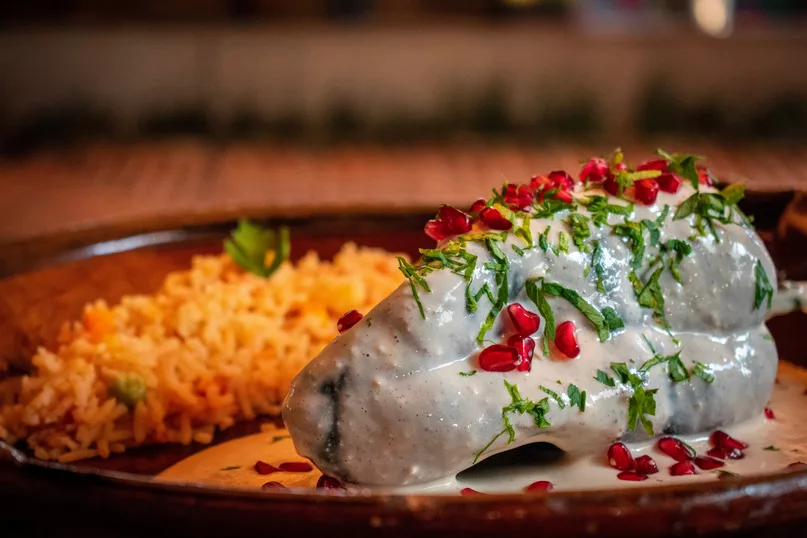 Do:
---
FOR HIKING WITH A TWIST…
Officially known as the Hash House Harriers, this group in Grenada has been meeting every Saturday since 1985 for a walk or run through the beautiful Grenada terrain. Commonly referred to as "hashing", this event started when British soldiers decided they needed to run off the excess booze and food from the weekend. It has now turned into a weekly event comprising 50 to 500 locals, expats, students, and tourists.
FOR AN UNFORGETTABLE DIVING EXPERIENCE…
Dive Grenada, an award-winning PADI dive shop and BSAC resort, is located on Grand Anse Beach and is recognised as one of the leading dive centres in Grenada. With the opportunity to visit reefs, shipwrecks, drift sites, and more, Dive Grenada doesn't just take you diving; it offers over 100 years of experience and passion for all the natural beauty and wonders of the islands.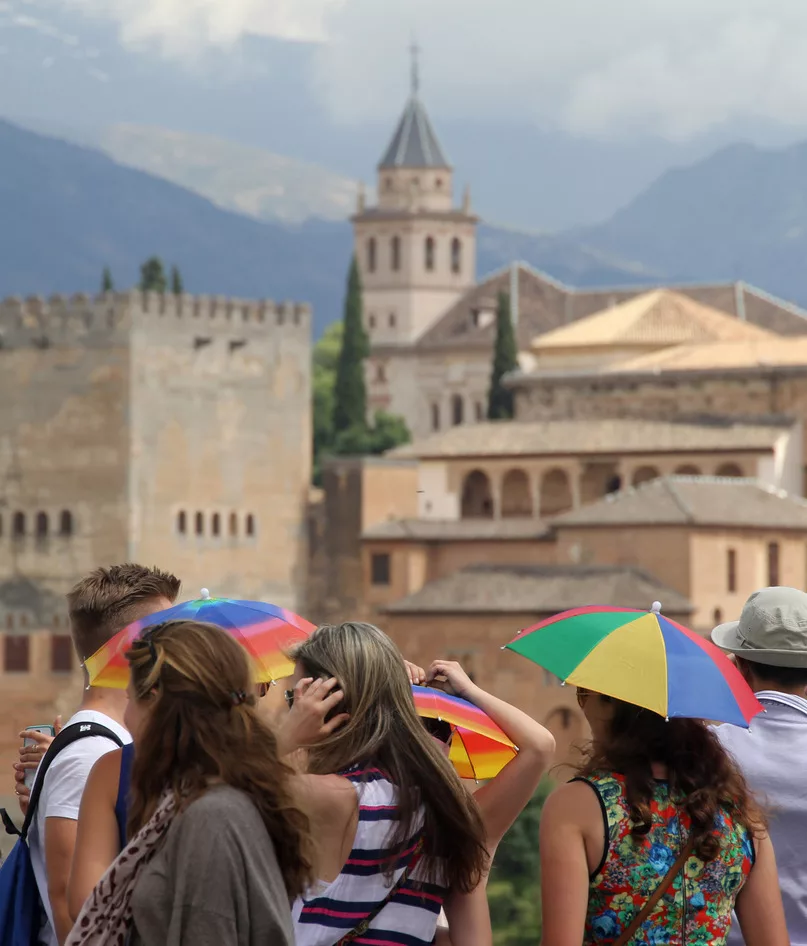 Sleep:
---
FOR AN ECO-FRIENDLY GETAWAY…
Blue Horizons Garden Resort, located just a stone's throw from Grand Anse Beach, is a family-owned and operated eco-friendly oasis with flourishing gardens, breathtaking ocean views, and a tranquil atmosphere. As Grenada's first Green Globe Gold-certified resort, Blue Horizons has set the standard for Grenadian hospitality and environmental preservation since the 1950s.
FOR A ROMANTIC ESCAPE…
Set within five acres of vividly rich tropical gardens, Petite Anse Hotel is an intimate beachfront boutique hotel comprising 11 cottages, two hotel rooms, a restaurant with only fresh produce, and unbeatable views of the Grenadine Islands. Coined as "the most romantic hotel in Grenada", look no further for an opportunity to relax, let the sunshine warm your skin, and bury your toes in the white sand.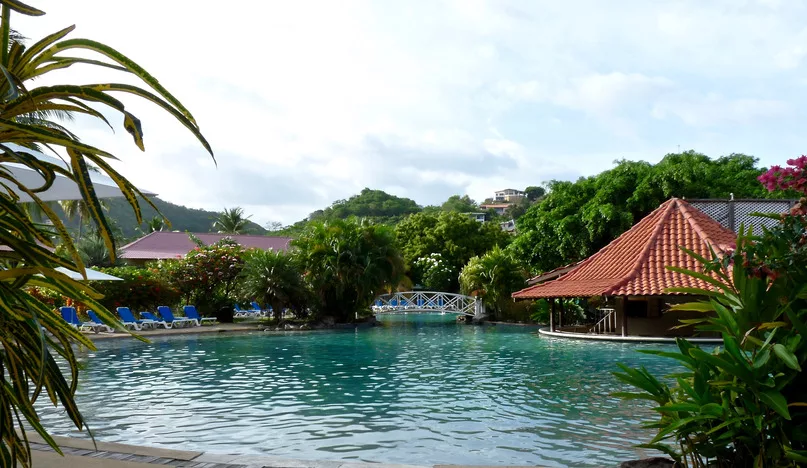 LANDMARK ATTRACTIONS
The Grand Etang National Park
---
Venture into the central highlands of Grenada through mahogany-lined trails covered with lush ferns and scattered with the favourite chubby-cheeked Mona monkey to reach a view you cannot get anywhere else on the island.
Set in the crater of an extinct volcano, Grand Etang Lake is a naturally occurring body of water where you can admire the shimmering fish or hike to the cascading Seven Sisters Waterfall to take a dip in the evergreen interior.
Tree-to-Bar Chocolate Tour
---
Belmont Estate offers an immersive and informative tour that explores the history and art of handcrafted organic chocolate from tree to bar. Experience the touch, taste, scents, sights, and sounds of cocoa, and enjoy the signature blended drink, "The Chocolate Monkey". This walking tour will allow you the unique opportunity to become involved in creating this "food of the gods".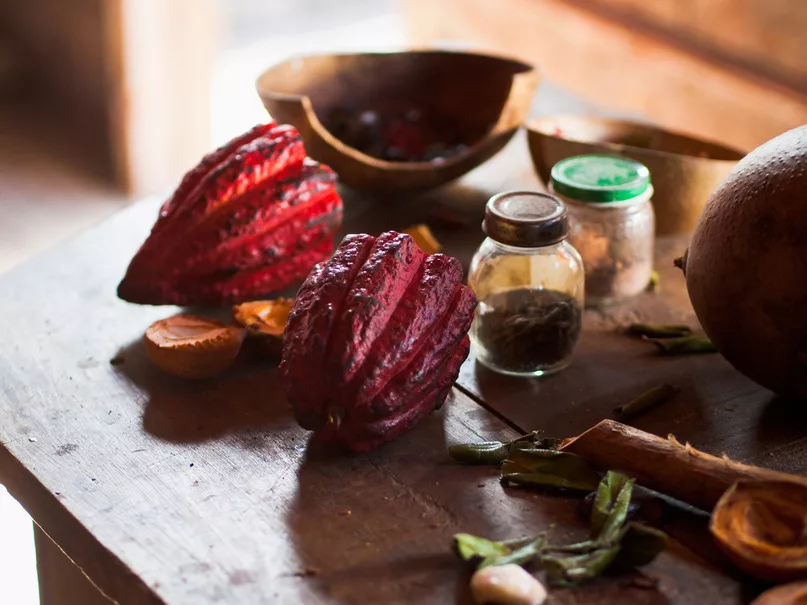 The Titanic of the Caribbean
---
The mighty Bianca C, a 600-foot-long Italian liner, caught ablaze after an explosion in the boiler room in 1961 and subsequently sunk to the bottom of Pink Gin Beach, where it still rests today upright in the sand. Known as the "Titanic of the Caribbean", this shipwreck is home to some of the best scuba diving in the area, boasting eagle rays, reef sharks, barracudas, and the remnants of a once magnificent ship.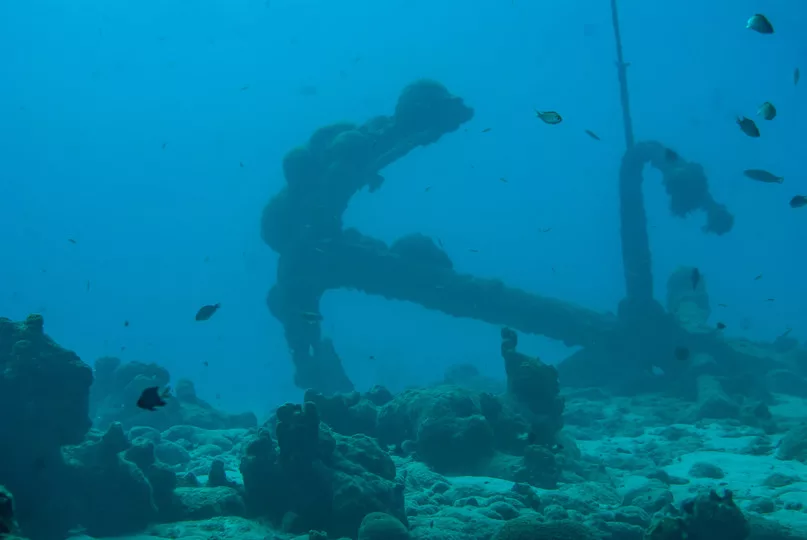 GETTING THERE AND AROUND
---
Located in the eastern Caribbean Sea, approximately 160 kilometres (km) north of the coast of Venezuela, Grenada consists of three major islands: Grenada, Carriacou, and Petite Martinique. International flights arrive in Grenada, the largest of the three islands, just 8km outside the capital of St. George's at Maurice Bishop International Airport. To reach the other islands from here, you can catch a ferry or a small plane 30km northeast to the island of Carriacoi and then take a public boat or water taxi an additional 5km east to the smallest island of Petite Martinique.
Daily ferries are available to transport you from one island to the next, with travel from the island of Grenada to Carriacou taking approximately 90 minutes. Alternatively, small flights run consistently from island to island for a slightly quicker trip, allowing you to fly from the largest island to the smaller ones in only 15 minutes.
There is a diverse array of options for travelling within the islands. Hiring a car will allow you the most flexibility; however, taking advantage of water taxis, ferries, biking, or even strapping on a pair of walking shoes and trekking from one destination to another will allow you an opportunity to explore the stunning landscape and scenery unique to this once actively volcanic land.
Additionally, Grenada offers the "Discovery Train", specifically built for tourists and taking you around St. George's in 45 minutes, with stops at popular locations like Fort George and the Grenada National Museum.
VIEW THE GRENADA TRAVEL GUIDE