Embodying unmatched natural beauty in every way, shape and form, it's no wonder that the expansive region of the South Pacific is readily referred to as paradisal.
SOUTH PACIFIC
---
Home to 30,000 islands that are scattered across the world's largest ocean, the South Pacific remains incomprehensible, if not mystifying, even to the most budding explorer. These dispersed pockets of land do have one characteristic in common, however. Each, in its own way, resembles a natural form of paradise.
Renowned for stunning golden coastlines and crystal-clear blue waters that almost always go hand in hand, the South Pacific islands have acquired legendary status for their natural beauty. And rightly so. Often the most substantial headache that the region provides is which of the many islands to choose from as there is quite literally thousands to choose from. Whether it's Tahiti with its diving and surfing offerings, Fiji and its expansive cultural histories or Vanuatu and its fiery volcanoes, you'll never be short of things to do wherever you go.
Whatever may take your fancy, however, it's definitely worth getting away from the relaxation-inducing comas of resorts and beaches to explore any of these islands' inland offerings. These fascinating worlds are home to tropical rainforests and towering waterfalls that will truly and undoubtedly take your breath away.
THE BUSINESS END
---
Away from the flora and fauna of these islands, the South Pacific is primed for economic development, something that the World Bank has been looking to facilitate of late after opening its new South Pacific hub office in Suva, Fiji in March 2019. Much like the World Bank, South Pacific Tourism Organisation (SPTO) is actively promoting economic development in the region, particularly pushing for expansion of the region's tourism sector in recent years – a strategy that continues to pay dividends, evident in recent results.
"The performance of the tourism industry in the Pacific region remained upbeat in 2018," explains Christopher Cocker, CEO of SPTO. "The number of tourists travelling to the region by flights rose to 2.14 million, marking a two percent increase compared with 2017's figures. What's more, when you include the year's cruise arrivals that totalled one million, total visitor arrivals to the region reached 3.2 million in 2018, 1.3 percent up from 3.1 million in 2017. Consistent with the increasing number of arrivals, tourism earnings also trended upward, recording an estimated $4 billion – up from an estimated $3.7 billion in 2017."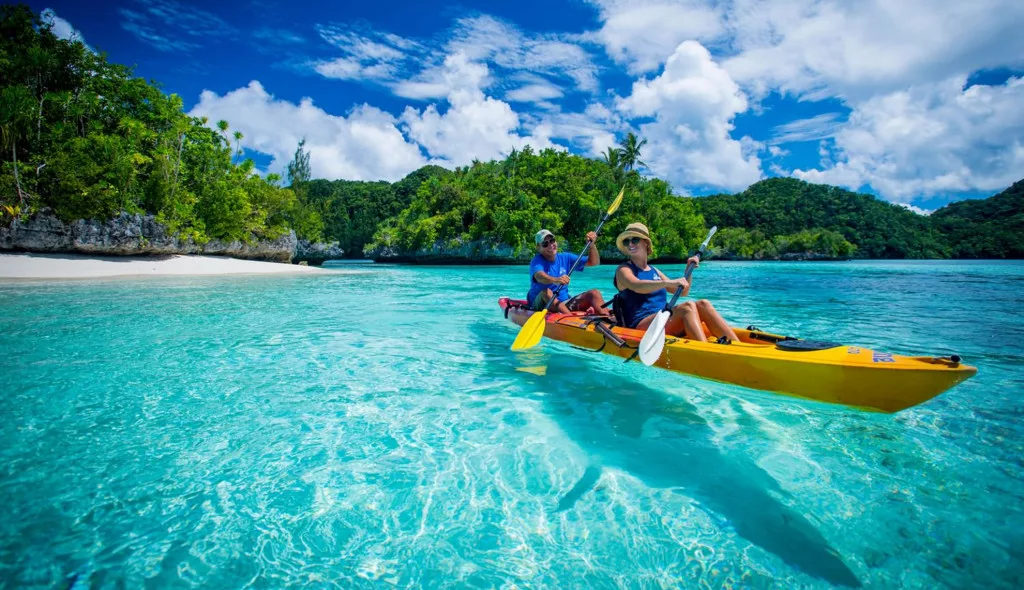 TOURISM INSIGHTS: SOUTH PACIFIC TOURISM ORGANISATION
---
Catching up with SPTO following our previous conversation last year, the organisation has continued to take numerous strides in achieving its primary objective of bolstering the region's tourism potential throughout the latter stages of 2018 and early 2019. Having recently appointed a new Chair (David Vaeafe) and Deputy Chair (Felicity Bollen), alongside the launch of its new 2020-2024 Strategic Plan, the entity is now looking to enhance the region's offerings to both leisure and business travellers. Cocker, SPTO's CEO, reveals all.
Q&A WITH CHRISTOPHER COCKER, CEO, SPTO
Since the last time we spoke, how has South Pacific Tourism Organisation developed and progressed in terms of its key objectives and the messages it tries to get across?
Christopher Cocker (CC): SPTO continues to provide services to member countries and private sector members as per our mandate. We're focusing on building relationships and are extending our activities to non-traditional partners and donors as we seek to grow and market the tourism industry in the region. With that in mind, the SPTO Board of Directors very recently endorsed a new Strategic Plan and Membership Prospectus, both of which have adopted the new organisation vision of 'Our Pacific Islands' that is empowered by and benefits from sustainable tourism. The 2020-2024 Strategic Plan has narrowed down the priorities of the organisation to three key areas – marketing the region, sustainable tourism planning, and research and statistics. In addition, secondary priority areas like investment and product development, air access and route development, human resource development, and training and cruise ship development will be addressed via innovative partnerships led by the SPTO Executive Office. Through this we hope to attract and build meaningful relationships with donors who share our vision of a prosperous, stable 'Blue Pacific'.
How would you say the South Pacific in general has developed since then as a business travel hub and what are the key reasons behind its growing appeal?
(CC): Although the Pacific mainly attracts leisure travellers, business travel is a growing market and one that we recognise as having potential. Several Pacific Island countries, including Fiji and led by PNG, continue to develop infrastructure in line with this, growing the region as not just a tourism hub but a crossroad for development in business and trade. The Pacific Islands are opening up as an emerging destination to the MICE market and we've seen this growth in the hosting of major events such as Asia-Pacific Economic Cooperation (APEC) in PNG in 2018, 52nd Annual Meeting of the ADB Meeting in Fiji in 2019, and a visit by the UN Secretary General in Fiji.
Taking a more general industry stance, how would you evaluate the tourism sector in the region now compared to its condition in 2017?
(CC): The continued growth in 2018 was supported by positive tourism performances from more than 56 percent of the Pacific Island countries including Fiji, Cook Islands, French Polynesia, Samoa, Vanuatu, Solomon Islands, American Samoa, Marshall Islands, Kiribati and Tuvalu. Arrivals from the key traditional markets of Australia and NZ continued to dominate the Pacific destinations with a 51 percent share in 2018, while the Asian Economies of China, Japan, India and other Asian countries accounted for 17.7 percent, USA 10.5 percent, Europe 9.7 percent and Pacific Islands 7.2 percent. Aligned to this positive outlook, total visitor arrivals are now forecast to grow by 5.1 percent to 3.3 million in 2019, largely owed to the inclusion of additional tourists from SPTO's two new member countries – Rapa Nui and Wallis and Futuna. We recently released the Visitors' Arrival Report for Q4 2018, and it showed some interesting trends to watch in 2019. I don't want to pre-empt anything, but I can say we are doing very well. Total visitors to Pacific Island countries was recorded at 804,770 for the three-month period, while the cruise ship industry continues to grow. We encourage this sector because it presents business and employment opportunities for a larger segment of our Pacific people.
What is in store for the South Pacific Tourism Organisation over the course of 2019 and beyond?
(CC): Our year started with the successful launch of the 2019 China Pacific Tourism Year (CPTY) in Samoa in April. Prior to that some of our member countries had events and many more will follow until we close the CPTY in November. We look forward to collaborating with the Ministry of Culture and Tourism in key activities from June until closing to build a understanding of the Pacific tourism industry on the Chinese market, increase awareness of the Pacific in China and attract niche travellers from China into the Pacific. We also received funding from the Korean government through the Pacific Promotion Programme for Trade, Investment & Tourism (PPTT). This will be used to promote trade, investment and tourism between Korea and Pacific Island countries in terms of job creation, economic development, trade fairs and market promotion. During our board meeting in early May, we also signed a memorandum of understanding with the Pacific Aviation Safety Office (PASO). The agreement covers information sharing, coordination and cooperation, and strengthens the links between tourism and aviation, two sectors vital for economic growth throughout the Pacific. With the newly approved strategic plan and donor membership prospectus, we hope to increase the development programmes implemented by SPTO for its members, diversify SPTO's funding sources and increase innovative partnerships with development and corporate partners in the future.
Finally, looking forward, if we were to speak again another year down the line, what progress and development would you hope and expect to be able to report back?
(CC): Our new Strategic Plan 2020-2024 sets a new direction for how we operate, wherein we are prioritising our outcomes, ensuring that the work and money invested into our activities will have a more favourable return. This is aligned to and supports our stakeholder interests and we look forward to working with them in achieving new outcomes. We hope that through the Strategic Plan we will attract and secure new donors and development and corporate partners to collaborate with SPTO, to develop and promote tourism in the Pacific.
SOUTH PACIFIC TOURISM EXCHANGE IN FOCUS
---
A core part of SPTO's work is the annual South Pacific Tourism Exchange (SPTE), an event providing a kaleidoscope of pristine, exotic and cultural tourism experiences all in one place. It was introduced six years ago with the view of providing the region's international travel partners with a one-stop shop, showcasing the best in travel products and suppliers from SPTO's 19 member countries. This year's conference will be held at the Grand Millennium Ballroom, an 830 square metre facility, in Auckland, New Zealand on May 9-10 in partnership with New Zealand Māori Tourism.
"The SPTE is our largest gathering for 62 buyers and 94 sellers, and this year's edition was co-sponsored by New Zealand Māori Tourism," Cocker affirms."The theme for the two-day event is sustainable tourism development through people-to-people connectivity, recognising the importance of developing the region's tourism industry sustainably while maintaining our key relationships."
OUTLOOK RECOMMENDS
ISLANDS:
---
Niue is a Pacific Island paradise like no other. With a landmass of just 261.5 square kilometres, it is a small country, yet is renowned as being the home of one of the largest raised coral atolls on earth. Located 2,400 kilometres northeast of New Zealand, the island can be found surrounded by Tonga, Samoa and the Cook Islands. It's relative isolation, however, creates an idyllic coastline. Moving inland, Niue is a perfect showcase of nature's beauty, the Huvalu Rainforest being a particular highlight with its amazing indigenous trees and other sites of natural beauty.
STAY:
---
Pacific Resort Aitutaki (Cook Islands)
EAT & DRINK
---
Nadina Authentic Fijian Restaurant (Fiji)
La Villa Mahana (French Polynesia)
Sails Restaurant and Bar (Samoa)
DO:
---
Robert Louis Stevenson Museum (Samoa)
National Museum of Vanuatu (Vanuatu)
Alele Museum, Library, National Archives (Marshall Islands)
GETTING THERE AND AROUND
---
In years gone by, getting to, from and around the islands of the South Pacific has posed a challenging task. The region has historically been viewed as a perfect place to unwind and relax, but reaching that point has often been easier said than done.
In more recent times, however, this reputation has largely changed, with many of the regional islands having implemented vastly improved transportation infrastructure that is now being utilised by a rising number of regional and international airlines.
As such, light aircraft are often the primary source of travel around the Pacific. It must be noted that cabin crews, complimentary meals and in many cases tarmac runways are often bypassed, however, particularly when travelling to some of the region's most remote areas.
Airlines that currently offer flights between and within South Pacific countries include Air Niugini, Air Tahiti, Air Vanuatu, Fiji Airways, Inter Island Airways, Manu'a Airways, Northern Air, Polynesian Airlines, Real Tongo and Solomon Airlines, among others.
Some destinations are still only accessible by water, but to this end there is an abundant network of water taxis that readily provide transportation services, owed to a growth in tourism that has swept the region in recent decades.