With soft, powdery white beaches and deep emerald jungles, the beauty of Vanuatu reflects the vibrant and welcoming culture of its people. Take the plunge and embark on a magical journey to the land of smiles.
VANUATU
---
Nestled within the South Pacific Ocean sits Vanuatu, an archipelago of 83 unique islands that is the epitome of tropical bliss and barefoot luxury. Sprung from the aftermath of ancient volcanoes, Vanuatu is the ideal place for rejuvenation and relaxation, thanks to its sweeping beaches and deep blue sea, painting a pristine image of a remote paradise.
When translated, Vanuatu simply means 'our land', which reflects how its people and culture are at the heart of the country. With over 113 distinct languages and hundreds of dialects, Vanuatu is recognised as one of the most culturally diverse regions in the world.
There is no distinct language within the Ni-Vanuatu culture; storytelling, music, and dance dominate the region, creating elaborate and compelling forms of communication and mythic legends. Particularly special is Vanuatu's many art forms, spanning body decorations, tattoos, extravagant masks, headwear, and carvings. Be sure to take in the country's fascinating traditional rituals and ceremonies, as they are unlike any other.
To match the vast multitude of cultures on land, Vanuatu also has a vibrant underwater scene, with over 4,000 species of marine life thanks to its many ecosystems, including coral reefs, mangroves, and seagrass areas. Vanuatu is truly proud of its flourishing sea life, which contains elegant manta rays, humble sea turtles, colourful nudibranch molluscs, unusual-looking coconut crabs, bulbous dugongs and migrating whales near the shores of the Southern Islands. As such, make the most of Vanuatu and explore the archipelago's fascinating underwater world through ample diving trips and tours that provide a real once-in-a-lifetime experience.
Back on the sandy shores, visitors will openly come across Vanuatu's national animal, the iguana, as this mighty creature is often seen wandering the open road. The flying fox, commonly known as the fruit bat, is endemic to the country and can also be seen as they soar from tree to tree.
From the heights of staggering volcanoes to the depths of the South Pacific Ocean, Vanuatu has so much to offer visitors and is on the rise as the most enriching and rejuvenating archipelago in the Asia Pacific region.
TOURISM INSIGHTS: VANUATU TOURISM OFFICE
---
With a budding tourism industry, Vanuatu is the undiscovered paradise of the Asia Pacific area, and the Vanuatu Tourism Board's main objective is to highlight the treasures of the archipelago to the international tourist market. The office's mantra of 'Answer the Call of Vanuatu' reflects how the office passionately highlights the beautiful culture and the endearingly friendly locals to any travelling tourists. We speak to CEO, Adela Issacur Aru.
Q&A WITH ADELA ISSACHUR, CEO, VANUATU TOURISM OFFICE
---
Can you talk us through the origins of the Vanuatu Tourism Office and its initial vision?
Adela Issachur Aru, CEO (AIA): At its core, the office must cultivate the sustainable growth of Vanuatu's tourism industry by executing internationally and domestically unified marketing efforts, as outlined in the Vanuatu Tourism Office Act and the 2030 Vanuatu Tourism Market Development Plan. This envisions tourism as celebrating Vanuatu's cultural richness and natural beauty, enabling its citizens a better quality of life while enchanting its visitors across the archipelago.
The Vanuatu Tourism Office, established under an Act of Parliament, Cap 142 of 1982, operates as a statutory entity. Governed by a dedicated board of directors, this office assumes a distinct corporate role within the Ministry of Trade and Commerce (MTC).
Why, in your opinion, should someone visit Vanuatu?
AIA: Vanuatu should be on everyone's list of top countries to visit because it has a unique way of forging a deep connection between its visitors, the land, and its people. For many, tourism transcends mere commercial transactions; it becomes a cultural exchange wherein strangers swiftly transform into family and lifelong friends.
Amidst our small corner of the world, goodbyes prove to be the most challenging moments. This is because we do not just value your business; we value your friendship, and the void you leave behind resonates deeply as you depart, often leading to tearful farewells at the airport. It is a genuine sentiment that underscores the impact of these connections.
We are a rough diamond and offer genuine smiles and authenticity in our services. We speak to your heart, and even if our communication is not clear when we serve you, it is our actions of hospitality and our cultural exchanges that will truly create a unique connection to our people, land, and natural attractions for every visitor.
Undoubtedly, the true essence of a fulfilling stay lies in the bonds formed with our people. Thus, whether you are enjoying our stunning beaches, undertaking thrilling volcanic hikes, or immersing yourself in various adventures, you will discover a sense of belonging that rivals similar experiences you come across. We wholeheartedly urge everyone to 'Answer the Call of Vanuatu' and craft their treasured Vanuatu moments.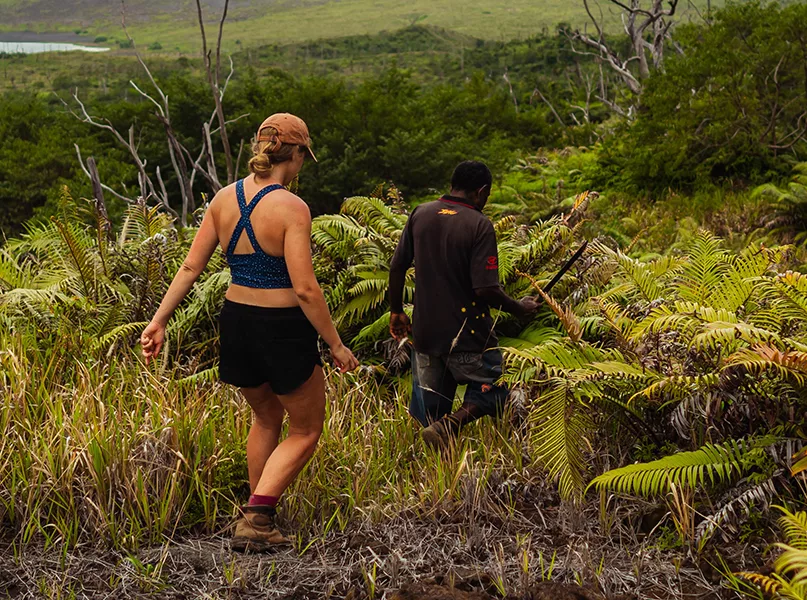 What kind of travellers does the archipelago appeal to the most?
AIA: Although Vanuatu can cater for travellers from all walks of life, the diverse destination comprises 83 islands and appeals to experience collectors and global adventure seekers the most. People who are free-spirited, active, well-travelled, and young at heart make up the experience collectors. Vanuatu appeals to people who enjoy an adventure and the many cultural opportunities to engage and connect with the people and the place.
Global adventure seekers, on the other hand, travel in search of the remote locations and off-the-beaten-track adventures that Vanuatu is known for. Global adventure seekers are more likely to travel to undiscovered places and actively seek challenges that focus on nature, cultural immersion, and thrill-seeking.
This is why Vanuatu is appealing to both these two market segments because we offer the experiences they are looking for in finding fulfilment in life adventures and travel.
How has the tourism office worked towards putting Vanuatu on the map for potential visitors?
AIA: Firstly, we have repositioned Vanuatu in the marketplace as an adventure destination because it is truly a raw diamond that you must keep uncovering and connecting to appreciate every part of it.
We have appointed market representatives in our key tourism source markets of Australia, New Zealand, and New Caledonia. We have also recently appointed a part-time market coordinator in the US, targeting Los Angeles and San Francisco since diving is a key niche market for our destination.
We run dedicated campaigns in each market throughout the year to reach out to the consumers, as well as work with other partners so that we can target specific periods of travel for visitors to book their holidays in advance.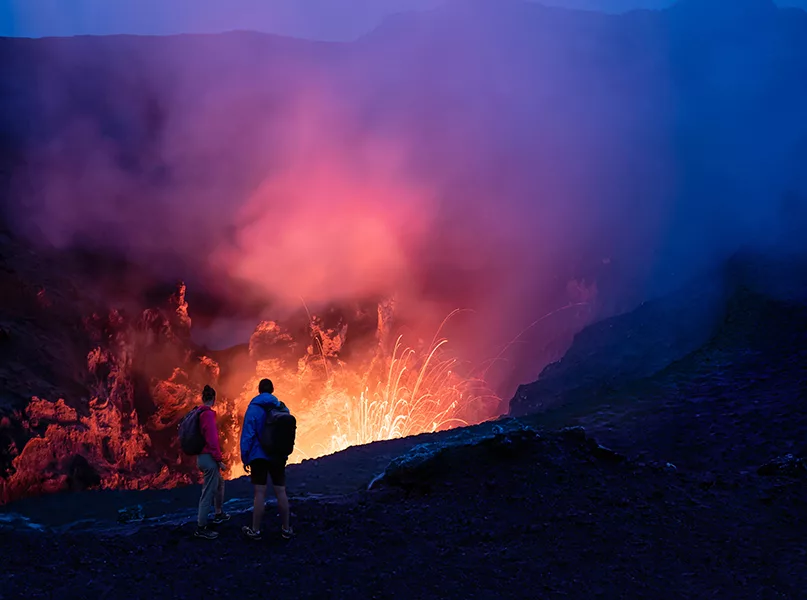 What is Vanuatu's most underrated attraction?
AIA: Vanuatu has so many underrated attractions that it would be hard to name them all, but I would say that spending some time up in Vanuatu's northern or southernmost provinces will allow a traveller to find a higher appreciation for life. If I were to name a specific underrated attraction, it would be Rah Island and the rock of Rah, where visitors can see the sleeping mountain, walk across the beautiful Dori Lagoon, witness the stunning snake dance, and eat their hearts out to the feast of seafood that the province of Torba is known for.
How have you integrated traditional Vanuatu culture into the tourism experience?
AIA: Vanuatu's culture has always been a part of the tourism experience and one of the country's main attractions. It is deeply embedded in our product offerings, which commence with the welcomes at the airport and cruise arrival ports and continue throughout the accommodation and the various places you visit whilst on holiday. As such, travellers soon see and experience that we are shy but friendly. Once you speak to us and get to know us, we will open up, share our way of life with you, and tell you how happy and satisfied we are with what we have.
Our culture and traditions do not need to be integrated into the tourist experience because it is a part of everything we are and do, so naturally, it becomes a part of the tourist experience. At the Vanuatu Tourism Office, we only tell the story of who and what we are whilst showcasing and highlighting the places that all travellers should visit to create an authentic Vanuatu experience.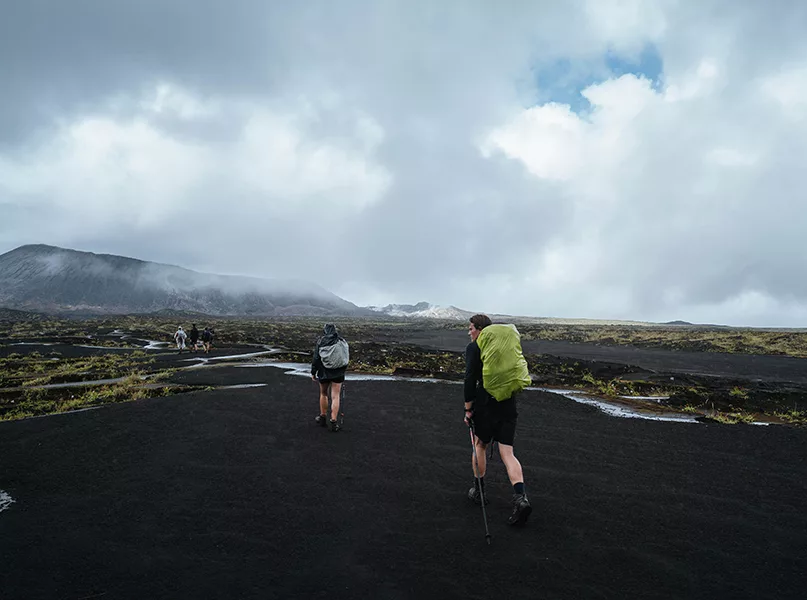 How is it important for Vanuatu to offer socially responsible tourism experiences that benefit the local communities?
AIA: Being a country that is made of islands that are both urban and geographically remote, it is essential that we provide socially responsible tourism experiences. Vanuatu cares for its guests by ensuring that they care about our environment and people, and respect our customs and cultures.
The government has banned single-use plastic; therefore, we encourage all visitors to purchase a local basket for their shopping and memorabilia when moving around. Some of these local baskets are created by community producers in the islands, so by purchasing them, tourists are supporting a family income from afar.
Many of our tourism businesses are small operators scattered across the country that rely on tourism for their livelihoods. Business and community-run events, such as canoe race festivals, fish harvesting events, volcano experiences, bush trekking, top rock lookouts, custom villages, and more, bring direct income back to the business community. This helps to pay for school fees, health centres, and community halls that can become a cyclone shelter during bad weather and a place of learning for the young and old.
Vanuatu impedes its offering to provide the best it can for any socially responsible traveller to experience the islands. This lets visitors create their own moments, but also know that they are contributing deeper to our purpose than just a holiday.
Finally, what makes 2023 the year to visit Vanuatu?
AIA: 2023 has allowed people worldwide to be more confident in their travel and heightened the need to regain lost time. Similarly, tourism businesses in Vanuatu have been missing the opportunity to welcome back visitors and show off their beautiful islands, culture, people, and business services. Still, most importantly, it is about reconnecting with travellers. Since we reopened in July 2022, this is definitely the year to revisit Vanuatu as we are rebuilding, reconnecting, and reestablishing ourselves, so your visit will help us recover and offer you genuine Vanuatu moments.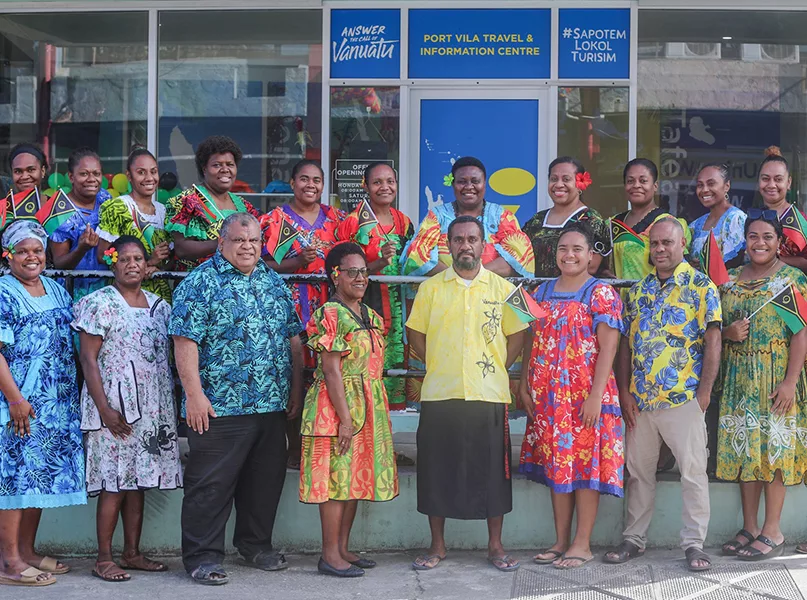 OUTLOOK RECOMMENDS
Do:
---
FOR ADRENALINE-FILLED JUMPING…
Visit the island of Pentecost, where local men partake in the fun-filled tradition of land diving, locally known as Naghol (Nang-gol). Onlookers to the daredevil ritual will find many diving off a 98-foot-high wooden tower with their ankles tied to vines, as part of the yam harvest festival. Some say that this spectacle inspired the modern bungee jump, which was first practiced in New Zealand in the 1980s.
FOR SNORKELLING AMONGST THE REEF FISH…
Lelepa Island Tours
FOR DISCOVERING THE TRUE BEAUTY OF VANUATU…
Santo Heritage Tours
Sleep:
---
FOR AN INTIMATE TROPICAL RETREAT…
The Breakas Beach Resort integrates the natural beauty of the Pango Peninsular with modern luxury to provide the ultimate beachside island resort. Secluded in a private cove, guests can enjoy a stunning infinity pool and spa before residing in a romantic garden faré that is the perfect private haven.
---
FOR AN UNTOUCHED PARADISE…
The Dori Lagoon Bungalows lets you rest on the wonderfully private Rah Island, providing breathtaking views of the lagoon, Mota Lava Island, and Sleeping Mountain right from your window. As a family-owned business, guests delight in the friendly atmosphere of the bungalow's owners and staff, as they guarantee the authentic experience of staying in neatly crafted bungalows. Visitors can choose from a range of sizes, including a waterfront bungalow with an ensuite, as well as a double or single bungalow. As you drift off to the blissful sound of the ocean, you are bound to enjoy a dreamy night's sleep.
---
FOR A SECLUDED AND ROMANTIC RETREAT…
Exclusive Sunrise Eco Resort
FOR A FUN-FILLED STAY…
Holiday Inn Resort has all you need for your travels to Vanuatu, as the perfect balance of relaxation and activity. The resort stands out with its plethora of facilities, including a gym, a variety of pools, a spa, regular resort activities like paddleboarding and sailing, and a range of restaurants, ensuring its guests are always satisfied. As a perfect island resort, it also has an exclusive lagoon front, with both quiet and fun zones, and affordable and comfortable rooms. Whether it's a romantic getaway, a memorable family trip, or a sun-soaked break, the Holiday Inn Resort has everything you need.
---
FOR BOUTIQUE AND AFFORDABLE ACCOMMODATION…
Lagoon Gardens is exquisitely nestled within the jungle metropolis on the banks of the Emten Lagoon. Just a short five-minute drive from the centre of Port Vila, this resort allows nearby access to the capital and its sights without the hustle and bustle. As a small, bespoke resort containing just four bungalows and two apartments, it is ideal for large group bookings, as well as smaller groups who can enjoy the benefits of seclusion. Guests can revel in the personalised touch created by the garden's host Morgan, who is passionate about providing visitors with the most pleasurable stay.
FOR A ROOM WITH A VIEW…
Nasama Resort
PORT VILA IN FOCUS
---
Home to two-thirds of Vanuatu's total population, Port Vila is rich with many different cultures, such as British, Chinese, Vietnamese, and French, the latter of which has the most dominant influence on the city's appearance, making it a cultural mosaic.
Positioned between a blissful lagoon and a tropical harbour, Port Vila is popular with yachties, cruise-goers, and expats who all bask in the assorted landscape. If you delve deeper into the heart of this compact and energetic city, you will easily come across one of Port Vila's outdoor markets (also known as Mama's Market), with a vibrancy that shines through in the plethora of unique stalls selling local fruit, brightly-coloured dresses, and classic fish markets.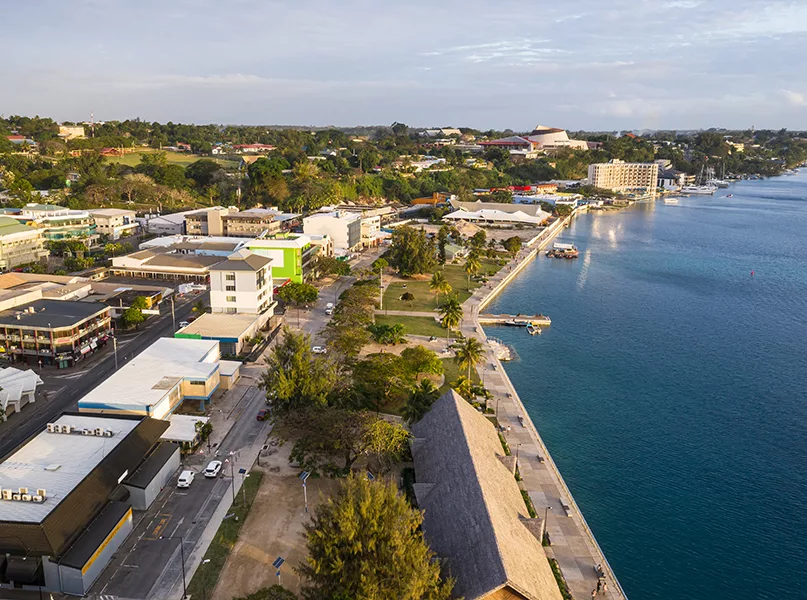 To take a break from the chaotic markets and inner streets, be sure to visit the National Museum of Vanuatu. A widely-regarded attraction across the Asia Pacific region, the museum is situated in a magnificent traditional building, heralding some impressive historic artefacts including tamtam (also known as slit gongs or drums), outrigger canoes, ceremonial headdresses, shell jewellery, and the intricate designs of Lapita and Wusi pottery.
Port Vila strikes the perfect balance as a lively city just a stone's throw away from rolling beaches and optimum diving spots, making it the perfect place to start your Vanuatu adventure.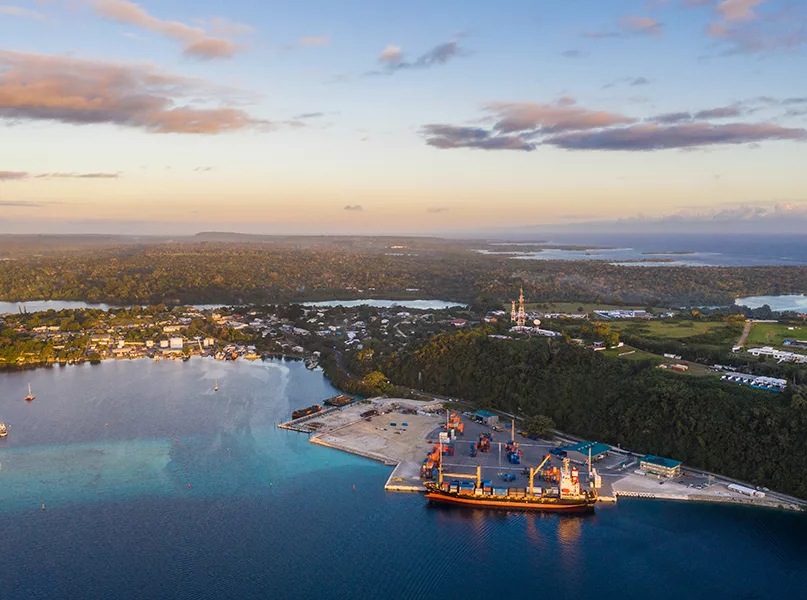 LANDMARK ATTRACTIONS
Blue holes
---
As nature's very own swimming pools, these majestic bodies of water must be seen to be believed. The sparkling pockets of water occur when freshwater springs trickle from the very top of the islands' mountains over thousands of years. Therefore, take a dip for a swimming experience like no other, but remember to bring cash as some guides charge an entrance fee.
Vanuatu Cultural Centre
---
To truly understand the culture that is so ingrained in Vanuatu, the centre plays a pivotal role in preserving, protecting, and promoting the variety of cultures across the archipelago. Therefore, if you are looking for something to do in Port Vila, learn about the Indigenous culture of Vanuatu, spanning sand drawing, land diving, and more.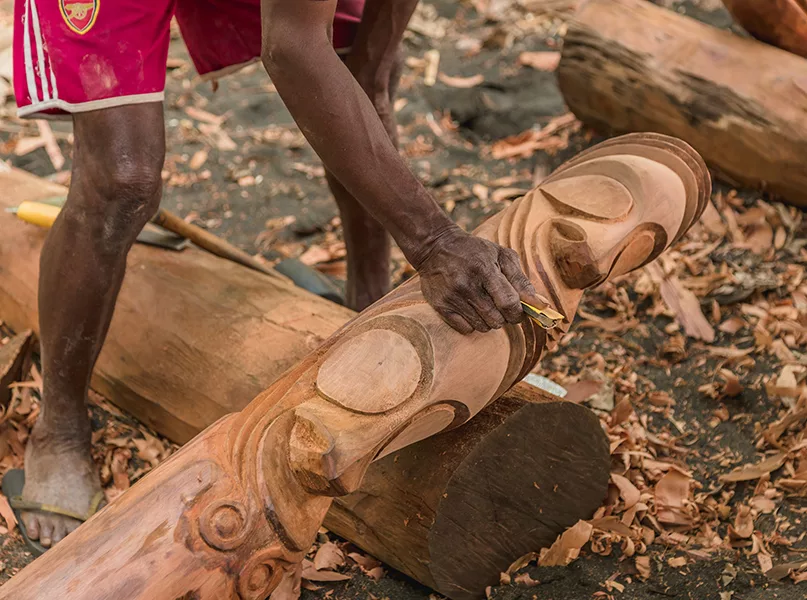 Mount Yasur
---
As a mighty active volcano on the island of Tanna, this fantastic natural landform gives tourists the unique opportunity to stand on the volcano's edge and gaze at dancing lava as it rises and falls. The 400-metre crater is only accessible by foot, however, regular tours are held in which guides can drive travellers to the nearest checkpoint, where they can enjoy an equally spectacular viewpoint.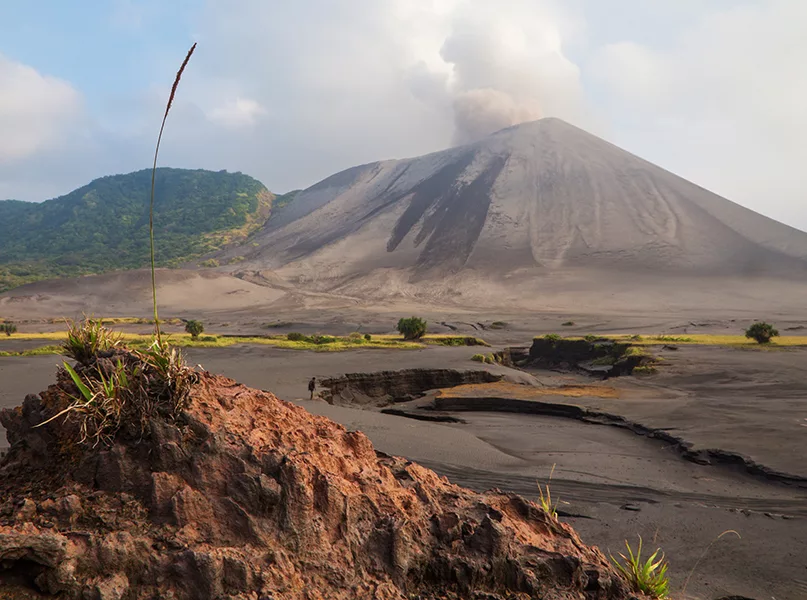 GETTING THERE AND AROUND
---
Located deep in the South Pacific between Fiji and New Caledonia, both Australia and New Zealand are only three hours away from Vanuatu and offer plenty of flights to the region via various international airlines. Port Vila Airport is only 10 minutes away from the city centre, and 20 minutes away from the gorgeous Havannah Coast.
As a location that is so widespread, there are a variety of options available for travelling around. The most obvious mode of travel is to fly via Air Vanuatu, which offers domestic routes across the islands. However, take care to plan ahead, as the airline offers a comfortable ATR-72 aircraft between Port Vila, Santo, and Tanna, but beyond these routes, flights are operated on smaller aircraft with limited facilities.
Minibuses, seating around 10 people, are also available. The minibuses drive around the islands picking up locals and tourists, and are a reflection of the friendly atmosphere that has characterised the country. The buses are cheap and run regularly, so don't worry if you miss the first one you see; however, just be aware that they only travel on sealed roads between Efate, Espiritu Santo, and Tanna.
For those who want to get the blood pumping, Vanuatu also offers unconventional tours that let you see sensational views whilst travelling around. One of the most popular forms of travel is via Air Taxi Vanuatu. Flying through the air on a bright yellow by-plane, see Vanuatu from above, bearing witness to the best tropical waterfalls and beautiful beaches or stare into the eye of an active volcano.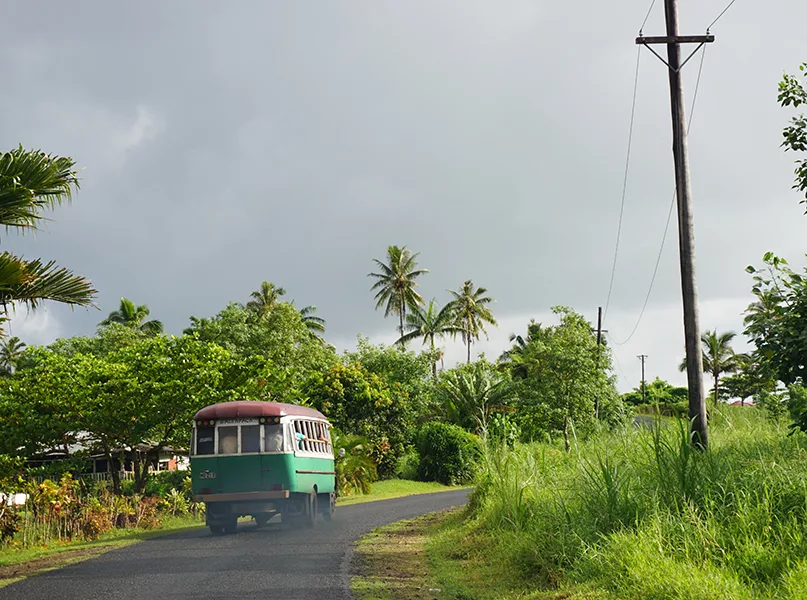 VIEW THE VANUATU TRAVEL GUIDE