A Polynesian archipelago in the South Pacific Ocean invites you to explore an unspoiled oasis of 15 atolls crowned with coconut palms; the Cook Islands is bound to both charm and enthral you.
THE COOK ISLANDS
---
The Cook Islands is positioned between French Polynesia and American Samoa; surprisingly, this unique destination is part of the realm of New Zealand, but the country was given the right to self-govern in 1965. To ensure residents and visitors enjoy and appreciate a complete celestial canopy and unrestricted ocean view, the law states that no building can be taller than a coconut tree. With a population of around 15,000 inhabiting an area the size of Western Europe, this untouched slice of Earth gives the rare feeling of being distanced from the world with its refreshing cerulean lagoons, diverse tropical wildlife, and South Pacific culture.
The culture reflects the exciting mix of Polynesian heritage and European influences, as the islands have a long and varied anthropologic history with music and dance integral to their cultural tradition. Mythological stories are told through energetic songs and dances, passed down through the generations, and are characterised by graceful hand movements and hip swaying set to rhythmic drums and ukuleles. One thing is certain: visitors experience a sense of community by receiving warm and welcoming hospitality from The Cook Islanders in local customs and celebrations and have plenty of fun doing so.
An idyllic climate offers endless land and sea adventures. the Cook Islands have the perfect conditions for water sports. Let the strong trade winds take you kiteboarding on pristine waters or rent a kayak on a calm lagoon – ideal for spotting turtles and tropical fish. For more land-based activities, hike along coastal cliffs, through verdant rainforests, and into the rugged interior of the islands, or take a guided tour of historical sites to immerse yourself in the culture. The main islands are Aitutaki and Rarotonga, where you will find the town and the capital, Avarua. Still, with 13 other islands awaiting
discovery, an adventure is always on the horizon.
The islands are separated into two distinct parts; the Northern Group of coral atolls and the Southern Group of volcanic origin, resulting in an exciting and challenging terrain. Volcanic mountains with fecund land areas and mysterious jungles, saltwater lagoons inside the atolls and between most islands and the outer reefs have replaced the need for rivers as the land mass is too small. The landscape lends itself to a plethora of adventurous activities, such as off-roading on buggies and quad bikes, mountain trekking, and an underwater sea scooter safari. For a more sedate time on the islands, there are tropical gardens and lagoon cruises, including a fresh fish BBQ.
As part of three Southern Group islands, Nga-Pu-Toru, and over eight million years old, the remote island of Atiu is well-known for ecotourism. With virtually no townships, it is home to approximately 400 proud warrior people. This ancient escape has tropical jungle and limestone caves where you can hear the calls of the Blue Kingfisher and spot the Kopeka, a rare native bird. The island is also a haven for the exotic plumes of the Tavake, the White Capped Noddy, and the Brown Booby. Visit one of the thriving coffee plantations or join the islanders at a tumunu, which translates to coconut trunk, a centuries-old tradition where people gather to discuss local events while drinking home-brewed fruit beer brewed in barrels made from coconut trunks, hence the name!
Rooted in tradition, the Cook Islands have managed to maintain authenticity and vibrancy, giving anyone who travels there an enriching encounter with the country and its culture.
TOURISM INSIGHTS: THE COOK ISLANDS TOURISM CORPORATION
---
Dedicated to promoting regenerative tourism and sustainable travel, the Cook Islands Tourism Corporation aims to provide visitors with a fulfilling and memorable experience by encouraging them to leave the South Pacific paradise better than when they arrived.
The Cook Islands Tourism Corporation wants travellers to seek adventure, learning opportunities, and connections responsibly, leaving a positive impact.
The corporation asks people to remember when learning the laid-back Polynesian way of life in the remote but accessible outer islands, that living like a local will entail accepting challenges such as limited modern conveniences and sometimes delays in communication.
Visitors are encouraged to share their experiences on social media platforms using the corporation's motto – #lovealittleparadise. We speak to CEO, Karla Eggleton.
Q&A WITH KARLA EGGLETON, CEO
---
Can you talk us through the origins of the Cook Islands Tourism Corporation?
Karla Eggleton, CEO (KE): The Cook Islands Tourism Corporation is a statutory body mandated to lead the destination with tourism marketing and management. Tourism is the leading economic sector for the Cook Islands, contributing over 60 percent of GDP. Tourism is the lifeline for our people and our nation, affecting every man, woman, and child; our job is to keep this industry alive. We are a small team with modest resources, but we have a huge passion for keeping the heart of this nation pumping.
Why, in your opinion should someone visit the Cook Islands and what type of travellers do the islands appeal to the most?
KE: Located in the heart of the South Pacific, the Cook Islands is steeped in Polynesian culture, living to the beat and rhythm of their own drum. You will find the biggest hearts, widest smiles, and the most appealing aspect – we are 15,000 people over 15 islands that make up this safe and peaceful country. We are like one big resort, only 45 minutes around the island of Rarotonga, boasting a plethora of easily accessible activities, attractions, eateries, shops, and accommodations. It is 'love a little paradise' at its absolute best.
What are the greatest challenges facing the corporation at the moment?
KE: Looking at tourism, our challenge is access. Since our borders opened in January 2022, airlift has hamstrung us. The airline industry had some significant challenges around aircraft and crewing shortages, which has impacted the Cook Islands getting back on its feet faster. The good news is that three additional non-stop routes were added to our Auckland to Rarotonga schedule this past year. You can now fly to the Cook Islands via Auckland (New Zealand), Sydney (Australia), Papeete (Tahiti, French Polynesia), and Honolulu (Hawaii, US). There is certainly room for more flights and airlines.
Are there any new tourism initiatives, or projects in the pipeline, that you would like to highlight?
KE: The Cook Islands is at an exciting time in its tourism journey, recently launching our Cook Islands Tourism Development Strategy (CITDS). This speaks to better rebuilding and ensuring a quadruple bottom-line approach of providing community-led tourism that benefits conservation, commerce, culture, and community. This will be key for our fragile and vulnerable landscape.
What does the Cook Islands have to offer in terms of sustainable and socially responsible travel experiences, and how do they benefit the local community?
KE: There has been considerable focus in this area in the past year, and our new CITDS has worked to identify these wonderful experiences to offer visitors the opportunity to volunteer, contribute, and help leave the island better than it was. The Cook Islands runs an all-inclusive voluntary business accreditation and quality assurance programme. This highlights and encourages Mana Tiaki (think guardianship) and eco-standards. This also now extends into visitor programmes in the pipeline, including lagoon eradication of the coral-eating crown of thorns, coral gardening for lagoon restoration, vetiver grass planting along riverbanks and streams to support lagoon health and reduce sedimentation, cooking classes using locally grown and organic products, and animal welfare support – working with our local Cook Islands SPCA – to name a few. We are incredibly early in the journey and continue to look at opportunities within our community to share with our visitors.
How do you promote the islands, especially during the rainy season?
KE: The remarkable thing about the Cook Islands is that we don't have monsoon weather like Asia. In fact, because most of our islands are low-lying, the clouds pass right over us. The warm morning drizzle will simply pass, and be replaced by beautiful sunshine. Should there be an extended period of rain over the summer season, that shouldn't stop you from exploring our cafés, art galleries, quad buggy tours (think mud, mud, mud), and jet skiing (you are going to get wet anyway).
What are the corporation's key priorities and goals for the future?
KE: As we navigate the next steps in our tourism journey, the corporation aspires to ensure our people's well-being. While Rarotonga and Aitutaki have an award-winning mature and extended tourism product for every visitor looking for that perfect holiday, there are also remote islands and villages that we must respect and introduce them to the right kind of visitor who will appreciate the culture and values of these communities – a balancing act we take seriously.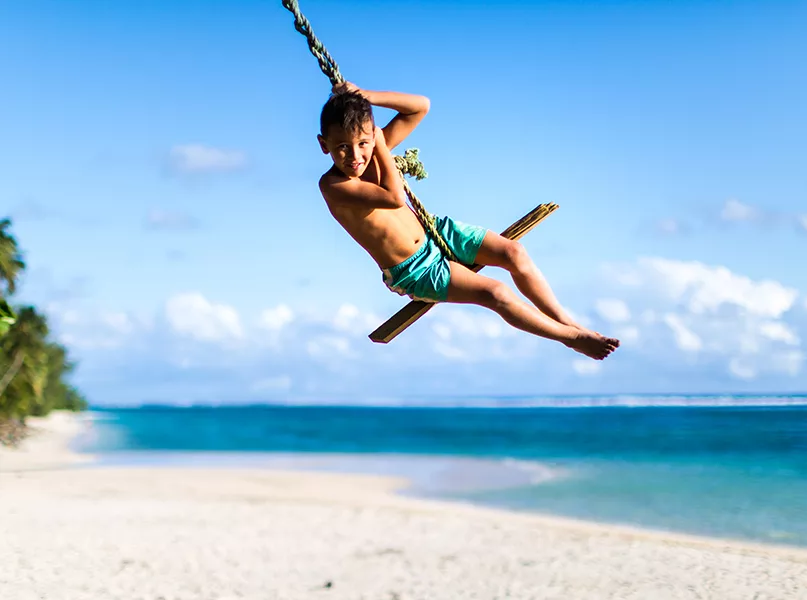 OUTLOOK RECOMMENDS
Eat:
---
FOR VIEWS TO DINE FOR…
The Nautilus Resort offerss a stylish Polynesian beachfront restaurant and chic beach bar. The cuisine is a Polynesian-European fusion, with ingredients harvested from the sea and organically grown local produce. Options include fine dining in the central area, or for a casual al fresco experience, the spacious patio overlooking white sand beaches, the lagoon, or the glistening infinity pool is a must.
FOR CULTURAL COOKING…
Every Monday and Thursday on the north side of Rarotonga is Umu Cultural Night. The immersive dining spectacular includes being serenaded by a string band with well-choreographed performers as you taste a feast prepared in a smoking-hot underground oven, accompanied by a buffet of freshly prepared salads and local dishes.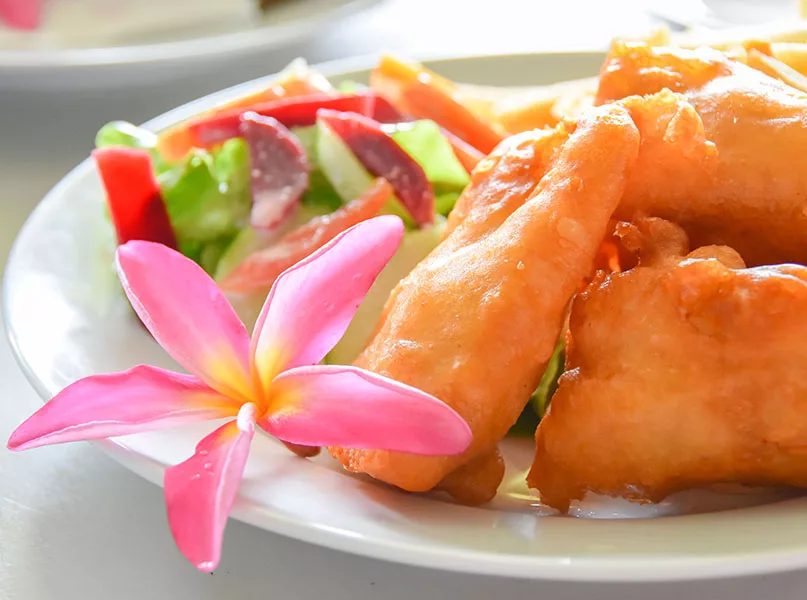 Do:
---
FOR SUN-DRENCHED AQUA ACTIVITIES…
This part of Rarotonga faces northwest, and is sheltered from the wind with all-day sunshine. Moreover, as the name suggests, it has prominent black rocks, ideal as diving platforms into the pools below, and an Instagrammable backdrop at sunset. There is more to see in the underwater world, as it is one of the best snorkelling spots on the island. As a culturally and historically significant landmark, it is traditionally believed to be where the spirits of the dead commenced their voyage to the afterlife (Avaiki).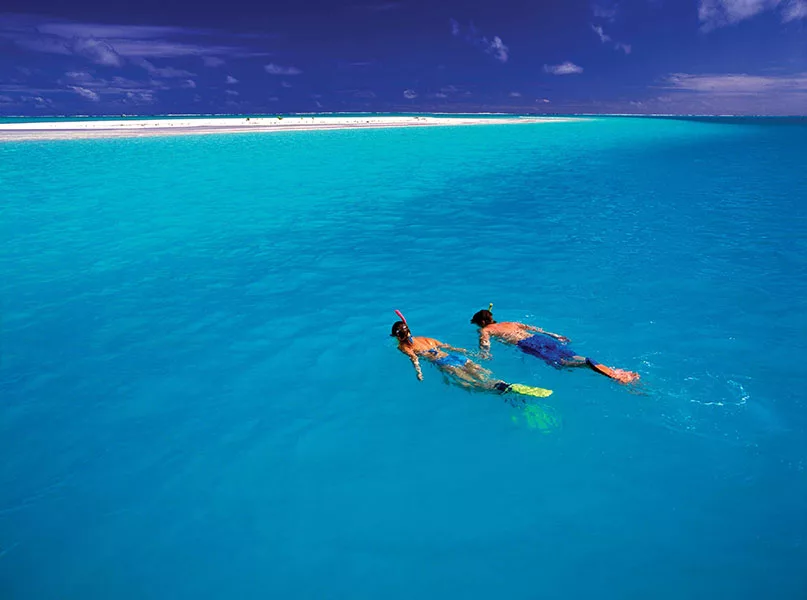 FOR WHALE WATCHING…
Committed to conservation, Raro Reef Sub will take you on a cruise to see humpbacks in its semi-submersible. These majestic creatures traverse the South Pacific annually to breed and give birth.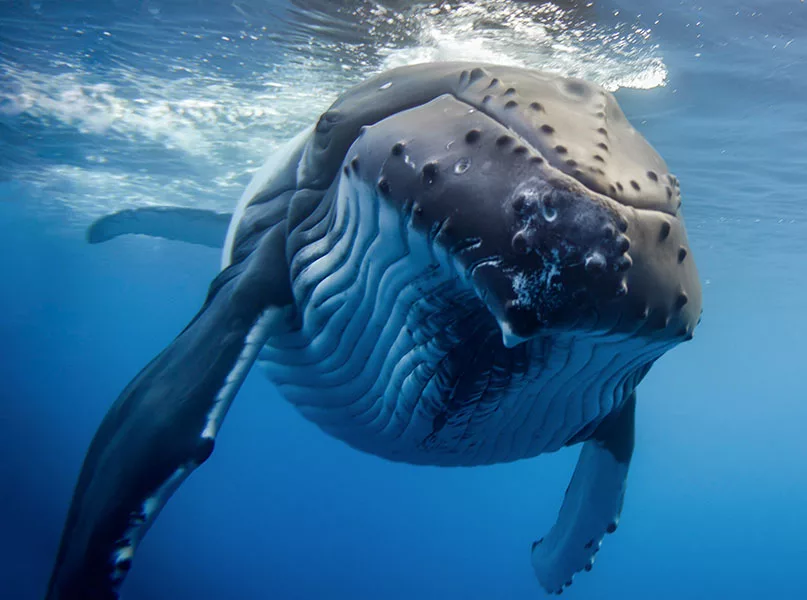 Sleep:
---
FOR A BOUTIQUE ECO-ESCAPE…
Set amongst organic tropical gardens and local plantations with dramatic mountain views, the 4-star award-winning Ikurangi Eco Retreat in Rarotonga is the island's first environmentally friendly accommodation and glamping hotel. Guests can enjoy a complimentary tropical breakfast and free bicycle hire to explore the area.
FOR A BEACHFRONT VILLA…
Surrounded by the tranquil waters of the Aitutaki Lagoon, the 5-star award-winning Pacific Resort Aitutaki has a luxurious collection of bungalows and villas. Offering a private sundeck with uninterrupted views, you can spend your days lounging by the pool, on the beach, or getting pampered at the Tiare Spa.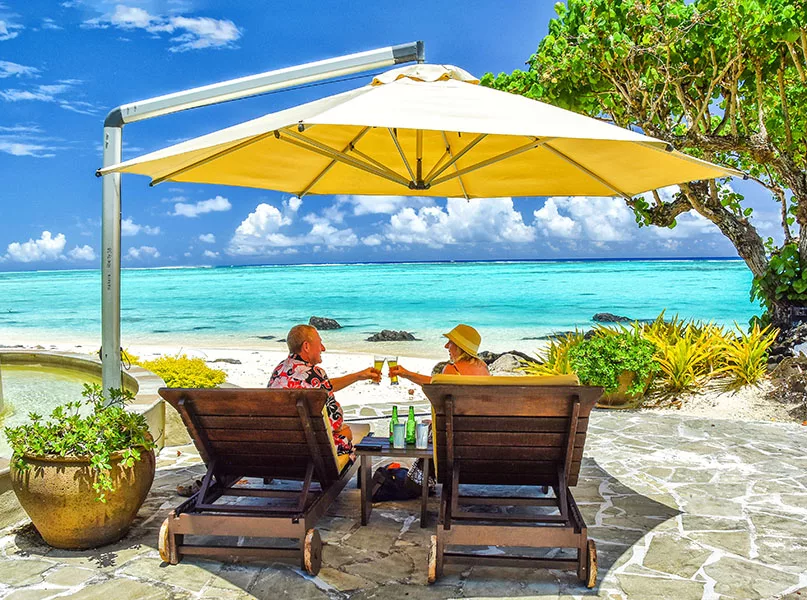 RAROTONGA'S OUTER ISLANDS IN FOCUS
---
There are no cities in the Cook Islands and few towns due to the preserved and intact nature of the country. As a result, there are plenty of coastal areas to discover and explore.
The Penrhyn atoll is the most remote of the islands, although Robert Louis Stevenson reached it in 1890. Today, it is even more accessible thanks to Air Rarotonga, with an approximately four-hour flight time from Rarotonga via a charter basis and on the Northern Atolls Expedition tour. It offers a unique Polynesian culture with its famous crafting of white rito hats, beautiful beaches, and opportunities for fishing and freediving, boasting the largest lagoon in the Cook Islands.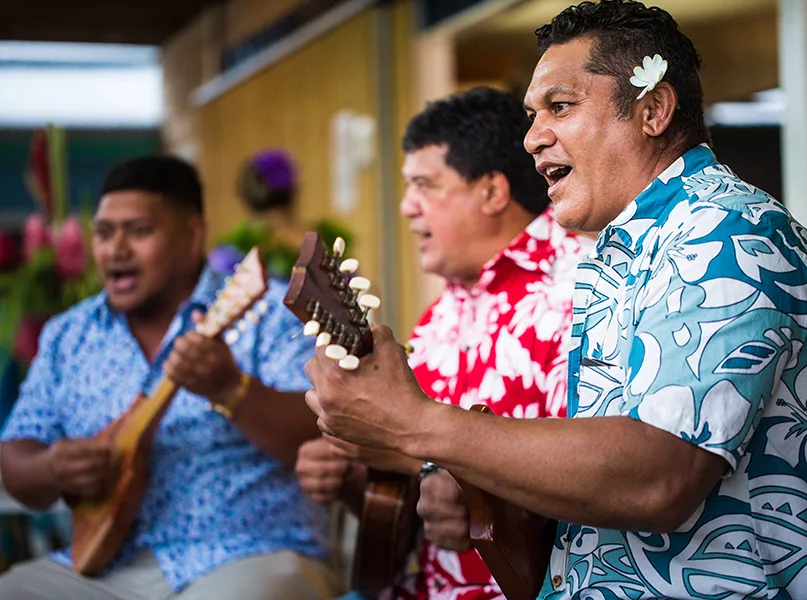 The Manihiki atoll is informally known as the 'Island of Pearls' for its black pearl industry. In fact, it is the world's second-largest producer of black pearls. It offers a glimpse into local pearl farming and the chance to join the harvest or buy these stunning gems. The atoll has an airstrip on the moto (island) of Tukao, which receives flights from Rarotonga.
The Pukapuka atoll, with just over 400 inhabitants, is breathtakingly beautiful with its untouched beauty of pristine beaches and clear waters. It is distinct from the rest of the Cook Islands as it has its own language – Pukapukan. Its seclusion has helped to keep its traditions and culture alive, which has been unchanged for hundreds of years.
The indigo waters away from the reef are teeming with yellowfin tuna and mahi mahi, and the uninhabited islands of Motu Kotawa and Motu Ko are market gardens where crops thrive. Indeed, Motu Kotawa has the most outstanding atoll forest in the Pacific, which houses nesting frigatebirds.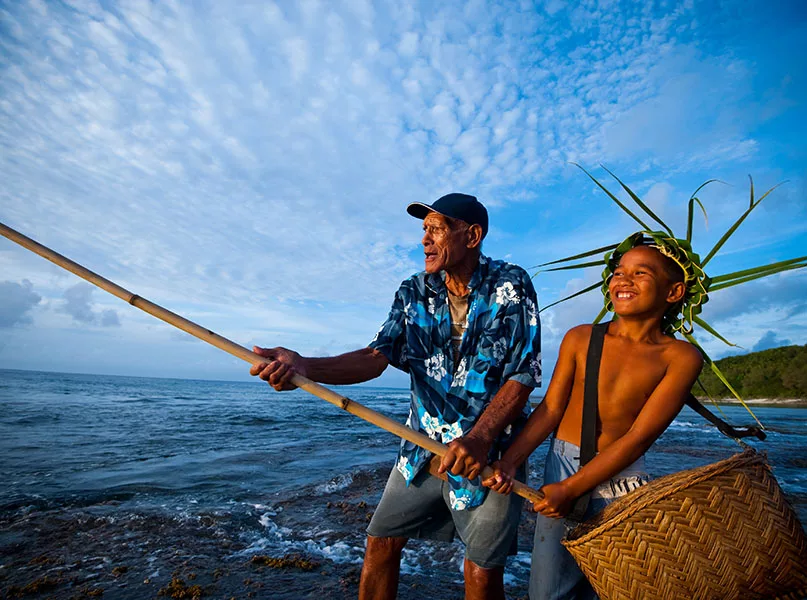 LANDMARK ATTRACTIONS
---
The Needle
This notable natural rock formation resembles a towering spire known as Te Rua Manga. Located on Rarotonga, the volcanic remnant rises out of dense vegetation, and its unique shape has made it a popular subject for hikers and photographers alike. The trail starts from Avarua, and depending on fitness levels, the hike takes between four to six hours. Although there is plenty of lush scenery along the way of rainforests, valleys, and streams, you will be rewarded with panoramic views of the island and the Pacific Ocean when you reach The Needle.
Te Vara Nui Village
Guided tours offer a cultural extravaganza which will educate and entertain as guides and performers share stories and historical information about the Cook Islands' rich heritage. Guests can enjoy overwater performances, which adds to the magical ambience. The cultural village tour will teach you about the arts and crafts of the Indigenous people. Still, the highlight is the Island Night Show, which begins with a dinner buffet showcasing local cuisine of seafood, tropical fruits, and Polynesian favourites.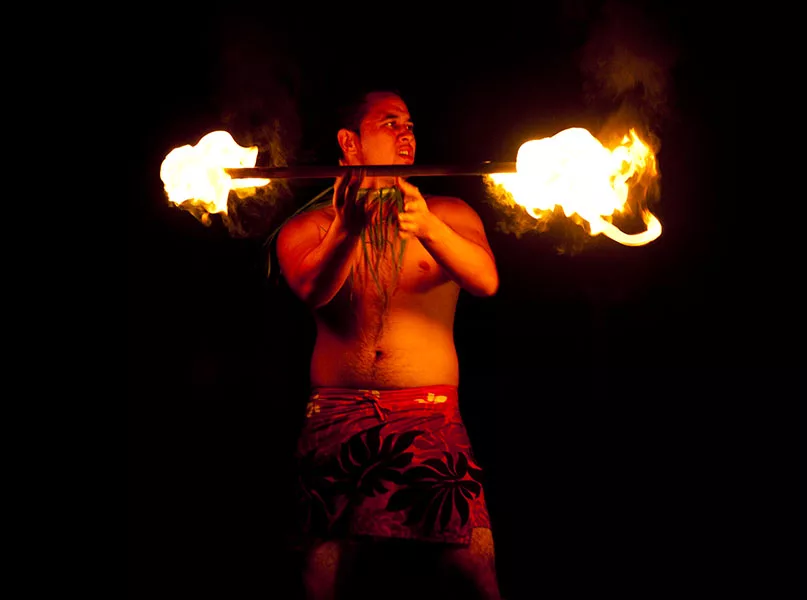 Maitai Shipwreck
The Cook Islands is home to several shipwrecks, but the most well-known is a trading vessel which ran aground near Rarotonga in the 1920s. The site has diverse marine life; while exploring the wreck and the surrounding coral reefs, you may encounter colourful tropical fish, sea turtles, rays, and trevallies. It has become a fascinating underwater spectacle for divers, snorkellers, and marine life enthusiasts. It rests in relatively shallow waters, making it accessible to experienced and novice divers.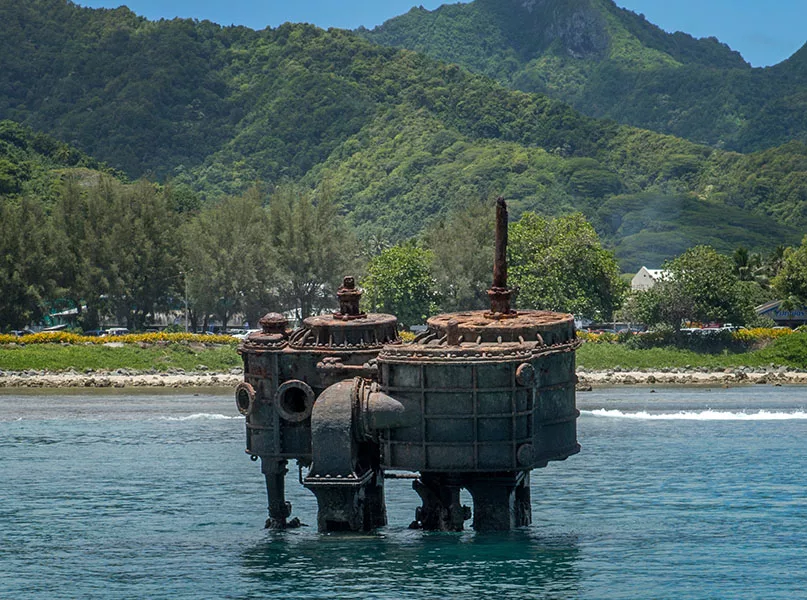 GETTING THERE AND AROUND
---
Getting to and around the Cook Islands involves international flights to the main gateway, Rarotonga International Airport (RAR), and inter-island transportation options for travelling between the islands. The islands have nine airports, one international, two paved runways, seven flattened coral runways, and three of the islands have just an airstrip.
Most travellers arrive via Rarotonga, and airlines operating direct flights there include Air New Zealand, Jetstar Airways, Hawaiian Airlines, Air Tahiti ,and Air Rarotonga. These flights typically depart from cities such as Auckland (New Zealand), Sydney (Australia), Honolulu (US), and Papeete (Tahiti), so to arrive from anywhere else in the world would mean an indirect flight, stopping at one of these places.
To travel between the different islands, you can take inter-island flights. Air Rarotonga is the only airline offering domestic flights connecting Rarotonga to the rest of the Cook Islands. Booking your inter-island flights in advance is advisable with islands like Aitutaki, Atiu, Mangaia, and more, especially popular during peak tourist seasons.
On the main island of Rarotonga, you can use buses, rental cars, scooters, or bicycles to get around, as the island has a well-maintained road network. On the other islands, transportation options may be limited, and you may need to rely on scooters, transfers, walking, or renting a vehicle if available.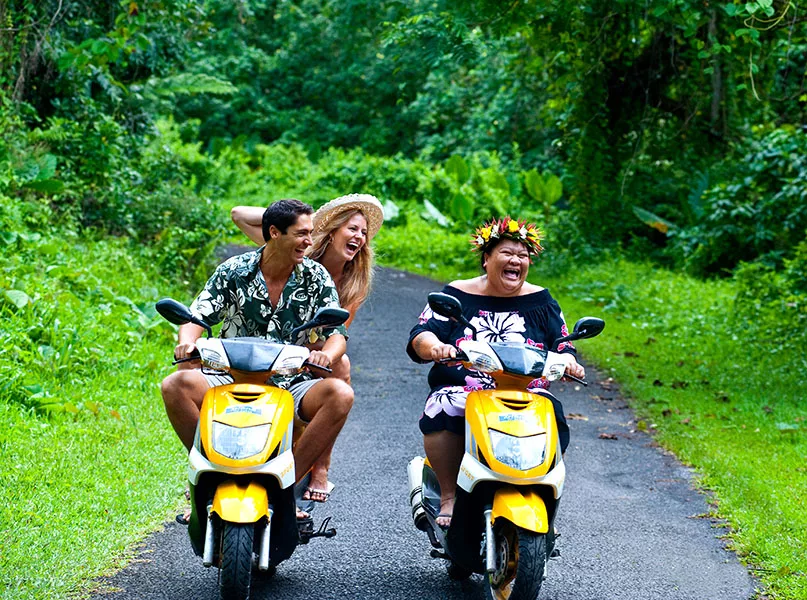 VIEW THE COOK ISLANDS TRAVEL GUIDE