Perched above one of the world's most advanced countries, Australia, you can find one of the planet's least explored lands – the mysterious majesty of Papua New Guinea (PNG).
PAPUA NEW GUINEA
---
Home to around 10 million inhabitants and a "mega-diverse" culture harbouring over 800 languages, the most of any country in the world, this tropical paradise is a largely untamed jewel of the Pacific, and also home to the world's third largest rainforest, 45,000 kilometres (km) of coral reefs, and more than 700 bird species.
Despite its vociferous volcanoes, bewildering wildlife, spectacular snorkelling and scuba diving hot spots, and taxing but infinitely rewarding jungle treks, Papua New Guinea has historically been somewhat overlooked in favour of Melanesian cousins such as the archipelago of Fiji, which boasts around 10 times the annual visitors to the wonders of their own islands.
Even though PNG is in close proximity to the likes of Australia, New Zealand, and the emerging economies and transport hubs found in Southeast Asia, the island has been widely underappreciated. Therefore, despite the pristine beaches, thriving native tribes, and spectacular vistas afforded to visitors at every turn, PNG hasn't been able to compete with other destinations relatively close by, including the bustling capitals of Jakarta and Manila, as well as island destinations such as Vanuatu and Samoa, all of which have been hit extremely hard by the COVID-19 outbreak. There are green shoots of recovery, however, with restrictions lifting and international confidence growing when it comes to travelling far and wide.
As you will see, a trip to PNG is one of unimaginable beauty and cultural intrigue, where surprises await around every turn. Just don't expect to travel by car, as you can only access the bounties of PNG via boat, plane, or in sturdy walking boots!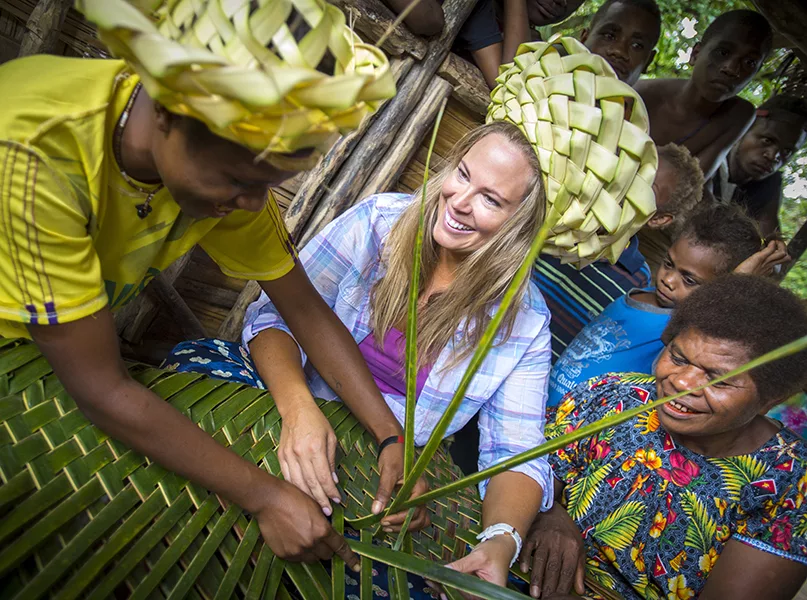 TOURISM INSIGHTS: PAPUA NEW GUINEA TOURISM PROMOTION AUTHORITY (PNGTPA)
---
Come the end of spring, the rains begin to cease in Papua New Guinea and the delights of hiking become far more accessible to intrepid explorers. One particularly enjoyable example is the Kokoda Track – a 60-mile mountain trek bejewelled with cascading waterfalls, rickety rope bridges, and colourful villages. We learn more about the adventures that await in PNG with Eric Mossan Uvovo, CEO of the PNGTPA.
Q&A WITH ERIC MOSSMAN, CEO, PNGTPA
---
What are the major trends transforming tourism in PNG today?
Eric Mossman, CEO (EM): Since the global COVID-19 pandemic, tourism in Papua New Guinea has seen some positive growth, particularly with domestic tourism in the hospitality industry space. We've seen an increase of local tour operators and tourism small and medium-sized enterprises (SMEs), as well as the diversification of products by existing travel businesses to meet the demands of local visitors.
Much of this has been enabled through online marketing efforts. For the PNGTPA, we have partnered with two of our biggest commercial airlines, Air Niugini and PNG Air, to develop several all-inclusive domestic travel packages covering flights, accommodation, and tours.
Furthermore, with air transportation being the only viable way to travel into the farther reaches of PNG, the local airlines have benefitted greatly from domestic tourism.
Meetings, incentives, conferences, and exhibitions (MICE) tourism is also increasing in PNG, prompting the hospitality industry to increase and enhance venues to meet the needs of clients – from large-scale events like corporate conventions, fashion shows, and entertainment, to small-scale events like craft markets, workshops, and more. The PNGTPA has been very supportive of initiatives that support local SMEs.
Cruise tourism is on the rise too. By the end of 2023, PNG will have received 100 cruise vessels including both liner and expeditionary passenger cruise ships. We have been working closely with relevant public sector bodies to ensure facilities, infrastructure, and capacity are adequate enough to cater for our cruise arrivals, especially in the provinces of Milne Bay, Madang, Morobe, and East New Britain.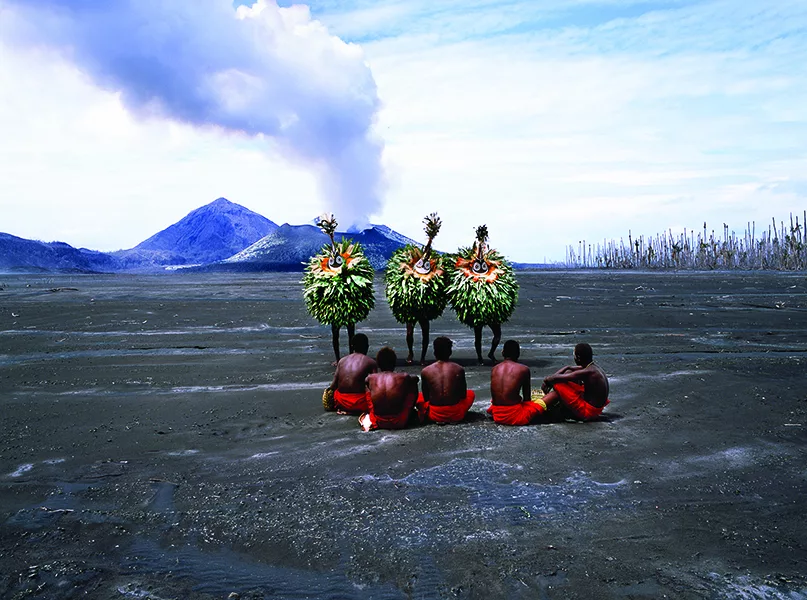 Are there any new markets that you would like to appeal to, and why?
EM: One of the first to comes to mind is the United Arab Emirates (UAE), particularly since our country's participation at the Expo2020 in Dubai, which has led us to look closely at UAE, Saudi Arabia, and the other Gulf Cooperation Council (GCC) markets. Understanding their cultural needs and travel habits will be key.
The Chinese travel market also remains of significant interest to us because of the massive number of outbound tourists recorded globally before the COVID-19 pandemic. We had an established a destination marketing representative office in Shanghai, and in the coming year, we hope to reestablish this tourism office, depending on the availability of funding.
How does the country cater to sustainable and eco-friendly travel experiences?
EM: The PNGTPA is always supportive of sustainable tourism, especially investing in projects promoting ecotourism and the conservation of our natural environment, including flora and fauna. Many of our industry members range from natural and zoological parks to operators in the diving, surfing, trekking, and cultural niches – as such, through sponsorships and using our own platforms, such as the National Tourism Organisation (NTO), we help advocate for sustainable tourism.
Environmentally friendly practices also form the basis of our Tourism Sector Development Plan (TSDP) 2022-2026, which seeks to revive and grow a resilient, inclusive, and sustainable tourism sector in PNG.
What would you say makes PNG stand out as a destination of choice?
EM: Our destination brand speaks volumes of what PNG can offer travellers: 'A Million Different Journeys'. We are in essence an adventure destination. We want people to make a connection with PNG, enough to prompt them to spend time here, and to find out for themselves just what a uniquely special place it is.
The depth and breadth of PNG and the experiences it provides are beyond the perception of most people, with its many disparate cultures and hundreds of islands with vast tracts of mountains, forests, and jungles; the overwhelming scale of the place – to the aeons of unchanged tribal and village customs, are both awe-inspiring and incomparable.
PNG also offers deep and meaningful experiences with strong connections to nature, self, people, community, culture, and history. We believe no time in PNG is without connection. Our country is a place of personal challenges and life-changing adventures; a place not so much for tourists, but for travellers, where customs, values, kinships, legend, and magic have evolved over hundreds of years, intertwined and still underpinning the unique and engaging culture of our land.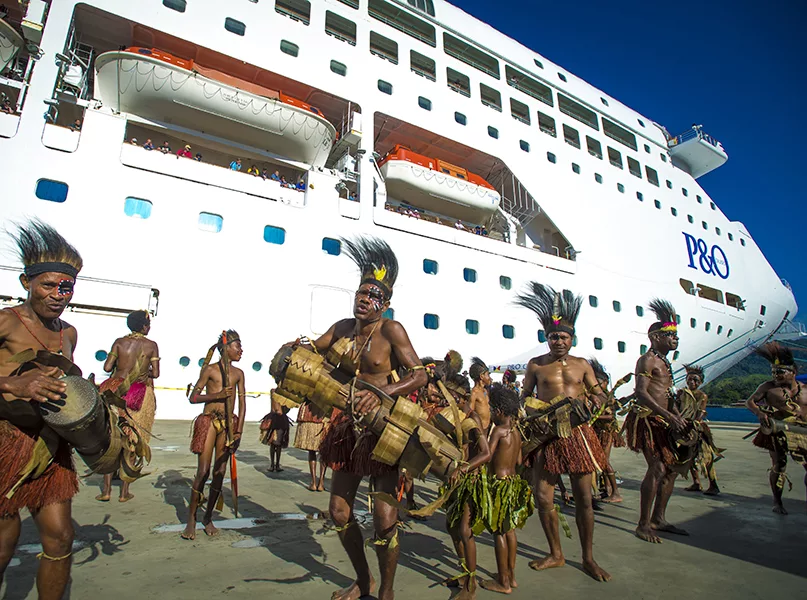 What are your organisation's current goals?
EM: Our TSDP 2022-2026 is framed on the recognition that tourism is a key renewable resource sector of PNG's economy and vital to achieving the country's overall national development goals.
Could you share with us one overlooked destination, landmark, or place that you would recommend to a first-time visitor?
EM: Manus Province and the Admiralty Islands are some of the farthest archipelago islands from the mainland of PNG. This destination has several nature-based niche tourism products that would appeal to any off-the-grid adventure-seeking traveller – from local island village stays, conservation projects, bird watching, surfing, and cultural experiences – to the importance of the New Guinea campaign, which according to Australian military historian, John Laffin, "was arguably the most arduous (battle) fought by any Allied troops during World War II".
Finally, what are your hopes for the development of tourism in PNG?
EM: My hopes for the development of tourism in PNG is that we accomplish most – if not all – that we have meticulously put together in our TSDP 2022-2026, which is the culmination of two years of consultation and planning with our tourism industry and various government stakeholders.
I wish to see PNG's tourism sector increase exponentially in its economic value to the country, and most of all I wish to see our citizens thrive in the tourism space – as business owners and travellers themselves.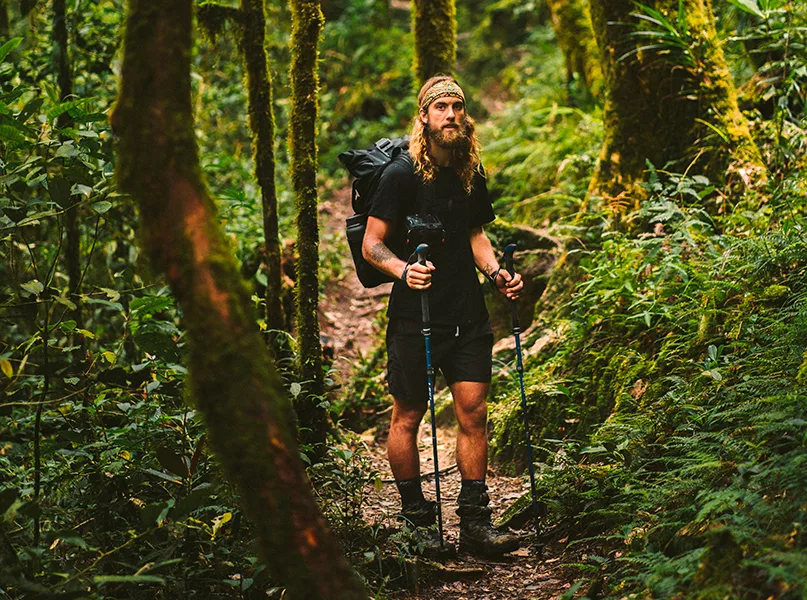 THE MOROBE SHOW IN FOCUS
---
In early November (4th and 5th), any visitors to the Morobe Province on the northern coast of Papua New Guinea are in for a real treat as 2023 marks the 60th anniversary of the iconic Morobe Show.
If trekking into the deepest, darkest jungles of PNG with a guide is not your cup of tea, the Morobe Show lets you still experience some of the delights of the colourful tribes. Held on the weekend closest to the full moon in October, visitors from all over the country, as well as the rest of the world, come to celebrate in Lae, which holds the event at its showground in the heart of the city.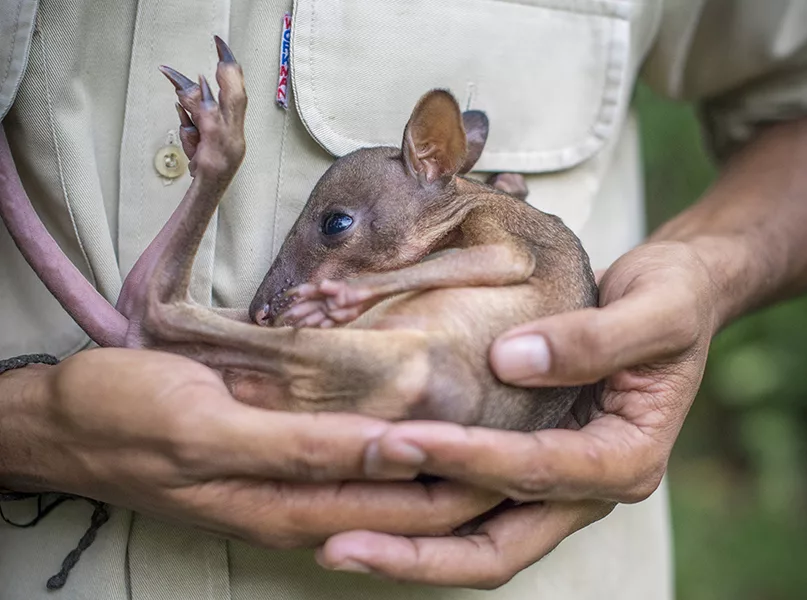 On display is a variety of agriculture, horticulture, floriculture, livestock, commercial, industry, education and culture activities, displays, and events. Watch out for the cowboy events, traditional dancing, horse rides, as well as the popular daredevil bike riders.
This annual show holds great significance and is the only event of its kind in PNG. For those interested in these types of traditions, you can stay updated on the island's cultural events here.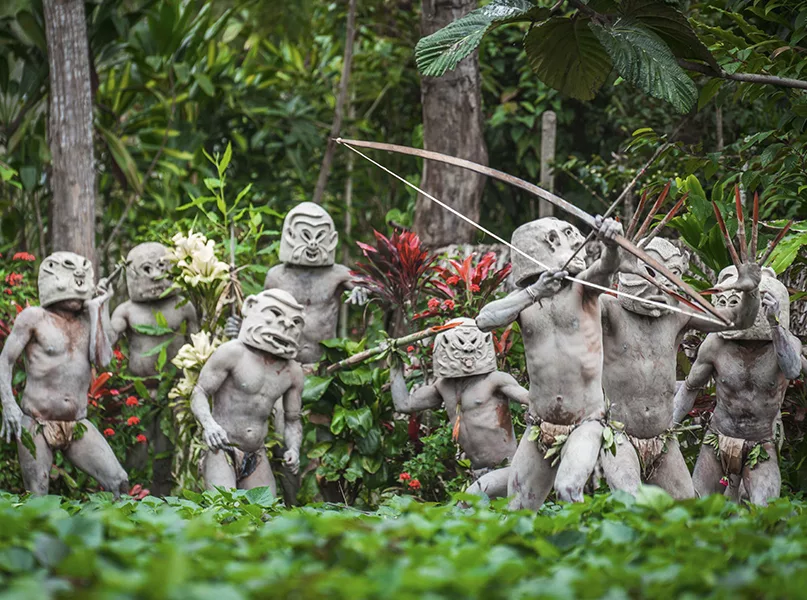 OUTLOOK RECOMMENDS
Sleep:
---
FOR DIVING ALL YEAR ROUND…
For any scuba diving enthusiasts, one choice stands alone in Papua New Guinea. Tufi Resort offers tailored packages and a range of adventurous activities, from sea kayaking, fishing, snorkelling, and much more.
The resort also offers 30 nearby reefs teeming with aquatic life, such as pelagic schools of tuna, spanish mackerel, barracuda, white tip and black tip reef sharks, and hammerheads and rare white hammerheads. Turtles, manta rays, and eagle rays can also pass by.
Tufi Resort is one of the few destinations in PNG to offer all year-round diving, with the clear, calm, and protected waters of the tropical fjords offering perfect diving locations for macro and muck diving.
FOR A STAY ON THE SPARKLING SHORES…
Madang Lodge Hotel is a privately run boutique hotel set on the sandy beaches of the Astrolabe Bay amongst manicured tropical gardens boasting stunning orchid collections. Located 10 minutes from the Madang Airport on the main Modilon Road, it is just a few minutes from the town centre with flights from Port Moresby daily.
---
FOR BEACH FRONT ACCOMMODATION…
FOR RELAXING AND UNWINDING…
Eat:
---
FOR INDIAN INDULGENCE…
Flights:
---
FOR THE PEOPLE'S AIRLINE…
Aside from the national airline Air Nuigini, another popular operator is 'the people's airline', PNG Air, who celebrated 35 years of service to the people, communities, and businesses of PNG in 2022. Its instantly recognisable empennage is often used to celebrate cultural emblems, with the 35th anniversary logo being a striking representation of all the distinct elements of PNG livery, represented through the Bird of Paradise.
Connecting travellers to over 24 destinations on PNG's widest domestic network, PNG Air is proudly owned by the country's major institutions and by approximately 2,300 PNG nationals.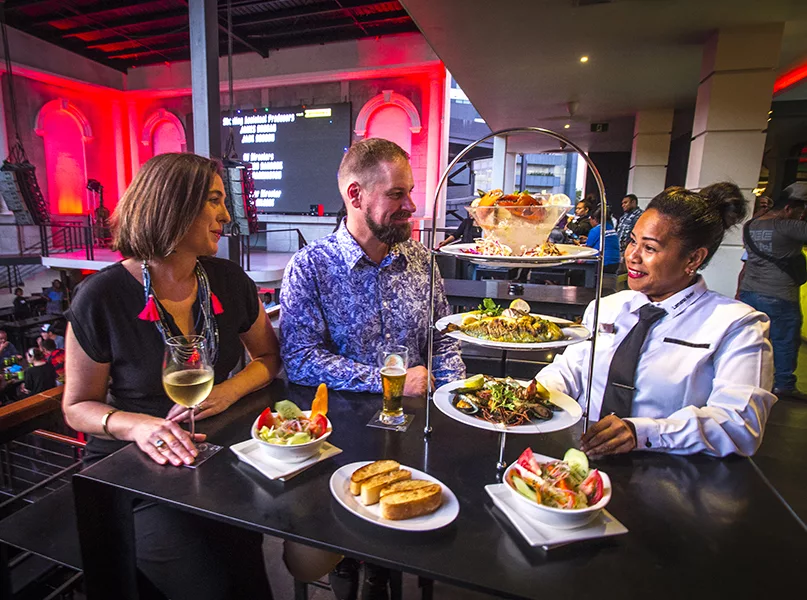 LANDMARK ATTRACTIONS
Varirata National Park
---
Located a mere 30 minutes from the capital city of Port Moresby, Varirata is PNG's first National Park. For the finest views of the capital, it can't be beaten as a lookout point, and the breathtaking scenery and vast array of exotic animals make it a treat for any visitor.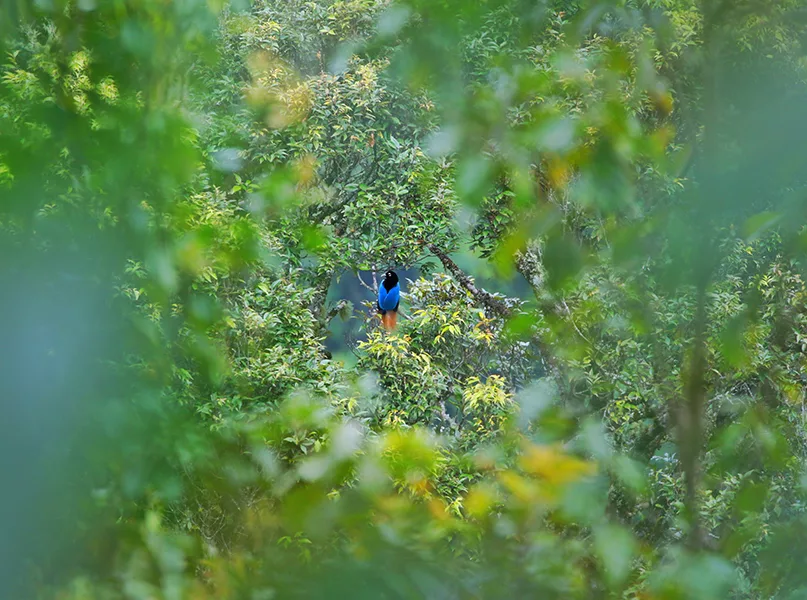 Tari Basin
---
If exploration is your thing, look no further than the Highlands and the jungle of the Tari Basin and the Tari Gap. Blessed with birds of paradise, including the King of Saxony and the Blue Bird of paradise, the area gained an international reputation among twitchers after a visit from Sir David Attenborough while making the documentary Attenborough in Paradise (1996).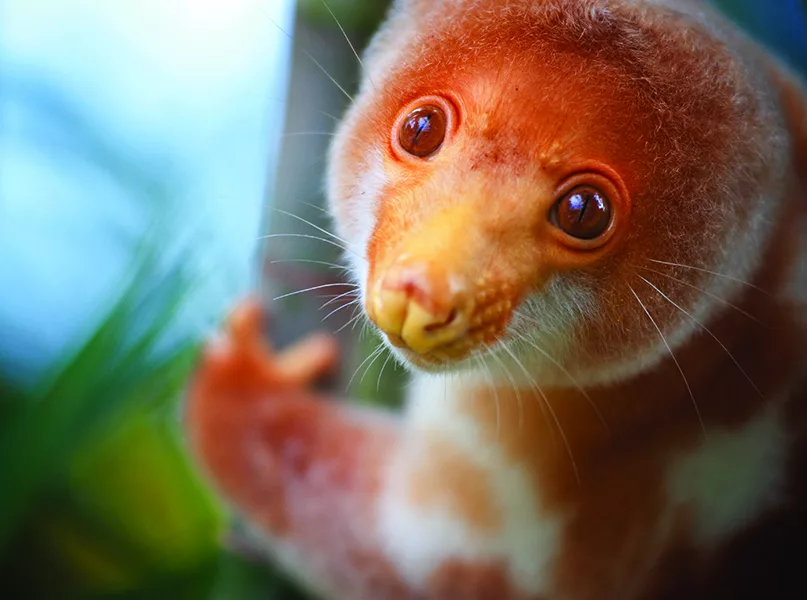 Rabaul and Tavurvur Volcano
---
In 1994, the unsuspecting township of Rabaul was sadly consumed by the Vulcan volcano in a twin eruption together with the Tavurvur volcano. You can learn more about the history and present-day volcanic activity at the Volcano Observatory, where experts reveal all about the region's four active and 22 dormant volcanoes that present a risk to an estimated 250,000 people.
GETTING THERE AND AROUND
---
The national airline of Papua New Guinea is Air Nuigini, which operates international routes (direct flights) from Hong Kong, Manila, Singapore, and Sydney.
Virgin Australia also flies to Port Moresby from Brisbane, timed at just over three hours, and from Europe or North America, you'll have to travel via Southeast Asia first.
To access Lae, the airport is at Nadzab, about 40km north of the city. This was a major US base towards the end of the war and is served by Air Niugini, who operate several daily flights from the capital Port Moresby, as well as connecting Lae with several other centres in PNG.
The other mode of travel that lets you visit this natural marvel is a cruise boat, and both P&O and True North Luxury Adventure Cruises are popular choices if you're thinking of making a stop-off. Regular passenger ferries that link various parts of PNG, with connections between Lae and Madang, and Rabaul to Kavieng, are also available. Additionally, some of these boats allow tourists to pay a little bit extra to enjoy more comfort and privacy, while locals can offer small boat and canoe-type services for shorter routes, but you'll have to negotiate a price.
The majority of PNG is inaccessible by road and therefore largely unexplored, with new species of flora, and occasionally hidden tribes untouched by modern ways of living.
Chartering a vehicle is expensive, so you can opt for local transportation called Public Motor Vehicles (PMVs); usually open-sided trucks/minivans. For those willing to suffer a few bumps and bruises, PMVs offer a more affordable way of getting around, as they essentially are the bus network.
It is highly recommended that a tour guide is used while visiting PNG, in the interests of efficiency, safety, and local knowledge. Trip Advisor offers an excellent round-up of the best tour operators.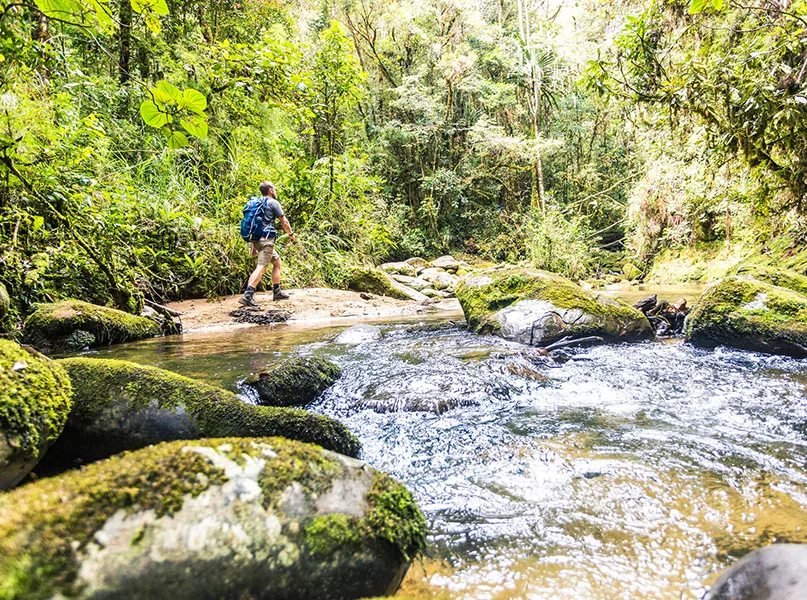 VIEW THE PAPUA NEW GUINEA TRAVEL GUIDE