Thailand a perennial favourite, thanks to an intoxicating combination of beautiful beaches, world-renowned cuisine and incredible temple complexes.
THAILAND
---
Known as the 'Land of Smiles', Thailand is a friendly country that welcomed 38.27 million tourists to its shores last year. There are plenty of reasons why this Southeast Asian destination is so popular.
For a start, there's the beaches. In the south, Thailand's two coastlines stretch for miles, populated by swathes of icing-sugar soft sand, the bays speckled with dramatic limestone formations. Thailand is also home to 1,430 islands, ranging from full moon party spots like Koh Pha Ngan to the more off the beaten track Similan Islands, a national marine park popular with scuba divers.
Then, there's the food. Thailand's noodles, stir fries and curries are beloved around the world, characterised by the fragrant taste of lemongrass, kaffir lime leaves and tulsi. Every town is bursting at the seams with floating markets, street food stalls and high-end restaurants where you can try delicious local dishes.
Thailand's rich spiritual heritage also attracts tourists. Golden temples and larger-than-life Buddha statues can be found across the country. Visitors can experience colourful religious festivals in the northeast of the country or explore the underground cave shrines in Kanchanaburi and Phetchaburi.
Despite Thailand's popularity, it's easy to find a quiet corner to relax, be it on a deserted island or an eco-retreat in the craggy mountains north of Chiang Mai.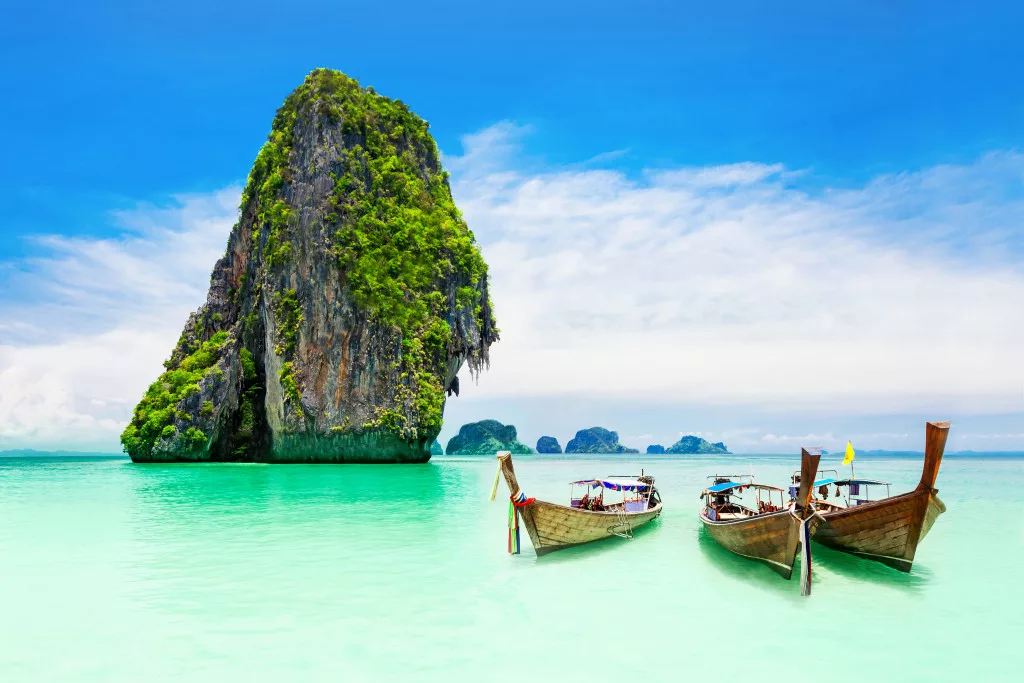 BANGKOK IN FOCUS
---
Bangkok is an energetic, multicultural city that adventurous travellers will love exploring. It's a city where cultures and traditions collide – air-conditioned mega malls sit alongside tucked-away-temples, and street food markets can be found near fine-dining restaurants.
Banglamphu is one of the city's most picturesque neighbourhoods, where timeworn riverside mansions line winding lanes. It's best known for Khao San Road, a backpacker's paradise jammed with lively bars, budget hostels and street food stalls.
To discover the Bangkok of old, take a boat trip down one of the khlongs (small canals) that bisect the city. You'll drift past old bridges, crooked houses and locals with floating wooden shophouses.
The city has plenty of intriguing cultural attractions to explore. Visit Wat Pho, an ornate sprawling temple complex housing the city's largest reclining Buddha statue. For something more offbeat, head to the Siriraj Medical Museum. Housed in the world's largest hospital, it's a cornucopia of pathological, forensic and anatomical specimens and exhibits. Whatever your interests, there's something in the city for you.
TOURISM INSIGHTS: THAILAND INCENTIVE AND CONVENTION ASSOCIATION
---
The Thailand Incentive and Convention Association (TICA) was established in 1984 as a joint effort between the government's Tourism Authority of Thailand, the national carrier, Thai Airways International, and 43 private sector organisations from the supply side of the business events industry. Since 2004, Thailand Convention and Exhibition Bureau (TCEB) has assumed the support role for the organisation. TICA's vision: to promote Thailand as a destination of choice for business events, and to build the capacity to service them.
TICA focusses its efforts and resources in several key areas. It hosts and coordinates familiarisation visits and incentive-related activities. It also develops educational and training programs, helping to raise awareness of organising MICE events. Finally, it promotes and markets Thailand as a destination for business tourism.
We sat down with Sumate Sudasna, President of TICA, to find out more about the organisation.
Q&A WITH SUMATE SUDANSA, PRESIDENT, TICA
What are your organisation's current goals?
Sumate Sudasna (SS): The goal is still to place and retain Thailand as a top of mind destination for business events. We also aim to help businesses and organisations seeking comprehensive information on the world-class infrastructure, services and hospitality Thailand has to offer.
Where do you think are the best places to hold a conference in Thailand?
(SS): Depending on the requirements of each event, there are destinations with varying readiness in terms of infrastructure, facilities, attractions and value chain. Bangkok is able to accommodate all sizes while Chiang Mai and Phuket are equipped for small and medium size events. A lot of our hotels have world-class facilities and are equipped with the technology to accommodate MICE events. We have some of the biggest and best convention and exhibition centres in Asia. Phothalai Leisure Park, a 25-minute drive from Bangkok's International Airport, is widely regarded as a new MICE benchmark for Thailand. Its 10 large function rooms are surrounded by fountains, waterfalls and pools.
Are there any interesting projects in the pipeline you wish to highlight?
(SS): The government are aiming to enhance the economy of the Eastern Economic Corridor (EEC) through foreign direct investment (FDI) and decentralising growth. Meanwhile, TCEB is helping drive economic corridor projects by supporting conferences that can be used as a platform to enhance trade and investment with other countries.
What challenges does your organisation face?
(SS): MICE tourism and events are constantly evolving, demanding ever greater levels of event service. The challenge comes with developing knowledge, talent and experience to keep up with this growth. We hold regular training events to help people in the industry. Recent events have included 'Banquet Operation Excellence', 'Communication for the Business Events Industry' and 'How to Overcome Objections in the MICE Industry.'
What trends are transforming the tourism industry in Thailand and how are you utilising them?
(SS): Community-based tourism, immersive experiences and gastronomic discoveries are becoming increasingly popular. We're also aware of the changing face of business tourism, and the importance of tuning your event to the needs of Generation X and Y professionals. The industry is well-aware of the trends and our attributes and are promoting them among their respective clientele. Generation Y (20-35 year olds) are attracted by opportunities to increase their knowledge and skills – they appreciate tailor-made advice and opportunities for co-creations.
What places would you recommend visiting in Thailand?
(SS): Begin your trip in metropolitan Bangkok, then travel north to Chiang Mai or Chiang Rai, cities renowned for their cultural attractions and dramatic mountain scenery. Finally, end your trip by relaxing on a beach or visiting one of our spectacular islands – Phuket, Samui and Krabi are all popular.
If you had 48 hours in Thailand, how would you spend it?
(SS): Many people would choose to remain in Bangkok or relax on a beach. However, if you want to engage more with Thai culture, I recommend selecting a community in a rural location to visit. Spend time among the locals, learn about their lifestyle, local arts, crafts and any indigenous qualities.
Finally, are you optimistic about the future of business tourism in Thailand?
(SS): We are very confident that business events will continue to prosper in Thailand. Ours is one of a few destinations able to accommodate all segments of business-related events, be they meetings, conventions, incentives or exhibitions and events. We believe that the years ahead are a great time to take advantage of Thailand's unique position as the gateway to ASEAN. Thailand is well on its way to becoming a leading MICE destination, not just in Asia but across the globe. With a combination of professionalism and readiness – responding to customers' needs and helping them reach their objectives in organising business events – we are showing the world that we are open for business. We have the whole package right here.
OUTLOOK RECOMMENDS
EAT:
---
For Michelin-starred street food…
Jay Fai

For Bangkok's best Pad Thai…
For afternoon tea and old-world charm…
SLEEP:
---
For island luxury…
Anatara Bophut Koh Samui Resort
For five-star beach breaks…
For Bangkok's most iconic hotel…
For glamping near waterfalls…
Sukantara Cascade Resort & Spa
DO:
---
For a Thai cooking course…
For wellness programmes…
For bespoke tours…
LANDMARK ATTRACTIONS
Mu Ko Ang Thong Marine National Park
---
A pristine archipelago of 42 small, jungle-covered islands in the Gulf of Thailand, which inspired Alex Garland's cult novel The Beach. Take a speedboat tour of the park, or snorkel through its colourful coral gardens. Limited rustic accommodation is available at Ko Wua Ta Lap.
Wat Phra That Doi Suthep
---
This towering, gilded temple was built in 1386, allegedly to hold a piece of bone from Buddha's shoulder. The temple is located at the summit of Doi Suthep, a mountain near Chiang Mai, and offers fantastic views of the city and natural surroundings. It can be accessed by ascending 306 steps or taking a cable car to the top. Get there early to avoid the crowds.
Talad Rodfai Ratchada (Train Station Market)
---
One of Bangkok's biggest and brightest outdoor markets. Thousands of stalls sell curios, knick-knacks and clothes. Grab a snack of seafood, barbecue pork or even fried insects from one of the food stalls, washed down with a beer from one of the bars in a converted VW van.
GETTING THERE AND AROUND
---
Thailand has six major international airports. By far the busiest is Suvarnabhumi Airport, which flies to 165 destinations in 54 countries.
It's also easy and affordable to get around Thailand by air. Air Asia, Nok Air and Bangkok Airways fly to all the major destinations, including Krabi, Phuket and Chiang Mai.
The country also has an extensive network of long-distance buses. If in doubt, take a BKS bus – a reliable, government-subsidised operator. There's also a railway network – trains are slow, but scenic. Thailand also has an extensive water transport system. Travel between islands or down canals on a long-tail boat.
Getting around Bangkok is easy – the Skytrain and MRT Subway connect to major landmarks across the city. In smaller cities, hail a 'tuk tuk' or rickshaw taxi to get around.