The Algarve, Portugal's sun-kissed southern region, attracts visitors by the millions, but it still has plenty of unspoilt corners, from Moorish towns to footprint-free beaches.
THE ALGARVE
---
With its dramatic limestone cliffs and golden bays, this sun-kissed region in southern Portugal welcomes upwards of four million tourists a year. Many of them flock to coastal resort towns such as Lagos and Albufeira, which are renowned for their crenellated coves, lively nightlife and the old-world charm of their historic centres.
But despite its popularity, areas of the region remain unspoilt. Cape St. Vincent National Park stretches across the rugged west coast of the Algarve, encompassing untouched bays and quiet whitewashed villages, fragrant meadows and pine forests. Parque Natural da Ria Formosa, just south of Faro, is an intricate network of saline marshes, creeks and islands – you'll find birds such as flamingos and the rare purple gallinule nesting here. Travel inland and you'll discover sun-dappled cork forests and then, further north, soaring mountain peaks.
The region is also rich in cultural attractions, thanks to five centuries of Moorish occupation and a history of maritime exploration and transatlantic voyages. You'll discover fishing villages built in the Moroccan 'white cube' style and museums dedicated to reconstructing the Algarve's brine-soaked history.
And the food is another draw. Spicy, barbecued piri piri chicken originated in the region. The Algarve is also renowned for its seafood dishes, known for their freshness and simplicity. One such dish is conquilhas à Algarvia, fresh clams cooked with slices of Portuguese sausage and garlic. Another is cataplana de marisco, a seafood stew simmered in a piquant tomato and white wine sauce.
Despite the region's popularity, a visit to the Algarve remains an evocative experience. The salty taste of the grilled sardines from Portimao, the stippled light of the cork forests, playing in the waves under cornflower skies…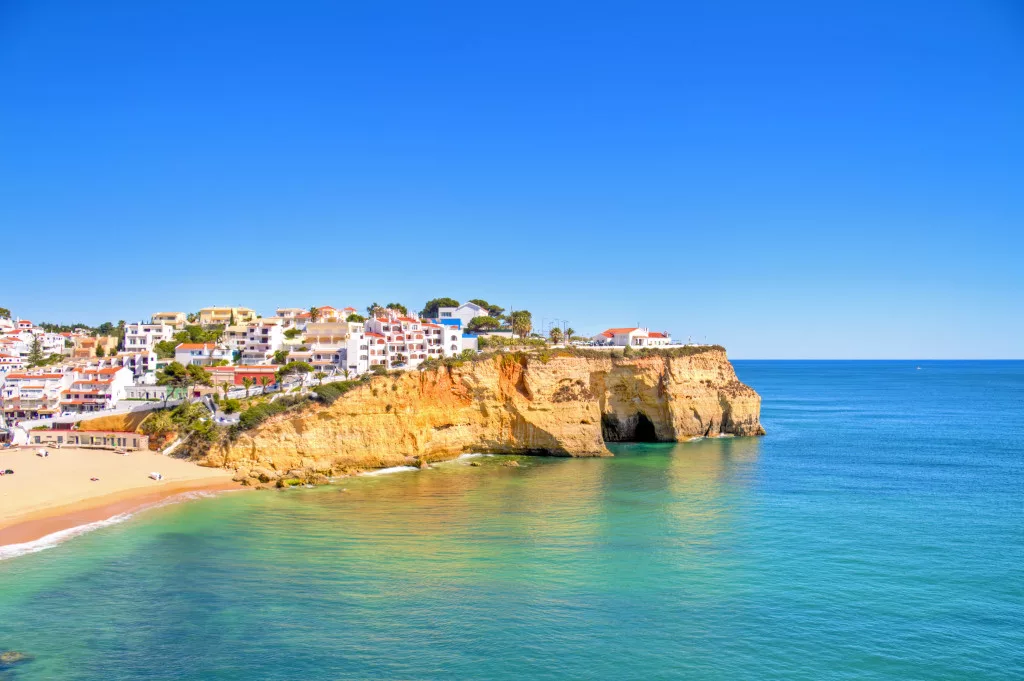 FARO IN FOCUS
---
Faro, the region's capital, is often bypassed in favour of the beaches. But we recommend stopping for a couple of days in the city, which boasts an attractive marina and a cidade velha (old town) of cobbled streets, sun-kissed squares and medieval buildings. Visit Igrejo do Carmo – a church which represents the oldest example of Rococo architecture in the area – and check out the macabre chapel made of 1,245 bones in the courtyard. The Museu Municipal showcases the city's history from Roman rule and Muslim occupation to Christian conquest, and is well worth the trip.
Faro also has an exciting dining scene and an energetic nightlife. We recommend heading to one of the city's restaurants serving traditional cuisine at candlelit tables, such as Se7e Padras or Dos Irmaos. There are lots of different options for post-dinner drinks, ranging from live music venues to upmarket cocktail bars.
The city is surrounded by some stunning landscapes. The flamingo-filled lagoons of the Parque Natural da Ria Formosa are right on the doorstep. Take a ferry through Ria Formosa and after 45 minutes you'll arrive at Ilha Deserta, an uninhabited island and biodiversity hotspot which boasts deliciously empty beaches.
TOURISM INSIGHTS: ALGARVE TOURISM BUREAU
---
The Algarve Tourism Bureau promotes the Algarve Region and its tourism products within overseas markets. It does this through partnerships with both the public and private sector, such as joint marketing campaigns with tour operators and airlines, press and fam trips, destination training, trade shows and tourism fairs. We caught up with João Fernandes, President of Algarve Tourism Bureau, to find out more about the organisation.
Q&A WITH JOÃO FERNANDES, PRESIDENT, ALGARVE TOURISM BUREAU
What are your organisation's current goals?
João Fernandes: Currently we are focussing on promoting activities in the low and shoulder seasons to highlight how Algarve is an all year-round destination – it has so much more to offer than just beautiful beaches, amazing weather and stunning golf courses. Other activities include walking, cycling, surfing, nature tourism, nautical activities, gastronomy and wines. This year we have the fourth edition of our innovative arts and cultural programme, 365 Algarve. From October to the end of May 2020, the region will host an array of exciting events from theatrical productions, contemporary circus and gastronomy to music and heritage education. There are over 400 events in the calendar are held in the 16 municipalities of the region. As we have a good selection of characterful and five-star properties in stunning natural scenery, we are also promoting weddings, plus meetings and events.
Are there any interesting projects in the pipeline you wish to highlight?
This year we have a charming and historic hotel opening on the eastern border of the Algarve, Pestana Pousada Vila Real de Santo António. It consists of three historic 19th century buildings located in the centre of the town. It will be completed by Easter 2020. The $3.3 million development, overlooking Marquês de Pombal Square, will have 57 rooms and showcase the heritage and local culture of the town. It will be the fourth historic pousada for the region and Pestana's 17th hotel in the Algarve. Starting construction this year is Ombria Resort, a major new luxury development set amidst rolling green hills, rivers and cork and oak forests in the inner Algarve region of Portugal, eight kilometres north of Loule. Ombria Resort will set the bar as one of a new generation of low-density resort developments with sustainability, the environment and support of the nature and local heritage at their hearts. The resort has leisure and entertainment facilities including an area for organic farming, honey harvesting facilities, astronomical observatory, heated swimming pools, a beach club at one of the nearby beaches, paths for nature walks and mountain biking and other sports facilities.
Is there any potential for ecotourism development in the region?
In 2019 the Algarve's Sustainable Tourism Observatory was created to establish what needs to improve for the region to become a more sustainable tourism destination. It is now part of the World Tourism Organisation's International Network of Sustainable Tourism Observatories (INSTO). This will make it even easier to exchange information with partners, implement similar management and monitoring techniques and increase the Algarve's tourism competitiveness. We have ecotourism projects of all sizes, from the Ombria Resort mentioned above to small boutique hotels such as Casa Modesta, which has just nine rooms and overlooks the Ria Formosa Nature Park, considered one of Portugal's seven wonders. Nature tourism and Nautical tourism are also key areas we are developing. On a National level Portugal's 2027 Sustainable Tourism Strategy will focus on an economic, social and environmental framework to position Portugal as one of the most competitive and sustainable tourist destinations in the world. In Algarve we will work to align ourselves with the standards set.
How do you market the Algarve so it maintains its popularity as a destination?
We have PR and marketing agencies that we work with in our key markets – UK, France, The Netherlands, Germany and Spain – who are continually promoting the destination to their markets through social media, media relations and partnerships. We assist them with product training, events, hosting media and fam visits. We also develop joint marketing campaigns with tour operators and airlines, participate in trade events, fairs, press and fam trips. We have reinforced our digital marketing campaigns with partners and in our own social media channels which are very dynamic.
What trends are transforming the tourism industry in the Algarve and how are you responding to them?
Wellness tourism is a growing trend, and we have many new facilities and programmes that are being introduced by our hotel partners to meet demand. These include the latest medical spa facilities and technologies at Longevity Wellness Resorts and special retreats that cater for holistic wellness from meditation to yoga. Recently Condé Nast Traveller's Readers' Choice Awards recognised Vila Vita Parc as the third best Destination Spa Resort in the world. We are shining a light on wellness by organising two Algarve Spa Weeks where visitors can enjoy 50 percent discount on all treatments at participating hotels in April and October 2020. The trend for independent travel has grown and the Algarve region has a wide range of accommodation options for all tastes and budgets, from all-inclusive and luxurious four and five-star hotels to great quality budget options. Villas and self-catering accommodation are plentiful for those that prefer the comfort and privacy of a home away from home. Since the latest bankruptcy at Thomas Cook, we have been working hard to make good the losses by stepping up negotiations with other tour operators and OTA's carrying out marketing campaigns. We have also been working with other airlines, encouraging them to fill the gaps left by the collapse of Monarch in 2017. And, as mentioned, with the establishment of the Sustainable Tourism Observatory, we are focussed on helping sustainable tourism businesses.
The Algarve is renowned for its beaches, but what else does it have to offer tourists?
The Algarve has so much to offer tourists. For a start, it's home to some of the most beautiful natural landscapes in Europe. Hiking, walking and cycling are great ways to enjoy the sights and the abundance of birding hotspots, in particular the Castro Marim wetlands, the Ria Formosa and Lagoa dos Salgados. Key walking routes include Via Algarviana, a long-distance pedestrian path running from Alcoutim in the Eastern Algarve to the western tip at Cape St. Vincent, and the Vicentina route which runs from Santiago do Cacém in the Alentejo to Sagres. Ecovia is a spectacular cycling route that runs along the Algarve coast. The Algarve Tourism Bureau has unveiled a new website which provides details of routes for those looking to explore the region by bike or on foot. There are few places that can match the Algarve's culinary offering. The cuisine is simple and lovingly prepared with local produce such as fresh seafood, almonds, figs, oranges and internationally distinguished olive oil. Festivals and fairs celebrating the region's gastronomy are held in towns and villages regularly, for both locals and visitors alike to sample local delicacies. Must-visit food festivals include the annual traditional Sausage Fair of Monchique in March, while August is seafood festival season in the Algarve – seafood lovers will have a feast of a time at the Portimão Sardine Festival and the Olhão Seafood Festival. The Algarve boasts the most Michelin star restaurants in the whole of Portugal. In 2020 the region is home to seven Michelin starred establishments (and nine establishments such as Vila Joya and Ocean have two stars each). The Algarve is synonymous with golf, boasting a remarkable collection of first-class championship courses and amazing golf resorts strung along the sunkissed coastline. The region attracts hundreds of thousands of golfers to its fairways all year round. It's also known for it's nautical tourism, and hosted many events in 2019, including the Powerboat Grand Prix, the Aquabike World Series, windsurfing competitions and dinghy sailing competitions.
What landmarks and attractions do you recommend tourists visit in the Algarve?
I recommend taking a boat trip in Ria Formosa Natural Park, a unique coastal lagoon in central Algarve recently elected as one of the Seven Natural Wonders of Portugal, and having lunch on a desert island at Estaminé restaurant. Visit Cape St. Vincent, the southwest edge of mainland Europe, and then take a scenic drive up the Vicentine Coast (considered Portugal's greatest coastal paradise) and watch the surfers. Enjoy an alfresco lunch of sardines or fresh seafood in Portimão, at one of the many riverside
restaurants, or a day relaxing on the beach. My favourites are Dona Ana, Meia Praia, Praia da Marinha and Falésia beach. I also suggest kayaking along the coastline to see the impressive Benagil Cave and iconic Ponta da Piedade rock formations in Lagos.
Are you optimistic about the future of the tourism industry in the Algarve?
Yes I am! Tourism numbers since 2017 have continued to rise – the Algarve surpassed the mark of 20 million overnight stays between January and November 2019. For the third year in a row, this is the only region in Portugal to reach the level of 20 million overnight stays in one year, and it's expected to increase. Since early 2019 the Algarve has had 7.3 percent more guests (than in 2018) and an increase of 2.4 percent overnight stays. Total income in the first eleven months of 2019 rose by 7.2 percent. In the same period, golf courses recorded 1.29 million rounds and Faro airport handled 8.7 million passengers.
OUTLOOK RECOMMENDS
EAT:
---
For the best peri-peri chicken in the Algarve
For Michelin-starred dishes with local ingredients…
SLEEP:
---
For Europe's most romantic resort…
Monte Santo Resort was named Europe's Most Romantic Resort for five consecutive years by the World Travel awards, and it's easy to see why. Spacious suites and opulent villas are set in eight hectares of manicured gardens, around six outdoor swimming pools. Enjoy a romantic dinner at the fantastic Aroma Restaurant or unwind at Alma Spa with a luxury treatment.
For high-end design in a countryside setting…
For scandi chic in a former perfume distillery…
DO:
---
For Portugal's most popular surf camp…
LANDMARK ATTRACTIONS
LAGOS
---
Lagos has an old town of tiled streets, picturesque plazas and timeworn churches, enclosed by centuries-old walls. It's also surrounded by some of the best beaches in the region, which accounts for its popularity.
CAPE ST VINCENT
---
This rugged headland is Portugal's southernmost point, where many famous explorers launched maritime voyages of discovery – the solitary lighthouse doubles as a maritime museum. Visit at sunset for the most dramatic vistas.
SILVES
---
This traditional Algarve town was the region's capital during the Moorish rule. It offers up fantastic architectural gems such as the ancient, red-walled castle and Silves Cathedral, the most important Gothic monument in the Algarve.
GETTING THERE AND AROUND
---
Faro is the largest airport in the Algarve, offering flights to 69 destinations (most of which are in Europe) through carriers such as Ryanair, EasyJet and Air France. The busiest route is between Faro and London Gatwick, an airport with plenty of onward connections worldwide. Thanks to its popularity with tourists, the Algarve has good public transport connections, including an efficient bus network and a railway line. Buy a tourist pass from the railway ticket office for unlimited travel over a specified period. However, the most popular way for tourists to get around the region is by hiring a rental car. That way you really can discover the Algarve's unspoilt corners.