Since the COVID-19 pandemic has sent commercial airlines into freefall, private jets have increased in popularity – we take a closer look with Honeywell Aerospace.
FLYING HIGH
---
Travel was one of the industries hit hardest – and first – by the recent coronavirus pandemic, as lockdowns were imposed across the world and borders closed to new arrivals.
"COVID-19 drastically changed the landscape of the travel industry. With many restrictions in place to hinder the spread of the virus, airline passenger levels have fallen dramatically and virtually every air carrier has been forced to reduce schedules, cancel routes and take aircraft out of service," says Nadya Krisko, Regional Business Aviation Leader, Honeywell Aerospace.
According to the Air Transport Action Group (ATAG), an estimated 46 million jobs are currently at risk due to loss of connectivity caused by COVID-19: 41.2 million from the travel and tourism sector, and 4.8 million spread across direct employment in aviation. But, perhaps surprisingly, one area of the sector is enjoying a surge in popularity since its initial slump – private jet travel.
"Even if airline routes are available, there are fewer options available in terms of travel dates, times and destinations. As a result, many fliers are considering traveling by private aircraft. Private jet operators offer passengers the flexibility and opportunity to fly to different locations at personalised times, making up for the gap in the market currently left by airline operators," Krisko explains.
The phrase 'private jet' conjures up an image of affluent billionaire playboys quaffing champagne. But in the coronavirus, many companies have been chartering jets in order to continue travelling for business. According to James Moon, creator of TailHail – a membership-based private aircraft platform – chartering an aircraft can be surprisingly reasonable.
"When we set out, our target demographic was from millennials to the retired. We quickly found that normal, ordinary people are enquiring," she said, in an interview with This is Money.
"I'm currently organising a charter for 60 people to fly from Newcastle to Munich. It works out that their charter will be cheaper per person than an EasyJet ticket."
Costs of hiring a private jet can vary, based on the number of passengers, the size and specifications of the aircraft, and the duration of the journey. Private jet company Air Charter Service estimates you can expect to pay between $1,300 and $3,000 per flying hour for a turboprop or smaller jet plane (seating between four and six passengers); $4,000 to $8,000 for a mid-size jet (up to nine passengers); and $8,600 for larger private jets (14 to 19 passengers). While this price tag might be out of reach for some of us, it is possible for those accustomed to flying business and first class.
COVID-SECURE AIRCRAFT
---
There is evidence to suggest that flying on a private or chartered jet is more COVID-secure than private aircraft.
For a start, passengers are spared the long waits at the airport and the queues to board the plane, thereby minimising exposure time. While there are on average 300 touch points on a commercial aircraft, on smaller private jets there can be as few as seven. Furthermore, according to Krisko, private aircraft are often cleaned more thoroughly than commercial aircraft.
"Normally, commercial airlines are overwhelmed with passengers and strict departure times. This may result in cleaning times being rushed and maybe even overlooked. Traditionally, commercial airlines are scheduled to perform deep cleanings once a month. These deep cleanings involve hours of labour. In times of a pandemic and post that, a more thoroughly and frequently cleaned business aircraft can provide huge value to passengers and this is something that business operators can leverage," she says.
Honeywell Aerospace is currently working on solutions for the commercial aviation sector, including Honeywell UV Cabin System, which can treat an aircraft cabin with ultraviolet rays to reduce bacteria and viruses in under 10 minutes. The latest iteration of this system comes with a handheld wand, which can be used on business jet interiors.
To help restore passengers' confidence in flying, Honeywell launched an array of PPE products for both flight crew and passengers themselves. The latter contains latex-free gloves, a mask and hand wipes, and is designed for single use, while crew kits are suitable for longer-term usage.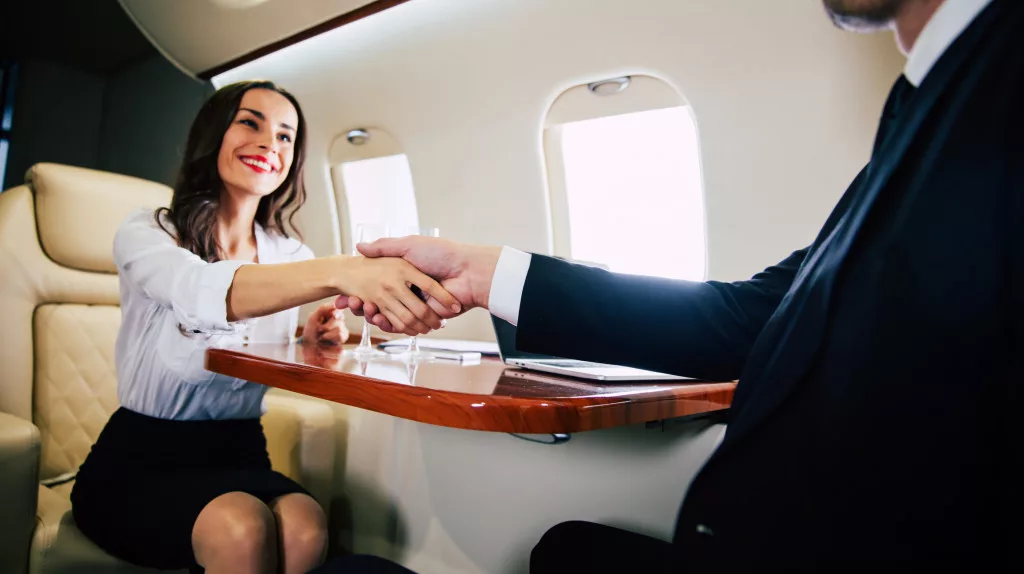 How can private jets capitalise on an increase in popularity?
Many private jet operators are hoping to keep the new customers they have attracted beyond the current crisis.
"My advice to business jet operators is to continue providing a seamless and effortless experience for the passenger from the moment they arrive at the airport to touchdown," says Krisko.
"This will make passengers want to fly with the company again and again. As part of this, today's business jet cabin can and should truly be an "office in the sky" with continuous, uninterrupted connectivity for its passengers."
Honeywell offers a blend of JetWave hardware, airtime and flight services for operators. This means that both flight team and passengers can connect to an ultrafast broadband network, allowing business travellers to receive email, access the internet and even conference call with important clients.
The company is also helping to streamline the operations of private jets by helping them manage their data. Honeywell Forge is its data-driven analytics platform, which offers management capabilities in the areas of connectivity, flight operations and navigation. Customers can also use the platform to help troubleshoot and fix issues in real-time.
Is it green?
Honeywell's 29th annual Global Business Aviation Outlook report forecasts up to 7,300 new business jet deliveries worth $235 billion between 2021 to 2030. Does this mean that private air travel will become part of the 'new normal'? And what does this mean for the environment?
Whilst private jets might be symbolic of excess, according to a Forbes article, private air travel might be greener than you think. The article argued that private jet travellers often spent far more in their holiday destination than economy travellers, meaning that far more tourist dollars are spent per amount of CO2 emitted. It also suggested that private jets have been experimenting with sustainable fuel alternatives – Honeywell Green Jet Fuel is a biofuel with sustainable feedstocks – for longer than commercial carriers and are committed to carbon reduction.
Another thing that might change your opinion is the fact that private pilots logged in over 118,000 flight hours last year flying on charitable and medical missions – business aviation is often on the frontline to lend support in times of crisis.
Let us hope that if private air travel does become normalised, such work will continue.