The sun-bleached Greek island haven of Santorini is a gem of the Cyclades, and possesses an undeniable magnetism.
Spotlight on Santorini
Blue domed, white-washed buildings hugging the hillside and an expanse of sparkling south Aegean Sea; the Greek Island of Santorini is nothing if not seductive.
Also known by its Greek name of Thira, legend has it that the island was once known as Kalliste- 'the most beautiful one.' This still rings true today, with Santorini standing as one of the most 'Instagrammed' holiday destinations in the world and widely lauded as the most romantic.
A Cycladic Island located roughly 200 kilometres (km) southeast of the Grecian mainland, it may be surprising that a place so beautiful was born from one of the world's greatest and most violent volcanic explosions in the bygone age of the Minoan civilisation. Centuries later, the bone white villages have long since shaken off the clouds of ash.
Santorini's topography, shaped by the lava flowing from that cataclysmic event is distinguished by the cauldron-like volcanic depression of the caldera, a towering crescent formed by cliffs of pumice stone. That same active volcano can still be seen today, its crater lurking submerged beneath the azure waters of the Aegean, whilst its younger twin, Nea Kameni, presents a manageable feat for keen hikers.
Away from the typical tourist hotspots and cruise-ship ports of the capital, Fira, there are quieter enclaves that invite exploration, like the villages of Pyrgos and Emporio, and the tiny port of Ammoudi lying beneath the blood-red cliffs.
A destination steeped in hedonism, wander shaded cobbled streets and take your pick from restaurant terraces to watch the sun sink into the Aegean. Beachside bars are par for the course in Santorini, especially for those seeking shade and ice-cold cocktails. For a mellow beachside hangout, bag a sun lounger for the afternoon at some iconic favourites, such as those to be found on the black volcanic sands of Perivolos.
On this island idyll, you will find a world-class culinary scene boasting traditional Greek fare and seafood fresh from the Mediterranean. Gorge on a bounty of freshly caught fish, fine local cheeses and premium extra virgin olive oil. Rare local treasures include the smooth Santorinian fava, succulent cherry-tomatoes nourished on fertile volcanic soils, and distinctive white aubergine, alongside classic Greek favourites like the ubiquitous gyros.
Tourist numbers on Santorini are at their peak from June to September, so consider the shoulder summer months for a quieter stay. But whenever you visit, Santorini is equipped with all the ingredients to make for a truly unforgettable retreat.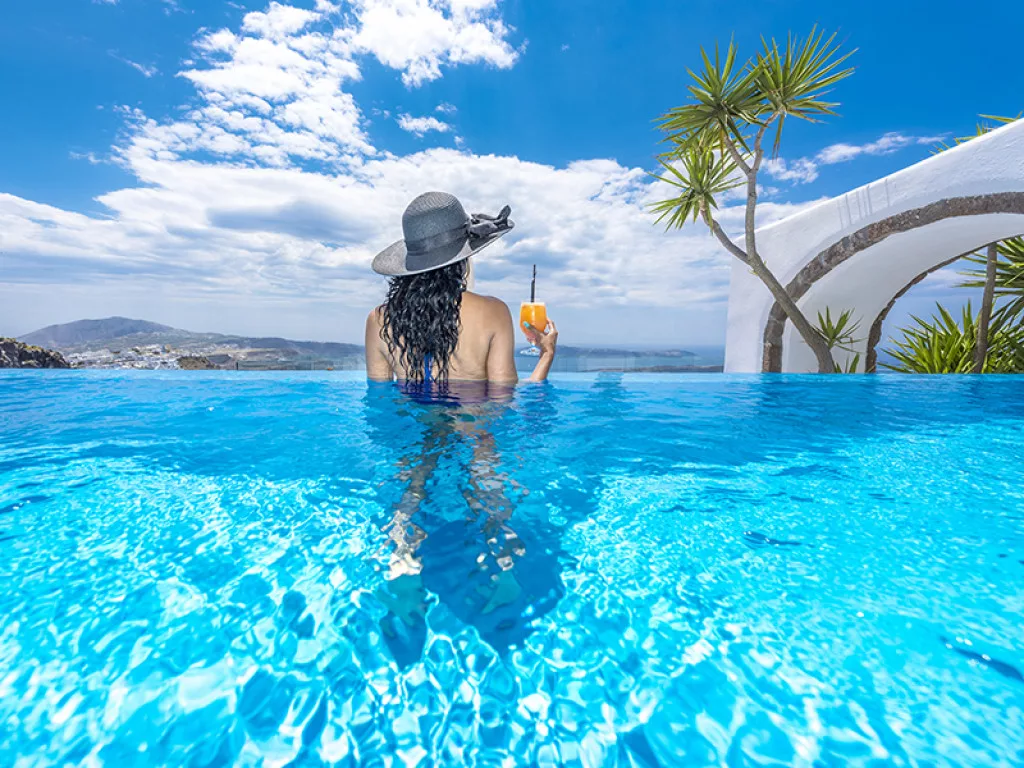 Outlook Recommends
Eat:
FOR REIMAGINED GREEK CUISINE ATOP THE CALDERA
Offering a multi-sensory experience, with an imaginative take on the local fare and a hand-crafted cocktail menu, Kaliyais perched on Fira's highest point, meaning that you are well placed to satisfy your appetite whilst savouring Santorini's world-famous sunsets.
FOR A GASTRONOMICAL ODYSSEY
The Argo experience makes for unforgettable dining in a quintessentially Santorinian setting within the capital of Fira. Expect an imaginative take on local dishes, complimented by the rich pickings of an extensive wine cellar.
FOR OPEN AIR FINE DINING
Nestled on the hillside of colourful Firostefani village towards the north of the island, feast on traditional Greek and Mediterranean cuisine at Remvi Restaurant overlooking the breath-taking half-moon bay of the caldera.
Sleep:
FOR TRUE HELLENIC HOSPITALITY
Previously nominated as Greece's Leading Luxury Boutique Hotel, Iconic Santorini is a boutique cave hotel located on a hillside setting in the quieter reaches of Imerovigli, just a short drive from Oia. As a small hotel, Iconic prides itself on a homey, intimate setting that promises individual cavern style rooms with unparalleled island views and first-class comfort.

FOR FIVE STAR MINIMALISM
Perivolas offers more than just a hotel stay: rather a whole lifestyle experience. Combining luxury and tranquillity, expect white-washed minimalist suites housed within 300-year-old caves. With not a TV in sight, this is truly the place for a digital detox.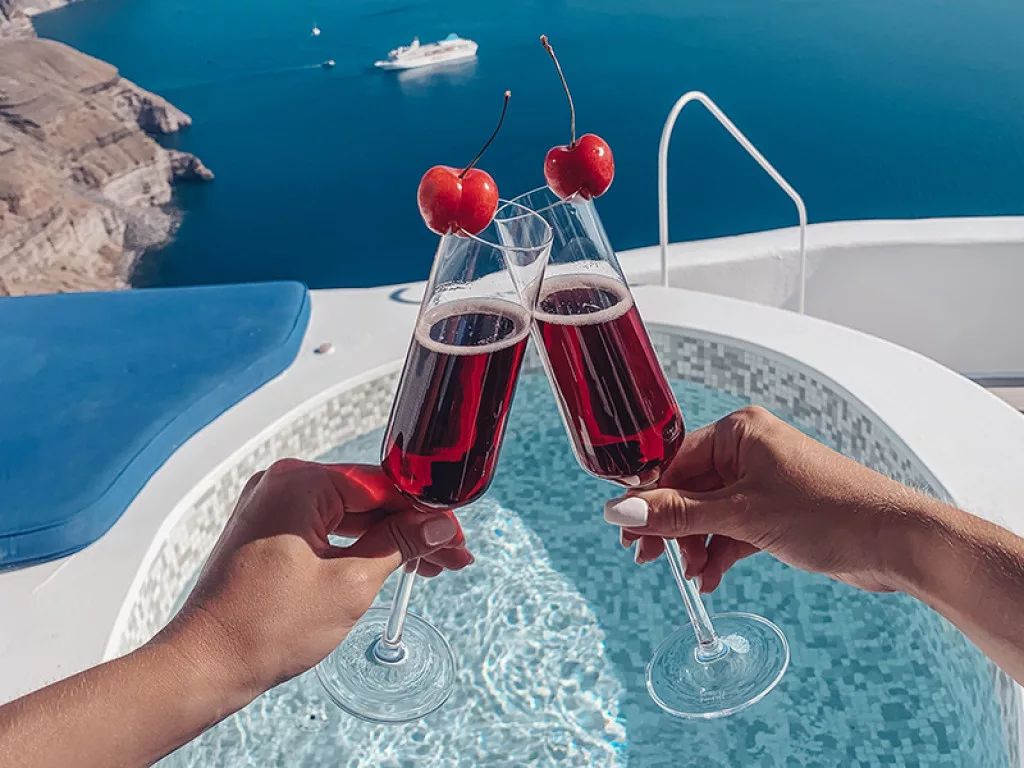 Landmark Attractions
OIA
A quieter alternative to Fira, Oia is a traditional hilltop town crowned by the ruins of a Venetian fortress. Expect picturesque streets lined with cafes, tavernas, and art galleries. Beware, come evening, crowds regularly descend in anticipation of watching unbeaten sunset views.
AKROTIRI
Explore the remains of the long-lost Minoan city at Akrotiri – a Bronze Age site that represents one of Greece's most exciting ongoing archaeological excavations after becoming buried by layers of volcanic ash. Encounter many of the spoils from the site at the Museum of Prehistoric Thera in Fira.
NEA KAMENI
For those seeking something more active than beach-lounging and cocktail sipping, take a guided hike up Nea Kameni – the still active volcano located in the centre of the caldera. Observe chasms bursting with sulphur steam and summit the black lava perimeters for unparalleled views of the island.